by Riese & Heather
It's our seventh birthday today! If you would like to give us a birthday present, you should join Autostraddle Plus. It is a gift that keeps on giving to the staff who keeps on giving themselves to you!
In celebration of today's occasion, we're looking back on the seven most significant movies and TV shows with lesbian, bisexual or queer female characters of the last seven years. There are many shows that didn't make this list that I'm sure there is a very good case to be made for why they should have made this list, which's why I hope we're still around to celebrate our 12th birthday.
---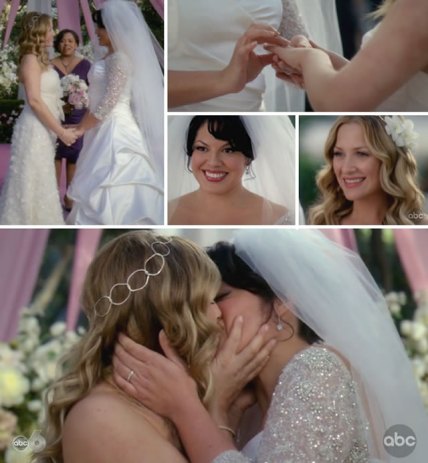 Riese: Grey's Anatomy was wildly popular when it debuted in 2005 — the show, and its soundtrack, and its stars. Back when queer women on television remained few and far between and we never got season-long character development really anywhere but Degrassi, Grey's introduced Erica Hahn in 2006, who eventually helped Callie realize her bisexuality. Their storyline was handled really clumsily, though, and Hahn was hastily written off under pressure from ABC. That could've been the end of Callie's lady-loving adventures… but it was not because then Arizona showed up in 2009.
Heather: While the first lesbian wedding on primetime TV happened in 1996 between Carol and Susan on Friends, Callie and Arizona's 2011 wedding was special because it was the first primetime lesbian wedding between two leading characters. But what is particularly significant about their relationship is that it blossomed on the heels of Proposition 8, in front of an astronomical average of 14 million viewers.
Callie and Arizona may have fallen apart in later days (though I'm giving the show major kudos for continuing to allow them explore queer relationships with other people), but when the majority of Americans were making up their minds about marriage equality, Callie and Arizona were the most-watched lesbian couple on TV, and they were enjoying the same kind of emotionally dense and sexy relationship as all the straight couples at Seattle Grace. Arizona gave her now-famous "Good man in a storm" speech to Callie's dad only five months after Autostraddle was born. Coincidence, or manifestation?
---
Skins (2008-2013)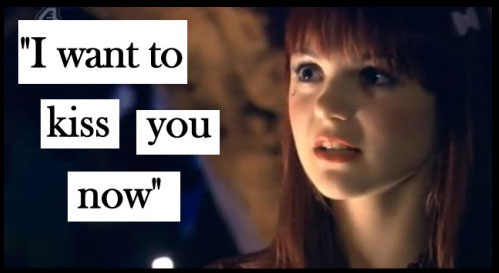 Riese: In the end of August, Crystal (who lived in Australia then) emailed about this UK Show Skins that everybody was talking about. In September, she turned in her first recap of Skins season three — just the Naomi & Emily parts. I'd never seen the show but after editing her recaps I got curious, and got just as invested in the lesbian-free first cast as I did in the next. This show was so good and so different! For Season Four, Crystal and I recapped together — she'd do a first draft and then I would add more jokes and and feelings. It was a really fun collaboration.
Heather: There's never been anything like Naomi and Emily's season three relationship on Skins, and I honestly doubt I'll ever see anything like it again in my lifetime. Because of the way the series is structured around individual character episodes, their story actually ends up feeling more like a movie than a TV show. In fact, episode 306, "Naomi" (written by Jack Thorne, who also co-wrote the new Harry Potter play with J.K. Rowling, just FYI), packs more heart-wrenching, soul-sustaining lesbian relationship storytelling into one hour than most shows with queer characters do in every episode of every season combined.
Riese: Skins remains in its very own league, for all its eventual tragic mistakes. It was willing to get ugly and dark with its inept, acne-scarred, sloppily drunk teenage characters and catastrophic parents in a violently honest way. It got queer straight away, and it was fascinating to see that play out with Naomi and Emily in the second cast. How would they be responsible to what we required from queer representation while also being responsible to the spirit of the show, which was that everybody fucks up everything eventually? They wouldn't be, ultimately. Which was sometimes great, and sometimes not so much.
Heather: Skins season three is the first and only show I have never had to grade lesbian TV on a curve. We make exceptions and concessions for all shows with queer characters, whether we realize it or not. Maybe the acting's not that good or the chemistry isn't that great or the writing's sloppy or directing's weird or they only kiss with their mouths closed or with their hair in their faces or from wide angles with quick cutaways. season three didn't need the cushion; everything about it was — and I don't say this lightly — magical. I have never, ever, ever felt a story in my bones the way I did with Naomi and Emily's.
Riese: Then… Skins USA happened. We broke the story that the US Skins reboot was turning the gay male character into a lesbian character, but we didn't know what they were gonna do with her, which turned out to be literally THE WORST THING YOU COULD EVER DO WITH A LESBIAN CHARACTER.
Heather: The way I handled U.S. Skins is the biggest regret of my career, and something I will never forgive myself for. I thought, you know, a team that created Naomi and Emily, they had to pull it back and somehow transform it into something great. I was wrong. Very wrong.
Riese: After the US show got cancelled, the UK edition continued going strong. Season Five started out pretty good, they were doing something cool, interesting and different with Franky. But Season Six ret-conned her and the romance ended there.
Heather: Skins was always so great at creating characters. So, so good. And they were showing us characters that we'd never seen on TV before. Franky was one of freshest and most charged characters I'd met in my life. While the single-character episode format worked well for the show, it allowed it to mask the major flaw of its writing team: They absolutely had no idea how to grow their characters. Each writer could tell a single story exceptionally well, but as a whole, the show could not seem to think through and execute organic growth for anyone. That's why the second series for each generation was always so much worse than the first. A thing like that is a glaring showrunning flaw.
I don't want to ever talk about Skins Fire again. It is, in my opinion, the worst betrayal by any creative team in the history of storytelling.
---
Glee (2009 – 2015)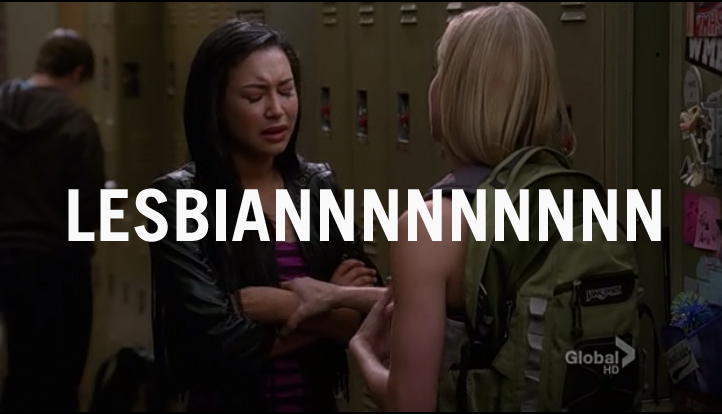 Riese: We started writing about this show when it premiered because we like singing and dancing and it felt like this really fun convergence of Broadway people and television people, and we had Broadway friends and there was just so! much! buzz! Then this innovative stuff was happening with Kurt, how they were handling his gay bullying storyline was just unprecedented. I wasn't prepared for Santana to come out and for me to relate to her so hard, or for her story to continue on through every season, although never getting the screentime she deserved! I mean, the two popular cheerleaders got together and became girlfriends, I'm pretty sure that before Glee, that plot really only happened in porn.
Heather: For all the missteps Glee made, and lord there were so many, it's the show that changed everything. I mean it. Everything. It was so popular in the beginning, and so unapologetically gay, that other shows started to emulate it (Parents Television Council be damned) because everyone wanted a piece of those ratings. It also caused GLAAD to really up its game when it came to pushing for LGBT TV characters because if Kurt Hummel could happen on Fox at 8pm, and then Brittany and Santana too, no one had an excuse anymore.
Riese: Glee's most notable misstep was its clumsy and wildly offensive handling of Unique, the first trans woman of color recurring character on network television. Still, the show was ambitious and fresh and groundbreaking and it relentlessly released really well-arranged covers of popular songs we sometimes accidentally love more than the original. We've had a lot of Glee recappers over the years: Carly, Ashleigh, Alex, Kate and Lizz all took a turn, I recapped most of the episodes, and then Heather Hogan joined me for the end of the series this past year. Remember when we used to write an article literally every time anything happened relating to Glee? A lot of you didn't like that very much.
Heather: Also, for all its missteps, at the end of the day, Brittany and Santana got married. They are one of the very, very, very few lesbian couples on TV to live happily ever after.
---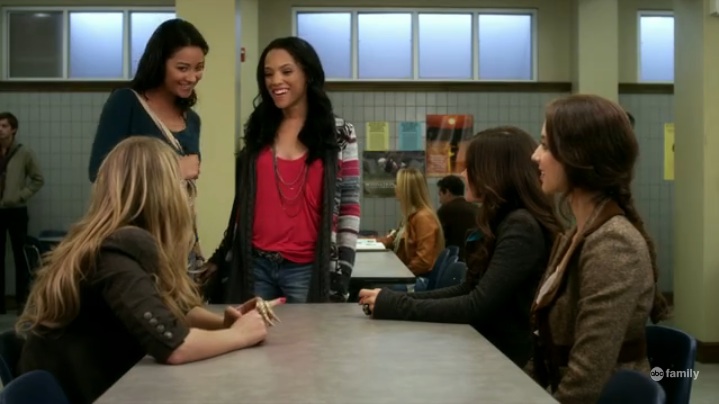 Riese: The fact that Emily made it through an entire season without going back to men was a minor miracle at the time, deserving of an article entitled "Pretty Little Liars Successfully Maintains Lesbian Storyline For Entire Season and Probably Longer." I liked the show a whole lot though! So I did recaps whenever gay stuff happened, and Lizz did fashion-caps and then eventually took over recapping when my plate got too full. Emily kept having girlfriends and stuff! I mean, it never got as much screen time as the hetero pairs, but still, her sexuality was eventually so incidental. Hansen took over when Lizz went to med school, and then we had a little gap in coverage until Heather Hogan showed up. I think honestly I was really excited about the show when it premiered and promised Alex that writing about it would be a good way to spend my time even though nobody else we knew was watching it and so I wanted to continue covering it as an ongoing reminder that I was right. FINGER ON THE PULSE.
Heather: The funny/sad thing about this list is how many shows stayed too long. That's a problem with all shows, not just queer ones (and movies now, too): just not knowing when to pull the plug. PLL should have ended after season five; it had stretched even the believable elements of the show to their breaking point by then. Season six has been pretty universally terrible. Only three real standout episodes in the whole thing, and those are overshadowed by the terrible decision to make their ultimate villain a trans woman, and the fact that Emily hasn't had an actual love interest in 24 episodes. (The longest any other Liars has gone without a love interest is three episodes.)
HOWEVER. For five glorious years, Pretty Little Liars was the queerest thing on TV. The lesbian/bi women total more than any other TV show besides The L Word and Orange Is the New Black. Emily, Maya, Paige, Samara, Ali, Jenna, Shana, Talia, Zoe, and a whole lesbian bar full of Pink Drink-ers at one point. And Emily's gayness was such a non-issue. When she came out, Hanna said, "You were Emily when you were with Ben, and you're Emily when you're with Maya. No one cares who you're with; we love Emily." That statement was woven beautifully into the show's ethos for so long. She dated like the other Liars, and casually joked about her lesbianism all the time. (No one ever directed a joke at her; the laughs all came as inside jokes from her.)
Emily is a leading character whose gayness was a huge part of her identity for 120 episodes. Callie and Arizona from Grey's Anatomy are the only queer TV characters who can boast more screen time than her, in the whole entire history of television. She is the gayest character ever in a show aimed at teenagers.
---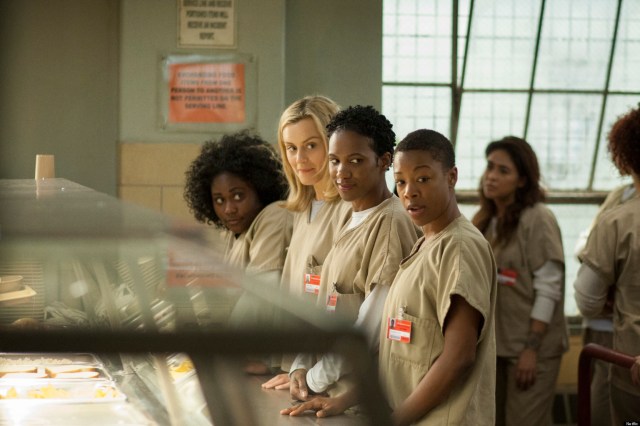 Riese: Brittani put a trailer in the Video Party and that was the first we'd heard of it — did we need to write a whole post about it? Maybe Kate would like it? Then we were in Big Bear for our staff retreat when it came out and figured we'd seen Animal Odd Couples enough times, let's give it a go. It's not often that I actually get to watch shows with the humans I work with, but I'm so glad I was sitting there with Laneia, Rachel, Laura Wooley and Alex, as we got slack-jawed, one by one, as each episode passed — is this really happening? This show? How is a show this diverse and yet so chock-full of girls who want to kiss girls? We couldn't even wait for the first recap (which we told Kate to rush), we had to tell you about it right away, and then later that day we had the first recap.
Heather: I don't generally believe the hype about queer TV because I've just been doing this for so long and we're so starved for representation that a hundred people will tell me to watch a thing, it'll  the be best thing I've ever seen, so gay, and then it turns out it's like six seasons of a thing for five seconds of two girls touching each other's hands. It's ridiculous to think about it now, but I didn't actually believe Netflix could make a TV show. People were talking about House of Cards, but only insider TV people and they also couldn't shut the heck up about Breaking Bad. I only watched the first episode of Orange Is the New Black because I was sick and confined to my bed; 13 sleepless hours later, I felt like I was on the other side of a revolution. (And I was!)
Riese: After Kate powered through the first 1.5 seasons, recaps of the show have been spotty, honestly, 'cause it's SO MUCH to recap, so many scenes, so many characters, a full hour (network TV, unlike Netflix, only really makes 44 minute episodes, 'cause of commercials, and those extra 15 minutes add so much recapping time! Ditto for The L Word b/c Showtime.), issues, jokes, sad parts, happy parts… so much territory to cover, so many different tones and styles to adopt as you do it.
Heather: One of the hardest parts about recapping OITNB is that it's not really a comedy, and there aren't really a lot of things to clown on. The best jokes happen inside the show itself. And because it's so self-aware and makes a concerted and conscious effort to tell women's stories in a way that generally align with our values, there's no need to really add social commentary. Again, the show does it better inside than we would do on the outside.
Riese: But also, we talk about it constantly, recaps or no, including two of our most popular posts ever: How Real Is Orange is the New Black? and And Now, Every Character From Orange is the New Black As They Appear on "Law and Order." Lauren Morelli came to A-Camp, we've pretty much dedicated ourselves to being your #1 source of Samira Wiley related news, and have worked the show into every list we've ever made since. Including this one! Look, this show changed the game and it will continue to. It's not perfect, but really, nothing is.
---
Riese: In early 2013, ABC Family approached us about putting together an ad proposal for this new show J-Lo was making called The Fosters, and although we were ultimately rejected for the campaign because of our scandalous content, this show sounded so up our alley! Two women raising kids in prime-time television! This really had not been a thing before, had it? We got our very own Lesbian Den Mom, Vikki, to recap the show, but she had to drop it when her cable company dropped ABC Family. I wasn't really watching it anymore either, mostly 'cause Brandon was so insufferable I wished I could go back in time and add him to this post of the 10 Most Insufferable Men on Television.
Heather: The Fosters is one of those shows that isn't always perfect, but it gets it consistently more right than any non-streaming TV show. Even the theme song still makes me cry, every time. Coming out narratives are always going to be important, and they universally land with lesbian/bi audiences, but there are so many more stories to tell about gay women. Stef and Lena are the only lesbian characters who have ever reminded me of myself in my grown-up life (only with cats and dogs instead of children). I didn't have anything in common with the women on The L Word, and while I love the grown-up queer women on Transparent, they are way too Slytherin to really resonate with me. Stef and Lena are actually the way I live and love, and they're the only TV couple I've ever been able to say that about.
---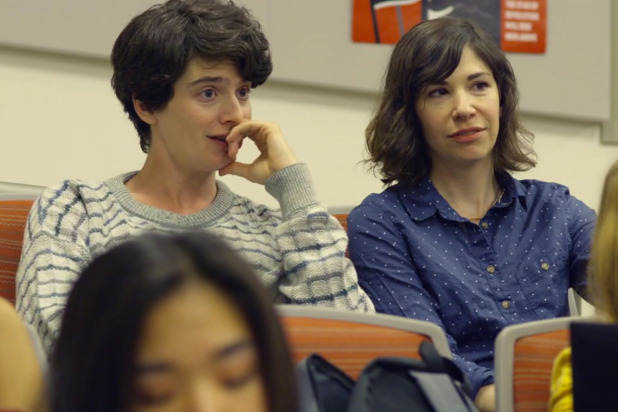 Riese: Much like Orange is the New Black, the pilot to Transparent shocked me because it wasn't advertised as a show about lesbian and bisexual people specifically (e.g, The L Word, Lip Service, Exes and Ohs), it was a show about a family and the honest truth of that family was that a lot of them are a little queer. It just feels so risky, all the time, because straight people have generally made it abundantly clear that they can only handle so much gay in their television (see: Glee, Empire) before it becomes gay television and HOW IN THE WORLD CAN THEY RELATE TO STORIES ABOUT GAY PEOPLE. (The same way we've all related to your stories, weirdos!)
We're only 5% of the population, are there enough of us to build a fanbase for shows like OITNB and Transparent, which refuse to sideline their gay storylines in favor of centering the straight ones, which Glee and Pretty Little Liars and even The Fosters have been guilty of. Then there's the most game-changing element of all: the protagonist is a trans woman. The show and its production are far from perfect, but they do have more trans people working behind the scenes than any other show by a landslide. It succeeds, it gets SO MANY awards, it gets renewed… and it came back SO GAY in Season Two that I can hardly believe my eyes! And everybody loved it!
Heather: It took me a long time to watch the first season of Transparent because the backlash against it from so many trans women was so strong, but after talking to Mey Rude about it, I decided to give it a go, and I am SO HAPPY I did. We hardly ever get to see women acting like real humans on TV, real humans with complicated emotions who make sometimes dubious decisions, and also selfish ones too. The Golden Age of TV is all about men doing those things (Breaking Bad, Mad Men, Dexter, Game of Thrones). And to get to see that on a show where the main character is a trans woman, and so many of her dear friends are trans women played by trans women, and so many of the supporting characters are queer: It's what I hope the future looks like.
---
Heather: Lost Girl is another one of those shows that stayed too long, but in its heyday, it was revolutionary for so many reasons. It's an action show with a female lead, which is remarkable enough. But also Bo Dennis is bisexual, and her relationship with Dr. Lauren Lewis was given as much screen time (and as many emotional beats and sex scenes) as her relationship with Dyson. It was a will-they/won't-they in which either relationship seemed plausible. I couldn't even believe it the first time Bo and Lauren had sex on the show. It was filmed and edited as passionately as the one with her male love interest, and they did it with the lights on. Even on The L Word, it was hard to get a sex scene with the lights on!
Lost Girl also started a really great trend of Canadian networks partnering with U.S. networks to get some money for production in exchange for sending the show across the border. It was the catalyst for both Bomb Girls and Rookie Blue (both of which featured engaging queer characters) making their way to us.
---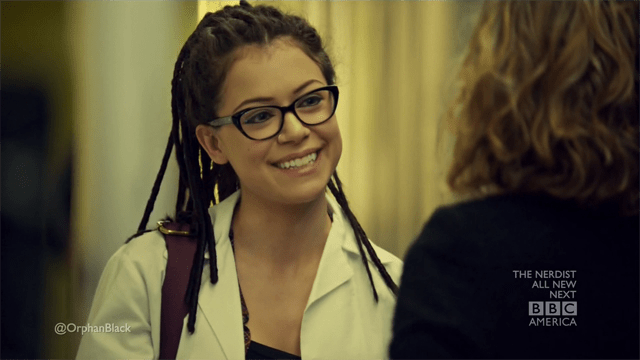 Heather: I can't believe, after three stellar seasons, Orphan Black hasn't achieved more than "cult classic" status. In a world of remakes (and remakes of remakes) Orphan Black stands alone. There has never been a show like this on TV! It is a feminist masterwork, and it's also a misandrist masterwork. (Men hardly ever talk to each other about anything besides women.) But what really sets Orphan Black apart is how it engaged with the "Born the Way" debate. Every TV show that has taken on the task of talking about biological gayness has gone to painstaking lengths to prove that its queer character is absolutely positively 100 percent no doubt born gay, and there's no way they could have made a choice to be otherwise. Orphan Black — in which every woman is a clone, meaning they share the same exact DNA — is the first show to take look at the nature vs. nurture conversation and say, "Who cares?"
When Delphine finds herself falling for Cosima (notably the only gay clone), she says, "As a scientist I know that sexuality is a spectrum, but social biases codify sexual attraction, contrary to the biological facts." Which is to say: Nature can place you anywhere along the spectrum, and no matter where that place is, we should have the freedom to choose which relationships to pursue. That's a pretty hefty idea, and one that the gay community has rejected as a talking point for, well, forever, because black-and-white notions about sexuality make equality activism a lot simpler. Orphan Black is interested in a having a different kind of conversation, and modern and evolved one. And it's doing it with a once-in-a-generation character actress in Tatiana Maslany.
Last season they killed Delphine (supposedly), but I'm not convinced she's really dead. At least they also killed her male counterpart on the show, and introduced another queer character to romance Cosima. Still, though. Firmly in denial about Delphine's fate until I see a body.