Despite the strides queer women have made on TV in the past seven years, the big screen has mostly eluded us. It's hard enough to get a movie made with a straight female lead. Getting a movie made with a main lesbian character — thereby cutting her off from a big-name male co-star as romantic interest — is basically impossible. 2015 was the exception to this rule, but it's important not to mistake a moment for a trend. Below are the seven most influential lesbian/bi/queer movies that have been birthed into the world since our own birthday in March 2009.
They are, you'll notice, overwhelmingly, glaringly, painfully white. We've come a long way, baby. We've got a long way to go.
---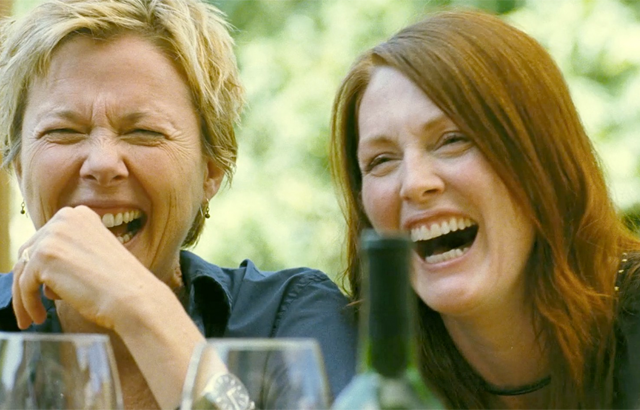 The criticisms of The Kids Are All Right are scathing and they are valid. The film centers on a man — the sperm donor for Annette Bening and Julianne Moore's two children — to the point of one of the lesbian moms having an affair with him. During the press tour, Director Lisa Cholodenko even notoriously said she didn't make the movie for queer women: "I was much more interested in reaching out to the male population than I was concerned about alienating a sector of the lesbian population."
Lesbians sleeping with dudes is one of the oldest, most offensive tropes in the book, and it's particularly discouraging here because of the sad fact that the movie probably wouldn't have been made by a major studio if it hadn't included a central storyline for a man.
However, it's impossible to overlook the The Kids Are All Right's significance. It won the Golden Globe for Best Motion Picture in 2010 (and Annette Benning won the Globe for Best Actress), and was nominated for a four Academy Awards as well. Focus Features distributed the beloved lesbian classic Imagine Me & You in 2005, but it didn't make much of a splash at the box office or receive any critical acclaim with mainstream viewers. This was Focus' first time dipping their toes back in the lady pond and it paid off enormously. That coupled with the success of their other award-winning gay film, Brokeback Mountain, was the catalyst for Focus Features investing in other queer-themed films, and it proved to serious actresses that playing gay could translate into trophies.
Also, the ending is pretty happy and no one dies. In 2016, that's still a big deal!
---
Freeheld is one of the only widely distributed movies in history to feature two queer female characters in the leading roles. And, of course, it's Ellen Page's first gay role, and after she came out as a lesbian, too!
In her review, Riese said:
If you're interested in watching a really solid film with a lesbian couple smack dab at the center of a small story with national implications, I cannot recommend a better place to do so than in a movie theater screening Freeheld. It's not without lightness, either, or humor in fists, humor at the moments when you most need it (because you were just crying). It's a real rollercoaster, y'all.
And it's true! You will cry for two hours. But you know a lesbian will die going into the movie, and you know that death is real (as in real life) and that it was catalyst for some enormous leaps forward on the marriage equality front in The United States. It's not a stray bullet; Laurel's death meant something real in the real world.
---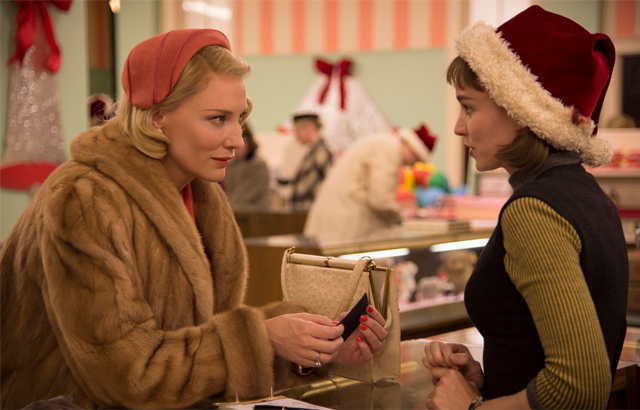 Carol may have gotten shut out of the Oscars and Golden Globes (though it was nominated for dozens of them) but it is still — unequivocally, I think — the best lesbian movie ever made, and one of the most feminist movies ever made. It also doesn't need the qualifiers. It's one of the best movies ever made, period. What I wrote in my review is still true:
Carol is the very first piece of queer art I'm glad I didn't engage with before right now, with all my lived experience tucked in my pocket, and years and years of doing this job under my belt. To grasp the uncommonness of the incomparable Cate Blanchett and Rooney Mara inhabiting every centimeter of these fully realized queer female characters and pinging off of each other like electric pinballs. To understand what it means that Carol arrives in furs like a predator and abandons them before the movie's end, what it means that Carol is in nothing but red in the first act and that it's Therese who dons it in the final scenes. To watch them watching each other through windows — endlessly, it seems, this movie is filmed through windows — and to feel it all the way down in my bones when Therese is ready to stop just looking. To appreciate that Haynes knows when to let the film breathe and when to pull the narrative so taut that it seems like your heart will hammer its bloody way right out of your chest. To value the rarity of seeing a lesbian film stitched together with such accomplished precision it makes me wish the word "epic" hadn't been completely diluted so I could bring the full weight of its meaning to bear on this love story.
And I will never stop believing that it was Carol's misandrist heart that caused it to flop with the old white men at the Academy and in the Foreign Press who hand out the hardware.
---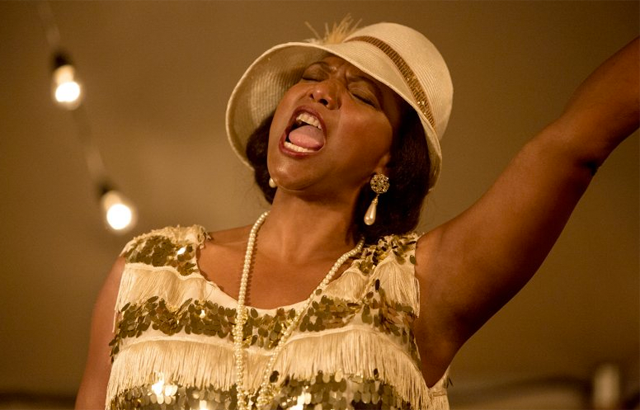 It's egregious that the only critically acclaimed film featuring a black lesbian/bi character in the last seven years was made for HBO. I mean, don't get me wrong, HBO is a great platform for quality content, but Bessie deserved even more. It won four Emmys, a Critics' Choice award, a Screen Actors Guild Award (for Queen Latifah), and a Directors Guild of America Award (for Dee Rees).
From Gabby Rivera's gorgeous review:
Bessie is bomb, y'all. Super bomb. She stands up for herself and her people even in the face of the damn Klan. The Klan and the moments with rich white people are fucking terrifying. Like hold-my-breath, oh-my-god is Bessie going to die right now terrifying. There are no white saviors in this film, thank the universe. Bessie Smith doesn't cater to white people or men and as brave as her fight is, it's equally gut-wrenching; at any moment, the world she fights for could have swallowed her whole and left her to rot. Queen Latifah ever so capably maneuvers Bessie from any sort of static strong-Black-woman archetype and weaves a palpable vulnerability, an ache for love, into her portrayal and it's glorious.
Bessie is an exceptional film, and Queen Latifah has never been better. If we need more of any of the movies on this list, Bessie is the one.
---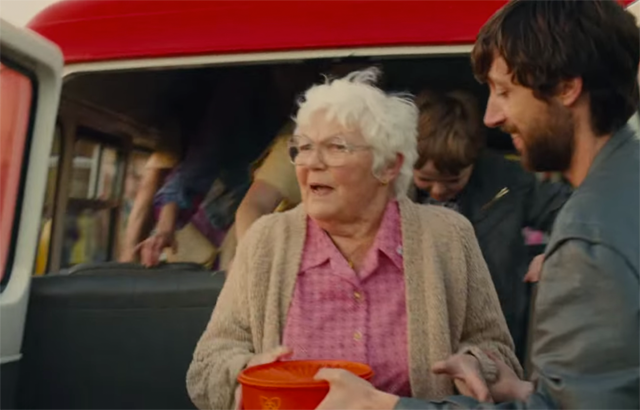 This is the movie that made me cry the most — yes, even more than Freeheld because I stifle my sad cries and roll with my happy ones. It's the only UK-crafted movie to make the cut because it's enormous success across the pond propelled it to acclaim here too. It won the Queer Palm at Cannes, two British Independent Film Awards, and a BAFTA.
Kaitlyn's review really captures what makes this movie so great:
Rather than focusing purely on pride marches or the AIDS crisis or any of the other very real, important issues the early LGBT rights movement faced, this movie centers on a small group of queer activists (Lesbians and Gays Support the Miners) and their support of a Welsh mining community that's participating in nationwide strikes against shrinking subsidies. They struggle to find a union that will accept their donations, and once they finally do, it's only by mistake that they're accepted. Luckily, it turns out that the town is home to some very welcoming, kind people, and they stand up against those who resist; it's that struggle that propels us through the two-hour film. And that's a very clever move, because by focusing on the miner strike storyline — which was a huge national story when it happened — the film creates a more authentic environment in which to tell those other stories of the lesbian and gay diaspora.
Pride has a has a lovable British sensibility and feels so authentic you'll find it hard to believe, at times, that you're not watching a documentary.
---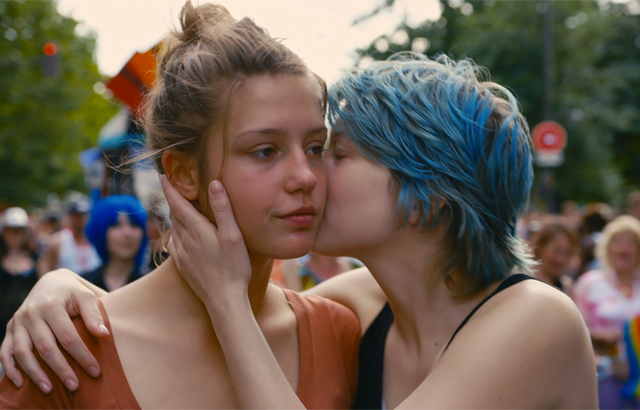 Has there ever been a more hotly contested lesbian film than Blue Is the Warmest Color? Queer critics run the spectrum from thinking it's a piece of voyeuristic garbage to the a piece of revolutionary art. The controversy doesn't stop with film criticism and lesbian fandom, though. After the film's release, Léa Seydoux and Adèle Exarchopoulos said the experience of working with director Abdellatif Kechiche was so traumatic they'd never do another movie with him again.
It's very common in mainstream art criticism to look past a creator's dubious behavior to appreciate the art he creates. Blue Is the Warmest Color is the first time queer audiences were faced with that dilemma in such a far-reaching way. It unanimously won the Palme d'Or at Cannes, and became the first movie to extend that award to both the director and the actresses. In fact, Seydoux and Exarchopoulos are the only women, ever, besides Jane Campion to receive the Palme d'Or. It was also nominated for a Golden Globe and BAFTA for Best Foreign Language Film. (The studio strategically released the film at a time that made it eligible for the French Oscars, which meant it wasn't eligible for an American ones.)
Critics who loved Blue praised it for being "raw, honest, powerfully acted" and "deliciously intense." All of which things are very true, though I'm not sure I would call the intensity "delicious." It's so intense it's almost nauseating!
Blue Is the Warmest Color is probably the most talked-about lesbian film in history. It's also notable that, unlike the graphic novel on which it was based, no one died in the end.
---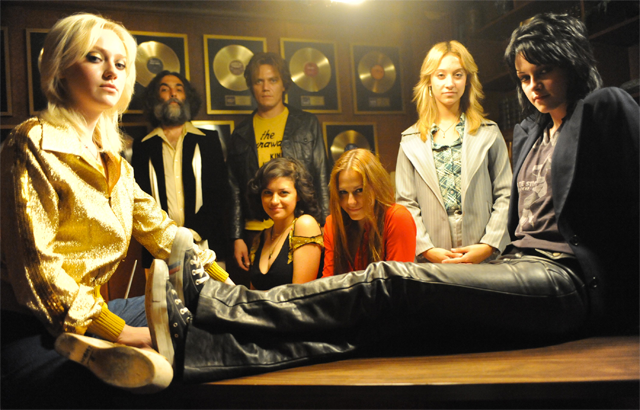 Julie and Brandy (in our box office) reviewed The Runaways for us, so if you allow yourself only one piece of Autostraddle nostalgia today, click through and watch their review for yourself. You won't be sorry. There are wigs.
No one can say for sure if this is the film that caused Kristen Stewart to finally accept her undefinable sexuality, but probably it is, right? Probably you don't play Joan Jett and come away straight. Queer women were always going to go all in on this, and not just to see Joan and Cherrie making out on screen. No, this is The Runaways, the gateway to all our all-female rock-and-roll dreams, our dark angel icons! And while the film didn't get everything right about the band, everyone from Joan and Cherrie to the press praised it for capturing that "despair and frustrated energy" that pervaded life in the mid-70s.
And, like I said, it made KStew gay.