This review contains mild spoilers for HBO's Bessie, which airs tonight at 8:00 p.m.
Queen Latifah was born to play Bessie Smith.
I've grown up with Queen Latifah in my pop culture world. First, she was my favorite rapper because she dared to ask men "Who you calling a bitch??" on the rap anthem/classic U.N.I.T.Y. Then Queen La blew up the television sitcom world with Living Single, a show about a group of young Black professionals having fun and working their way up in the world, and I loved every minute of it. Shit, truth be told, Living Single's whole look got snatched by white media to make Friends, amiright?
Anyway, all this to say, I've watched the Queen make so many different moves and artistic choices, and it's here, in Bessie, that she radiates. Bessie is the role of a lifetime for Queen Latifah. She's never been more poised, emotionally raw and free in her skin in any other role. Not in Chicago, not even on her own talk show, The Queen Latifah Show.
All hail the return and the continued Black Reign of Queen Latifah.
Directed by Dee Rees, Bessie is the biopic of the most popular female blues singer of pre-Great Depression America. And honestly, before watching this movie, I didn't know too much about Bessie Smith at all. Damn, y'all, we've been missing out on a legend.
Bessie Smith belongs up there at the top of our bisexual role models list: above Evan Rachel Wood Bisexual and past Callie La Mega Badass Bisexual Babe. Bessie's romantic entanglements move the narrative – as is the case in most films about women – but this focus feels more authentic. Bessie doesn't rely on any of her lovers to fuel her ambition or push her career forward. The momentum is all hers. And damn, it looks good to see Queen La as Bessie cuddled up with the beautiful Lucy, played by Tika Sumpter, exchanging sweet words while wearing silk pajamas. It's equally as thrilling to watch Jack Gee, played by the ever enigmatic Michael Kenneth Williams, willfully audition to be Bessie's main man. As for Bessie, she snaps them both up and let's them know she doesn't belong to anyone but herself.
Now, some of the romantic twists are a bit confusing. If you're hoping there's gonna be a moment where everyone sits down and discusses the parameters of their polyamory, you're gonna be waiting a while. Order some delivery. Keep waiting, cuz it ain't happening. I wanted a little more explanation: like how did Lucy feel when Bessie started up with Jack? How did Jack feel when Bessie started banging new dude and Lucy and whoever? Was this just how things went back in the day? All show and we just don't talk about it? The one constant is that Bessie's in charge.
Bessie is bomb, y'all. Super bomb. She stands up for herself and her people even in the face of the damn Klan. The Klan and the moments with rich white people are fucking terrifying. Like hold-my-breath, oh-my-god is Bessie going to die right now, terrifying. There are no white saviors in this film, thank the universe. Bessie Smith doesn't cater to white people or men and as brave as her fight is, it's equally gut-wrenching; at any moment, the world she fights for could have swallowed her whole and left her to rot. Queen Latifah ever so capably maneuvers Bessie from any sort of static strong-Black-woman archetype and weaves a palpable vulnerability, an ache for love, into her portrayal and it's glorious.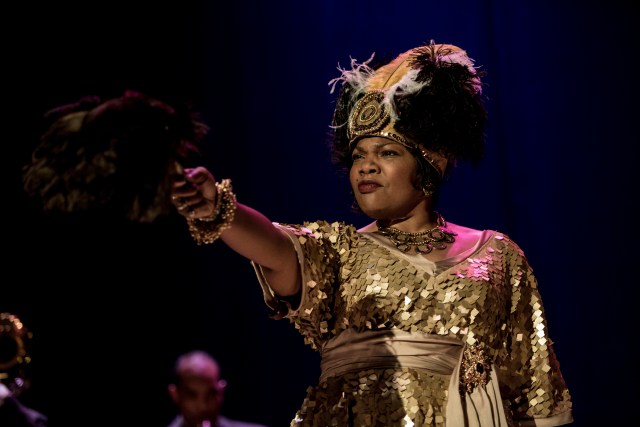 But let's backtrack a second, because maybe you're not with me right now, maybe you're too busy scrolling through Tumblr for pics of KStew and new boo and that's okay. Lemme pull y'all on back to this movie, right here. 'Cuz Mo'Nique literally almost stole Queen La's whole damn show and that woulda been some shit. Instead of stealing the thunder, Mo'Nique's portrayal of Ma Rainey, the world's most famous old school butch switch daddy, flows effortlessly alongside Bessie. Mo'Nique is a powerhouse, a sexy badass and if you didn't f*ck with Mo'Nique before, ya better start now or you're gonna miss your life.
Mo'Nique's Ma Rainey wears a 3-piece suit one night and sings a song about not needing a johnson to please the ladies. I started screaming and fanning myself on my couch. The next night, she's on stage in a beautiful glittering gown, complete with a white feather in her hair, crooning to a sold-out crowd panting to hear her moan the blues. I kinda loved their non-static presentations. Sometimes I feel like our community is missing out on that type of fluidity. Ma Rainey slayed in her suit and her dress and could give one damn if you cared. She got the ladies, the cash and the fame no matter what.
Here's an excerpt from my notes while watching:
MONIQUE AS MA RAINEY OHMAGAD MA RAINEY WAS GAY-ISH TOO

I'm literally blushing right now. Ma Rainey has all the fine girls sitting on her lap, not even twenty minutes in and we get Mo'Nique in a full tux singing a swag ass song about being butch and not needing a johnson to satisfy all the ladies omg omg i am hyperventilating. AYYYYY.
I think that kinda sums her all up? Yes?
Ma Rainey takes Bessie under her wing and teaches her how to be a traveling performer. A kinship blossoms between them; they both love women, sing the blues, and have to deal with white people trying to steal their profits and men who want to control them. It's a shame that their relationship turns sour, but it's that break that pushes Bessie out into the world. It's then that she claims her identity as an artist and becomes a star.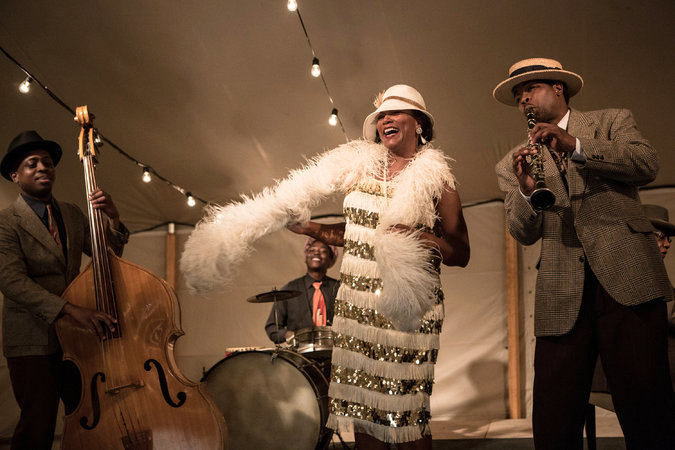 This movie is well-done, like so well-done. The vaudeville stage moments and all of the singing in clubs and giant tent revivals are lively and beautiful. The black excellence in this film is something to behold and revel in. Everyone is gorgeous. The costumes, the wigs, the make-up, the dancing: all of it is authentic and just so much damn fun to watch. There aren't enough period dramas with Black people and people of color at the forefront, and not enslaved or at the mercy of white people. Bessie transcends all of that. Bessie is alive and vibrant.
And best of all, at least for me, the healing that Bessie needs to pull her life together is found in her friendship with Ma Rainey. Like: be still my damn heart. Do you know how beautiful and profound it is to witness two Black women heal each other? The final moments between Ma and Bessie got me weepy eyed. And I'm hoping you'll feel it too.
Watch Bessie. Do it for the moments of bisexual badassery. Do it for the love of the blues. But goddammit, watch Bessie so that HBO knows this is the type of content we need and want and so that more Black women and women of color get the roles they need as actors and directors in an industry so polluted by rwm: rich white men.
Watch Bessie because her legacy is an important part of our history as queers in this world.
So go, watch, and then come back here and tell us all your feelings.
Bessie premieres tonight on HBO at 8pm EST.