Camaradas, welcome. We've got some serious business to attend to. But first, about last week, I swear I didn't mean to stand you up but nothing gay happened on Grey's. All of the gay happened on How to Get Away with Murder.
But this week, holy Melissa Etheridge, we got seconds, thirds, and fourths of the mess that is Callie and Arizona's relationship.
The episode opens with flashing images of Callie and Arizona from seasons past. They're shrouded in soft golden light. This is how they prepare us for incoming doom.
We are thrust into the middle of a Calzona therapy session.
Callie's wearing her best faux-cyborg-femme ensemble, all black and sparkly, with an updo made of steel. Arizona, all dressed up for a Carnival Cruise, is on the defense. They're both standing which is the ultimate sign of a very difficult processing session.
Baby-obsessed Callie is foaming at the mouth and I think near her taint, as well.
She is furious with Arizona for letting the neonatal fellowship take precedence over baby-making. Arizona argues that her career is like mega important so accepting the fellowship was a no-brainer. Duh, babe.
Callie is a magic 8-ball, y'all. In this argument, she infers Arizona's intentions through observing her behavior. Instead of listening to what Arizona is actually telling her, Callie tells Arizona all about herself.
Callie is convinced that Arizona hates children, doesn't want to have any more babies, and probably wishes she could send Sofia to baby boarding school.
P.S. Where the hell is Sofia?
Career v. Family. Fellowship v. Baby. Callie v. Arizona. Ding, ding, ding.
If this is what couples therapy is like, I'm going to need all of you involved in it to start selling tickets because the scandalous abuela in me would sit courtside, eat popcorn, and watch the hell out of you and your boo going through it.
Freak-Out Callie is in red-alert, the end is upon us mode and interrupts Arizona at every turn. Finally, their therapist, who is the lovechild of Judge Judy and Teresa Guidice, intervenes and asks Arizona to finish her thought. They all share looks filled with bitterness and exhaustion. I'm already tired.
---
Cut to Arizona elbows deep inside of a human being performing surgery with Dr. Dottie Hinson. It's a C-section and probably some other stuff that has to do with blood and almost dying. Arizona hands the baby to Dr. Karev who's head of pediatrics now and instead of focusing her attention back to the mother, she lingers on the baby for a bit too long.
Dr. Geena Davis, Jr. stomps Arizona with her eyes and reminds her that the mother is her patient, not the baby. Fuck that baby.
Flashback time! Remember when Arizona & Callie were fun, muy sexy, and super in love? Shit, remember when they were at least, likable? No, well here's a montage of scenes to remind us all why we should give any damns about their relationship.
---
And that will bring us back to their therapy session. It's dark and hell is hot, y'all. Arizona, glowing, gorgeous, fresh from a horse ride on her favorite nag, shares a few of her favorite things about Callie.
Callie, mi amor, a poem by Arizona Robbins.
I love when you talk to a patient and it's like they're the only person in the whole world.
I love…You bite your lip just a teeny bit, it's barely noticeable, when you study scans and I find it really sexy.
I love when you do the voices to Sofia at night and you make her laugh and I could listen to that sound all day for the rest of my life.
Fin
Work and motherhood. Arizona loves Callie because of things she notices at work and in moments Callie has with their baby. While this is great, I feel like it also screams of how badly they need to go on a date.
Callie once again interrupts Arizona, not just with her words but with her onslaught of never-ending tears. She'd win an Olympic gold medal in weeping if that was a thing you could compete in. Why doesn't Arizona whisper these sweet nothings into her muffin when they're not in therapy? Callie needs to know.
And Arizona says: I would but damn if you don't interrupt me every gotdamn time I try to speak.
Bloop.
Callie's stunned. Finally, Arizona's words have sunk into Callie's consciousness and she's heard all about herself. It's too late to turn back. Arizona, unleashed, insists that Callie is always trying to speak for her.
Their therapist jumps in but it's almost too late. Arizona has broken two of the Ten Processing Commandments.
III. Thou shalt use 'I' statements.
IV. Thou shalt not make blame-based statements.
Arizona starts over using the least antagonistic language possible.
Callie pounces, relentless, the Queen of Interruption Island. A new baby is more important than anything else in the whole wide universe. And when your wife tells you that you're always interrupting her, the best way to respect her honesty and vulnerability is to continue interrupting the shit out of her for the remainder of your very expensive therapy session.
Deep breaths.
---
Flash to Callie and Arizona in surgery with Meredith and the ever foxy Dr. Wilson. Instead of Calzona speaking to each other like surgeons, they're speaking to each other using passive agressive therapy speak. Callie makes a change in her surgery plan. Arizona suggests they stick to the plan. Something about primary arteries and interpositional grafts and more blood and dying. Their exchange is so awkward. They're at work. Sniping. Ay, so unprofessional and annoying. I would hate them so much if we were doctoring people together.
Flashback to the plane crash when Arizona lost her leg and more of their fights from back in the day.
I'm on my second Sam Adams Oktoberfest, btw.
---
Back in the never-ending nightmare that is their couples' therapy sesh, Arizona wails, "It's not about the leg. It was never about the leg."
And then we dive into Arizona's Adventures in Africa and are reminded of Callie leaving her there and Callie being pregnant upon her return with McSexy's baby. Callie takes a Zack Morris time-out and explains to their therapist that she's bisexual which means that sometimes she slept with dudes and it's a thing that freaks Arizona out.
Obviously this really means that Arizona never wanted to have a family with Callie and probs hates Callie for making sex with a man and getting knocked up. The best way to handle arguments with your partner is to assume the worst of them.
And then Arizona goes from chill Spliff Queen to flipping the table and going all Prostitution Whore! in like 3.5 seconds.
It's great actually. Arizona shouts at Callie and tells her to never imply that she doesn't love their child. This is the first time this season that Arizona has defended her love of Sofia and made her a top priority. Angry Arizona is so fucking hot, btw. I'm gonna need her to come over to my crib.
With Callie calling all of the shots, especially the ones having to do with making babies, Arizona never gets to make any decisions so that's why she chose the fellowship.
Arizona to Callie: You make me feel like the most selfish person in the whole world.
Unaffected, like an angry stone gargoyle, Callie drops the C-bomb. As in, #Neverforget that you cheated on me and that's all I ever needed to know about your decision making skills. Callie then takes a bite out of Arizona's still beating heart and spits it in her face. She grabs her Professional Bisexual leather jacket and threatens to leave.
---
Cut to Dr. Ginger Spice, Dr. SexyBrain McPrettyEyes, and Callie arguing. So much fun in this episode, btw, holy shit, all of the fun!!!! Callie says the word 'stupid' one hundred times and Dr. SexyBrain McPretty Eyes storms out to get his edges done.
More fighting, and then Dr. Hunt comforts Callie and I want to barf but I don't because in this moment we're not in therapy with them anymore and all is ok.
---
Back to my favorite podcast, "Bringing Up All The Old Shit," starring Calzona! In Callie World, she's the benevolent queen who has done everything for Arizona like taking back her cheating ass and not leaving after the plane crash made her an amputee. Cuz that's what makes someone a saint.
Wedding Day flashback time!
Everything they've done has all been in the name of love and duty. But they're so resentful, they don't do what people need to do to keep love vibrant and beating and intentional.
All the ups and downs, car crashes, plane crashes, flash on the screen over their argument. Let's play the Blame Game, I hate you, more. Let's play the Blame Game for sure. Finally their therapist offers all of us a way out of this recurring nightmare:
They should take a break.
Holy fucking shit, what a novel idea!
Rules and Conditions of the break:
+30 days
+No talking
+No touching/intimacy
+Share child-rearing duties
+No seeing other people
A break is not an end. Obvs Callies freaks out and hates it and Arizona's eyes glimmer with hope over the prospect of getting time for her morning blunt. This all takes place during the first six minutes of this episode.
I need a massage.
Callie believes that this whole thing must be a set up. And drops one of her best lines ever:
This feels like a joke or a reality show, The Real Lesbian Housewives MD of Seattle.
Arizona doesn't laugh 'cause she's not blazed. Commence Callie and Arizona moving into other rooms in the house, determined to not share space while sharing a house and a child.
Boundaries are vital.
---
Day One
Callie straight up breaks the rules. I was screaming at her through the teevee but she didn't hear me, y'all. She tried to chat up Arizona about Sofia, their imaginary child and she tells Arizona she couldn't sleep. Callie, gurl, stop. Oh my God, it's one day. Put on a podcast, take a long shower. It's okay not to speak to Arizona, jeez. Ay, but she breaks the rules and Arizona doesn't crack.
Arizona is committed to these boundaries. She is a champion of boundaries.
---
Back at Grey-Sloan Memorial, Callie's chatting up a patient with a fractured arm. She can't stop talking y'all. It's a thing. Due to the severity of her injuries, Callie's gonna have to add screws and plates and some solar panels to fix it up.
Arizona and Dr. Karev talk to parents about putting their baby in a medically-induced coma so that they can perform a procedure that will stretch the baby's esophagus. The parents are less than excited. Dr. Karev wants to try a different procedure but Arizona won't let him. It's all a big metaphor for her not being able to move on or let go and who really cares about this part? Not me.
Arizona's chit chat with Karev makes her late for rounds with Dr. Geena Davis, Jr. So of course that means that Dr. Geena Davis, Jr. has to pull hard on Arizona's choke chain to keep her in line. We then learn all about Fetal Aortic Valvuloplasty in which a giant needle  is poked into the uterus from outside of the body and into a baby's heart. Fucking terrifying.
Arizona, Dr. Suck Up, and Dr. Dottie Hinson are in the OR. They're sticking needles into pregnant ladies and poppin' bottles of Rosé. Arizona swears she's got this. She's kinda like me when I took AP Spanish. I thought I knew everything until my teacher whipped out the subjunctive. And that's what Dr. Geena Davis does: she whips out that subjunctive and puts a pause in Arizona's cockiness.
And now its Arizona's turn to break the rules. She sends Dr. My Man Took Me To A Wedding And Dumped Me For The Bride Edwards to tell Callie that they need to switch Sofia's child care schedule. But it's whatevs because Sofia lives in the land of make-believe. Callie morphs into Ursula the sea witch, sings an a capella version of Poor Unfortunate Souls and sends Arizona a message of hate from their imaginary baby.
Message from Callie on behalf of Sofia to Arizona: Sofia needs you to tuck her in so stop being a basic ass B and get your schedule together.
Callie and Meredith share a moment over a tumor in someone's leg. Those moments are the ones worth cherishing forever.
---
Back at their no-love shack, Callie tucks in Sofia The Friendly Ghost, from the hallway. Hearing sounds of joy, laughter, and happiness, Callie decides to investigate because if she's not in a good place, no one is allowed to be in a good place.
Kepner, who is just adorable and bubbly and perfect, is helping Arizona make Jell-o molds. I don't think there could be a cuter friend date in the world, btw. If death stares could bring about actual death, Kepner and Arizona would be puffs of smoke and ash. Callie hates fun and hates not being able to talk to Arizona, so all this jell-o business brings out her bitch face. Cue the death metal soundtrack this scene so desperately needs.
Callie grabs the wine bottle, swings and exits. This is how I like to leave awkward situations too.
I've never been more grateful for a commercial break.
---
Day Ten
Arizona wins a Gold medal in baby-flipping and Dr. Dottie Hinson removes the choke chains from her neck. She gets first dibs on the next surgery and damn, it's nice to see her smile.
Cut to Callie's patient. She's experiencing shooting pains in her arm. Everything is working fine. The arm gets wifi and the solar panels are absorbing all the energy but something's up but Callie can't figure out where her pain is coming from.
Embarrassed, Callie runs from the patient into a supply closet. She knocks over some bed pans because she aren't any vases for her to throw and there's no one around to slap.  Meredith pops out, puts away her bottle of Jack, and asks Callie if she's alright. Obvs she's not alright, Mere.
Callie takes this opportunity to talk and to guilt Meredith into being more compassionate. Chugging straight from the bottle, Meredith tells Callie to lighten up because everyone has problems. You ain't special. They decide to leave work and go to Señor Frogs where they take body shots off each other and bitch about being Unhappily Married with Children.
We are then gifted with Callie's best scene and dialogue ever. Forget what I said before; this is the best:
Calliope Torres on Bisexuality in the LGBTQ Community:
There's a B in there and it doesn't mean Badass. Okay, it does a little, and it also means Bi.
Clink – Another body shot.
 Meredith admits that Christina was the third rail: dangerous and necessary. She kept Mere going and understood her but now she's gone. They had the following exchange: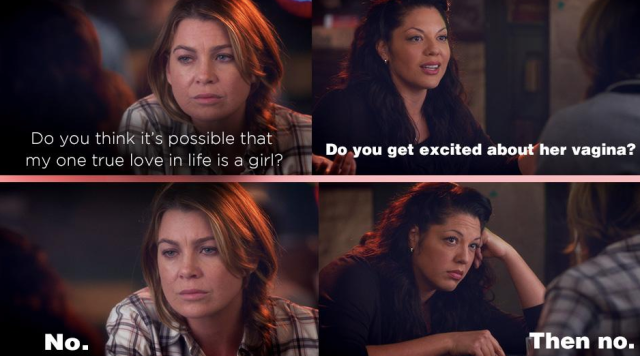 Yo, falling in love is way more complicated than getting excited about somebody's vagina.
Their exchange about love is hella basic but since taking on gender and sex and anything more complicated than a shot is too much for them, it's the best way Callie is able to say, "No, Meredith, you're not a secret lesbo." However, their Ode to Vaginas song is perfect. Let's sing it the next time we're on top of Mt. Feelings, kay?
Callie stumbles. How is she not projectile vomiting from all those damn shots of tequila? Jesus Christ!
Warning! Warning! Don't go into your wife's bedroom when you're on a break and you've been taking tequila shots all night.
But there she goes. And hot damn Arizona is gorgeous; her skin glows. She's got that sweet, hot wife thing going. She's your friend's smoking hot wife who bakes cookies and sends you a card on your birthday. DAMB. AY. Callie plops onto Arizona's bed. She's a lost, lovesick drunk, puppy dog. God, pull out my heart. Finally, Callie isn't complaining. She is still quiet. She says more in her eyes and in her silence than in all the yelling and complaining she's done this entire season.
They kiss. They pull apart.
These wives are not alright.
Flashback to when they were younger and in the easy beginning stages of love, the sneaky make-out sessions, that time one of them purchased a corny neglige but it was hot wearing it anyway.
---
Back to Step Up: Therapy Revolution. Calzona confesses their sins of the flesh to their therapist. Both of them swear it was NBD. Arizona wishes they hadn't stopped. They broke the rules so they must start over. They objet but then their therapist slips off her chancla and shakes it at them. Terrified, they agree.
---
Back to Day One
Arizona, intent on smothering someone in the name of denying that she has any problems. Won't leave Dr. Karev alone in the NICU. Her criticism and hovering distracts Karev and causes him to snap a wire connected to a baby. Like this is one of the wires stretching the baby's esophagus and then it's gone and they have to start the process over. The parents blame Arizona. Karev puts Arizona in her place, not that I enjoy watching some dude tell a woman anything but Arizona hasn't given him the space to think. Sometimes, someones gotta tell you off.
---
Day 16
Callie and Meredith are yukking it up over a bloody leg in the OR. They use code words like mature adults to talk about inappropriate things like sex at work.
Anybody want a cheeseburger? And by "cheeseburger," I mean "the sex." Meredith points a crooked finger at Callies and says, "Imagine how good that cheeseburger's gonna taste when your diet's done."
Please don't ever connect cheeseburgers to sex. Ground beef is gross like especially compared to other delicious things that we can put in our mouths.
Other foods:
+Macarons
+Empanadas de queso
+Strawberries
+Anything besides cheeseburgers
In 30 days the spell will be broken and all will be well…
---
Back to their patient with the bloody leg. They cleared out his tumor but removed his hip. His girlfriend is pissed 'cause like people need hips, you know? Meredith assures her that it will be fine. Then she turns to Callie and says, "Hey New Christina, let's go get cheeseburgers and by 'cheeseburgers,' I mean cooked animal flesh with dairy products on top and not sex."
The burger arrives with a pickle on the side. Callie has a flash of genius. To save their patient, they'll just cut a pickle in half and connect his hip to it.
Arizona wanders around, alone, lost and confused and probably paranoid in their home and realizes that Callie didn't come home. Arizona peeks into her room to verify. She tells their therapist that they broke the rules. Not by eating cheeseburgers, but by speaking to each other. Arizona thought Callie might have been nibbling on someone's else's cheeseburger or dead. So she made Callie talk to her at work.
Once again, Sofia is used as an excuse for one of their communication issues. If this is why people have kids – to use their existence as a tool of manipulation – then everyone needs to stop right now. Bad parents, bad. Just say you were buggin' out and jealous and scared. Just say that. Leave your imaginary kid out of it. Arizona admits to checking the hospital records to see if Callie was at work. I mean if my baby momma went missing, I'd look too but still… Callie admits that her and Meredith went out carousing but then went back to the hospital to slice pickles.
And now Callie is alone with their therapist geeking over how jealous Arizona was. I feel you, Callie, but mama, this isn't the attention you need. I can love you better than she can.
Maybe the break is working. Even though they've set fire to the rules and eaten all the cheeseburgers, maybe the break is saving their marriage 'cause jealousy = solid love forever, right?
---
Day 29
Meredith and Callie are the stars of surgery theatre. The house is packed. their chemistry is electric. Blood and bones never felt so majestic.
Callie is called to the ER. Her patient with the pains in her arm crashed into a tree because she wants to die. In swoops Dr. Derek Shepherd to save Callie. Literally in like every episode this season, Dr. Callie has been saved by a man. What's good, Grey's? Finally, she gets to solve one problem but just as she's about to parallel park all by herself, some man pops up out of nowhere and starts using hand signals to guide her in.
Ay, at least they're going to save the lady from hitting more trees with her car.
Arizona, back from her jealousy trip, walks up to Dr. Geena Davis and Dr. I'm Derek's Sister Shepherd thinking she's down. But she's not allowed to sit with the Puffs. Instead Dr. Geena Davis sends her off to watch Earth Girls are Easy over and over again until she realizes what she did wrong. Never try to be down with someone else's clique.
Before she leaves, Dr. G.D. sets up an assist and if Arizona does not make the shot, she's also going to be forced to watch Transylvania 6-5000. Hope those jell-o molds prepared you. Arizona is dismissed.
Derek and Callie are in the OR burning nerve endings in their patient's spine. Callie feels guilty. Derek tells her it's not her fault. There's no way she could have known about the damage in the spine. Just like in her marriage, Callie's doing the best she can.
---
And then it's just Callie and Arizona at home.
They're both drinking wine. Arizona studies her jell-o molds. Callie stalks her from behind. The tension is thick. Arizona's neck is sore. This is literally the oldest sex setup on record. "Baby, my neck hurts. Could you rub it for me?" I'll rub it for you. Callie slides her hands over Arizona's shoulders. Shit, I felt it. They haven't touched in 29 days. At first, I was upset with Callie for breaking the rules again but watching it the second time made me more sympathetic. Like damn, yes, touch each other. Maybe if you'd massaged each other more things wouldn't be so very effed.
Finally: cheeseburger time. But we don't get even a shred of lettuce or tomato.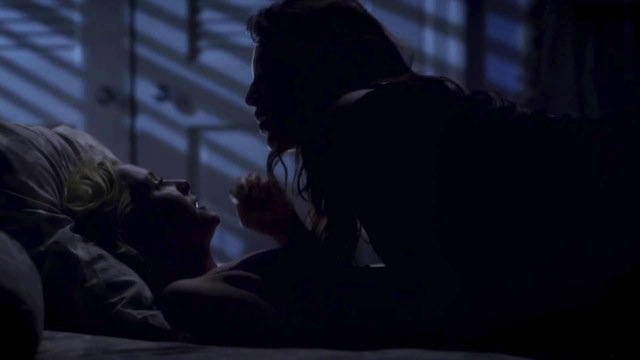 They smooch on the bed in the dark and then the scene is over.  You've put us through all this and we don't get to see any soft lady bits? Bastards.
---
Recovering from a night of sexcapades, an exhausted Arizona gets pulled off Dr. Geena Davis's surgery. She wasn't ready, y'all. Post surgery: Dr. Dottie Hinson pulls Arizona into an on-call room for a good old fashioned flogging. There are only five fetal surgeons west of the Mississippi River and if Arizona doesn't get her shit together, she won't be the sixth.
Arizona has one last chance and she's off to buy more jell-o and wine. She might not be the chosen one.
---
Day 30 – Mere and Callie might become official beer'n'burger buds.
Now back to Nightmare on Couple's Therapy Street. What have the duelin' dykes learned in 30 days of rule breaking?
Arizona: I love you, Calliope. I love you. Life without you terrifies me… I need my anchor. I need you. You're the only thing I will ever need.
 Callie. Crying like she's at a wake. This isn't gonna end we… Damn.
30 days gave Callie the distance to she how she'd lost herself in their relationship. Callie's tears don't stop. Can't stop.
Callie: I finally felt free and by being free, I feel I can see now that constantly trying to fix us is the thing that's been killing me slowly and I don't want to do it any more and maybe instead of loving you so hard, I should try loving myself for a while.
And then Callie leaves and that's it.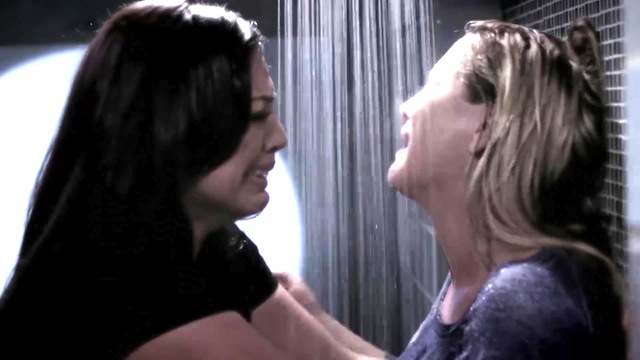 ¡Los suspiros son aire y van al aire!
¡Las lágrimas son agua y van al mar!
Dime, mujer, cuando el amor se olvida
¿Sabes tú adónde va?
(1868, Gustavo Adolfo Bécquer)
How did this episode make you feel? Did you cheer into the night when Callie commanded space and attention for her bisexuality? Were you equally as grossed out by cheeseburgers as a euphemism for sex as I was? Are you glad Callie decided to cut the cord on their relationship? Or did you cry the entire time and still can't stop shaking? Were you stunned into reverie by how hot Arizona looked this episode? Don't be afraid or ashamed. We're here to support you. What did I miss? Let's talk about the end of Calzona.