Monday night marks the debut of the first episode of When We Rise, Dustin Lance Black's eight-hour miniseries documenting the history of the post-Stonewall U.S. LGBTQ Rights Movement, with a specific focus on San Francisco. I've spent the weekend knee-deep in this show and the stories that inspired it, and my review will go up tomorrow. But in the meantime, I thought this would be, you know, an excellent excuse for a HERSTORY LESSON.
First, I've got a quick summary of the series' historical context, broken down by episode. Then we'll look at the lives and accomplishments of some of the women most prominently featured in When We Rise.
---
Series Overview: LGBT History Events & Milestones Featured in "When We Rise"
Episode One (2/27/17) – Early-to-Mid 1970s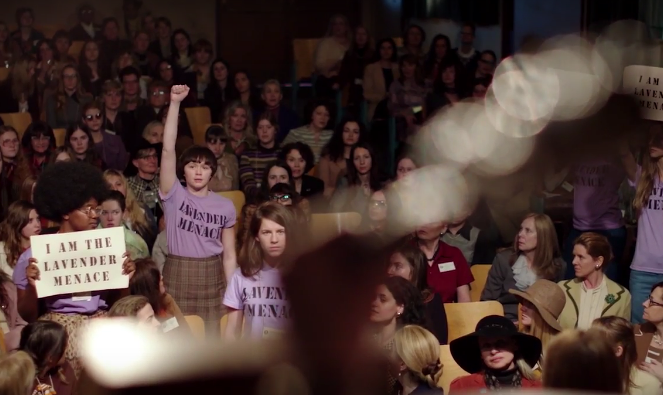 Episode One is grounded in the politics and culture of the era but the focus is on establishing the backstories of its three protagonists, who discover and embark upon life journeys in the early 1970s that eventually land them all in San Francisco. We meet Cleve Jones, a young Quaker activist who fled Phoenix for San Francisco to meet other homos and join the peace movement; Ken Jones, an African-American member of the United States Navy, who earns a reassignment from Vietnam to San Francisco to work on a desegregation project and Roma Guy, freshly off her Peace Corps assignment in West Africa who moves to San Francisco from Boston after the National Organization for Women kicked out all the lesbians.
This episode also features the "Lavender Menace" disrupting the Second Congress to Unite Women to protest anti-lesbianism within the women's movement and Betty Friedan's lesbophobia. However, in real life, that action took place in 1970 in New York, before "When We Rise" begins (1972) and as far as I can tell from historical records available to me, Roma Guy was not present.
Episode Two (3/1/17) – Late '70s to Mid '80s
The fight against Proposition 6, which threatened to bar gay and lesbian teachers from working in California Public Schools
Harvey Milk's campaign and election
Protests following Harvey Milk's assassination and the light sentencing of his killer, Dan White
The emergence of a "gay cancer" that will eventually be identified as HIV and the response to the crisis from the LGBT community and its health workers as well as the lack of response from the U.S. government
Anita Bryant launching the anti-gay Christian fundamentalist Save Our Children campaign
The 1979 National March on Washington for lesbian and Gay Rights in Washington DC
Episode Three (3/2/17) – '90s
HIV/AIDS continuing to wipe out huge swaths of the LGBT community
The launch and tour of the Names Project AIDS Memorial Quilt
Bill Clinton becoming president and signing Don't Ask Don't Tell into law
The 1993 March on Washington attracting nearly one million marchers protesting Don't Ask Don't Tell, Colorado's Amendment 2, hate crimes and ongoing discrimination
The emergence of ACT UP! The AIDS Coalition to Unleash Power
The enactment of DOMA, the Defense of Marriage Act
Episode Four (3/3/17) – Late '00s to early '10s
George W. Bush endorsing a constitutional amendment to restrict marriage to opposite-sex couples
Californians granted the right to marry in May 2008, followed by the passage of Prop 8 in November, during the same election that made Barack Obama the first African-American President of the United States, which overturned the pro-equality measure
The Supreme Court ruling in favor of same-sex marriage
President Obama becoming the first U.S. President to come out in support of same-sex marriage
---
The Women Of "When We Rise"
Roma Guy (played by Emily Skeggs and Mary Louise Parker)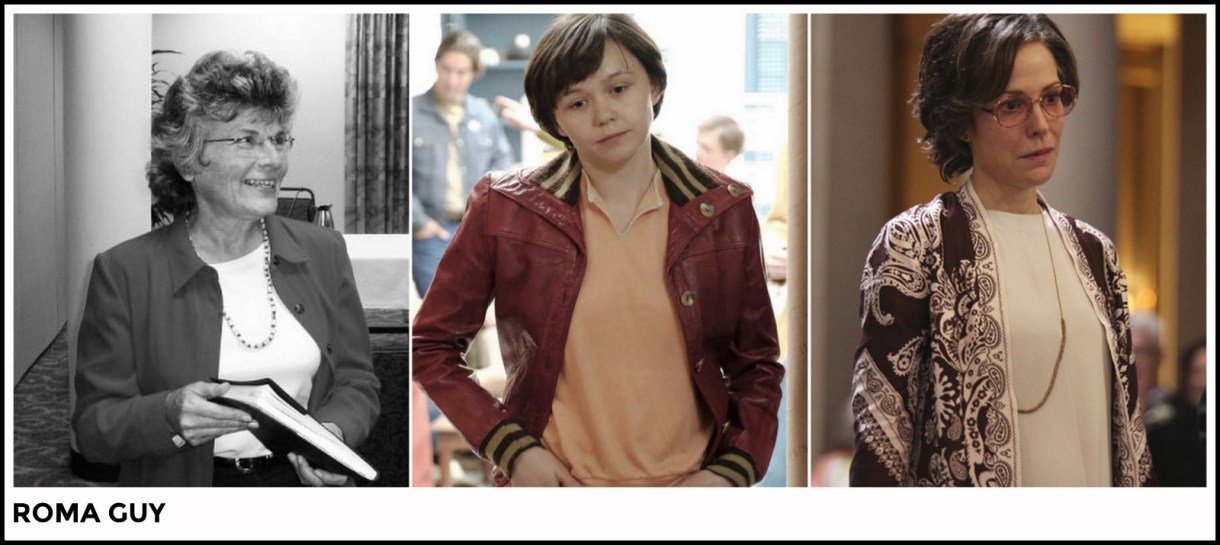 Guy grew up on the US/Canadian border in a large working class family. After completing her college education in Maine and Detroit, she worked for nine years on public health projects in West Africa. In 1970, Guy moved to San Francisco and her career as a women's health advocate began.
Founder of the San Francisco Women's Building
Founding member of the Women's Foundation of California, the San Francisco Women Against Rape and La Casa de las Madres
Founding member of California Women's Agenda, which advocates for universal culturally and linguistically competent health care and reproductive rights
Faculty for the Department of Health Education at San Francisco State University & Health Commission of San Francisco
Director of Bay Area Homeless Program
Advisory Board member of the first national Lesbian Health & Research Center
---
Cecelia Chung (played by Ivory Aquino)
Chung grew up in Hong Kong, moving to Los Angeles with her family in 1984 and promptly headed north to attend City College in San Francisco. After graduating from Golden Gate University in 1987, she worked as a court interpreter in Santa Clara County, but lost her job when she began presenting as female, which eventually led to homelessness. She engaged in survival sex work, was incarcerated, struggled with drug addiction, and was physically and sexually assaulted. Her mother was called to the hospital after Chung was stabbed, and this circumstance led to her mother paying for Chung's 1998 gender affirmation surgery in Bangkok. Chung is now one of the most prominent activists fighting for better health care access and treatment for trans people, HIV-positive people, and people of color.
Worked as an HIV test counselor at the USCF AIDS Health Project
First transgender woman and first Asian-American elected to lead the Board of Directors of the San Francisco LGBT Pride Celebration
First trans woman to chair the San Francisco Human RIghts Commission
Co-founder of the Trans March
Founder of the San Francisco Transgender Advocacy and Mentorship program of the SF LGBT Community Center
In 2013, through her appointment to the Health Commission, she made San Francisco the first city in the U.S. to cover gender reassignment surgery for uninsured transgender patients.
Developed a "Transgender 101" training system for the Department of Public Health staff
Currently, serves as Senior Strategist at the Transgender Law Center.
---
Pat Norman (played by Whoopi Goldberg)
Norman, a U.S. navy veteran, was born into activism — her mother had received honors for her advocacy from Martin Luther King Jr and Jesse Jackson. She's worked tirelessly as an advocate for people with AIDS, the LGBTQ and African-American community and all overlaps wherein.
Founded the Lesbian Mothers Union in 1971 to address custody issues facing the gay community
In 1978, became the first openly gay person hired by the San Francisco Department of Public Health to serve the lesbian/gay community.
In 1984, first out lesbian and first lesbian of color to run for San Francisco city supervisor
During the AIDS crisis, developed the "San Francisco Model" to meet the social, medical and emotional needs of people with AIDS.
Co-chair of the California Mobilization for Peace, Jobs and Justice Rally
Community Health Worker at the Center for Special Problems in San Francisco
Chair of the 1995 Lesbian & Gay Rights March on the United Nations in New York City
Received awards from Ms. Magazine, the Bay Area Women's Leadership Forum, the National Coalition of Black Lesbians & Gays, among others
---
Del Martin (played by Rosie O'Donnell) & Phyllis Lyon (played by Maddie Corman)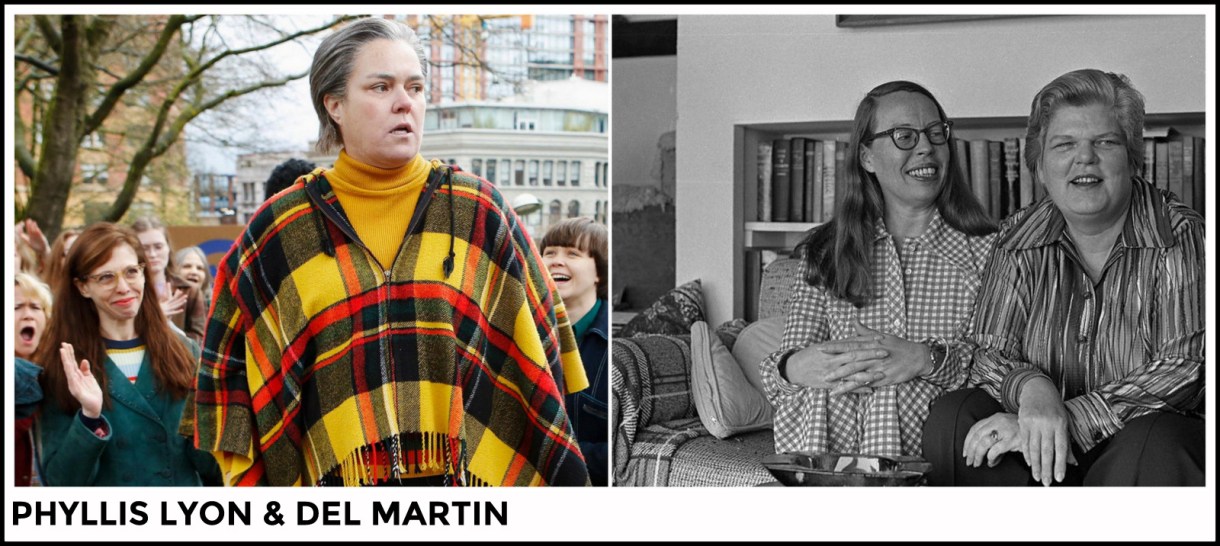 Del Martin and Phyllis Lyon are legendary lesbian activists who changed everybody's lives forever and ever and also have really gay names. They both studied journalism at UC-Berkeley in the '40s but didn't meet until 1950, when both were working at the same magazine in Seattle. They began dating in 1952 and U-Hauled to San Francisco in 1953. They wore matching pantsuits to their weddings in 2004 and 2008.
Founded the Daughters of Bilitis in 1955, the first social and political organization for lesbians in the United States.
Edited and published The Ladder, a seminal lesbian magazine birthed from the DOB, until 1963.
First lesbian couple to join NOW (the National Organization For Women).
Del was the first openly gay woman appointed to the San Francisco Commission on the Status of Women, where she teamed up with Ella Hill Hutch to "focus on the nexus of gay women's rights and racial and ethnic discrimination."
Along with medical providers and health activists, founded the Lyon-Martin Health Services Center in 1979, which has become the gold standard for community-based culturally-sensitive health care.
In 1995, became delegates to the White House Conference on Aging.
---
Diane Jones (played by Fiona Dourif and Rachel Griffiths)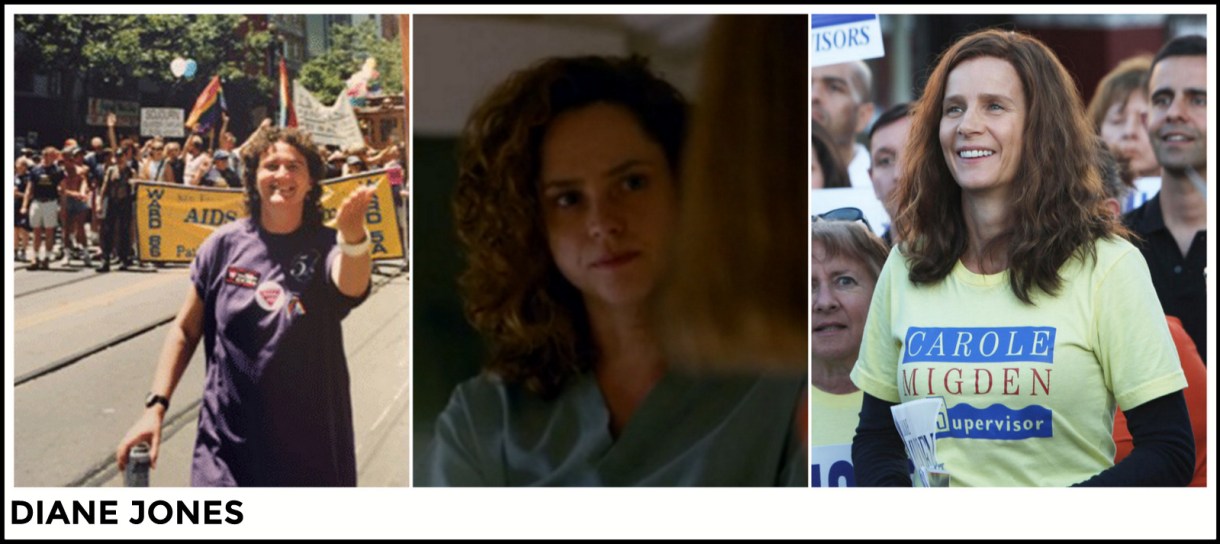 Roma Guy met Diane Jones, her future wife, while working with the Peace Corps in Togo, West Africa. Jones, a Registered Nurse, pioneered the "San Francisco" model of HIV care in the 1980s, eventually spending 33 years serving people living with HIV/AIDS in Ward 86 of SF General.
---
Sally Gearhart (played by Carrie Preston in a terrible wig)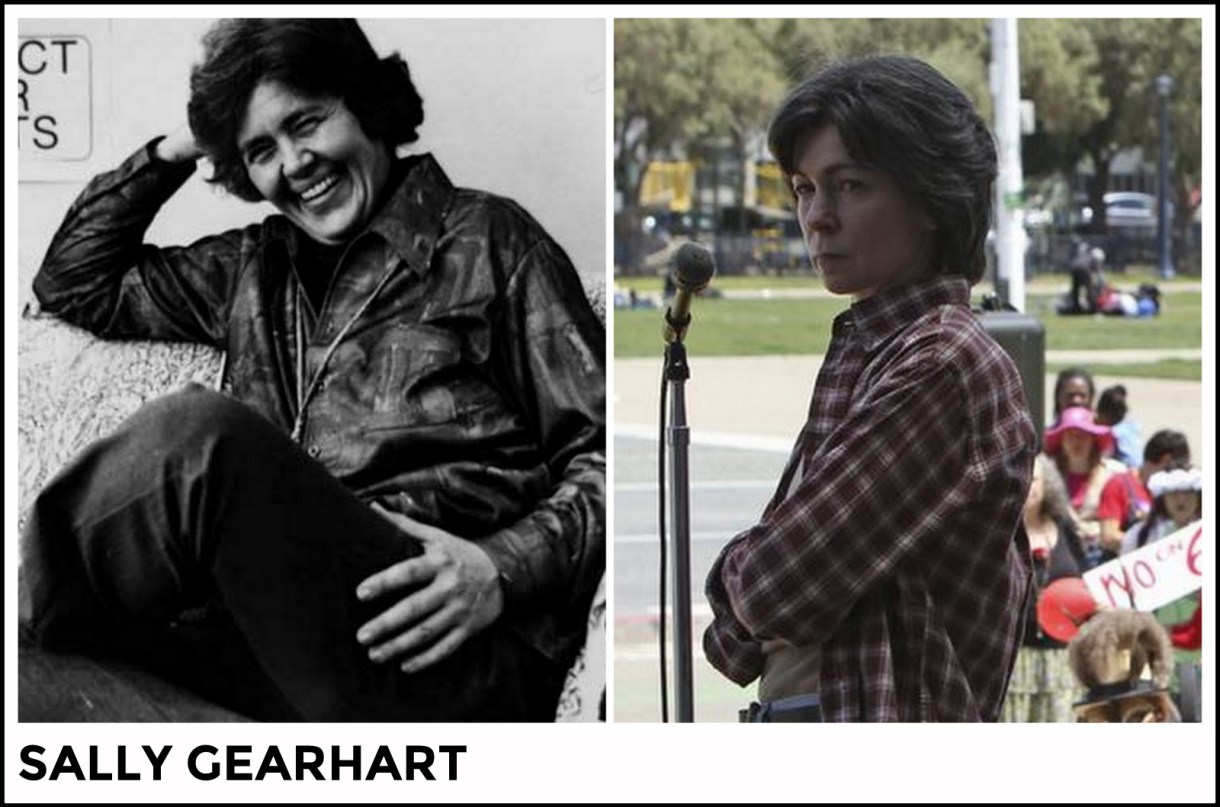 Gearhart grew up in Appalachaia and studied theater and "public address" at Sweet Briar College, Bowling Green State University and University of Illinois at Urbana-Champaign. She worked as a teacher in Texas and the Midwest before moving to San Francisco in 1970. Eventually, she became a radical lesbian activist, working with Harvey Milk to defeat California Proposition 6 and later appearing in a number of documentaries and anthologies about LGBTQ activism in the 70s.
In 1973, became the first out lesbian to obtain a tenure-track faculty position at San Francisco State University, where she pioneered one of the country's very first Womens and Gender Studies program.
Co-author of Loving Women/Loving Men: Gay Liberation and the Church (1974)
Channeled The Feminist Tarot in 1975
Author of queer Science Fiction novels including The Wanderground and The Kanshou: Book One of Earthkeep
In 2008, Sally Miller Gearhart Chair in Lesbian Studies established in her honor at the University of Oregon
---
Bobbie Jean Baker (played by Jazzmum)
Baker moved to the Bay Area in the early '90s, where she was active in the religious and nonprofit communities in capacities including peer advocate, case manager, mentor, domestic violence specialist and housing manager. Ordained as a minister at the City Refuge United Church of Christ, she also served as West Coast Regional TransSaints Minister of the Fellowship of Affirming Ministries and lay minister at Transcending Transgender Ministries. Baker was also an incredible singer who performed with the Transcendence Gospel Choir.
---
Bishop Yvette Flunder (plated by Phylicia Rashad)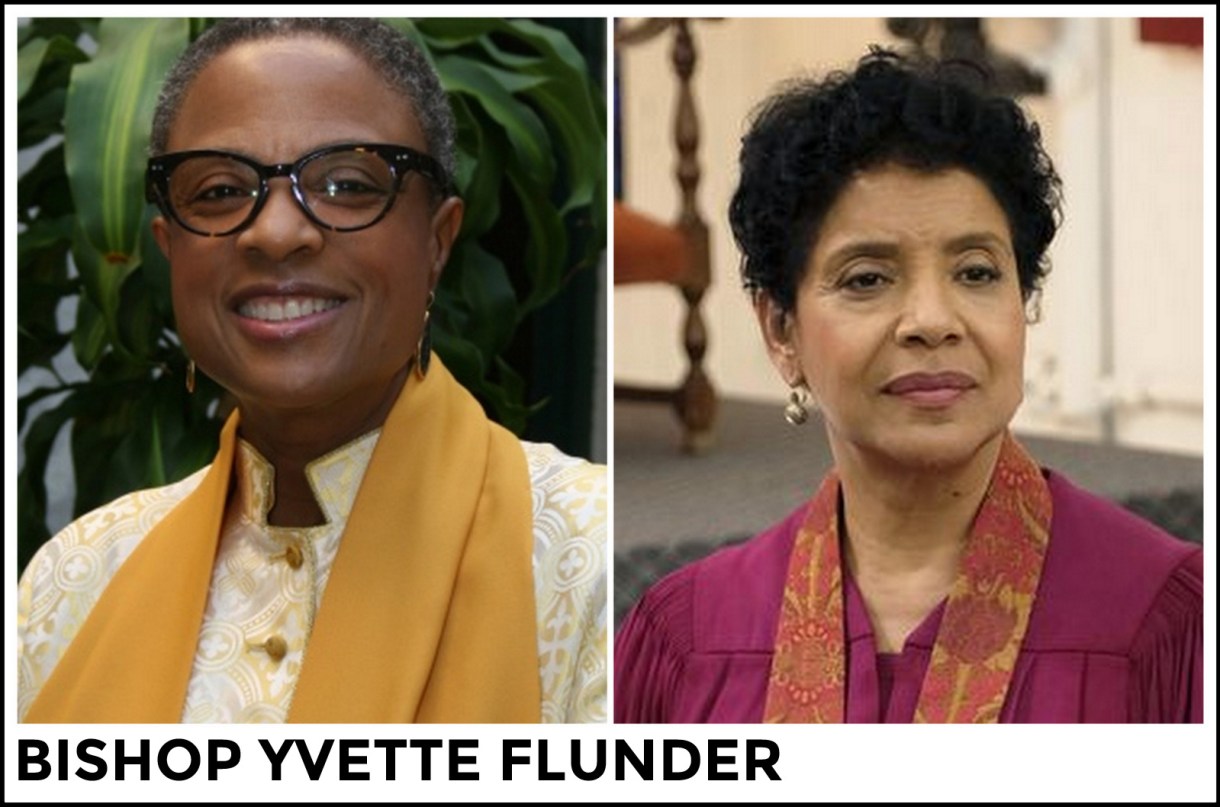 Flunder, a San Francisco native, is an ordained minister of the United Church of Christ with masters and doctorate degrees in Ministry from the Pacific School of Religion and the San Francisco Theological Seminary. Flunder currently serves as Senior Pastor of the City of Refuge United Church of Christ, which she founded in 1991, and as Presiding Bishop for The Fellowship of Affirming Ministries. Additionally, Flunder is a gospel recording artist, renowned speaker, and published author. Her work serving the African-American, LGBTQ and HIV/AIDS communities is too vast and exceptional to cover all of it here, now, but here's some of what she's done:
Along with her staff and through the Ark of Refuge Inc, founded three facilities including the Restoration House in San Francisco to provide housing, direct services, education and training for persons affected by HIV/AIDS
Active voice for the Religion Counsel of the Human Rights Campaign
Board member of the National Sexuality Resource Center and The Shanti Project
Co-Chair of the Religious Advisory Committee of the National Black Justice Coalition
Chair of the San Francisco Inter-Religious Coalition on AIDS
Founding Member of the African-American Interfaith Alliance on AIDS
Member of the Alameda County Ryan White Consortium and the San Francisco HIV/AIDS Planning and Prevention Council
Consultant to the Congressional Black Caucus Health Brain Trust
Received a 2011 Robert C. Kirkwood Community Leadership Award from the San Francisco Community Federation
Trustee and Adjunct Professor and Speaker at the Pacific School of Religion
Keynote Speaker for the White House observation of the 26th Anniversary of World AIDS Day
---
When We Rise premieres Monday night, 2/27, at 9pm on ABC.