Queermos, you might know I'm in an MFA program — as a result of all that good learning I'm getting as I become a Master of Fine Arts (in Fiction) I'm writing a novel that draws heavily from the events surrounding GamerGate. As such, I've spent a lot of time both experimenting with different ways to write about video games and staring at subreddits that barely think women are people. It's all research and much of it is really kinda horrifying; for a really long time I resisted making a Reddit account because I was only looking up the internet's asshole and I started to feel like Reddit's proctologist — why on earth would I want to create an account to participate?
But I did see the merits in it — first, holding myself apart from the culture might mean I miss things. And since I'm writing fiction, I might be missing the things that can really add texture and truth to my work. I also didn't particularly like clicking a bunch of bookmarks to get where I needed to go — y'all, I have cited a subreddit in a critical essay and it is not easy and I have not yet figured out how to do it properly. Most of my objections were ideological: I didn't want to feel like I was participating in a culture that flings around all sorts of homophobic language all the time; I didn't want to feel inundated by posts that make me unhappy; I didn't want yet another account on the internet, etc. But on a whim I asked my Facebook friends and Twitter followers if I should get a Reddit account. I was not prepared, y'all. I was not prepared.
People voiced opinions as if they were vying for my soul in the battle of good and evil. I had no idea that people had so many feelings about Reddit. I got everything from "NOOOOooooooOOooooOOOOooooOOO WHY" (our own Anna Bongiovanni) to "Hard yes" (courtesy of Cee Webster, our website magician). One person even messaged me privately to tell me that Straddlers hate Reddit — is this true? Is this a thing? But it was this response from Taylor Hatmaker at the Daily Dot (and also of Autostraddle) that swayed me: "reddit is the bestworst, but it's one of the foremost communities shaping internet culture either way." Bingo. That's it. I write about internet culture; I write about it here, I write about it in my fiction and essays for school and in general; I write about it in my journal. I am a tiny bit obsessed with internet culture. As of January of this year, Facebook has more active users than China has citizens — the internet shapes our world as if it is a separate country, unmoored from physical Geography and so far more elastic a country than we've ever seen before. It shapes our economy, it shapes our attitudes, it can help spark and organize a revolution. Digital space matters. And Taylor's right — Reddit is one of the communities at the helm. I went from ambivalence to wondering why I didn't have an account before this. Getting a Reddit account has allowed me to find the good stuff, not just the horrendous stuff I was actively seeking out.
Here's what I've learned since.
---
There's a Learning Curve
Just FYI, I had a bit of trouble figuring out how to really use Reddit. Even after a few weeks, I'm still not convinced I'm using it to its full potential. For a few days I didn't even really know how to find subreddits and I was nervous to upvote or downvote things because I felt like I didn't speak the language yet. Since I spend a lot of time figuring out how to use things so I can tell you how here, I'm going to blame this on it being the middle of the semester. If you too are considering making a Reddit account, go in knowing the flow is a little clunky and plan to be at sea for a bit. Speaking of that—
---
Bacon Reader v. Alien Blue
One concern brought up in the longass thread that was "should Ali get a Reddit account" was that Reddit's design is really ugly and a little bit unfriendly in terms of user experience. I can't argue there, but it's certainly not the award winner for Absolute Worst Design (that'd be 4chan). One person mentioned that a way to get around this was to mostly use an app made for reading and posting on Reddit — Alien Blue was recommended, so I downloaded it to my iPhone. And y'all? I hated that worse. If I thought it took me a bit to learn the actual Reddit website, trying to ram Alien Blue's nonsensical interface into my head over a day and a half was even harder. I still haven't figured out how to upvote comments and posts on Alien Blue — and upvoting isn't just a feature of Reddit, but a part of the whole "meritocracy" ethos where the cream is supposed to rise to the top (result: not a meritocracy, but that's an argument for another day). I took to the appstore and found Bacon Reader. As a vegetarian, this is the only bacon I can get behind. I super prefer this app — interface elements are easy to find and interact with, plus it has a handy nighttime mode, which is especially good for me because I often find myself on Reddit if I can't sleep at night. Which leads me to my next point:
---
I Find The Personal Finance Board Really Soothing
If you regularly read Queer Your Tech, you might have guessed that I, like many queers, have a fairly fraught relationship with money. Money is hard, and queers don't talk about it enough. Often, thinking about money makes me sweat a little. But somehow, despite this, two subreddits in my "adulting" multireddit stand out as really soothing: r/personalfinance and r/ynab (which stands for You Need a Budget). I started using YNAB during research for Queer Your Tech (which is how I find most of the software I use, actually) and the subreddit is full of success stories and tips. Personal finance is full of advice on how to money. I think I find these two subreddits particularly soothing in the same way that I find the Studyblr tag on Tumblr soothing — things are orderly in a way my chaotic life only aspires to be, and where things are not orderly, people are striving to create order. It's comforting to know that somewhere out there, other people long for stability and order the same way I do — and that they're constantly balancing that with the chaos, same as me. Other subreddits on my "adulting" multireddit include r/legaladvice, r/freelance and r/frugal. Speaking of multireddits:
---
Multireddits Mean My Research Doesn't Interfere With the Fun Stuff
If you don't already have a Reddit account, you may not realize that you can organize the subreddits to which you subscribe into "multireddits," or collections of subreddits that you think are related to each other. It makes Reddit feel less vast for sure—not as overwhelming if you're just looking at your "gays" multireddit. Oh, what's in my "gays" multi, you ask? It includes, among other things, r/actuallesbians (an inclusive community despite the name, because r/lesbians is not whatcha want) and r/lesbianfashionadvice (courtesy of Cee), among other things — what am I missing, Straddlers?
But most important for me, it's helped to separate out the weird Men's Rights Activist stuff I'm looking at when I'm researching and writing creative pieces. That way I can just engage with communities I actively enjoy during my fun-times, and do some of the harder work when I'm mentally prepped and ready for it.
Because honestly, contrary to what I believed while I was only hunting for the shitty bits of Reddit, it's really not all like that.
---
Overall, Reddit is Kinda Hilarious
There are a bunch of different kinds of people who use Reddit; it's not just the sorts who could be described with Chris Kluwe's "paint-huffing shitgoblins" insult. Sure, they're there. But we all know they're on Facebook and Twitter too — sometimes they even surprise us by being on our newsfeeds, causing us to question our friending-choices. Their presence hasn't stopped many of us from engaging in those social media communities, and it certainly hasn't stopped me. So I suppose I was a little wrong to let it stop me from getting a Reddit account.
In most subreddits with reasonable humans participating, shitty comments get downvoted like crazy. I highly recommend looking at your "preferences" panel and considering just how shitty a comment has to be before you just don't want to know it exists. The default is comments with a score of negative four — I leave mine blank because of my self-imposed role as the gal who's giving Reddit a colonoscopy in the name of creative writing. That means I see everything.
Either way, most people on Reddit are kinda funny. r/NotTheOnion is devoted to news stories so ridiculous that you could swear they were satirical (tagline: Sadly, this is not The Onion)—in fact, on this board today I stumbled upon a Christian radio host who thinks that gay sex is responsible for the California drought. Another Redditor by the name of ButteryMancakes commented that "This is the only Republican that I've heard so far admit that climate change is a man made phenomenon." I think that's hilarious. Four for you, ButteryMancakes. Four for you.
Speaking of excellent subreddits—
---
There Is An Entire Subreddit Devoted to Chemical Reaction Gifs
It's r/chemicalreactiongifs and you get exactly what it says on the box (no worries, it's also physical-reaction-inclusive). Gifs. Of chemical reactions. Like this one or this one.
My new tactic for cheering people up: Oh, I'm sorry you are feeling like everyone in this graduate program is having more meaningful experiences than you. I am super sure things will get better. Here is a gif of aluminum melting because of something to do with induction heat and electromagnets that I don't fully understand: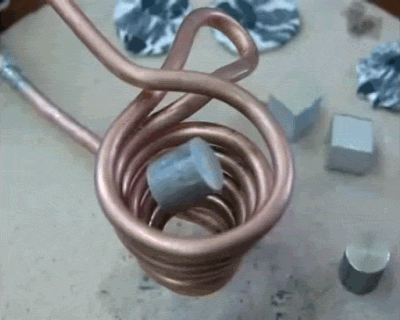 ISN'T IT PRETTY?
---
And you know what makes all of this even better? On Thursday, Reddit adopted a new anti-harassment policy. According to Think Progress:
In a blog post Reddit CEO Ellen Pao co-wrote with other staff Thursday, the company announced it was moving away from its traditional laissez faire approach and instead is working on changes to better represent the company's values for privacy, open expression and personal safety.

Under its new harassment policy, Reddit prohibits personal attacks and harassing behavior, defined as "systematic and/or continued actions to torment or demean someone" that cause someone to believe their physical safety is at risk, or Reddit is not a welcoming platform to converse or express ideas. Reddit has also set up email accounts where users can report abuse.
And from that very blog post:
Last month, we conducted a survey of over 15,000 redditors—these are people who are part of the reddit community—that showed negative responses to comments have made people uncomfortable contributing or even recommending reddit to others. The number one reason redditors do not recommend the site—even though they use it themselves—is because they want to avoid exposing friends to hate and offensive content.
So if my experience so far hasn't made you any more easy, know that under interim CEO Ellen Pao, Reddit is actually striving for values that aren't quite as smarmy and terrible as Reddit has previously been. Thank you, Ellen Pao.
What am I missing on Reddit, Straddlers? Are there subreddits I absolutely must visit? Or do you have an opinion that's different from mine? Please let me know in the comments below!
---
This has been the one-hundred-twenty-eighth installment of Queer Your Tech with Fun, Autostraddle's nerdy tech column. Not everything we cover is queer per se, but we talk about customizing this awesome technology you've got. Having it our way, expressing our appy selves just like we do with our identities. Here we can talk about anything from app recommendations to choosing a wireless printer to websites you have to bookmark to any other fun shit we can do with technology. Header by Rory Midhani.