Welcome to your weekly Pop Culture Fix, an assembly of links relating to… YOU GUESSED IT!… pop culture!
---
TV
+ Salon.com talks to Sarah Paulson about playing Marcia Clark on my new favorite show The People Vs. OJ Simpson. The show's dedication to centering Marcia in its narrative is one of my favorite things about it — as a kid watching the trial I swallowed every misogynist thing I heard about Marcia Clark, and this re-telling's focus on the sexism behind that infamy is an imperative view I'm glad we're all getting. (Another highlight of the show is, obviously, David Schwimmer) Guess who else talked to Sarah Paulson about playing Marcia Clark on my new favorite TV show The People Vs. OJ Simpson? ELLEN!
+ Julie Goldman of "The People's Couch" (who used to co-host a show for this very website with Brandy Howard and also was talent at our first three A-Camps and who is my fave comedian) is gonna be in a new lesbian-themed ABC comedy? What is this wonderful world we are finding ourselves living in? The Untitled ABC project, written by Ed Weeks & Hannah MacKay, "centers on an unapologetic lesbian and her best friend, a neurotic straight male, as they navigate their dysfunctional, co-dependent friendship and the world of dating." Goldman will be playing "JoJo, a fun-loving Southern biker who runs Austin's friendliest gastropub."
+ Apparently there is a "self-described lesbian lifestyle blogger Bridey Cruz (!)" in The Family, and her character "baldly loathsome character worthy of a lengthy dissertation about how television treats female journalists." Is nobody going to point out that The Family is the same show as Resurrection and The Returned?
+ Praise for "My Crazy Ex-Girlfriend" including that rare bird on television: a bisexual man. According to AfterEllen, "middle-aged, dorky divorced Dad" Darryl's coming out song made such an impact on his friends that it inspired new administrative assistant Maya to also come out as bisexual!
+ Gay people love The Golden Girls and this is how we got there.
+ This is what Piper Kerman would like you to know about prison.
+ You may have noticed that there's been some backlash to a recent death on The 100. This article about the situation just-so-happens to include some tweets from our very own Heather Hogan.
---
Famous People Are More Important Than Other People
+ Ruby Rose and Demi Lovato will be honored at the 2016 GLAAD Awards. Ruby Rose, who identifies as a genderfluid lesbian, will receive the Stephen F. Kolzak Award, presented to an LGBT media professional who has made a significant difference in promoting equality and acceptance.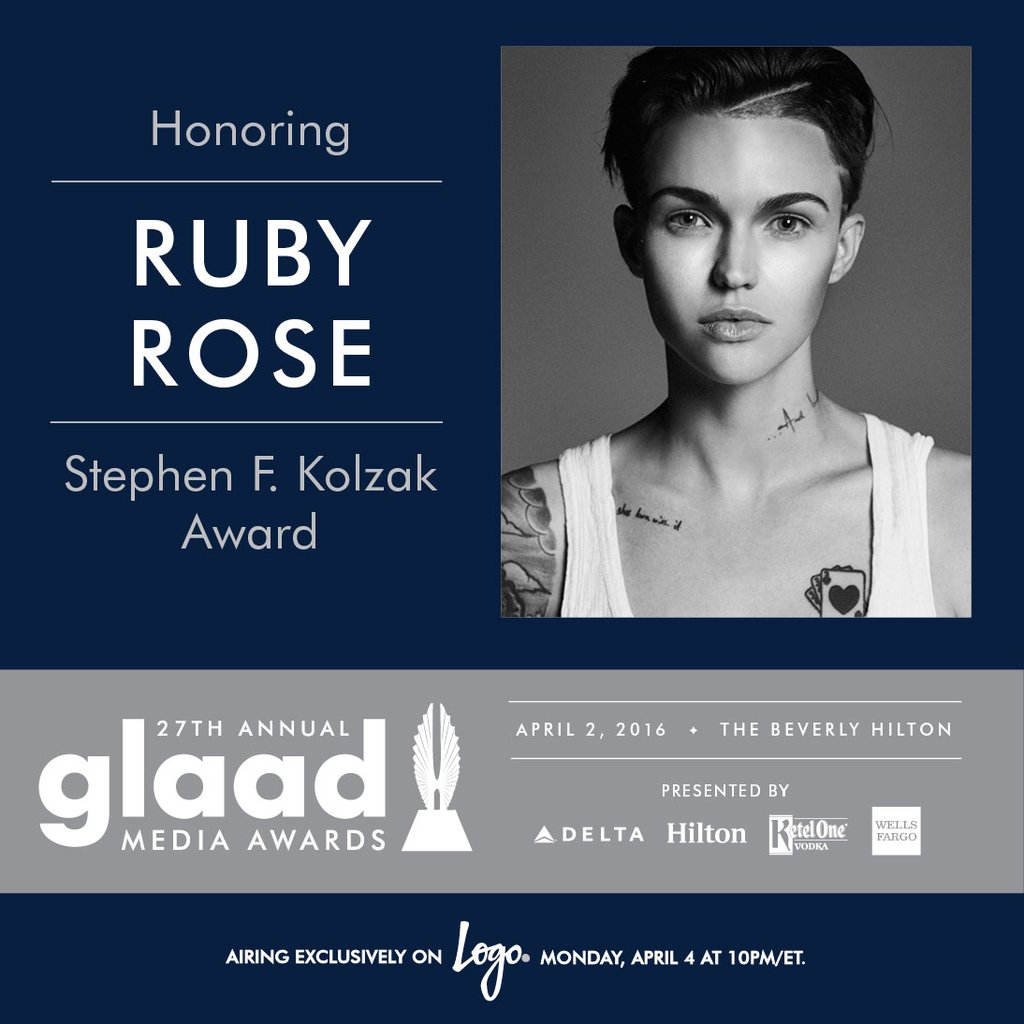 + Lily Tomlin and Jane Wagner are having some laughs regarding Donald Trump.
+ President Obama is skipping Nancy Reagan's funeral for SXSW.
+ Rowan Blanchard talks to Wonderland magazine about coming out on twitter, recalling "I'm okay with it now, but I still realize that I was allowing people to comment on something that's very personal. The first day I tweeted about it, it was definitely scary to see people commenting about things that literally have nothing to do with them."
+ Lilly Wachowski has come out as transgender! Her sister, Lana, came out a few years back. The Wachowski sisters are the creators of some kickass movies, like Bound and The Matrix, and also for Cloud Atlas, which was racist and terrible. They are a very powerful duo.
---
Film
+ Go behind the scenes of Carol with Todd Haynes.
+Buzzfeed Re-imagines popular movies with LGBT leads:
+ This sounds terrible: "Me Him Her seems to be about a guy (Dustin Milligan) who travels to L.A. to help his TV actor friend (Luke Bracey) come out of the closet, only to find himself hurled into a tumultuous relationship with a recently jilted lesbian (Emily Meade)."
+ Heartland is another film about forbidden lesbian love.
+ What if "Mean Girls" was a lesbian romance between Cady and Janis? I guess this means it wasn't already. In other Mean Girls news: IT'S GONNA BE A MUSICAL!
+ Angeli Bayani plays a butch lesbian tattoo artist who wants to have a baby in Lemuel Lorca's "Ned's Project," which will be shown at this year's CineFilipino Film Festival.
+ Twenty years later, returning to a pioneering black lesbian film.
---
Also
+ The Lambda Literary Award nominees are here, which means there are lots of books for you to check out ASAP. The only nominee I've read is Miranda July's The First Bad Man. I'm especially curious about Debut Fiction nominee Meliza Bañales' Life is Wonderful, People are Terrific, which's full of stories about "being young, drunk, punk and Xicana in Northern California in the 90's." (We published a review of it here!)
+ Fun Home cited as one of the reasons New York theater is great right now.
+ From GLAAD; At The Intersection of Gender and Images: A Women's History Month Series – Part One.
+ The new webseries BOXX follows two black diasporan London based trans artists as they create a documentary about their lives, and you can watch the first episode here.
+ "Get Out," a new single from Frightened Rabbit, has a very lesbionic music video.