Q:
I'm restless.
In the past 2.5 years I've finished school, left my home state, relocated from four different apartments, held a getting-by job, secured a 'real' job, have moved on from two different positions in said real job, joined several new clubs and a handful of online communities, cut off all my hair, explored new clothing styles, gotten another tattoo and started writing/performing again.
Still, the restlessness is hitting me stronger than ever before. I feel lost. I have the time, but I don't know if I have the drive anymore to put my whole self into something new. Or even where to find something new at this point.
Is finding something new no longer new enough?
Part of me worries that this is a different type of restlessness than my usual drive for connection and adventure. That the direction I'm looking for is actually me running away after a recent break up. (Being broken up with is another new thing for me — my asexuality makes dating complicated/infrequent)
How can I settle my restlessness? I need to refocus but where can I refocus when it is entirely too much for me to sit still or slow down?
---
Hey friend. Thank you so much for trusting me — and everyone here — with this question. Your vulnerability in sharing these words is appreciated, and I'm so grateful for the exchange of trust we enter into together as I read your cards.
To answer you today, I've used the Kitty Kahane Tarot (a bright, fantastical German tarot based on the classic Rider-Waite-Smith deck), and used a simple three-card spread. I decided against specific positions for your cards, feeling that I simply wanted to lay a few down without pressure, and see what they told me. I then drew a fourth card specifically to ask for proactive advice. The crystal you see in the photograph is Celtic quartz, said to bring clarity.
Well. You've had a busy two and a half years! The restlessness you mention is all over these cards, the first two with their images of movement: the strident Page of Wands and the more melancholic Five of Pentacles. Then the Nine of Cups, where a figure stands astride a flowing river. There is dynamism here, but it takes three very different forms, with each of these cards shining a different light on your restlessness.
Let's begin on the left where we find the most action. The Page of Wands is an adventurer. Someone with many bold ideas, eagerly setting forth to explore the world and fulfill their many passions.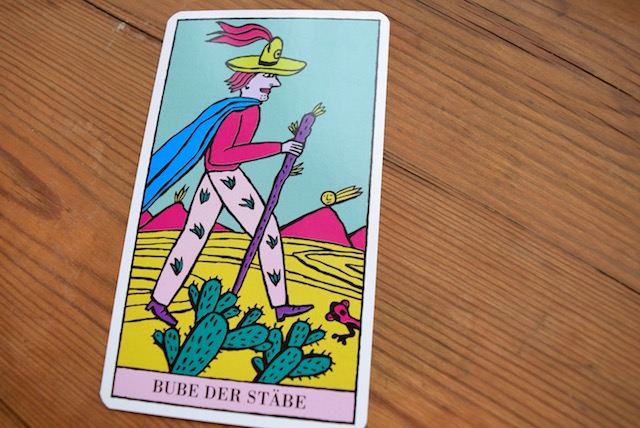 Obviously, it's easy to see you in this card! Wands are the suit of fire, passion, excitement and inspiration — of following your gut, of feeling a pull. Off you go, seeking your own truth, the place or role or community or style that will feel just right to you. Pages, meanwhile, are the 'children' of the tarot. I say this not to patronise or 'baby' you, but to convey the specific energy of this card. As a youngster, the Page has all of the energy of their suit, all of that fire, all of that excitement, but lacks the maturity to know what on earth to do with it, or where to direct it. Instead, they approach life with an untamed eagerness and an openness.
This openness is beautiful, but it's lead to a scattergun approach to 'finding yourself,' which would be great fun and a perfectly great way to approach life, if it hadn't gone on so long, leaving you with this feeling of restlessness.
The Page of Wands crosses a hot, dry desert, passing thorny cacti and a gecko — a symbol of change. The journey you've made over the past few years has been an adventure and you've learned plenty and changed a lot, in really valuable ways… but you can't remain in the desert forever. Well, you could, of course, but your email tells me that you don't want to.
The Page goes striding off towards the Five of Pentacles in the centre, which shows a scene of disappointment. There's a feeling here of having been let down, a failed plan, a sense of rejection. You set off on these adventures, make these wonderful changes, and for what? Still not that sense of fulfillment you seek, still no sense of 'coming home.'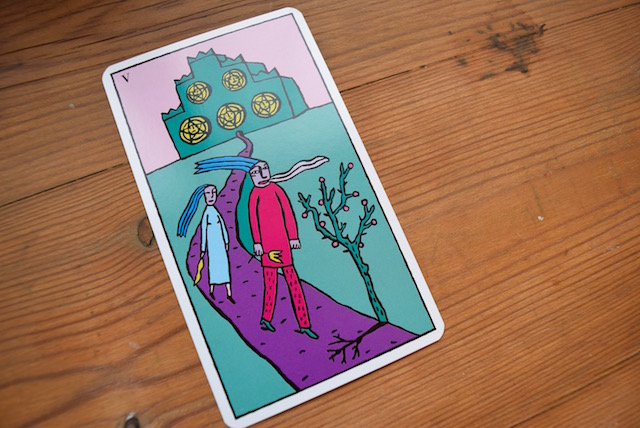 This idea of home is important. Pentacles, the suit of earth and of grounding, of the magic that exists in the tangible, are focused on home. Foundations. Solidity. Home, here, is that safe place where you can be yourself, where you have a sense of purpose, where you feel at home. This card asks you to think about what the idea of 'home' means to you. Not to go dashing off towards it (not just yet, anyway!) but to really sit with it, as a concept, as a possibility, as a foundation for your life.
What does home look like, what does it feel like? In which areas of your life right now do you feel you have that 'home'? The feeling I have when I see this card besides the Page of Wands is that perhaps you've been to quick to head towards one change or another, and what's really lacking is that feeling of foundation and purpose.
In this card, two people walk away from a grand building, a drooping flower in one person's hand. They don't walk together, though you get the sense it would be better if they did. A grand scheme dashed, perhaps, and actually, a feeling of giving up. The parallel with your breakup story is all too obvious.
You say:
Part of me worries that this is a different type of restlessness than my usual drive for connection and adventure. That the direction I'm looking for is actually me running away after a recent break up.
And in this, you have much of your own answer. For all I said above, 'home' is within you, not in something new that you have to find. If you run away from difficult feelings, disappointment and the pain of losing love, you deny yourself the potential to really find that home, to discover what home is for you. Pain, disappointment, and all that comes from a breakup, these are tough things to go through, but they teach us so much about who we are, what we value, what we need. Self-care is vital, but it includes feeling these tough things and not drowning them out with the endless quest for novelty.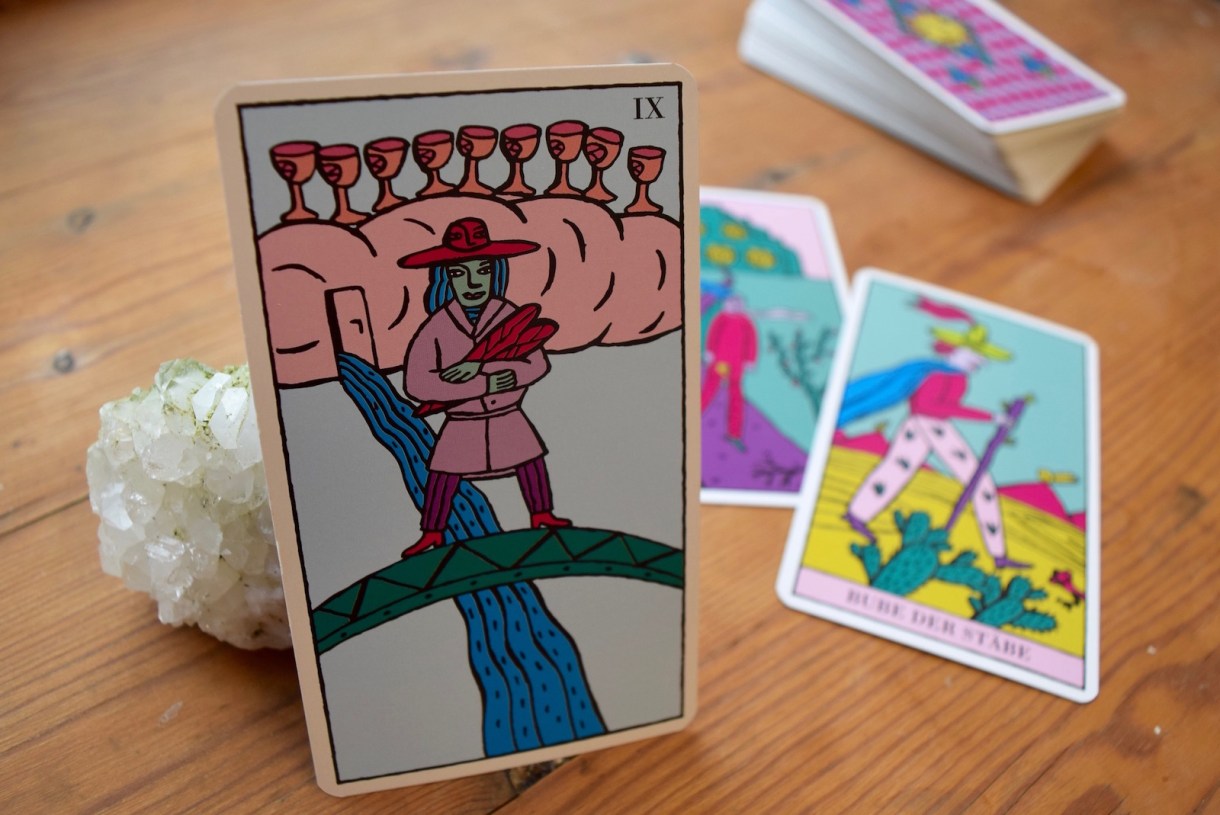 Lastly, the Nine of Cups, which pulls these two cards together. Here, you stand tall on a bridge, spanning a flowing river. The river represents a flow of emotion, the element of water, the slippery, intangible realm of feeling and spirit. What are you clutching? To me, it looks like loaves of bread! A symbol of home. What does it look like to you?
The Nine of Cups is traditionally known as the 'wish' card. Wishing for fulfillment, for something new, something more, that will finally fulfill you. There's often a feeling in this card that the obvious and important is being overlooked, and that is the case here. Look beneath you at that fast-flowing river. Your feelings and emotions speeding past you while you perch above, safe and dry, wondering what's missing while the answers flow beneath your feet.
I drew one last card for a quick word of advice: the Page of Cups. Here you are, thigh deep in that water! Completely unafraid to dive in and explore. Remember the Page of Wands, and how they are adventurous, eager to discover, open minded, open hearted? The same goes for this Page! The difference is, instead of being ruled by wands, fire, explosions of ideas and novelty, we're firmly in the realm of cups, water, spirit and emotion. It's not for me to tell you what being asexual is like or how you find the dating scene. Instead, this is about being curious. You have an adventurous spirit and you're not afraid of change — and you don't have to let go of these beautiful personal qualities. Your challenge is to use them in the realm emotion. Rather than discovering the outer world and taking up a load of new hobbies, go inwards and explore there.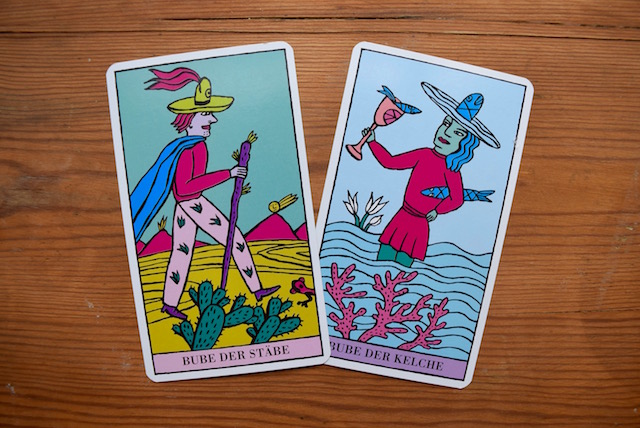 All of these cards tell the story of that old cliche — that of 'running away from your feelings.' Which, of course, you articulate in your question! The advice is to cut out the distractions of those exciting novelties, the things you chase as the Page of Wands. To go into what you feel — even if it's painful, even if it feels really uncomfortable. To let this be the start of a new journey, a new voyage of discovery. What you wish for is right there, beneath your feet… and it's inside you too. You just have to be prepared to see it.