It's time to check in with the week in queer TV. I'll have an Orphan Black rundown for you on Monday. I've got a sick girlfriend at home who needs some extra love and attention. Thank you for understanding! But hey, Carolyn and Aja are here to talk you through Grey's and Empire! What else could you ask for on a Friday afternoon?
---
Empire
Wednesdays on Fox at 9:00 p.m.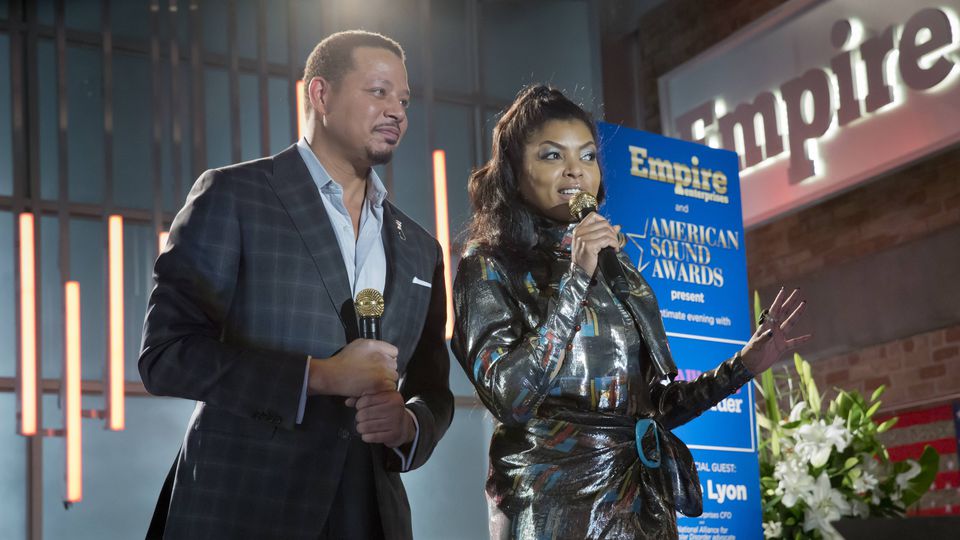 What do you do when you lose your job, you don't get nominated for any awards, and you find out you got a random woman pregnant? You go to the strip club of course. That's where we find Hakeem at the top of Empire. I thought he was filming a video with the money and bubbles raining from the sky, and at least 50 woman twerking and making it clap while they stand on their heads while three more are working the pole. AZ Marie had a handheld machine that was spitting out dollar bills. Where does one get a money machine for the strip club? Okay, maybe I'm hating just a little bit. AZ Marie tries to stop the party when she notices that Laura is blowing up Hakeem's phone but Hakeem is not interested. He is having the greatest pity party ever and he wants to keep it going.
The "First Family of Music" is having yet another ASA press conference. Lucious is busy trying to mack up Harper the journalist and Cookie is busy blocking. She continues to claim it's not because of emotional attachment, but her facial expressions say otherwise. Cookie, Lucious and Thursty are discussing ways to bring the board back on Lucious' side because Thursty has been getting indications that they are leaning toward bringing in an outside CEO. Lucious' first inclination is to get violent with them, but, in the words of Cookie, "with two dead lesbos, that's a bad look." This new homophobic look on Cookie is so unsettling! The plan is to find a way to bring the family together so they can back Lucious, but that's more than just a notion. Jamal is at this same press conference and the only thing anyone can talk about is the competition between father and son for the ASA award. When the three Lyons sit down to take questions, a reporter compares the competition to the movie beef between Rocky Balboa and Apollo Creed. Lucious gives some epic shade when he says no, it's more like George Foreman vs Oscar De La Hoya. SHADE!
Hakeem is lying in a pile of bubbles and women when Laura finally shows up. Apparently Hakeem and his goons have been working on an app that tells people when he does random pop-up shows. He forgot to turn it off so his whole pity party went viral and that's how Laura found him there. When she confronts him about running to the strip club when he was in trouble instead of coming to her, he vets her intentions like she is one of his groupies. She is able to hang with all the L's he has taken until he informs her that he got Anika pregnant. At that point, she slaps him and runs out.
The brothers have a meetup at the office. Hakeem is still hungover and moping around telling Andre he doesn't understand how he feels with this baby coming and all. This family just can't help hitting each other below the belt, but at least with the brothers they are always able to straighten things out. He apologizes to his brother and Andre goes on about the business of trying to get them both to appear at a mental health awareness event that he and Lucious are hosting to dupe the public into believing Lucious gives a damn about bipolar awareness.
Later, at the setup for the event, Jamal sees Michael who is there working for the event caterer. At first it's a little awkward but they both agree that they need to talk and the head over to the local coffeehouse where they met. It doesn't take long for the house band to call Jamal to the stage for a downhome jam session. It also doesn't hurt the scene that my sister's friend is on drums! Shoutout to Ruthie. Girl drummers rock!!
Anika visits Hakeem's loft, which he has paid to have completely baby-proofed. He wants her to know that he is all in with raising their child but she doesn't think she wants him involved at all. She doesn't feel safe now that Lucious has threatened to kill her after the baby is born. Hakeem is shocked. I have no idea why.
Lucious is attempting to wine and dine Harper with a lobster dinner. It's cut short, though, when Cookie busts in on them. There is an epic battle brewing between Cookie and Harper and I am here for all of it. Harper finally leaves so that Cookie and Hakeem can confront Lucious about threatening Anika. Lucious plays dumb, bu tI don't know why he is wasting his energy. Hakeem vows that if Anika takes the baby and leaves with her mother that Lucious will never see him or the baby again. Cookie reminds Lucious that they need Hakeem to help pull off this farce of an advocacy event.
Cookie goes over to Anika's house to try and convince her not to take the baby away, but when she gets there Anika is being wheeled out on a stretcher. Cookie forces her way onto the ambulance and they ride together. Anika is panicking about how crazy is it to have the woman that once drug ya ass across the floor now trying to calm you down. But it works and Anika is stabilized.
Harper is back at Lucious' house and I am sad and ashamed to report that they have the hottest roughest sex scene I have seen on Empire. I feel dirty just typing that but I also feel turned on watching it so I guess it must be true. Lucky for me their trist is cutoff when Cookie cuts in again, this time blowing up Lucious' phone. When Harper threatens to turn the headline of her story into "meet the manipulative bitch that has Lucious Lyon wrapped around her finger," Lucious is quick to snatch her up and menacingly advise her to never say anything bad about Cookie again. Sometimes Lucious gets it right.
Hakeem is trying to make thing right with Laura. She is considering calling off the engagement because how can they be together if he is raising a kid with Anika? Yes, that was in my sarcastic voice. She says they have different ideas of what family means, takes off the ring and walks out. Hakeem finally checks his phone and sees Cookie calling him to the hospital.
At the hospital, he is confronted by Anika's mom. Look, I'm not certain but Cookie may have met her match in Mrs. Calhoun. We have all been waiting for there to be an elder black woman that checks Cookie. We may have found her. She hasn't done it yet but just wait.
Lucious shows up to see Anika but Hakeem stops him. He is upset not only about Lucious threatening Anika but also about him manipulating her father so that the company could go public. I had completely forgotten about that. Hakeem tries to be bold but Lucious is a master snake charmer and talks him down. Cookie returns to the waiting room and taunts Lucious about messing around with Harper. He claims that he didn't like Harper because he needs a woman that's smart but a bit hood. Who knew me and Lucious had the same taste in women. Cookie retorts that he had that woman and he should have kept her. Lawd Lucious got such a hold on that woman. But really, don't we all have an ex with a hold on us like that? Cookie concocts an idea where they scoop Harper by getting a story about Lucious in the trade publications by morning. That is unless he is opposed to scooping Harper. Girl, please. Lucious throws EVERYONE under the bus. He is not opposed.
It's the night of the fundraiser and Harper storms in to confront Lucious. He gives no fucks about her hurt feelings and sends her away. He thinks he has sent her off for good but she has a plan. She heads over to Andre who is getting ready to take the stage. He tries to shrug her off but she hands him an envelope. In that envelope are pictures from a shady retirement home. In that retirement home is Lucious' mother, Lea Walker. Andre tells Rhonda he has to do something and walks out, leaving Cookie and Lucious to hold down the event alone. Harper heckles them by asking them where their sons are but Cookie is a master talker and she shifts the conversation back to the ASA's by announcing that the entire Lyon family will be performing together. When Lucious asks if that is really happening she replies that it will happen even if she has to get a strap and tie them all down. All I really heard was Cookie and strap. Clearly I have other things on my mind besides Empire.
Towards the end of the night the board representatives visit with Cookie and Lucious and exactly what I said would happen last week happened. Well almost. They didn't elevate Cookie to CEO by herself; they made Cookie and Lucious co-CEO's. Lucious agrees to it but the way he hugs Cookie and claims he got her back. I just don't trust it. He had her sent to prison before remember?
Worst dad in TV history: Lucious or JR Ewing? You tell me, because I can't decide.
---
Grey's Anatomy
Thursdays on ABC at 8:00 p.m.
Written by Aja
In this episode of Lesbian Divorce Court, Callie and Arizona are trying to rally troops in order to the face a judge about which one of them is…wait, what exactly are they going to argue before this judge? Physical custody? Legal custody? Joint legal/shared physical custody with a court-ordered visitation schedule and alternating holidays, the whole nine yards? Is there not an existing agreement in place? How is mediation not the first recommendation here? I SIDE-EYE THIS WHOLE THING SO HARD. Halfway through the episode and neither of them has anyone in their court yet.
It gets better, because of course Penny is on Arizona's service. Penny is always on the service of the surgeon with whom it is the most inappropriate and awkward at any given time. There's nothing more Arizona would love than to swat her away, but Arizona actually needs to do her job because something might be wrong with Kepnar's baby. Maybe Penny is like a human vulture, in any case she sure seems to be all up in Arizona's shadow, so much so that there is a grand showdown/confrontation between the two in the lunchroom. It is not cute. Arizona ends up crying in her car, and Webber's very distraught/concerned about it all, but nobody really seems to know what to do.
At some point, Callie secures Grey and Hunt for Lesbian Divorce Court, but when she excitedly tells Penny all about it, things get weird. Penny decides to put on a brave face and lies by omission when Callie is all, "ZOMG, you were on Arizona's service? Was it, like, the worst ever?!" which is weird and kind of inappropriate given the very serious and somber and adult and real court shit happening between them all.
The episode ends with more court teasers, which is funny because almost literally nothing happened worth mentioning in this one, so I give up. What a dud!
Of note: Edwards looks very fetching but acts like kind of a moron when her new man needs another surgery. April and Jackson's baby is gonna be just fine. Bailey decided to give Ben a break. Amelia and Hunt decide to continue their crazy love affair. Karev is Switzerland where Lesbian Divorce Court is concerned. Meredith was maybe wearing another low-key tomboy femme outfit.