Once upon a time, in a land far, far away from Litchfield Penitentiary, there was a magical world called New York City in the '90s. People called actors lived there, and those people had a really hard time landing huge jobs in film, television or theatre that consistently paid them a lot of money. To supplement their income, or just to boost their careers, many actors took bit roles on a fantastic long-running television show called Law and Order, which also branched out into spinoffs like Law and Order: Special Victims Unit, Law and Order: Criminal Intent, and its ill-fated cousins, Law and Order: Los Angeles, Law and Order: UK and Law and Order: Trial By Jury. Each different breed of Law and Order had its own unique cadence, which was comforting if repetitive, and viewers could enjoy solving the mystery along with the charmingly curmudgeonly detectives and a stable of very attractive Assistant District Attorneys. You guys, it was the best show, and still is (because you can watch a marathon of it on USA or TNT at any given moment).
Our own illustrious Kate suggested while putting together one of her brilliant Orange Is The New Black recaps that probably nearly every single actor on the show had at one point been featured in a Law and Order episode, a theory that turned out to be true. Because I am a person of questionable sanity and dubious employment, I decided to prove her hypothesis. I scoured IMDB, locked myself in my apartment for three days, and over time I was able to collect almost every appearance. These are their stories.
DOINK DOINK.
---
Kate Mulgrew/Red
In "Web" (Season 7, Episode 21 of Law and Order: SVU), Kate Mulgrew plays Assistant US Attorney Donna Geysen, who demands that a 14-year-old boy with a history of sexual abuse be punished to the full extent of the law for molesting his younger brother on a live webcam show. In case you ever wondered how Red's intimidation factor would stack up against badass ADA Casey Novak, this episode answers that question for you: Red wins. Her investigation drives the boy to run away from home, aided and eventually kidnapped by the pedophiles who supported his online endeavors. Thankfully, this episode takes place during that tragic period of time where Detective Benson had run away to join the computer crimes unit, so Benson is able to use her new l337 hacking skills to help Detective Stabler rescue the boy and serve sweet, sweet justice.
---
Selenis Leyva/Gloria
The Law and Orderverse has a very short memory, and it's not uncommon to see an actor play several assorted roles as different bit characters throughout the years – like this woman, who has basically played a different maid in every single episode of the Law and Order franchise, or Diane Neal, who played a rapist in Law and Order: SVU's third season only to join the cast full time as ADA Casey Novak in season five. Selenis Leyva played Lorinda Gutierrez in the first season of SVU, and assorted bit roles in various episodes of Criminal Intent. On Law and Order proper, Leyva spent 17 episodes as Detective Mariluz Rivera, often popping out of the woodwork to offer evidence or explain key plot developments to main detectives Fontana and Green. Three seasons later, she popped up as a bit character in Season 20 Episode 14 ("Boy On Fire"), and nobody on the force seemed to recognize her. Great detective work, you guys.
---
Vicky Jeudy/Janae Watson
Man, everything happens to poor Watson. In Season 15, Episode 10 of Law and Order: SVU, Detectives Amaro and Rollins are coming home from a party when they happen upon Officer Shannon McKenna (Vicky Jeudy) and her partner, who are in hot pursuit of a teenager they suspect of selling drugs. Both McKenna and the suspect are injured in the subsequent gun battle, and when it comes to light that the suspect was unarmed, Amaro finds both his badge and his conscience on the line. I remember watching this episode earlier this year and I have a lot of episodes to get through so I didn't re-watch the entire plot, but I assume it ends with Watson being put in the SHU again for little to no reason. Sorry buddy.
---
Michael Harney/Sam Healy
Before he was Defender Of All Men and Protector Of The Talking Stick on Orange Is The New Black, Michael Harney was mostly famous for playing a cop on NYPD Blue. He's been in four different episodes of Law and Order, two of them as Lieutenant Stu Miller. In Season 7, Episodes 15 & 16, Lieutenant Miller shows up to help Briscoe and Curtis track down the murderer of a wealthy movie studio executive.
---
Sanja Danilovic/Katja Healy
While we're at it, Sam Healy's mail order bride has also been featured on a couple of episodes. In Season 15 Episode 1 of Law and Order: SVU, Sanja has a bit role as the unsuspecting wife of a man who has kept several other women locked in a Brooklyn basement for decades. In spite of all of this, she seems to like this guy a lot more than Katja likes Healy.
---
Lea DeLaria/Big Boo
Season 10 Episode 14 ("Transitions") of Law and Order: SVU features Lea DeLaria as Frankie, the tough-as-nails bouncer at a strip joint called Sugar Pops. Her job is to keep creepy, potentially dangerous men away from the dancers, and she seems to enjoy the hell out of it.
---
Barbara Rosenblat/Miss Rosa
The SVU detectives are trying to track down the ID of a man who was brutally assaulted outside the club, and when they discover his place of employment, they run into none other than Barbara Rosenblat, also known as Miss Rosa. Rosenblat also appears as a nurse in an earlier episode (Season 6, Episode 17, "Rage").
---
Laverne Cox/Sophia
Autostraddle's Favourite Person Of All Time Laverne Cox has a tiny role as a friendly truck stop prostitute named Minnie in Law and Order Season 19 Episode 6, "Sweetie," which was based loosely(?) on the scandal surrounding writer JT LeRoy. You can also spot her in Law and Order: SVU Season 9, Episode 16, "Closet," as Candace, the manager of a men's gym called Bulge's.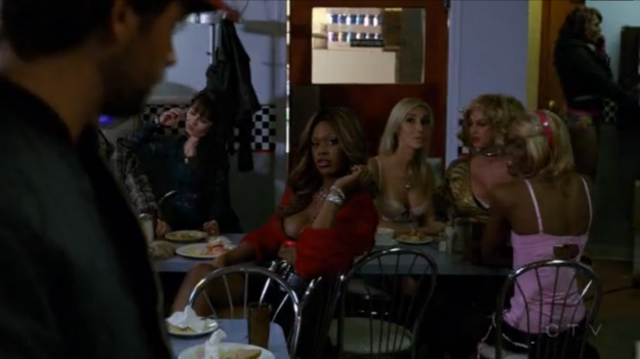 ---
Pablo Schreiber/Pornstache
Pornstache is the absolute worst, whether he has a mustache or not. In Law and Order: SVU's continued efforts to emotionally destroy Detective Olivia Benson (and/or give Mariska Hargitay all the Emmys, hard to tell), our favourite be-lipglossed superhero cop was presented with an absolute nightmare of a stalker, sadistic criminal mastermind William Lewis. Lewis kidnapped and tortured Benson on more than one occasion, and took advantage of every woman he encountered — including his lawyer, played by Lauren Ambrose, aka Claire from Six Feet Under. Terrible things just keep happening to Benson, and honestly it's gotten to be a little bit ridiculous — like, how much trauma is it going to take before this lady retires? We will not miss you, Pornstache. Leave Mariska alone.
---
Natasha Lyonne/Nichols
Natasha's stint on SVU is actually pretty significant — she stars in Season 13 Episode 8, "Educated Guess," as Gia Eskas, a patient at a psychiatric facility who is being abused by someone at the hospital. Although her world-weary character is pretty dramatically different from Nicky Nichols, she still drops a couple of Nichols-esque wisecracks at Benson and Rollins' expense.
---
Michael Chernus/Cal Chapman
Oh look, it's Michael Chernus, AKA Piper's brother Cal Chapman, playing another patient in the hospital who comes under suspicion and gets interrogated by Ice-T.
---
Annie Golden/Norma
Annie Golden's had a pretty fascinating career; in the late 70s she fronted a New Wave band called the Shirts, and then went on to enjoy brief pop stardom in the mid-80s. In 1999, she appeared in Season 10 Episode 2 as the mother of a little girl who was interviewed as a potential witness to a homicide. You can also spot her in Season 7, Episode 14 of Law and Order: SVU as Varla, a pregnant homeless woman with a substance abuse problem who panhandles outside a coffeeshop. In both roles, she actually talks to the cops.
---
Joel Garland/O'Neill
After spending most of Season 1 as merely background noise (something about fad diets), correctional officer and civil war re-enactment enthusiast Scott O'Neill basically kills it this season with his on-again, off-again relationship drama with Bell and his banjolele songs about his Catholic upbringing. In the Season 12 premiere of Law and Order ("Who Let The Dogs Out?"), Garland plays Ralph Carson, a man who is arrested and questioned for his participation in a brutal dogfighting ring. This episode is also noteworthy because it features the first appearance of Elisabeth Röhm as dreamy lesbian ADA Serena Southerlyn. You can also see Joel Garland as Mickey Scertza in Season 17 Episode 16, "Murder Book."
---
Catherine Curtin/Wanda Bell
In Season 6, Episode 6 of Law and Order: Criminal Intent, a man is arrested for the long-unsolved murder of a young girl, but his story doesn't add up. As Goren and Eames investigate, the girl's attention-hungry mother (Liza Minnelli) points them in the direction of her daughter's acting coach, Jenna Switzer — aka Catherine Curtin, who also plays stone-faced correctional officer Bell on Orange Is The New Black. Switzer isn't much help with the investigation, but if Bell were there I'm pretty sure her suggestion would be to perform a squat and cough on well, pretty much everyone present. Curtin also plays the bit character Julie Liscomb in Law and Order Season 18, Episode 10 ("Tango").
---
Taryn Manning/Pennsatucky
Without spoiling too much of Season Two for those of you who somehow haven't finished the episodes yet (get it together, seriously), I think we can all agree that Pennsatucky takes great strides this season to get her anger under control and change her life for the better. Unfortunately, her character Larissa Welch on Season 12 Episode 12 of Law and Order: SVU ("Possessed") doesn't get quite so positive a story arc — she grows up sexually abused and forced to star in child pornography, only to be recognized and later assaulted by one of her "fans."
---
Emma Myles/Leanne
Emma Myles has been in two episodes of SVU, Season 11, Episode 9 "Perverted" and Season 6, Episode 10 "Haunted." In "Perverted," she plays Starla, the "old lady" of a biker who's found murdered with Detective Benson's business card in his wallet. After Stabler comes by Starla's place to ask her a couple of questions, she bursts into tears over the loss of not her boyfriend, but his motorcycle.
---

Constance Shulman/Yoga Jones
Just four episodes after her BFF Watson gets shot in the line of duty, Patty Mayonnaise herself appears as the manager of a daycare who also arranges illegal adoptions for problem children. In Season 15, Episode 13 of Law and Order: SVU, Constance Shulman takes a rowdy little boy from his overwhelmed mother and places him with a couple who give her fake names and list Yankee Stadium as their address. Oops.
---
Tamara Torres/Weeping Woman
I'm not the hugest fan of Law and Order: Criminal Intent, because I find Vincent D'Onofrio's character completely obnoxious and infuriating. The formula of Criminal Intent just seems like it's trying too hard to be cerebral, and it ends up being overly complicated and irritating. Anyway, if you keep your eyes peeled during Season 5 Episode 2, you can spot the woman responsible for my favourite running gag on Orange Is The New Black, the Weeping Woman who constantly hogs the phones. This episode is fortunately Vincent D'Onofrio-free and instead features Chris Noth as Detective Logan, and Weeping Woman finds herself in the wrong place at the wrong time at her family's mom and pop jewelry shop in the Bronx. She's also credited as "Woman" in an episode of Law and Order Proper ("School Daze," Season 11, Episode 22).
---
Nick Sandow/Caputo
Almost no other character on Orange Is The New Black has had a more prolific Law and Order career than Nick Sandow, who appears in two episodes of Criminal Intent (Season 9, Episode 13 and Season 5, Episode 4), one SVU (Season 7, Episode 17) and three regular Law and Orders. In Season 7 Episode 7, Sandow plays Pete Pogosian, a smarmy car thief who turns up to visit a business associate who (unbeknownst to him) has just been murdered. I only skimmed this episode because I have a lot more Law and Order to watch, but apparently Jerry Stiller ends up involved in this situation somehow. Also, Caputo's brother is played by Big Pussy from the Sopranos. Good episode, guys. In another episode, Sandow plays a bail agent, and in yet another, he's a cop. He's much better looking without that goofy mustache.
---
Beth Fowler/Sister Ingalls
Oh hey, check out Beth Fowler in Law and Order's Season 3, Episode 19 as the horrified mother of a teenage hacker who invented a virus that infected a hospital's computer and killed several diabetic patients. Like most mothers of teenage murderers on Law and Order, she staunchly insists upon his innocence and then makes a series of horrified faces over the course of her son's trial. Sister Ingalls would never stand for this. Sister Ingalls would have sprayed pigs' blood all over Jack McCoy's office door and probably led a courthouse riot. Easily the best part of this episode is the early 90s-era hacking, which even predates the movie Hackers.
---
Jessica Pimentel/Maria Ruiz
Jessica Pimentel is another well-seasoned L&O veteran, having appeared in one Criminal Intent, two regular Law and Orders and two SVUs. In an effort to find the most important episode from her career, I skimmed through her first appearance, Law and Order Season 13, Episode 12 ("Under God"), wherein she plays a sex worker whose john finds a dead body in the opening sequence. Her next role on classic Law and Order was Season 20, Episode 7 ("Boy Gone Astray"), as Tina, a party girl who Detectives Lupo and Bernard pick up while investigating the murder of an interior designer with connections to a Mexican drug cartel. Later in the episode, Elizabeth Rodriguez (aka Aleida, Daya Diaz's mom) pops up as the mother of a child recruited and trained as an assassin by the cartel, and the credits reveal that said episode was directed by Rose Troche, who is responsible for several episodes of The L Word. Bingo.
---
Elizabeth Rodriguez/Aleida Diaz
Daya's mom Aleida is certainly not the most sympathetic character on Orange is the New Black, but occasionally she can be surprisingly tender with Daya. Elizabeth Rodriguez has been featured in one episode of SVU (see above) and three episodes of Law and Order proper. Here she is in 1995 as Caridad Montero, the girlfriend of a young man found stabbed to death in a bar fight, rocking some really serious braids.
---
Maria Dizzia/Polly
I hope that you all appreciate that I am so dedicated to this project that I watched a lot of Criminal Intent for you. Season 5, Episode 18 "Cruise to Nowhere" features Maria Dizzia as Daphne, a single mom who is also the harried older girlfriend of a crooked young gambling genius. All things considered, this is no worse than Pete leaving her and their newborn alone for his manly adventure times in Alaska.
---
Alysia Reiner/Natalie Figueroa
I invite you to travel back in time with me to 2002, when Law and Order: SVU premiered Season 4, Episode 9, "Juvenile." When police uncover the rape and murder of a woman with terminal cancer who was running a large-scale weed-farming operation out of her apartment, they seek out members of her medicinal marijuana club to track down the killer. Enter Alysia Reiner, also known as Assistant Warden Natalie Figueroa, queen of Resting Bitch Face, playing Cindy Kerber. You can also see Ms. Reiner's condescending sneer in three episodes of Criminal Intent and two episodes of regular Law and Order.
---
Michelle Hurst/Miss Claudette
Did I say Caputo was the reigning champion of Law and Order bit roles? Forgive me — this honor goes to Miss Claudette, who has enjoyed cameos in four episodes of Law and Order proper, three SVUs and one Criminal Intent. She's performed such diverse roles as "ACS Social Worker" and "Pizza Lady." Here, Michelle Hurst's take-no-bullshit signature scowl is put to good use as she plays a public defender representing a murder suspect. That withering glare could make Jack McCoy shiver in his penny loafers.
---
Lorraine Toussaint/Vee
Lorraine Toussaint was a recurring character on Law and Order — she played Shambala Green, a tough-as-nails defense attorney who was a terrifying adversary to ADAs Benjamin Stone and Jack McCoy. She gave just about as much of a fuck about what anyone thought as Vee might, but under it all, her character had a heart of gold. Shambala Green often defended women who had been victimized by society, and she commanded the courtroom without so much as batting an eyelash. In Season 3 Episode 1 ("Skin Deep"), Green defends a woman accused of murdering a fashion photographer who was also pimping out aging models on the side. She tells Benjamin Stone, "You want to do this? Go. I'll clean your clock. When I'm through, you won't even care what time it is." Bonus: this episode also contains some really excellent crumple-face crying from the defendant's daughter, played by a very young Claire Danes.
---
Deborah Rush/Carol Chapman
Deborah Rush is my favourite casting decision on this show, due to her brilliant turn as Jerri Blank's awful, racist, neglectful stepmother on Strangers With Candy. If there's one thing Deborah Rush excels at, it's playing an uptight, unsympathetic white lady, often to a delightfully hilarious degree. Less hilarious is her character Frances Houston on Law and Order Season 8, Episode 7 ("Blood"), where she comes under suspicion after her ex-husband's new wife is murdered as a racially-motivated cover-up. In SVU Season 1 Episode 10 ("Russian Love Poem"), Rush plays the wife of a serial cheater who discovers her husband's body in their home. The most important bit role on Law and Order is always the one where you find the corpse.
---
Lin Tucci/DeMarco
Speaking of finding the corpse, Lin Tucci has the honor of finding her bloody mailman slumped outside her apartment while arguing with her husband in the opening scene of Season 9, Episode 5 ("Agony") of Law and Order. Later, the detectives find a woman who's been brutally attacked in the same building, and they begin to build a case against a suspected serial killer. Not much for Lin Tucci to go on here as her only line is an exasperated, "SHE'S YOUR NIECE!" but hey, here she is:

---
Laura Gómez/Blanca Flores
I have now watched Season 19, Episode 2 ("Challenged") of Law and Order three times looking for Laura Gómez, who allegedly plays someone named Claudia. I am sorry. I have failed you. Unless she is on the cutting room floor and/or not facing the camera in any scenes, IMDB is a liar.
---
Kimiko Glenn/Soso
As the most annoying inmate in all of Litchfield history, Soso launches a hunger strike intended to create positive change in the quality of prison life. In Season 15 Episode 23 of Law and Order: SVU, Kimiko Glenn is introduced as an underage webcam girl in Bangkok who coyly solicits requests from her online admirers. In reality, she's a decoy who helps the special victims unit locate dangerous pedophiles, apparently including Kevin from The Office.
---
Lori Tan Chinn/Chang
Chang is one of the most under-utilized characters on Orange Is The New Black, and in this deep cut from the short-lived series Law and Order: Trial By Jury, Lori Tan Chinn says literally one word: "manicure?" Nobody is really sure why any of this is happening.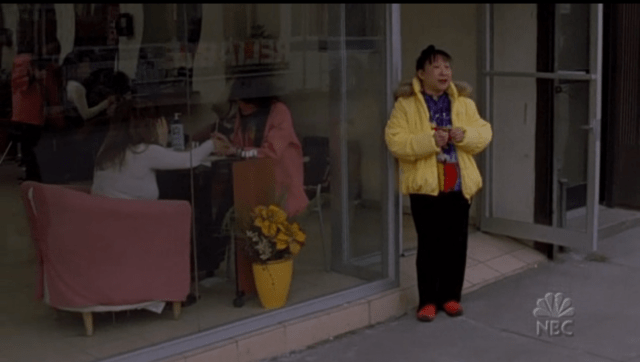 ---
Faye Yvette McQueen/Vee's Doppelganger
Without spoiling any of the events this season for readers who may not have finished, Faye Yvette McQueen's character is mistaken for Vee and suffers some of the consequences of Vee's actions. She's also been in two episodes of SVU, once in Season 15, Episode 17 ("Criminal Stories") as a criminal defense attorney (just like Vee!), and once in Season 11, Episode 13 ("PC") as "Lesbian Rights Activist." Well, hello Faye Yvette McQueen. She's got two regular Law and Orders under her belt and is also an extremely gifted professional dancer.
---
Abigail Savage/Gina
This one came from a commenter tip – in Season 11, Episode 2 of Law and Order: SVU ("Sugar"), Abigail Savage plays the orchestrator of a high-level scavenger hunt who plants a prize in a darkened train tunnel… which obviously also houses the dumped body of a recently murdered woman. Savage's charming handle? The "Master Baiter." She also appears in Season 5, Episode 9 ("Control") as Dot, a homeless woman who lives in a subway tunnel.