When I was a miniature human, like most bespectacled nerdy loners, I was obsessed with the Redwall series. I would often read and reread the giant books cover to cover in only a few days. Aside from the obvious appeal — adorable woodland creatures in cute medieval outfits fighting to the death with swords, etc — a major draw were the totally outrageous descriptions of food, which in my memory make up about 80% of the books' text.
A frequent component of these giant badger banquets was cordial, which was often made of awesome-sounding stuff like elderflower and honeyed violets, and sounded so magical I was pretty sure it was a made-up beverage. Which it probably was, sort of. But still, I was delighted as an adult to find recipes for stuff that is at least called cordial, although I'm not sure if it was the same stuff these pretend mice were getting hammered on. This recipe fulfills my every fantasy of cordial: it's fruity, sweet, looks pretty in a glass, and can get you drunk enough that you'll think you're a raccoon princess, too.
Rhubarb Vanilla Cordial
This is an infusion recipe, so it's going to involve some delayed gratification. But like other infusions, it will also be stupid easy. All you need is vodka, sugar, and vanilla — it's better if it's in bean form, but it'll still be fine if you're just using vanilla extract.
Ingredients:
2 1/2 pounds rhubarb, chopped
1 1/3 cup sugar
2 scraped vanilla beans (or maybe 2 tsp or so of vanilla extract?)
1 liter of vodka
Combine all these ingredients in a glass jar or jars. I divided mine into two jars because I wanted to give one as a gift, and didn't worry too much about getting it divided exactly in half. It's gonna be fine.
These will need to infuse for at least a month, but will be fine after that too. I like to shake them every once in a while so that I can see the sugar dissolving, but you don't really need to; it should happen on its own. I find it helpful to label when the jars should be opened and/or when they were first sealed.
After a month, you are GOOD TO GO. The good news is that the infusion process should have made this so delicious that you can't really taste any vodka, so you can sip this all day long. The bad news is you'll still be sipping straight vodka, so you might want to slow your roll a little with that. Another option is to cut this cordial with something else — perhaps a delicious sparkling water. I also have a theory that if you threw some tarragon in there as a garnish/flavor, it would be delicious, but this is as-of-yet untested.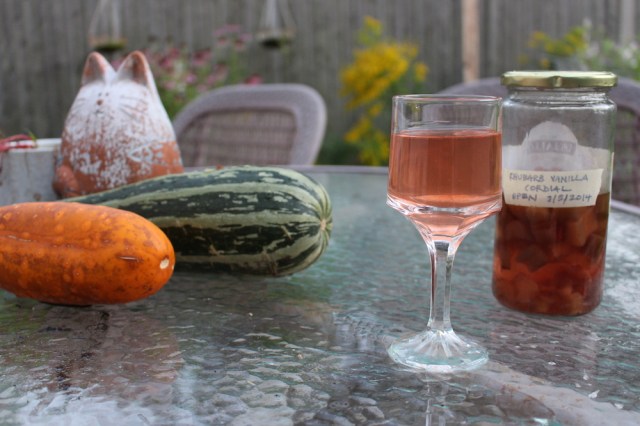 However you decide to drink this, do your best to enjoy it outside while enjoying the last few nice summer-ish evenings.