SKINS: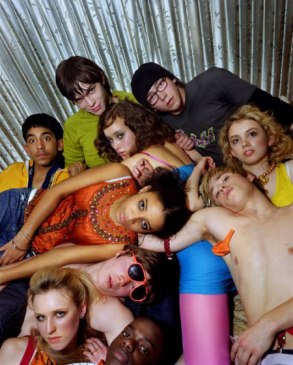 When MTV announced they'd be shooting a remake of the British series Skins, the response was a mix of fear and excitement. In April, Racialicious debated Skins USA's potential, mentioning that the gay character Maxxie would become a "Latino named Teo." Furthermore:
Skins runs on Channel 4's subscription channel E4 and contains a fair amount of nudity, including full frontal and rear for women and, rarely, men as well. That's not to forget the almost constant parade of drugs on the show. The first few episodes, really the first season, is downright dirty — in probably half the episodes a character vomits from inebriation or intoxication. Don't watch it while eating.
Can MTV handle all this? Perhaps. For me, the most classic primetime guilty pleasure from MTV was Undressed, but by Skins standards, Undressed is about as racy as Grey's Anatomy.
MTV shot the U.S. version of the pilot in Baltimore in February, which MTV picked up for ten episodes. The series will begin shooting "in earnest" in late July. According to "Sides" obtained by AfterElton.com, SKINS US Tumblr reported the following about Maxxie/Teo character:
No longer Maxxie, here the character is named Teo and he is described as "a beautiful, gay, Hispanic" boy. Like Maxxie, Teo is also very out and proud as well as being an amazing dancer.  The script for the pilot not only has Teo demonstrating his dancing skills, but taking his friends ChrisAbbud out to a gay club where they have less than a great time.
"Sides," btw, are the sections of scripts offered to actors who are auditioning for the roles. Often pilot scripts get changed a whole bunch and therefore pilot sides aren't always the best indication of how the show will turn out. But there's one recent change that we think you should know about.
From what we can gather from the most recent sides we've seen, there is no Teo anymore.
Instead, there is a Tea.
AND SHE'S A M*THERF*CKING LESBIAN Y'ALL!
Whereas some versions of the sides for Tony and other characters feature aforementioned "Teo," we can't seem to locate any sides for "Teo" himself. But there are sides for "Tea." Check it:
INT. SPORTS HALL. MORNING
Cheerleaders are rehearsing a stupid, but intangibly arresting routine in an otherwise empty hall. Track down the line of loveliness. Somewhere a phone is ringing.
CHEERLEADERS: (CHANTING) Roundview… We love you!!! Aha! Ahu! Love you, Roundview!! Say what?!! Say Huh!!! Say what! Say huh!! Say who! Roundview…!
The camera comes to rest on TEA (17), an unusual looking but nevertheless beautiful girl.
The CHEERLEADERS spin out into immaculately coreographed individual spins and group turns. TEA presses a BLUETOOTH RECEIVER. Cheerleader continues around her.
TEA: Hey Tony…
TONY: [PHONE] Forget the big gay night out Tea. We need you.
TEA: Sorry Tony, I promised Chris and Abs I'd take them on a voyage of wonder and discovery…
INT. SPORTS HALL. MORNING.
Intercut as necessary. TEA is momentarily free.
TEA: Need these moves… Gotta lotta Jocks need positive affirmation you know?
TONY: Yeah? could use some of that myself Te'… Know what i'm saying.
TEA: Dream on Stud… (CHANTING) PUSH it! Pull it! Push it! Uh Uhu… Uhu Uhu… !!!
TONY: Yeah…that works… Can we meet before Psychology? There's plans.
TEA: Maybe. Gotta go. Big finish…
TONY: Always… You ever told those sweet girls you worship at the Candy shrine…?
TEA: Where would be the fun in that, Tony? Later.
Interesting, right?
Exhibit B: A shot of the U.S. cast has also made the rounds two months ago (via skins ftw)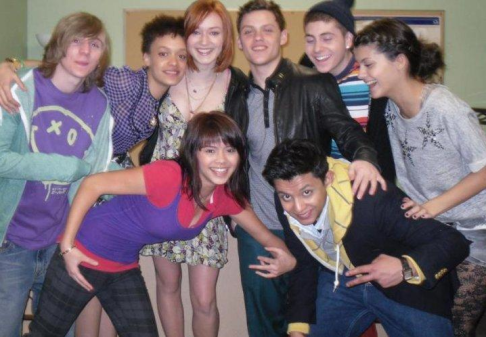 For those of you unfamiliar with Series 1, this won't make much sense, but we'll give it a whirl.
Series 1 featured five male leads: Tony Stonem, Sid ("Stanley" in the US version), Anwar ("Abbud" in the US version), Chri and Maxxie (allegedly "Teo" in the US version) and three female leads: Jal (she will become Korean "Cho" in the U.S version), Michelle and Cassie ("Cadie" in the US version).
Some secondary female characters included Tony's sister Effy, who also appeared in Cycle 2 as a lead, "Sketch" who was introduced in the second season and Abigail (Tabitha in the US version), an idiot who fucked Tony.
That picture? Four men and four women.
We've clearly got Stanley in the hat, Tony in the leather jacket, Chris in the hoodie — and then one more boy. The remaining alleged male leads are both "men of color," and as television tends to do their ethnic casting seemingly at random (see: Sarah Shahi as Carmen De La Pica Morales, Janina Gavankar as Papi), it's quite likely/possible that we've got Abbud up front there.
And who is that lovely girl in the plaid dress with the short hair, eh?
The most recent dated script "revision" we've been able to track down is from Tony's sides dated January 26, 2010, corresponding with a casting call "STILL SEEKING TONY."  The new sides do not feature Teo. They do feature Tea. We're unsure when Tea's sides were released.
Hopefully, if this is true, Naomi & Emily won't become Norm & Eddie when it comes time to cast Cycle 2!
"I think the way it works is you start like 'The Office' or like 'Queer as Folk,'" Pattinson said. "You start quite close, and then as those start to work … they develop a personality and life of their own. I personally think the danger is to make too many radical changes to the format too early. We've been down that path with a couple of shows – it becomes a compromised format at that point."
[Disclaimer: If someone else already picked up on this and we're like really late to the game we're sorry WE'VE JUST BEEN BUSY FIGHTING FOR EQUAL RIGHTS and you didn't show up on google. Also if you report this story, please link back, so that we can look like idiots if we're wrong instead of you. Grazi.]
---
+
Next Page: Skins Movie, Teen Stars of the WB, Adam Lambert's GLAM NATION tour, NPR and more!
Pages: 1 2See entire article on one page