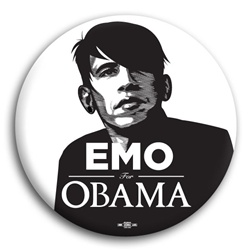 Today, President Changey McChangerson Barack Obama ordered executive-branch agencies to extend the benefits offered to opposite-sex partners of federal workers to same-sex partners as well.
"That process has now concluded, and I am proud to announce that earlier today, I signed a memorandum that requires executive agencies to take immediate action to extend to the same-sex domestic partners of federal employees a number of meaningful benefits, from family assistance services to hardship transfers to relocation expenses."
Firstly, totally jealous of all those people with jobs. Secondly, I feel like he's been paying us a lot of attention this week, and I haven't necessarily disagreed with his response to hecklers regarding DADT either. What I'm saying is: I'm really starting to dig this guy again. Like, FULL ON.
Am I being too polite? Should I be angrier like Queerty and Dan Choi? Even Pam Spaulding, who I like so much I often just copy her point of view, says of today's order, "it's a small step, not a lasting accomplishment. This memorandum as it stands is only good for the duration of his presidency."
So, maybe I'm settling for less than I should. But maybe I just think there are other bigger problems getting in the way of my life goals besides my relationship with Barack Obama. For example —
Massive Mormon Sidenote
I just saw 8: The Mormon Proposition, which you MUST SEE when it comes out June 18 in theaters or pre-order for its July retail release, and I have a lot of feelings after seeing it which I will withhold until you've had a chance to also see it.
In the meantime I feel there are only two possible things to do:
1. Create a new Bible for Autostraddle ("The Book of Autostraddle") and brainwash all of you into giving us all your money, because apparently that's all it takes to RADICALLY CHANGE THE LIVES OF TONS OF PEOPLE ON A MASSIVE SCALE. Then we could make OUR agenda King! This really strategic brainwashing will prey on your fears of an unpleasant afterlife, death, etc.
2. Oh wait JK, even though it would be for a good cause, we realized that we have souls, and also no time to write a Book of Autostraddle, so therefore, we cannot pursue "1." Instead we must put our energy into exposing and destroying the Mormon Church's frightening ability to influence state and federal law with seemingly endless financial resources. Perhaps a Gaga/Adam Lambert concert on the lawn of the Latter-Day-Saints Headquarters, with lots of gay dancing? (Also, this one time this Mormon company f*cked with our website.)
Here's the trailer for the documentary:
+
Anyhow Back to Obama And Whether We're Still Supposed to Hate.Him.
Do I sound like I'm in one of those terrible relationships where I confuse temporary adjustments/selective caring with long-term growth & evolution? When you tell your friends that she's changed, and they sort of give you a "Really Papi?" look? You know, and then you're rambling: "I know that she's always been really disrespectful of my feelings and was at Choice C*nts making out with that bitchy girl butttttt she sent me chocolate-covered flower-shaped melons in a swan-shaped bowl at work today, which is actually a private joke between us, long story lol, and also last week she was totally on time, so I think she's changing right? Oh also she didn't mean it when she said our relationship was like incest." Are we acting like that?
I feel like he's doing stuff, right? I mean he's complemented us like every week. Look at this note he left in my locker (!!!!!):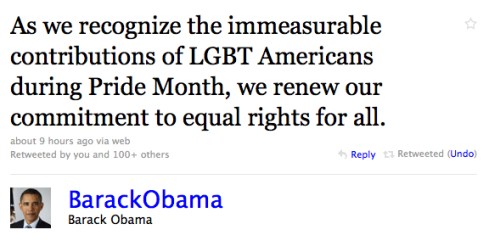 I know… he hasn't moved quickly enough in several areas and could be doing more than he has been for DADT.  Maybe I'm just a sucker for a good line or a well-crafted sentence followed by a deliciously pregnant pause — or maybe I just realize how busy he's been with stuff like the economy crashing and health care and feel grateful he's carving out any time for me at all. (I know, I know, that might be a personal issue.)
I always liked Obama, you know. I liked him from the get-go. Also, on Election Day 2008, my body torpedoed through an IKEA cabinet I was standing on and my leg got snagged on a series of nails, and now every time I look at the giant scar that canvasses the entire length of my shin, I think of Obama's victory and our party in Harlem that night. I think of how much hope we had! I had so much hope, in fact, that I ran around with a bloody leg all night, refusing medical care. That's how much I fucking loved this man.
I want to like him. He's literally a part of my skin now after all.
Also, I think he's funny! I like that he has a sense of humor. I mean really, when he makes a joke, I really feel like he gets me. You know? It's this thing we have.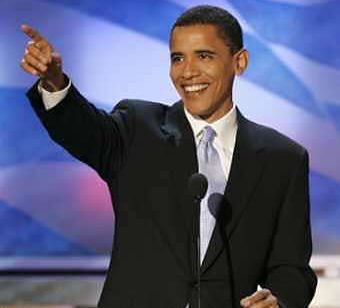 I really, really, want to like him.
Our Courtship with Obama: A Retrospective
Don't Ask Don't Tell
Before I go back to the beginning, let me briefly mention last week, because it was such a big step for us: Last week the progress on Don't Ask Don't Tell was a big step. And then the Senate Committee and House Approved the DADT Compromise. But it was a compromise, and Dan Choi still says it ain't good enouge. The Courage Campaign, however, called DADT "a done deal."
I know Dan's right in many areas. And I really have always liked him too. But also, isn't Obama soooooo much better than our last president?
Relationship Recap:
[Sidenote: A full rundown of Obama's statements & actions on LGBT issues can be found at ontheissues.com.]
When we first got together, Obama said he'd repeal DOMA. In 2008, he wouldn't outright support same-sex marriage but he called the measure to repeal Prop 8 "divisive and discriminatory" and congratulated "all of you who have shown your love for each other by getting married these last few weeks," which sounded pretty #yaygay to me.
Obama opposed DOMA when he ran for Senate.
However, in June 2009, the Department of Justice issued a brief defending the constitutionality of DOMA, which made us all feel really rotten.  It seemed like a reversal by his administration.
However HOWEVER in April 2009 The Guardian UK had already informed us that Obama is ushering in a "quiet gay revolution". A-ha! Of course it's been happening all this time, it's just been really quiet! Like amber waves of grain, sleeping bunnies, etc. Hard to get etc.
In August 2009, Obama Finally Came Out Against DOMA, filing court papers claiming a federal marriage law discriminates against gays, even as government lawyers continued to defend it.
In September 2009, we totally freaked out after reading a really scary story in New York Magazine about the Tea Party movement and other anti-Obama people and, in our post titled "Look These Anti-Obama Loonies in the Eye and Tell Me How Obama Could Possibly Find Gay Marriage Attractive," we suggested:
"Obama's already received 400 times more death threats than George W. Bush (that's an actual number). A frightening fringe still truly believes, erroneously, that this country's root is The Bible. And by "The Biblewp_poststhey mean "our screwed-up interpretation of the bible.wp_postsAnd here we are, being impatient with him for not acting on same-sex marriage yet. Now is not the time."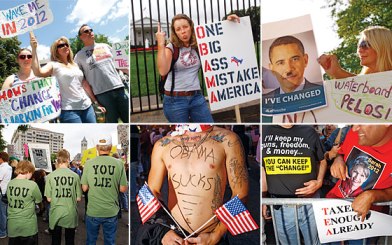 On October 11th 2009, President Obama was the keynote speaker at the annual HRC dinner on the night before the National Equality March on Washington, during which he made these two very important points:
+ "I have called on Congress to repeal the so-called Defense of Marriage Act, and to pass the Domestic Partners Benefit and Obligations Act."
+ "I will end 'Don't Ask, Don't Tell.' That is my commitment to you."
(He also made a joke about opening for Lady Gaga which was amazing and so cute!)
At the time, we had this to say about his HRC speech:
Over at Queerty and the New York Times, it's very noticed that he gave no timetable for [repealing DOMA or DADT]. Here at Autostraddle, we are just gonna feel happy & warm right now that he stood up there and said he was gonna do this stuff. Obvs this means we get to sleep in tomorrow and don't have to march right? 'Cause Intern Katrina just took off her pants.
Ultimately, we found that the LGBTQ community was divided, not united, by Obama's Speech to the HRC:
Let me confess; I'm a believer. I'm a dreamer. I imagine all the people living life in peace, and for about five minutes following Obama's speech to the HRC last week, I believed that we would. But in the days following, compelling arguments have been made on both sides. But that's just it — people are taking sides now. Are you an Obama believer or a critic? Do you think he's pandering to the fancy HRC so he can take our money and run, or do you think it's meaningful that he even offered WORDS, considering the political climate of the health care debate?
Personally, I'm somewhere in the middle. I'm critical for the same reasons the critics are… we can't say "now is not the time" forever… we need radical voices to enable moderate voices.
But on the other hand, observing straight America's reaction to last weekend's events has hammered home an inconvenient truth: for as long as gay rights have no direct impact on the lives of heterosexuals, we must pay attention to how often The Majority hears our demands as impatient whining. To many who don't feel personally affected by the content of Obama's speech, the speech sounded good enough. He did, after all, acknowledge that things are not moving as quickly as we'd like. We do know this, though: we need straight votes to win our rights and I believe we can best impact change at the ground level with other voters.
On October 22, 2009, we noted that "If you ever doubted the public perception of Obama's opinions about us, a large majority (72%) of a US News & World Report Survey group says they beleive Obama secretly supports gay marriage" and went on to ask, in light of two "small victories" that week, are Obama's 'small victories' for LGBTs this week "change we can believe in?"
Those "victories" were:
1. Health and Human Services will establish the nation's first national resource center for the support of gay, lesbian, bisexual or transgender senior citizens.
2. The U.S. Department of Housing and Urban Development (HUD) will ensure that its programs are available to all, including LGBT people. Today's announcement is historic, since HUD is the first federal agency so far to officially propose guidelines that would explicitly address discrimination based on sexual orientation and gender identity.
[Furthermore, The Senate is ready to approve The Matthew Shepard Act, a gay-inclusive hate crimes bill.]
And then on October 28th 2009, Obama signed the new Hate Crimes bill, which extended Hate Crimes protections to discrimination based on sexual orientation or gender identity.
But then November 2009 came. Oh, cruel November with your November Rain, and your gay marriage vote in Maine that totally failed. And then people wondered why Obama hadn't stepped in for Maine, and we all slit our wrists and died while the assholes relished. Then Obama pretty much moved on to health care and Christmas, as did our families.
In January 2010, an earthquake struck Haiti. We had the Olympics and then in February 2010, an earthquake struck Chile. Also; the economy, etc.
In April 2010, Obama ordered the Department of Health and Human Services to establish a rule that would prevent hospitals from denying visitation privileges to gay & lesbian partners. We worried a little bit that this might be a way of doing away with the ugliest part of the same-sex partners situation so that denying us full rights would seem more humane, but regardless, thank the dear lord.
Not bad, right? Then the DADT stuff we already talked about?
Our Prior Relationships Include:
George W. Bush (January 20, 2001 –> January 20,2009)
In 1999 Bush opposed extending hate crime laws to protect gay people and opposed letting gays into the boy scouts. In 2000, he said he was against gay marriage but would leave it to the states. Though he hears a gay GOP group out, he sticks to "no gay adoptions."

In the October 2000 debates, Bush says "I will be a tolerant person. I've been a tolerant person all my life. I just happen to believe strongly that marriage is between a man and a woman. I don't really think it's any of my concern how you conduct your sex life. That's a private matter. I support equal rights but not special rights for people."
In February of 2004, Bush calls for a constitutional amendment to ban gay marriage. He asserts his need to protect marriage against activist judges in September 2004, and in October assures Americans not to change our views on the sanctity of marriage.
In February 2005, George W. Bush introduced a constitutional amendment to protect marriage.
+
Bill Clinton (January 20, 1993–> January 20, 2001):
In 1991, Bill was asked if he would stand by his pledge to let gays serve openly in the military. Not really thinking it was a big deal, he said yeah and then got in trouble for that one later. In 1993, he created the order that would become DADT, changing existing policy to allow homosexuals into the military. (His gay supporters had raised $3.5 million for him soooo he owed 'em).
Clinton supported the Supreme Court's decision to reinforce the protections offered by the Americans With Disabilities Act for Americans living with HIV and AIDS. He was also the first President to appoint openly homogays and lesbianisms all up in the government, including positions requiring Senate confirmation.
In September of 1996, when everyone thought same-sex marriage was about to pass in Hawaii, Bill Clinton totally dicked us over and signed the Defense of Marriage Act into law. Clinton told The Advocate, "I remain opposed to same-sex marriage. I believe marriage is an institution for the union of a man and a woman. This has been my long-standing position, and it is not being reviewed or reconsidered."
In a State of the Union Address on January 19, 1999, President Clinton said, "discrimination or violence because of race or religion, ancestry or gender, disability or sexual orientation, is wrong, and it ought to be illegal. Therefore, I ask Congress to make the Employment Non-Discrimination Act and the Hate Crimes Prevention Act the law of the land."
Last year (2009), Clinton redacted his previous statements about same-sex marriage, and said gay people should be allowed to get married. THANKS BUDDY MAYBE YOU COULDA DONE THAT WHILE WE WERE STILL TOGETHER.
++
One shouldn't judge a relationship just on how much better it was than the last one, but it's always important to give a little credit where credit is due.
What do you think? Can we wear our moveon.org Obama shirts again? I mean, I worked for moveon in '08 dealing with their retail orders and some of y'all waited like eight weeks for your t-shirts, so I bet you wanna wear that shit.
I just want to like something. Because there's all this oil all over all of these birds, and they're gonna die, and I don't like it.