[I initially password-protected this post, thinking that would make it not turn up on search engines. Whoops! It sure did! The title was revealing enough, methinks, so I'm sure they're onto us by now.]



Saturday July 11th afternoon we started having trouble loading Autostraddle both via the admin screen and during typical web browsing.
This has become a frequent occurrence with Bluehost, the allegedly excellent web-hosting service we were referred to by wordpress itself. Even our first exchange with their customer service was appalling [which is cut-and-pasted for you at the end of this post], but we trusted the recommendation and attributed our initial poor customer service experience to a "bad seed" [his supervisor assured us he'd been "reprimanded", whatever that means]. WordPress describes Bluehost as its top recommended host, that's why we chose it. [We should've looked here, where every review of bluehost is a horror story.]
When the site finally started working again Saturday evening, an entire post was missing — and later, a draft post of Crystal's disappeared. Also, the front page was corrupted — the category boxes were scattered all over the place, the sidebar was underneath all the main content, and the feature article box was just a blank white space you couldn't navigate. The archives and recent post widgets weren't working at all.
So, Alex and I (Riese) asked ourselves WWJD? After walking on water for a bit we decided to call bluehost, 'cause it was a Saturday night and our webmaster was at the very noisy Demolition Derby in Indiana and we already harass her for help 24/7 as it is.
EXHIBIT A – SOME OF BLUEHOST'S TIES TO ANTI-GAY GROUPS & PEOPLE:

1. Pam's House Blend reports on Bluehost's association with Mormon anti-gay marriage Groups – NY Marriage Equality: Astroturfing – Courtesy of the Same Ten (Mormon) People: "Provo, Utah's bluehost.com must be offering the best deals in the country when it comes to wingnut web hosting."
2. Malaria, Bedbugs, Sea Lice and Sunsets: Mormon Homophobes Go Hawaiian?: A site that warns parents that the passing of Hawaii's House Bill 444 (which extends rights to same-sex couples) will corrupt their children .... "Checking the domain registry for protectourkeiki dot com shows that the domain name was created on February 14, 2009 with Blue Host web hosting based in, wait for it.. Orem, Utah. So not only are Utah interests apparently extending to the planet's most remote island chain, but some unique sense of entitlement is allowing carpetbagging a**holes to appropriate the local language and local interests to serve their not-so-local ends."
3. The Lavender Liberal: "I just had to filter out an anti-gay ad ("What is Prop 8? Learn why you should vote yes on Proposition 8 tomorrow") for an ugly little homophobic Web site called FORPROP8.COM." The site is obvs hosted by bluehost.
4. Sitedossier: Bluehost is happy to host every single Mormon Website ever.
5. Politico: Bluehost CEO donates to Romney campaign.
6. Bluehost on the Prop 8 Boycott List. (@broadwayworld)

7. Bluehost hosting Phony Fred Thompson website.


8. Campaign Money.com

I explained the problem to dear Tom from Bluehost, which he promptly said was not their fault. Furthermore, he didn't seem to understand why these problems I described were such a big deal. "It looks fine on the pages other than the front page," he said, "So what's the problem? Besides that white box?"
His tone felt confusing to me, almost as if I was not being taken seriously for some mysterious reason — as if the importance of the website looking proper wasn't an issue. This disconnect was, obviously, never rectified.

As he continued clicking around in Bluehostville to uncover the source of my imaginary problem, he came upon the Top 15 L word Sex Scenes page via lwordsexscenes.com, a domain we purchased via bluehost as a joke (while on the Gay Pimp podcast, Jonny suggested to Carly & I that we purchase that domain and have it redirect to Autostraddle as we mentioned to him that the "Top 15 Sex Scenes" post is always our number one hit). I repeat that we purchased that domain directly from bluehost.
"WHOA!" Tom exclaimed, suddenly. "Whoa whoa whoa, I'm looking at your 'other site' here and this is not okay. We do not host adult websites. I'm gonna have to go speak to my supervisor –"
[Luckily, we're not an adult website!] As the conversation went on I told him twice that we could delete that domain. It's a joke, and perhaps the post itself would be out-of-bounds according to many Terms of Service. I said we could edit that post while we search for another host.
Anyhow, I said, let's move on to fixing the website?
Sidenote: Along with some L Word recaps and one or two artistic & tasteful photographs from one of Robin's posts, "Top 15 L Word Sex Scenes" are the only areas of the website which feature exposed nipples or other life-scarring things known to cause world hunger, nuclear war and global warming [which he probs doesn't believe in anyhow]. And yes — for this reckless partial nudity I blame my own naivete about prudish content policies and my misguided conviction that people are smart enough to consider context, as well as my self-righteous indignation & first amendment misconceptions. Also apparently my mind is in the gutter, as I really thought most websites I see every day do have partial nudity here and there. Hello sex sells. Hello read a magazine. Anyhow.
At worst I figured an NSFW guard should be in place there. I was wrong.
That's the tip of the iceberg, he told me.  "Top 15 L Word Sex Scenes" is the least of my worries (that is true for Ilene Chaiken but not true for me!). Tom rattled off his disgust regarding the plethora of seemingly adult websites we link to all over the front page — he said he saw sex and things of a 'sexual nature' all over the website. He then went on to say that not only were we prohibited to feature "adult content," but we were prohibited to link to sites that contain nudity or "adult content" (their own definition of adult content, that is). Adult content includes WORDS ABOUT SEXUALITY as well as photos.

Whaa?
He pointed out that we link to "sex toys" (babeland), "sex dvds," (wolfe video), "topless women" (actually, ALMOST topless women, none of them have any nip showing, but details details!) and that we regularly link to many other sites which include such images & content. [Sidenote: sites that feature nudity or discuss sex/sexuality include wikipedia, answers.com, huffpo, gawker, new york magazine, twitter … well pretty much every website ever.]
Apparently this is all in their "terms of service," which are endless and do not draw particular attention to this very unique policy. Here's that section, which I honestly wouldn't have figured applied to us if I didn't know the company's religious background (I do now!):
Profanity. Profanity or profane subject matter in the site content and in the domain name are prohibited.

Prohibited Offerings. No Subscriber may utilize the Services to provide, sell or offer to sell the following: controlled substances; illegal drugs and drug contraband; weapons; pirated materials;instructions on making, assembling or obtaining illegal goods or weapons to attack others; information used to violate the copyright(s) of, violate the trademark(s) of or to destroy others'intellectual property or information; information used to illegally harm any people or animals; pornography, nudity, sexual products, programs or services; escort services or other content deemed adult related.
See that "other content deemed adult related"? Yeah. That's the big gray area where the Mormons let their babies run around and scream in church [I've been to the Mormon Church before, holler, it seemed fine besides the screaming children. We had macaroni salad and fried chicken after, it was delicious].
I believe that this isn't standard censorship and should be addressed in more detail in the TOS. Why don't they make this clear? Unless Bluehost hopes to register users who eventually will violate the terms and leave without a refund?
EXHIBIT B: Some anecdotes from the web:
1. "Bluehost Inc., the web hosting firm that hosts the Constitutional Freedoms and Family Research Foundation is Mormon owned. So more than likely these sites are being hosted for free. Bluehost does accept non-Mormon clients but apparently any content posted there has  to be LDS compatible although they don't mention that on their own site. People who have used their services have found their non-LDS compatible content is quickly zapped." (@fredfin)
2. Phoenix Nest: Changed web host … again – "So I basically found out that Bluehost and Hostmonster were based in Utah and likely controlled by the Mormon church. While I have no overt dislike of Mormons, I did take issue with the fact that they censor your web content hosted on their servers. I wasn't about to stand for that."
3. Two from hosting fu: "These guys are setting up their own sites that masquerade as honest objective review sites to lure unsuspecting saps (like me) into their web" and also: "I was considering switching to them as well. Then I found out a) it is a Mormon-owned company and morals/ethics forbid from dealing with bigots like Mormons (Prop8) and I also saw scattered reports of them censoring websites of their customers (non-adult content I might add) which does not sit well with me either."
An unafiliated website specifies: "Pornography is defined by Bluehost to be sexually explicit pictures, writing, or other material whose primary purpose is to cause sexual arousal."
Yes! Apparently Bluehost CAN shut down any site that contains even partial nudity or a site that links to a site that contains even partial nudity (damn you, Maxim!), including photography and art sites. Women must be wearing a top and bottom (not see- through). Men must be wearing clothing on the bottom. Any "lingerie sites" you link to must abide by the same standards. You cannot link out to anyone who sells erotica or magazines that include sexual materials. (This is according to an external site, this info is not on the bluehost site).
Sidenote: Tom Tech Support was obsessed with our Babeland ad. Babeland is a classy company that sells a lot of stuff and advertises all over the place and is linked to by a number of major websites including Time Out New York, The Village Voice, Citysearch, and New York Magazine. It's also on several other bluehost-hosted sites which I won't name here.
However this policy seems enforced haphazardly at best. The beauty is in its random application.
Here's the kicker. You really must check out Bluehost CEO and alum of Brigham Young University and former missionary Matt Heaton's blog! Here he is on why Bluehost has these policies:
Bluehost does not and will not tolerate adult material of any kind on our servers. Sometimes profit comes second and personal responsibility and ethics come first. I am not telling other hosts to not provide adult hosting services, but I wish that they would come to that conclusion on their own.

Adult material hurts people in so many ways that I won't even argue the point here. Aside from my own beliefs about why it is wrong, I don't think that any clear thinking individual would argue for the merits of porn. It is a business that I will never practice or enable through our network.

If many of the other hosting services out there didn't make it so easy for this type of material to be so readily available maybe the problem wouldn't be so severe. I would suggest to other hosting companies out there that service this market to reconsider what you think is important in life. Is this really the type of thing you want to peddle to the community? The hosting providers are just as guilty and the content providers in my opinion.
YUP! That's right. All adult material is damaging! (not true) Of course, what he doesn't explain enough is that these new policies extended far beyond porn, but what a valiant point! I especially like how he imposes his morality on others without a second thought. [While you're on his blog, you should read Matt's post about angry Wal-Mart employees, in which he misrepresents the situation based on a story he saw on Fox News.]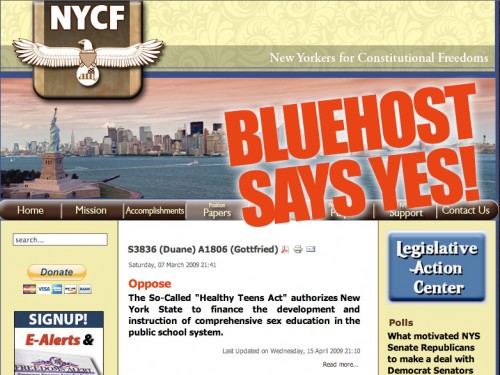 We are not an adult site! And? Don't take our money in the first place if you won't host this kind of content. Our L Word stuff and Babeland ad have been there since day one.
This policy's language initially included "anything related to human sexuality" and promptly (ironically) shut down asexuality.org (now with a new host, obvs). I cannot find that language on the website now though it seems that at least in our case, that rule is still enforced, and it allows people like us to open websites not aware that we're breaking any rules, due to these unusually vague terms.
Our friend Roy, a gay blogger, told Autostraddle that he actually had the same experience with Bluehost — they shut down his entire site without a warning based on a terms of service violation. He was unaware that he was violating any terms of service. He ended up losing three years of work which Bluehost was completely unapologetic about annihilating.
When I asked Tom why these redic TOS existed, he explained: "We're in Utah."

Ah. Yes. The Mormons! (Sidenote: Check out some gay mormons fighting for equality!)
See, before I could ask how we could fix our motherfrickin' website [because I'm not gonna scour the site erasing every swear word or link to something that includes sexual discussion or nudity or adult products or anything that links to sites that link to those kinds of sites if the site doesn't look right. I also want my Charlene post back.], I was interrupted mid-sentence and put on hold for twenty minutes while he went to speak to his supervisor in the "abuse" department.
I took that time to browse the internet to see what we were dealing with. Oh boy: not only does Bluehost often shut down sites with any illusion of adult content whatsoever, they also shut down sites for profanity, alleged sexual arousal-inducing language and for many "unknown" reasons that users never get answers about. They also DON'T shut down sites for this reason too. Who decides how to enforce these rules, I wonder.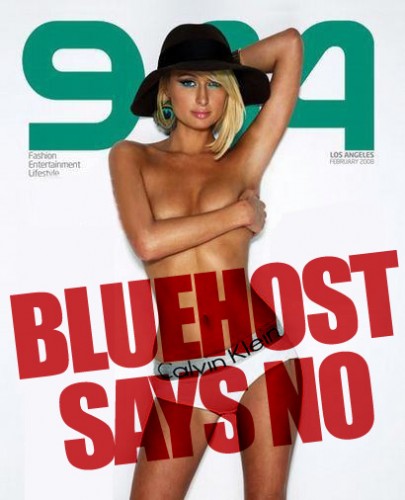 All over the internet, users report terrible or incredible experiences with Bluehost. I THEORIZE this is due to Bluehost employees' subjective judgment of the sites and application of arbitrary morality when choosing whom to help and whom to ignore. He seemed to be asking me to conform to rules for my website that are — to the best of my knowledge — rarely enforced elsewhere, as if it was solely from his own gut reaction to the site rather than actually strident rules.
Having been preached to by Mormons who come to my door, call us, and travel around the world trying to convert people, I can say that I'm not surprised a Mormon-staffed customer service center features a lot of people who are self-righteous and empowered to make their own judgments exactly as they see fit, without apologies or consideration for context or hypocrisy.
Some samples of CEO Matt Heaton lashing out at people questioning his business's quality on webhosting boards (oH! The profanity!):

"No he can't prove what he said because he is full of crap…"


"What a bunch of cry babies. For the record Bluehost or Hostmonster doesn't own ANY of the sites you mention."

(Sarcastically): "Yeah, my business model sucks. There's no money to be made at all. Its such a burden trying to live on a 7 digit paycheck."

"Here is it. Ill call you a dick to your face, because clearly you are one. Come visit in person any time you want and Ill let you know what I think about your "knowledge" in person."
I guess some entitlement goes along with that personality profile.
This is just my opinion and not a fact. It's just difficult to explain this illogical discrepancy.
EXHIBIT C – NO ON 8 SUPPORTER GETS SUSPENDED BY BLUEHOST:  "Bluehost.com web hosting service (located in UT) – these a$$holes suspended my website after I posted pics that were against prop 8. I uploaded my pics late Friday and on Monday morning they suspended my account for TOS violation, claiming my site had been hacked and used for phishing. The "suspect" files had all been added the day after I posted my prop 8 photos, so I think the timing of the hacking was mighty suspicious. Upon research I found a number of Internet references of Bluehost using their Mormon-based values as an excuse to censor peoples web content. Boycott these bigots, please. If you have a Bluehost account, CANCEL it and then let them know why."(@Democratic Underground Prop 8 Boycott List)
After 30 minutes on hold, Tom returns and says we are lucky 'cause they are going to give us ONE HOUR to erase all nudity, links to sex toys or DVDs, links to sites that talk about sex or contain material which may cause arousal — and we should feel grateful for this.
I ask if he can just let us keep it up while we find and switch to a new host and he says we will have a hard time finding any host who will accept our kind of content, which is frankly laughable, and also really not a professional thing for him to say. Hello, judgey! He also refuses to let us keep it up until we can get in touch with our tech person who actually would know how to approach this. He says no. One hour take it or leave it.
He refuses to fix any of our problems because he feels an hour will not be enough time for us to clean out all the filth. He says clean-up, not functionality, should be our priority right now. If we fail to clean up sufficiently, he tells us, our site will be shut down and replaced by a "this site has been suspended for terms of use violation" message.
We're rushed off the phone.
So we go into wordpress to see if some superficial fixes will buy us some time and — POOF! All our posts are gone! We can't edit anything! They still exist, sure, but we can't get to the edit posts screen.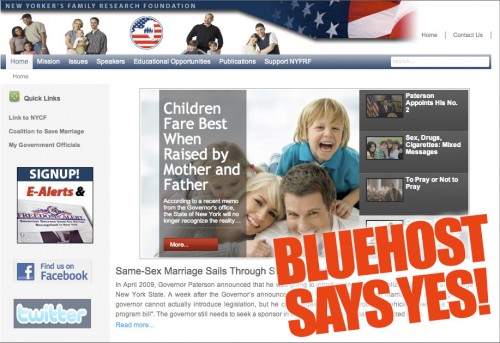 We call Bluehost about this and they say it's not their fault, it's wordpress's fault. They also refuse to connect us back to Tom or fix the website, again stating we're wasting the time we need to clean up the site. We say we can't clean the site if they won't let us into the edit posts screen. He offers no solution. Other users also report that when suspended they were not able to access what they needed to access to fix their problems.
The end.
We give up.
So we call Intern Hot Laura for some phone sex, clean the kitchen, take down the babeland ad, put up a privacy filter to block everyone out, including Bluehost, hoping that'll buy us some time (it does), and we fold laundry and talk about pudding babies until Tess calls to say that she is drunk but she is ready to "motherf*ck bluehost." We discover Tess has a cute Midwestern accent when she's drunk, too!
So within about 30 minutes Tess fixes all the issues that bluehost suspiciously created for us and were totally unable to fix themselves.
On Sunday morning, Tess wakes up, has some coffee & advil, and promptly transfers our domain to a hosting service that is willing to host adult websites, Hostgator just to ensure nothing like this will happen again. We do not now and never will have an adult website. But this is not the first time that we've felt unfairly prosecuted for the content of this site, so we have to play it safe. So far WE LOVE HostGator!
The more we hit these roadblocks, the more determined we are to succeed — we must fight to prevent the knee-jerk reaction of disgust people feel when they see gay images. We're constantly butting up against this vicious double standard and it's not fair.
EXHIBIT D – ART IS PORNOGRAPHY?My webhosting service, BLUEHOST, disabled my website because they said i had three offensive pictures of naked women on it and they considered it porn. My father took these "offensive" pictures during WWII. Two were gorgeous arty shots of 1940's strippers, plus one was of my father taking a photo of an artfully posed nude woman that had been published in Photography Magazine.
EXHIBIT E: ASSORTED WORLD-WIDE DISCONTENT AND OTHER SUSPICIOUS ACTIVITIES –
1. An entire website about how Bluehost sucks.
2. Bluehost Suspended my site for profanity.
3. MANY horror stories on the wordpress forums including verification that saying G.W Bush is a horse's ass would receive immediate suspension: Bluehost censors blogs and other content!
4. Celebrity Fashion Watcher says Crappy Bluehost strikes again! Blue Host is one of the most unprofessional companies I have ever seen.  Rather than give notice we just woke up this morning and the blog was gone.
5. Bluehost censors Zimbabwean Bloggers: "I will not recommend [Bluehost] to individuals looking for human rights hosting – the assumption that Kubatana was in the wrong, the unwillingness to listen to their explanation and the hostility of CEO Matt Heaton to customer complaints leads me to conclude that I wouldn't recommend their services."
6. Chuva Chienes site kicked out by Bluehost!: "I'm curious if this problem is exclusive to my "associates" or friends."

EXHIBIT F: FANS OF BLUEHOST –

1. Check out the comments here on this post about the importance of donating to the Ron Paul campaign: "And thanks for using Bluehost I work for them. I am with you, and so are a lot of us that work there. Can't wait to donate."
2. Conservative Catholic Blogger Kevin Tracy highly recommends hosting at bluehost.com!
3. Utah-dwelling Mormon Jonas explains why hostmonster (also owned by bluehost) is the best!
4. Self-proclaimed Follower of Jesus Christ who operates his ministry from local coffee shops reports a very unique bluehost experience: "Some misguided person hacked our church website … Thankfully Bluehost backed up our site from a week ago so I only lost the changes I made this week! Whew!"
5. ONE OF OUR SPONSORS: BLUEHOST.COM: You can get a discount on hosting with bluehost if referred by "The Conservative Gentleman"!
In other news, let's share with you the first interaction I had with these people. I continued with them because I didn't really know what else to do and they already had my money. I wish I'd looked into it more, and I encourage all of you to do the same.
When I first set up the website, I was unable to do anything on it and I kept trying to fix it myself for about two days to no avail. At this point I'd transferred some content from Autostraddle 0.0, like the banner, so it was already clear what kind of site I'd be running. I emailed them about this problem.
Here's how that went.
From Bluehost:
Hello,

I apologize about that inconvenience, the problem is the DNS for your domain were deleted.

We have recreated the DNS records and the domain is now online again. Sorry for that trouble.

We have recreated the DNS zone and it will be working in about 2-3 minuteshours
Thanks,

John M.
From Bluehost again:
We apologize for the trouble you've been having,

Everything looks to be properly done from your end as far as the install. For some reason there was some DNS issues that we have had to straighten around. Please give 4 to 6 hours for our adjustments to finalize. If you are still having issues after that please get back with us.
Me to Bluehost, over 4 to 6 hours later:
Hi

I'm still seeing the same error message (server not found) when I go to www.autostraddle.com. Is there a different page I should be going to in order to access the wordpress blog?

-Marie-
Me to Bluehost a few hours later after receieving no reply:
Now there's a new error message saying, "error establishing a database connection."
Me again, a few hours later:
It's still not working … this is really disapppointing. Any update on the status? I was supposed to have the site up today, so sorry for being a pain, but this whole thing is kinda throwing off my schedule big time, as I'd set this day aside to work on the new wordpress blog. I'd try another host but since I've already paid you guys, I'm stuck until I can get in touch with someone on your end.

Thanks for your help getting this up and running for me.

It is now nighttime, and no response. So I try again:
Maybe I'll get a response if I start a new ticket? My site isn't working. I got the host and domain name and installed the wordpress software, and the website just goes to an error page, I can't do anything. I had this day set aside to do work on this site and I can't do anything. This is a huge disappointment for me and if I hadn't already paid and locked down a domain here, I'd have the freedom to go elsewhere.

[THEN I CUT & PASTE ALL PRIOR CORRESPONDENCE, including the "2-3 mintueshours" thing]

Firstly, 2-3 minuteshours? What does that mean? Anyhow, when I woke up it was once again showing that "www.autostradle.com" cannot be found. Now it has a new error message of "error establishing database connection."

It's 7:00 PM EST and I still haven't been able to do anything. Please get back to me immediately or in 2-3 hoursminutes.

After that day of nonsense, I finally go to sleep.
I wake up to this AMAZING RESPONSE FROM BLUEHOST (bolding is my own):
Firstly, your sarcasm looks very good on you. Give yourself a pat on the back.

In regard to this statement: "This is a huge disappointment for me and if I hadn't already paid and locked down a domain here, I'd have the freedom to go elsewhere."….you do have the freedom. I suspect "elsewhere" may be loaded with similar problems for you.

Your issue has nothing to do with the Bluehost servers at this point in time, which seems to be about 2-3 minuteshours from Jan3, 2009.

The previous DNS issues had nothing to do with the current problem either.

Your WordPress installation is missing a database and it only take about 2-3 minuteshours for a missing database to cause severe headaches for sarcastic folk.

If a semi-intelligent person who faced a similar problem as yours were to uninstall and reinstall WordPress from Simple Scripts, he would resolve the problem in Oh….about 2-3 minuteshours.

So, kick this idea around instead of people you interact with and act accordingly. Thanks a bunch for contacting Bluehost.

We love our customers and the sarcastic ones we prize.

Todd Rowley
1Level Support
I write back, in the haze of morning:
Dear Todd,

Wow!

Howevs, I did uninstall and reinstall wordpress and that didn't fix the problem, as stated in previous emails.

You're telling me that the same problem I have now has nothing to do with the problems I had before that you said were fixed? 'Cause I didn't touch anything on the website from the moment that your people told me it was fixed.

I guess I'm not semi-intelligent enough to fix the problem.

Thanks for totally not helping!

-Riese-
A few hours later:
Dearest Todd,

Fixed! You win! I'm the idiot!

See, if you read my ticket history — the first time I contact you guys I'm 95% sure that it's my lack of semi-intelligence (I mean obviously I'm quasi-intelligent at best) causing the problem. But then you tell me that it's your problem. So when it's not working again, I think, well, it must still be your problem.

Regardless, 2-3 minuteshours isn't an adequate time estimation, you have to admit that. I mean there's a big gulf between 2 minutes and three hours. Unless he did that on purpose, in which case that's very clever. I salute you. Or him.

You're also right, obviously immediately after receiving this I had to comb through the site to find out how to cancel my membership 'cause you're being mean to me instead of empathetic and I found that I could cancel within 30 days, clearly I should've done that yesterday.

And maybe I would've found the same problems elsewhere, at which point i would've assumed — as I initially did with you — that it was indeed my fault, clearly I am not web savvy.

I've worked in customer service via email for about a year and I understand — I also disliked being yelled at by strangers about things that weren't my fault, and felt blown away by the anger people feel justified to unleash in print that they'd never say to your face — but I understood that it's still frustrating to have paid for a service you feel powerless to obtain, especially when everyone you know and work with is telling you that their hosting service is so lovely. Hopefully mine is also lovely. Clearly for your sake and for mine.
Needless to say, I should've ended the abusive relationship when it began, even though his supervisor did write to say that Todd would be reprimanded. I would've loved to be a fly on the wall for that conversation.
So shame on me, shame on Bluehost, and shame on businesses that impose their own religious morality on their customers. I would suggest that Bluehost make it abundantly clear what exactly their TOS implies, as I would not have gathered that ours was in violation even if I had combed through the TOS, especially considering other bluehost sites using the same material and the sheer impossibility of avoiding linking to nudity-containing sites EVER.
In fact, I think it is impossible. It is my personal opinion that bluehost chooses to enforce this unrealistic arbitrary linking policy wherever it wishes — like, for example, on our lesbian website.
Here is what I want: A customer service representative is supposed to be sans personality. They are not supposed to judge or infer anything, ever, but rather respond to every inquiry with the cool collection of a gynecologist listening to people say crazy things about their vaginas all day. Itching? Okay. Annual? Okay. Want to get pregnant? Okay. Crabs? Okay. Lost tampon? Okay! Let's dig!
Customer service agents are not supposed to be biased or emotionally driven. When he saw that L Word post — AFTER seeing our front page and the content on it, knowing full well that we didn't run an adult site — his response should have been to inquire about that random post — which was about a television show that is viewed by millions of Americans, not about sex for the sake of sex — rather than to begin freaking out and using that one post as a launching pad to go off into other realms addressing our entire site with standards that aren't enforced elsewhere. To be fair, I can imagine that the L Word sex scenes post was quite life-scarring for someone raised in the Mormon church, sooooo he's really just a victim of circumstance. (Check out Bluehost on LinkedIn, so many BYU alums!!)
It's clear now that these people will be assholes to anyone — even to a mommy blog flooded by visitors when her infant — who her blog was dedicated to — suddenly died and support for her family was being funneled to her blog.
I'm also wondering how a hosting service can get so many negative reviews (aside from those hosted by their own servers, as they own most of the top reviewing sites) and stay in business. I guess it's that old fashioned conservative loyalty, the kind that buoys entire political parties. Us liberals need to do this too, maybe?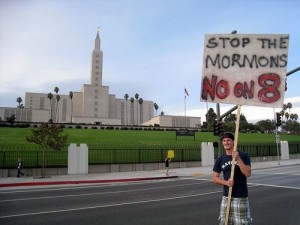 Your bigotry is your business, but when I'm working with your business, it's my business too. So you better make it crystal clear, otherwise the only conclusion I can draw is that your bloodthirsty CEO ("Anyone who knows me knows I'm at my best when I'm obsessed with winning. I'm ready to start obsessing again I've been scheming and plotting knew ways to get a LOT more signups each day." – Matt Heaton) who is obsessed with conquering the competition while enforcing insane restrictions on its customers, wants as much money as he can possibly get and wants to host over a million domains to boost his ego. Well, I guess we can be one less.
UPDATE: We have now completed the transfer of our domain to HostGator from Bluehost. Tess did indeed motherf*ck bluehost, and it's important to note that by the time she called them, they were aware of our post as it showed up on search results already even if you couldn't click through.  They refunded us $35 (this is a small percentage of what they've kept), 'cause honestly if they hadn't done that, we would be going totally insane with attack rifles right now. That has not even covered the cost of transferring and switching our domain however, and they still own the lwordsexscenes domain that we bought although we weren't supposed to use it and we can't afford to transfer it over.
Our mighty Tess told bluehost that we're leaving because "We scarred one of your little mormon butt-f*cking buddy's when we called the other day, because our site was all f*cked up for the millionth time 'cause you guys can't get your sh*t together, with all of our SEXUAL CONTENT! You can take your services and shove them, it's against my morals to be associated with a company such as yours."
After Tess threatened to take away all their business and tell everyone what asshats they are if they didn't refund us, she was trasferred to a manager who told her to keep them in mind for all our future hosting needs. The partial refund showed up in my paypal a little bit later.
UPDATE 2: After reading every single g-dforsaken website about Bluehost and hundreds of scathing reviews (and several clearly fake positive reviews), this is my best attempt at applying logic to the situation.
Bluehost has some serious technical issues that I cannot even pretend to understand, hires incompetent customer service people (it's very buddy-buddy in this type of network, check out the top affiliates on their LinkedIn profile) , and when they don't know how to fix your problem (or when they caused it themselves — many users report tracing alleged "hackers" back to Bluehost itself), they often will whip out a "Look! What's that? A TOS violation? Look over there!" CEO Matt Heaton's comment on this post is an excellent example of this, a week after the fact, when he fully pulls out a random and completely false reason for our struggles that, in addition to being a blatant lie (yes, we can easily prove this), wasn't ever suggested by his tech support agents at the time of the issue. Furthermore his conviction that pornography is their only forbidden content is either directly contradicting user experiences and his employees' actions or affirmation of the proposed theory that all same-sex activity is considered pornography. It's probably not the latter, 'cause that would be too easy.
In short, it's just not worth it to risk it, especially when his employees use your money to donate to anti-equality political candidates. (That's just the employees not wise enough to not state their employer. Heaton donated to Romney as "self-employed," for example, as included earlier in this post.)
We're loving Hostgator and there are lots of other good web hosts out there.
(-Riese)