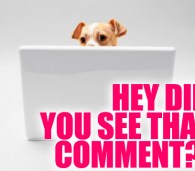 Remember when Riese decided to write about cookies instead of making a daily fix? Well, you little minxes commented more on that post than any other article this week. That's more comments than on Autostradde's Miss June calendar girl! (who, by the by, is the fabulous Nicole Pacent.) Are you crazy? It's ok, so am I.
Anyway, let's not forget what else happened this week. Taylor battled her comic addiction (that's an addiction to comics, not a really funny addiction. Addiction is never a joke; just ask everyone on Intervention) with yinz, and Alex recapped the new Alejandro music video preview. One Jess had your weekly music fix and the other Jess interviewed lesbian country rocker Jennifer Corday. Laneia's going to Bonnaroo and needs your help, and finally, don't forget to sign up for our new newsletter!
---
On I'm Going to Bonnaroo Music & Arts Festival 2010. Wild, Right?:
The Mum Award to Leah: "This may be the first comment, and it will be lame, but please keep yourself safe! These festivals get rowdy and we don't want you hurt or assaulted in any way! Say you have a huge group of friends waiting for you back at the tent at all times, wear sunscreen, don't put your drink down, and don't take drugs from people!
<3 ur mom"
On Autostraddle Calendar Girls: Nicole Pacent is Miss June!:
The Nerd Award in Cuteness to Alex : "When I saw the pictures with the chandelier/light up looking thing above her head, I thought it was the script from The One Ring. There was like 2.5 seconds of geek out and I thought that I had definitely found the woman of my dreams. And then it wasn't.
I'm just going to keep pretending that it is."
The What's She Straddling? Award to Mz. Fine and Laneia :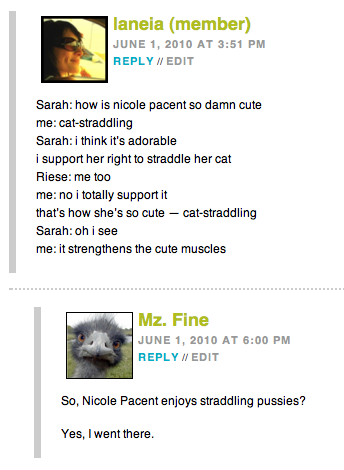 On Obama Orders More Same-Sex Partner Benefits. When Can We Like Him Again?:
The Oh! That's What VeggieTales Was About Award to Sasha Farce: "We have to live the example first. It's kinda like how those women wrote those dueling cookbooks about hiding vegetables in kids' foods? That's exactly what Obama's doing. He's hiding the homoyay in the nation's food and once the changes are rushed in without fanfare (DADT, medical and property rights, benefits) and cause absolutely no change in the right-winger's lives at all, we can all go "OH HAY GUESS WHAT YOU'VE BEEN EATING THE GAY BROCCOLI ALL ALONG." Or something like that."
On Lady Gaga's 'Alejandro' Music Video Preview Quick-Cap: Tuesday Night Lights:
The Ahhh, Yes, I See. Award to Alejandro : "how can u say all of that stuff about her work?
shes worked so hard to create a masterpiece and all u can do is slag it off with ur 'screen grabs'and spech bubbles?!?!
u seriously need to get out more!"
On Autostraddle.com Offers You a Chance to Turn it All Around:
The Beat BOXing Award to wasteunit and nosidam: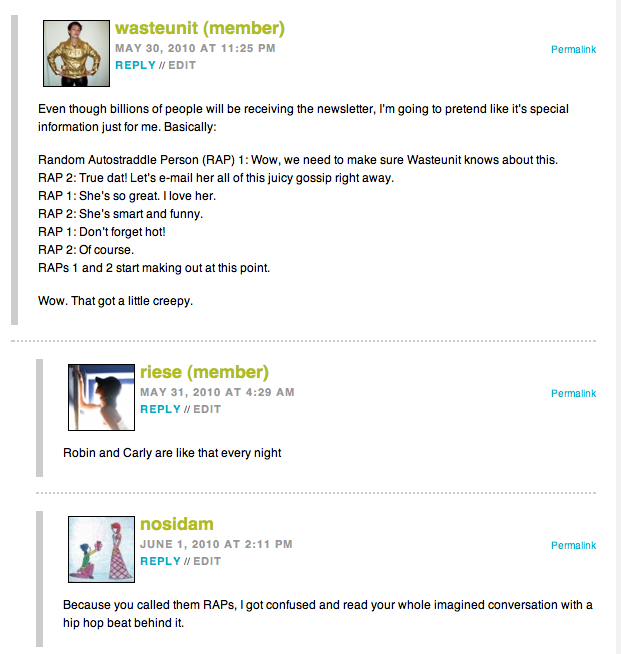 On Lady Gaga on Larry King: Government is Archaic, DADT is Bad, Sparkly Suspenders are Cute:
The Twinzzzz Award to Bren : "Did Larry King and Lady Gaga coordinate their outfits? Cause it kinda looks like they did."
On Anti-Gay Senator Ashburn got Outed, Apologized, Promises to Change. For Us. Really.:
The When You're in Love, Every Day is a Vacation Award to Fit For A Femme: "I hate Mary Cheney and I FUCKING HATE when I really, really, really want to go someplace that hates my butch wife and I, because you know what, bigot travel destinations?! I really, really, really want to make out with my wife on our vacations way more than I want to visit you. So there. Eat a bag of dicks. YOUR LOSS."
On Top 10 Cookies You Can Buy at the Drugstore:
The Award for Excellence in Explanations to Katie : "Why people were more willing to comment on cookies than DADT this time around: A cookie does not require months of sitting on the Senate floor to gain enough approval to be made available to millions of people who have been waiting for it, a cookie can not sit in stagnation for months before its release (that would surely ruin its flavor), and a cookie can be enjoyed equally by anyone who decides they want it! With that being said, I am on record for eating an entire package of Milanos in under 3 minutes. My girlfriend says she can't take me anywhere."
The Bilingual Award to Dorothy : "I learnt this random fact only the other day:
"Digestive biscuits have no digestive properties at all. In fact, it is illegal to sell them under that name in America."
I guess us Brits are just allowed to be delusional about our biscuits 'healthy' properties.
Arrowroot biscuits, on the other hand, have been proven to be good for your digestive system… go figure…"
The Rebel With a Sweet Cause Award to Ciara with a special mention to Crystal :
The Amherst, Mass. Award to Paper : "I get 83.4% of my daily calories intake from cookies, and I still have no idea what you're talking about. I might live in a country where drugstores sell things like Abilify, Accupril, Accutane, Aciphex, Actos, Adderall, Advair Diskus,Aldactone, Allegra, Altace, Ambien, Amoxicillin, Antivert, and Aricept, but I still expected a certain amount of familiarity, due to my year-long stay on the east coast a few years back. I did, however, live in an area where the average level of education was somewhere around 1.2 PhDs (the only McDonald's closed a few months after our departure), so I'll be proposing an hypotheses based on the strong negative correlation between the feeling of academic superiority and amount of pharmaceutical cookies consumed."
On Malawi "Gay" Couple Pardoned, Ceding to U.N. & International Pressure (No Homo):
The Assessment of Western Values Award to dypole : "Regarding the argument that this is about imposing Western values on an African nation, the ironic thing is that the Malawi laws used against the couple were actually the colonial remains of the British anti-sodomy law Section 377, which had been imposed on the country while it was under British rule. The same is true of many other African nations, including Uganda and Senegal, that had once been under British or French rule (I am unsure if this also applies to former colonies of other European nations), and yet now such laws are classified as being distinctly African. Thus, while I understand the nervousness about potentially imposing "cultural imperialism," and I even entertain such arguments in other contexts, I think it's a particularly weak claim to make here.
And I won't even get started on how the laws used against the couple actually violate Malawi's own constitution, as well as the African Charter on Human and Peoples' Rights, which Malawi has ratified."
On Rihanna's Lesbosexy "Te Amo" Video Will F*cking Tease You, You'll Like It:
The Let's Talk About Writhing Award to Sally : "I was convinced that Rihanna sang "listen we can dance, but you gotta wash your hands" signifying she had read the safe sex post on here last week.
But then I looked up the lyrics and she says "watch" not "wash." Now I am simultaneously disappointed and concerned for her sexual health.
WRITHE SAFELY, RIHANNA."