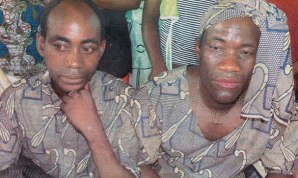 Something fantastic happened today! U.N Secretary General Ban Ki-moon held a meeting with Malawi President Bingu wa Mutharika today which led to wa Mutharika pardoning Steven Monjeza, 26, and 20-year-old Tiwonge Chimbalanga, who identifies as a woman although she is being treated by the Malawi justice system as a gay man. The couple had been sentenced to 14 years in prison and hard labor because in December they had a symbolic marriage ceremony as well as a little party a.k.a. "unnatural acts and gross indecency." (Clearly this wedding is so much worse and no one has been imprisoned for that, so wtf.)
However wa Mutharika wants everyone to know that he only did it 'cause you made him do it, not 'cause he thinks gay is okay:
"These boys committed a crime against our culture, our religion and our laws, however, as the head of state I hereby pardon them and therefore ask for their immediate release with no conditions," wa Mutharika said after a meeting with Ban Ki-moon at State House.
"I have done this on humanitarian grounds but this does not mean that I support this," he added.
Presidential press secretary Robert Gibbs says the White House was pleased to learn that Malawi's president on Saturday pardoned a gay couple sentenced to 14 years in prison because of their sexual orientation.
Gibbs says in a statement that the men aren't criminals and that their struggle isn't unique. The statement urges an end to what it calls "the persecution and criminalization" of sexual orientation and gender identity.
"Britain has a close and strong partnership with Malawi and it is in this spirit that we raised our concerns about these convictions with the government of Malawi.
"The UK believes that human rights apply to everyone regardless of their sexual orientation or gender identity."
Joseph Amon of Human Rights Watch says, "I hope that other leaders of African countries with anti-gay laws see that this is just not acceptable in the international community."
Earlier this week the top U.N. AIDS official and head of an international donor organization had met with Mutharika to express concern that criminalizing homosexuality would impede their HIV/AIDS counseling and treatment efforts.
In addition to the international political community, several celebrities had spoken out against the ruling as well, including The L Word's Mia Kirshner, who has done human rights and AIDS education work in Malawi, and Madonna, who runs several orphanages in Malawi.
Undule Mwakasungura, executive director of the Malawai Center for Human Rights & Rehabilitation, had this to say when the sentence was initially handed down, "…the sentence is too harsh and unacceptable in two ways… the gay couple should not have been given a maximum of 14 years because this is not a serious offense… the whole process has not been fair to them in terms of their human rights." The couple was also denied bail.
The imposition of 'Western Values' upon Africa (Malawai is among 37 African countries with anti-gay laws) is not without controversy even within the American LGBT community, but I think we can all agree that clearly this is an issue of Human Rights, not Human Values.
So let's leave off here with  some words from Rev. Dr. Cindi Love (who we love) (you may know her from Soulforce, or from her appearance in All Aboard:Rosie's Family Cruise, where Love performs commitment ceremonies) , speaking out last week against the ruling and calling for "no-strings-attached, full-court press of people of faith and people who express no particular faith — ethical and compassionate people — to stand in the gap for lesbian, gay, bisexual, and transgender (LGBT) people in Uganda":
His Holiness the Dalai Lama says that ethics and compassion are universal. He says that they can occur without the foundation of a specific religion; indeed, for them to be embraced by a larger group of people, they must not be tied to any faith.
I love this vision of the world, one where we release our attachment to the particularities and attendant barriers of our faith traditions in order that compassion and ethical behavior can break through to the people who need them most. Compassion, no strings attached.
Amen.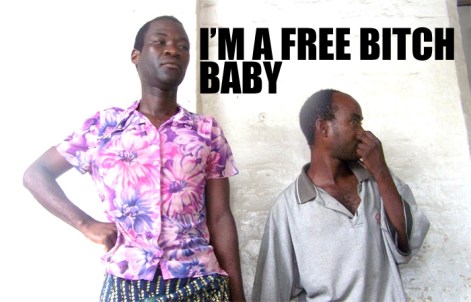 Editor's Note: We realize these men are not necessarily "free," per se. Their pardon obviously does nothing to stop the huge amount of homophobia and transphobia that we are certain they will encounter (and already have encountered). The Malawian president's words make it clear that he took action not because of his beliefs but because of external pressure. But the fact that they were reprieved at all is cause for some fist pumping. It's certainly a step in the right direction.
Editor's Note #2: Hi it's me again! Some intrepid commenters have informed us of the trans status of one half of this couple and how that has been overlooked/erased by the media. This was in no way our intent and we apologize for not saying so. This article from The Huffington Post by Alex Blaze summarizes the situation quite well and makes some valid points.
However, there's a few important angles here. First, keep in mind that a lot of people in Malawi, and the justice system, make no distinction based on self-identified gender. The President of Malawai calls them "two gay boys," they have been treated as two gay men by the country's officials and prosecuted as such. And from a lot of the stories we've read, it sounds like the idea of "transgender" as we know it isn't that prevalent or understood in Malawi.
Although it has been suggested that the media and even gay rights groups have made the trans identity invisible in order to fit the story into their mainstream-friendly agenda, that never really occurred to us — obvs, this is Autostraddle, we've never been like, "let's erase the T you guys, then people will like us better and listen," because that's fucking absurd. No one should listen to anyone who tries to "erase the T."
If we knew about this story (which is, of course, part of what's up for debate) we would be talking about it regardless of if Tiwonge was a trans woman being treated as a gay man or if Tiwonge was a gay man who identified as a gay man. In no way was our oversight related to a desire to "hide" trans people, but to report based on what we (thought was) how the story was being told within the context of Malawi's justice system.
However, we recognize that we made a mistake when doing so and it is important to note the doubly unjust situation happening here.
Because as we now know, Tiwonge Chimbalanga seems to self-identify quite strongly as a woman. The quote that has been often cited is:  "I am just a woman who loves my man. I'd rather remain in prison than to be released into a world where I am kept away from Steven." Which is super sweet! While it might not matter officially in Malawi, it should mean something to the people reporting the story, including us. As many pundits and gay bloggers have pointed out, this is just one more example of trans invisibility. Obviously, it shouldn't affect how people fight for this couple, because being persecuted for who you love is always wrong, and being persecuted for being a gay man when that isn't even how you identify is ten times more f*cked up.
Thanks for pointing this out, readers! We're sorry it wasn't addressed sooner.