As part of Autostraddle's overall efforts to make your lives even awesomer, we're starting a monthly newsletter. Our first issue will appear in your inboxes this week. That's so soon, you guys!
But you can't get it if your email address isn't on our list. That's how the Internet works. Rather than taking the chance that your email address isn't on our list, you really should use the handy entry form below and make sure we know you exist.
+
But maybe you don't have a bunch of blind faith in us (even though you should). Maybe you need a little more convincing.
Here goes:
Every month, we'll round up some of the best content in case you missed it. That's pretty ordinary, right? Obvs we couldn't stop there, so on top of that, you can look forward to:
+ Updates about all the new stuff happening on Autostraddle, like new pages, new web series, "job" opportunities, or manic redesign #75.
+ Extra content you won't find anywhere else on the website! Like this month, there'll be Q&As with two girls from the Autostraddle Hot 100.
+ Newsletter-Only Bonus Features: The bonus will change each month, but trust me, it's going to be awesome. And it's going to be exclusive to the newsletter. For example, we may send you some extra photos of a Calendar Girl, or a special insider promotion, or Intern Hot Laura's mailing address… You never know!
+ Behind the Scenes & Overheard at Autostraddle: We'll pull the curtain back and show you a bit about how we operate, where we get our ideas, and how we convince people to write for us for free.
+ Get Involved: Sometimes we need you — your stories, your input, your support. We feel most comfortable doing this in your box.
+ Special offers from our friends & supporters and info on upcoming events or political actions that you should know about.
+ Really who knows, like everything we'll be making it up as we go along!
BUT WAIT ONE MORE THING AND IT'S REALLY IMPORTANT! One of our favorite things about doing Autostraddle is hearing your stories about coming out to family and friends, especially when you say we helped you in some way (we're insecure, need ego-stroking).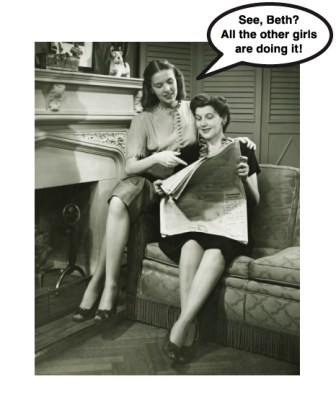 We want to celebrate your coming out in our newsletter! So if you have come out recently to someone, please email sarah[at]autostraddle.com. Include your name & age and who you came out to, and we'll include it in the newsletter so we can all give you a virtual high five. If you don't make it in time for June, we'll put your info in the July newsletter, no worries!
Privacy Policy: Autostraddle will never rent, share, or sell our subscriber list. We appreciate that you trust us with your email address, especially because, lez-b-honest, some of you are probably totally in the closet/overall scared to trust people/have feelings/perhaps were scarred by BMG Music Service in the early '90s like we were, and we will not abuse that trust. We value your privacy even though we've basically sacrificed our own and sometimes forget that we're not avatars and therefore should probs take a shower.
You can unsubscribe from receiving Autostraddle Newsletter at any time, though really we have no idea why you'd want to do that. You can unsubscribe by clicking on the "Unsubscribe" link in the footer of any Autostraddle email.