Jennifer Corday is a lesbian country music artist. She's been living, breathing and building a loyal following in Long Beach, California, for years with Melissa Etheridge-y country rock vibes and Sheryl Crow-ish guitar skills/sexxy voice. Also, she did that amazing Gretchen Wilson parody "Redneck Lesbo" and has performed for riveted crowds of rowdy lesbian cowgirls at Dinah Shore, Key West's Womensfest and Pride Pride Pride all ovah.
In addition to the three critically acclaimed albums already under her belt, Corday's songs were featured in the film And Then Came Lola (out now on DVD starring Jill Bennett & Cathy DeBuono) and the upcoming Elena Undone. You can also can catch her on Girl Rock, a monthly vlog for SheWired.com, which features interviews and behind-the-scenes footage with female musicians all over the US.
'Cause of Chely Wright, there's been a lot of talk about how it is to be gay & country. So I thought I'd go straight to the source to talk to Jennifer about how coming out would affect a country music star, what's up with lesbians and girls with guitars, competing to perform at Lilith Fair this summer, and her new role as a music supervisor for films & TV.
Listen to "Better Reason":

Jess: Do you see yourself as a country artist or a pop/rocker?

Corday: Hmmm, rock & roll is my answer I suppose, but I'm enjoying country and starting to do more of it… it kind of snuck up on me. I'm an original artist first and foremost, but I also play in a cover band to pay the bills. We do cover songs from every era, and there's a lot of country in the set. I watched the Country Music Awards the other night, and I just think there are some great role models there, like Bonnie Raitt and Shania Twain. Carrie Underwood is awesome. These women are just fantastic singers and performers, so I'm really inspired. I'm a big Sheryl Crow fan too, and everyone says I remind them of Sheryl Crow. She also kinda straddles that country line; they call it "Americana" or "roots rock". I love Kid Rock, too. I also play this bar called Cowboy Bills down in Key West, Florida, every time I'm there and put on my cowgirl hat, and we really sway the set to be all country there. So, yes, I love it, and I'm starting to do more of it! But, rock & roll is where my heart is. The genres are getting more and more blurred. You just have to remember to be an artist and be true to yourself and not really label your music as such.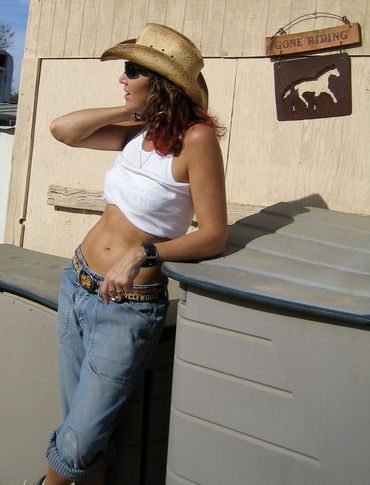 Jess: Music in general is a very liberal form of entertainment. Aside from the obvious (politics, religion) why is country music perceived  as being the more conservative genre?

Corday: Well, one reason might be because there are a lot of married couples (performing as duos). It's such a hetero based genre in general. Tim McGaw & Faith Hill. Johnny Cash & June Carter. Garth Brooks & Trisha Yearwood. The subject matter of the songs, too. There's a lot of storytelling in country, and the story is always explicitly guy/girl related.  I think that in rock & roll, we don't know who you're singing about, it can be really vague, and that's the cool thing — to leave it up to the listener and make it really universal. I do think that now more country artists are coming from every neck of the woods. Look at Hootie (lead singer Darius Rucker from Hootie & the Blowfish). How cool that we have a black guy singing country? We need to keep knocking down those stereotypes 'cause I think country should be just as liberal.
Jess:  Last month the huge story was which country singer would be coming out.  How do think it will affect Chely Wright's career, or that of any other country artist who is struggling whether to come out?

Corday: Let's see, where should I begin? It wouldn't hurt a career, let's just start with that! I have found that people are usually more intrigued. I play a lot of corporate gigs with three male bandmates, and it always creates interest. I interviewed Melissa Etheridge, and even she was like "Gosh, it's just so different now than before."  And I feel it took her a while to come out initially. Look at Ellen on American Idol. I saw her on there just the other day saying something about loving a woman, and you would just never hear that even just five years ago! They were really the crusaders for people in the limelight, and you can see that she's so much more comfortable than she was when she first came out. The country arena may be a little different, but it's changing. Country fans aren't just "country fans" anymore — it's really a cross-over market now, so I think the gay country artists will be really embraced. Not only will they be incredibly embraced by the gay & lesbian community, but I think, and I hope, everyone is gonna say "who cares? I love your music."
Listen to "Starfish":

Jess:  Do you think it's easier for a female artist to come out than a male artist, especially in country music?

Corday: I do. Unfairly so, to our gay brothers. Absolutely. When I say people are interested and intrigued, it's like "oh, two girls — hot."  So, women have a much easier time, unfortunately so. For a male country star to come out it would be a bit tougher. If more country men did come out, it would certainly help the ultimate change. I think it's tough to be one of the first, and we always have to thank those who have done it before us. We all worry about our parents and our fans, but being true to yourself is most important. I hope people don't see it as "oh, I'm just gonna ruin my career and lose record sales."
Jess:  Are there a lot of closeted country artists that you know of?

Corday: I don't know… I would be interested to know that!  I do see the country tent at gay pride every year, and it's just going off… it's huge! The gay boys are all in their little cowboy hats and two-steppin' in the country bars around LA and Long Beach. They're just adorable, hunky guys. I think Brokeback Mountain was the first time the public really saw two hunky, masculine gay guys on a mainstream level. Rock & roll has all these skinny, almost effeminate boys. It's so ironic! Like, Led Zeppelin and The Rolling Stones…. they're skinny, long-haired boys — those are the straight guys! Then we have the muscled, masculine guys in country, and I think the public has a hard time understanding that you can be masculine and be gay. Same goes for being a feminine girl and being gay.
Jess:  What is it about a woman with a guitar that makes lesbians go crazy? There's that motif that really pings gay or at least appeals to gay girls.

Corday: Interesting!  I think girls traditionally were either the lead singers in bands, like Shirley Manson (Garbage), or played piano. Those were always very appropriate things for girls. But as soon as you start rockin' and hold a guitar, you start to blur that line. You're taking on a "boy toy." Guitars have always been boy toys, but I really hope that's becoming a dated statement. Daisy Rock Girl Guitars is one of my endorsees, and they're a guitar company with a line of high-quality instruments that are really attractive and are a perfect fit for girls.
Corday performing "Redneck Lesbo" live at the We Have to Stop Now Premiere:
Jess:  Were you out from the beginning of your career?

Corday: Well, my longtime girlfriend was also my manager, and she really thought I should be careful with being publicly gay. We used to argue a lot about it. So I was out but there was more of a tendency to try and keep those separate…. the gay gigs vs. the straight gigs. I was out to the gay community and playing the gay bars but keeping that part of my life and career quiet to the straight venues & fans I had. After a while they really started to cross over, and it became more difficult to keep them separate. It became clear a gig is a gig.
Jess:  What was the big fear that your manager/girlfriend had in the beginning?

Corday: That I would lose fans. There will be people whose core beliefs are so against it that they would stop attending your shows and stop buying your music. How scary that the thing you love to do and your career can fall apart? Your fans are really your only power as an artist. That's the only thing that keep us going and allows us to make a living, and we have no idea who they are and what they're thinking. It's scary and a risk. Will they still love me? Will they still care?
Jess:  Has being out ever negatively affected your career?

Corday: I think there have been a few gigs that I can look back on that I was maybe not invited back to because of…. my following. I'm bringing a million gay girls [to a straight gig] and you turn around and it looks like a gay bar all of a sudden! [laughing] I have to say, I do understand — it's their business. But gosh, a patron is a patron. If they're there eating, drinking, and spending money, the more the merrier, right? I remember I was fired from one gig because I did that song "Redneck Lesbo." I was playing at a regular restaurant/bar, and all of these girls showed up, and they just kept requesting and requesting. So finally I looked out at the crowd, which had now turned into all lesbians anyway, and I finally played the song. And the bar was not happy. I even said "I'm doing this song for all these girls here requesting. Hopefully ya'll are open minded." [laughing] That's a pretty raunchy song, gay or straight, so I completely understand and respect that. I play a lot of high-end, corporate gigs in Orange County, which is one of the most conservative places anywhere, so it's very important to me to be professional and to keep my job. So gay or straight aside, there are songs that you just don't do in certain venues.
Jess:   You should do a country version of the L Word theme song and see what happens.

Corday: [Laughing] The song by BETTY?! Ha! Let's try that! I'm actually doing a lot of music for TV and film these days so I'm hoping to write a theme song for [Jill Bennett & Cathy DeBuono's] We Have to Stop Now. I'm working on the music for another film called Elena Undone. I know there's The Real L Word coming up, so I hope to get my foot in the door there. I've always been a live performer so now I'm really enjoying the TV and film part of my career.
Jess:   In addition to We Have to Stop Now you were also the music supervisor for the film And Then Came Lola. What artists have you been using on those projects that you're excited about breaking?

Corday: Years ago, when Lilith Fair was first starting, I created a little networking group called Venus Envy as a labor of love to pull together a bunch of female artists so we could all play together and release compilation albums to raise money for breast cancer after I lost my mom. I recently started Girl Rock, which is the same idea, and I have a vlog on SheWired.com where I interview female artists and generally try to support women in rock. I think one day when I'm not performing anymore I'd like to produce and manage female fronted bands and make that the focus of my independent label, Envy Records. Women especially should understand it's better to work together. It's not a competition. The next girl isn't gonna get in your way because she's good! She can help you, if anything! Readers can check out all of the girls at girlrock.com. Keep an eye out for Ali Handal, Holly Light, Michelle Mangione, etc.
Jess:    When is your next album coming out?

Corday: I'm hoping by the end of the summer. This film Elena Undone was a great catalyst for writing… I wrote a song for the film called "Coming Undone" so I definitely want to get it out once the film is released.
Jess:    What are some of the recurring themes in your lyrics?

Corday: Relationships. I'm such a relationship girl. That really covers the gamut, doesn't it? It could be with not only your girlfriends and your lovers, but your best friends and enemies, parents, it's such a thick bed of emotions. I try to write some political songs too… I'm working on one that might make it on this next album.
Jess:    Where do you stand politically? Do you think that a country artist can be liberal and successful?

Corday: Yes, I certainly hope so. I'm a big ol' liberal democrat, and I'm trying to help where I can with HRC. I love HRC and try to support them by playing their events and Prop 8 events.
Jess: Who were your biggest influences growing up?
Corday: This is very cliché, but the Indigo Girls.  [laughing] I mention them in my song "Redneck Lesbo!" But I really learned to play guitar by listening to their music. I was originally a cellist and a bass player so guitar was actually my third instrument. My girlfriend at the time taught me to play guitar with their songs. I loved the harmonies, and they have such interesting and intense lyrics. I'd also have to mention Melissa Etheridge. She's also from Long Beach and played at the very same clubs as I did growing up, born and raised in Long Beach. It was kinda fun to see her success and know that she came from my digs.  Another HUGE influence – Madonna. As far as current artists, Poe. Carrie Underwood – that girl can sing!
Jess: What's the story with the Lilith Fair contest?
Corday: Yes! They're having a local singer in each city compete for a slot to perform in the OurStage contest. It would be wonderful if everyone could vote so I can make it to the next round and hopefully perform at Lilith Fair!
---
For music & tour dates visit Corday on iTunes, Facebook, MySpace and corday.net.