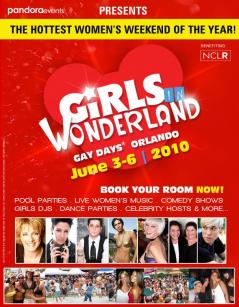 Hello Autostraddle. It is me, Tinkerbell. I am a dog who participates in Autostraddle Roundtables, writes articles and also I used to be a purse. I am famous, pretty, I have 45 friends on myspace and a boifriend named Littlefoot who is a dinosaur.
As you may or may not know, I was born in Miami Florida in 2008. Since then I have lived many years, and this year is no exception. Although Florida ruined the 2004 election, many other good things happen there, like my birth and Pandora Events Presents the Hottest Women's Weekend of the Year GIRLS IN WONDERLAND.
If you like lesbian girls, Mickey Mouse, beer, party time, ho-downs, hos, and arbitrarily capitalized phrases like Live Women's Music and More Pool Parties, you should be at Girls in Wonderland in Orlando, Florida from June 3rd-June 6th. Basically it is when Lesbians take over Disneyworld, which includes all the countries of Epcot Center, the haunted mansion, and girls in bikinis.  If you don't already live there, you can get there by car/train/scooter, here buy tickets.
Of all those reasons to ride Space Mountain and/or your girlfriend this weekend in Orlando Florida, none is as important as this reason: Dani Campbell and Rachel Robinson wuth their rock-hard abs, charming smiles, and how they are ready to stop being polite and start acting real in the heart of Downtown Disney.
Here, it's the schedule. Also, Julie Goldman & Brandy Howard aren't going to be there, even though it says that they are. You can only see them here.
If I were a lesbian lady, I would at least try to be there on Saturday for the "Wild Wild South" Party with 2,500 women including "your outlaws Baby Blue, Michelle, Spikey, Keri and Vita" with Live Performances by "Shutup and Dance, Baby Blue, and Spikey Dikey" hosted by Suzanne Westenhoefer, Dani Campbell, and Rachel Robinson.
Also I would recommend the Hall of Presidents, it is very education. Also the imagination ride with my starcrush Figment.