What queer and/or feminist books should you read this winter and spring and minute? Early 2018 features new work from Mallory Ortberg, Roxane Gay, Michelle Tea, Andrea Gibson, Zadie Smith, Amber Dawn, Casey Plett and more. You won't have any problems finding something new to read.
65 Queer and Feminist Books to Read in Early 2018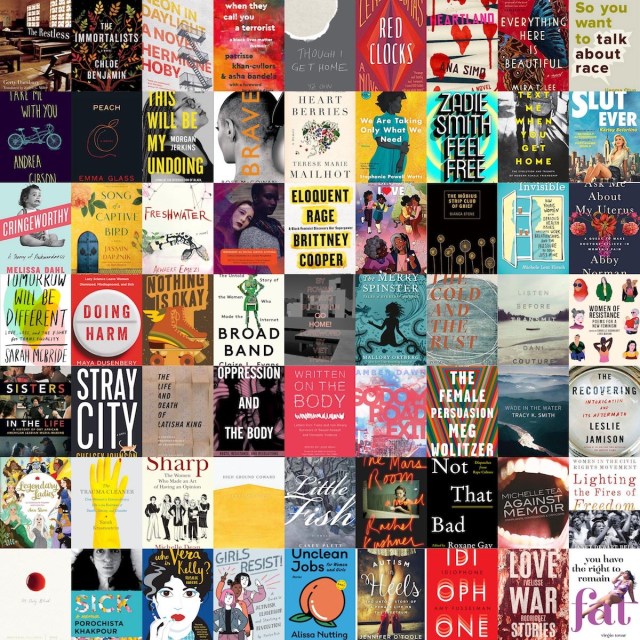 January
The Restless by Gerty Dambury: Playwright, poet and novelist Gerty Dambury's English debut, translated by Judith G. Miller, is a lyric ethnography in witness to police violence in a protest-turned-massacre in French Guadeloupe. Read an excerpt at Guernica. (January 9)
The Immortalists by Chloe Benjamin: How would you live if you knew on what day you'd die? This hotly anticipated debut novel is a family love story that examines the tension between choice and destiny. (January 9)
Neon in Daylight by Hermione Hoby: Kate is new to Manhattan in the summer of 2012 when she becomes infatuated with Bill, a bitter writer, and Inez, his adult daughter. Art, life, wants, needs, solitude and desire are at the heart of this stylish debut. (January 9)
When They Call You a Terrorist: A Black Lives Matter Memoir by Patrisse Khan-Cullors and Asha Bandele: In this part memoir, part meditation on humanity, Black Lives Matter co-founder Patrisse Khan-Cullors and Asha Bandele examine what inspired Khan-Cullors's vision, activism as an act of love, and the search for justice. (January 16)
Red Clocks by Leni Zumas: Abortion is illegal, in-vitro is banned, and the Personhood Amendment grants life, liberty, and property to every fetus in this dystopic novel that will likely draw The Handmaid's Tale comparisons. The Argonauts author Maggie Nelson calls it "funny, mordant, political, poetic, alarming, and inspiring — not to mention a way forward for fiction now." (January 16)
Heartland by Ana Simo: Part telenovela, part pulp fiction, and part dystopian satire, Heartland is the debut novel from Lesbian Avengers cofounder Ana Simo about one writer's revenge on the woman who stole her lover. (January 16)
Everything Here Is Beautiful by Mira T. Lee: Miranda is older and responsible; Lucia is headstrong and unpredictable. When their mother dies, Lucia makes a series of decisions, lives with mental illness, crashes, while Miranda struggles to reach her. Celeste Ng, author of Everything I Never Told You, calls it "a tender but unflinching portrayal of the bond between sisters." (January 16)
So You Want to Talk About Race by Ijeoma Olou: In this primer on race dynamics in America, The Establishment editor at large Ijeoma Olou answers and unpacks questions related to privilege, intersectionality, cultural appropriation, microaggressions, Black Lives Matter, police brutality and more. Franchesca Ramsey, of MTV's Decoded, says in a blurb: "Regardless of your comfort level, educational background, or experience when it comes to talking about race, Ijeoma has created a wonderful tool to help broach these conversations and help us work toward a better world for people of color from all walks of life." (January 16)
Take Me With You by Andrea Gibson: Take Me With You is a pocket-sized poetry collection on love, sexuality, gender, politics, family and forgiveness from poet and activist Andrea Gibson. (January 23)
Peach by Emma Glass: Peach is sexually assaulted, and goes home to find her parents unable to acknowledge her trauma. As she tries to go about her life, she's haunted by both the memory of what happened, and the knowledge of what she needs to do. (January 23)
This Will Be My Undoing by Morgan Jerkins: In this essay collection, Morgan Jerkins uses Sailor Moon, her relationship with her body, paradoxes of black women's sexuality, Black Girl Magic and disabled black women, and more to examine the objectification, silencing and marginalization of black women, and the consequences. (January 30)
Brave by Rose McGowan: Writer, director, actor, and activist Rose McGowan discusses growing up in a cult, the cult of Hollywood, and more in this tell-all memoir. (January 30)
February
Heart Berries by Terese Marie Mailhot: In the poetic essays that compose this memoir, Terese Marie Mailhot examines coming of age on the Seabird Island Indian Reservation in the Pacific Northwest; post traumatic stress disorder and bipolar II disorder; memorializing her mother; reconciling with her father; and more. Roxane Gay, author of Hunger, writes in a blurb: "What Mailhot has accomplished in this exquisite book is brilliance both raw and refined." (February 6)
We Are Taking Only What We Need: Stories by Stephanie Powell Watts: The individual and collective black experience in the American South comes into focus in this intimate rereleased collection of ten short stories from No One Is Coming to Save Us author Stephanie Powell Watts. (February 6)
Feel Free: Essays by Zadie Smith: In this collection of cultural, personal and political essays, White Teeth author Zadie Smith addresses the world, the audience, the gallery, the bookshelf and feeling free with her signature nuance and wit. (February 6)
Text Me When You Get Home: The Evolution and Triumph of Modern Female Friendship by Kayleen Schaefer: Friendships between girls and women have only recently started to be recognized as on the same level as relationships with romantic partners, parents, siblings, and children. Journalist Kayleen Schaefer uses interviews with historians, Galentines founders, and notable women to examine those friendships from a sociological perspective. (February 6)
Slutever: Dispatches from a Sexually Autonomous Woman in a Post-Shame World by Karley Sciortino: Sex, love, bisexuality, BDSM, sex work, different relationship structures and more are the focus in this look at contemporary sexuality and sluthood from Vogue columnist Karley Sciortino. (February 6)
Cringeworthy: A Theory of Awkwardness by Melissa Dahl: What does it really mean to be awkward? New York magazine's Science of Us editor explains what awkwardness feels like, what makes a situation awkward, and how to use awkwardness like a superpower for moving through the world. (February 13)
Freshwater by Akwaeke Emezi: In this radiant debut novel, Ada, a young Nigerian woman, develops separate selves that take on lives of their own after trauma. Chinelo Okparanta, author of Under the Udala Trees, says: "Never before have I read a novel like it ― one that speaks to the unification and separation of bodies and souls, the powers or lack thereof of gods and humans, and the long and arduous journey to claiming our many selves, or to setting our many selves free." (February 13)
Song of a Captive Bird: A Novel by Jasmin Darznik: This glittering debut novel tells the story of iconic Iranian poet Forough Farrokhzad's life, through discovering her passion for poetry, a smothering marriage, an illicit affair and the growing power of her writing. Inspired by her work, letters, films and interviews, and with original translations of her poems, Song of a Captive Bird is a fictionalization of the story of the woman who has been seen as a catalyst for feminism in Iran. (February 13)
Friendship as Social Justice Activism: Critical Solidarities in a Global Perspective edited by Niharika Banerjea, Debanuj DasGupta, Rohit K. Dasgupta and Jaime M. Grant: Friendship, love and desire are often key parts of social justice movements. In this collection of essays, scholars from movements including queer rights, addiction recovery, intimate-partner violence, labour activism and more show how friendship has political possibilities. (February 15)
Eloquent Rage: A Black Feminist Discovers Her Superpower by Brittney Cooper: In the footsteps of Audre Lorde, professor and columnist Brittney Cooper discusses feminism, friendship and faith, and argues that anger can be the energy that powers black women. Alicia Garza, cofounder of Black Lives Matter, writes in a blurb: "Cooper gives us the uncensored truth about how America has become what it is today, and reminds us in no uncertain terms that Black people, and particularly Black women, have the brilliance, foresight, and vision to bring a different America to fruition, should we choose to use our powers for good rather than evil." (February 20)
Bingo Love by Tee Franklin, Jenn St. Onge, and Joy San: Hazel Johnson and Mari McCray fell in love at first sight at church bingo in 1963. After a lifetime apart and in their mid-60s, they meet again at bingo and realize their love is worth going after. (February 20)
The Möbius Strip Club of Grief by Bianca Stone: This interrogation of grief takes place in a burlesque purgatory where the poet acts as a traveller trying to both face and escape destructive family cycles. (February 27)
Invisible: How Young Women with Serious Health Issues Navigate Work, Relationships, and the Pressure to Seem Just Fine by Michele Lent Hirsch: Young women often face serious health conditions and are also often ignored in the medical system — particularly trans women and women of color. Combining personal stories, sociological perspectives on structural inequality, neuroscience perspectives on misogyny, and her own experiences, Michele Lent Hirsch shows how health issues heighten the other obstacles women deal with everyday. (February 27)
Becoming Dangerous: Witchy Femmes, Queer Conjurers, and Magical Rebels on Summoning the Power to Resist edited by Katie West: This collection of essays examine feminism, witchcraft, and resistance from the margins. (February)
March
Ask Me About My Uterus: A Quest to Make Doctors Believe in Women's Pain by Abby Norman: The medical establishment is notorious for not taking women's pain or experiences seriously. Through the lens of discovering her own diagnosis of endometriosis in a years-long process, Abby Norman explores chronic illness, chronic pain, women's bodies as a battleground for medical knowledge and power and control, and more. (March 6)
Tomorrow Will Be Different: Love, Loss, and the Fight for Trans Equality by Sarah McBride: Political and personal milestones mesh in this memoir about love, activism, loss, and fighting for the future from trans activist and Human Rights Campaign national press secretary Sarah McBride. With a foreword by Joe Biden. (March 6)
Doing Harm: The Truth About How Bad Medicine and Lazy Science Leave Women Dismissed, Misdiagnosed, and Sick by Maya Dusenbery: Sexism in medicine harms women. Here, Feministing editor Maya Dusenbery draws on interviews, research, and women's personal stories to show how — from how diseases that disproportionately affect women are under-researched to biases and stereotypes to the assumption that everyone is an average-sized white cis man. (March 6)
Nothing Is Okay by Rachel Wiley: Queerness, fatness, race, feminism, dating and more are at the heart of this collection by poet, performer, and activist Rachel Wiley. (March 6)
Broad Band: The Untold Story of the Women Who Made the Internet by Clare L. Evans: Women are often erased from the story of the internet. Claire L. Evans puts them back in the narrative, showing how Ada Lovelace, Grace Hopper, Elizabeth Feinler and Stacy Horn built and shaped the technologies we use every day. (March 6)
The Merry Spinster: Tales of Everyday Horror by Mallory Ortberg: The Toast's Mallory Ortberg uses psychological horror, emotional clarity, mischief, and swagger to destabilize classic fairytales in this new short story collection. Think children's stories made horrific, but more so. (March 13)
The Cold and the Rust: Poems by Emily Van Kley: Queer girlhood in Michigan's Upper Peninsula comes under examination in this lyrical debut poetry collection. Emily Van Kley explores estrangement, isolation, longing, and ideas of home across vast forests and icy winters. (March 13)
Go Home! edited by Rowan Hisayo Buchanan: Through short fiction, memoir, and poetry, Asian diasporic writers examine ideas of home and belonging in this Asian American Writers' Workshop collaboration. Jenny Zhang, author of Sour Heart, notes: "To be from nowhere is the state of Asian diaspora, but there is also a wild humor and imagination that comes from being underestimated, rarely counted, hardly seen. Here, we begin to draw the hopeful outlines of a collective history for those so disparate yet often lumped together." (March 13)
Women of Resistance: Poems for a New Feminism edited by Danielle Barnhart and Iris Mahan: Poets including Elizabeth Acevedo, Sandra Beasley, Jan Beatty, Jericho Brown, Mahogany L. Browne, Danielle Chapman, Aracelis Girmay and more resist racism, sexism, violence, and the new administration in this collection. Proceeds support Planned Parenthood and the Center for Reproductive Rights. (March 13)
Listen Before Transmit by Dani Couture: The poems in this collection are rooted in science, sociology, memoir and aesthetics, and extend across public and personal spaces to examine our bodies, both human and celestial. (March 13)
Sisters in the Life: A History of Out African American Lesbian Media-Making edited by Yvonne Welbon and Alexandra Juhasz: Through interviews, essays, and conversations, the contributors to this collection highlight the voices of black lesbian media makers as well as their influence on and support from their communities. (March 16)
Stray City: A Novel by Chelsey Johnson: This anti-romantic comedy centers on Andrea Morales, a 24-year-old Portland queer who, after a relationship and a friendship fall apart, sleeps with a cis dude and ends up pregnant and keeps the baby. Carrie Brownstein, author of Hunger Makes Me A Modern Girl, writes in a blurb: "Insightful and brilliant, Stray City explores the stickiness of doing what's expected and the strange freedom born of contradiction. I tore through this novel like an orphaned reader seeking a home in its ragtag yet shimmering world." (March 20)
Two Moons by Krystal A. Smith: On this debut collection of queer speculative fiction, The Gilda Stories author Jewelle Gomez writes: "Krystal A. Smith writes of shape shifters, magical herbalists, and women ripe for love. Her collection of stories marries African American mysticism to speculative fiction announcing Smith's solid place in the next generation of Afro Futurists. With its sensuous language, deftly drawn characters, and engaging narrative style, Two Moons shines bright." (March 20)
Oppression and the Body: Roots, Resistance, and Resolutions edited by Christine Caldwell and Lucia Bennett Leighton: When black, brown, female, trans, disabled, fat and queer bodies are marginalized, what does it mean to be able to live in one? The contributors to this volume use art, theory, and personal narratives to explore embodiment, disembodiment, activism and more. (March 20)
The Life and Death of Latisha King: A Critical Phenomenology of Transphobia by Gayle Salamon: In 2008, 15-year-old Latisha King was shot by a classmate in their high school. Media coverage subsequently represented Latisha as a gay boy instead of a trans girl. In this volume, Gayle Salamon explores how gender, race, and transphobia worked in both the incident and the following trial. (March 20)
Written on the Body: Letters from Trans and Non-Binary Survivors of Sexual Assault and Domestic Violence edited by Lexie Bean: This collection of letters from and for trans and non-binary survivors of sexual assault and domestic violence explores gender, identity, and abuse — and reclamation. (March 21)
Material by Nora Whelan: In this collection of essays and photographs, Autostraddle staff writer Nora Whelan explores the objects she surrounds herself with — too-small damaged Victorian couches off the street, clothes that cover the floor — as well as what's behind that attachment, the support and shame it creates, the tension between opulence and dereliction, and more. (March)
April
Sodom Road Exit by Amber Dawn: Starla Mia Martin returns to live in the now-ghosttown she grew up in when a mysterious force begins to follow her everywhere. This queer paranormal thriller is the second novel from Lambda award winner Amber Dawn. (April 3)
The Female Persuasion by Meg Wolitzer: From the author of The Interestings comes a striking novel about ambition, power, women's friendship, purpose, ideas about love and more. The Female Persuasion is one of this year's most-anticipated novels for sure. (April 3)
Wade in the Water: Poems by Tracy K. Smith: The latest collection of poetry from the Poet Laureate of the United States explores the contemporary American moment and what it means to be a citizen, mother, and artist in a world run by money, men and violence. (April 3)
Legendary Ladies: 50 Goddesses to Empower and Inspire You by Ann Shen: This collection of illustrations and essays celebrates women dieties from around the world. (April 3)
The Recovering: Intoxication and Its Aftermath by Leslie Jamison: The Empathy Exams author Leslie Jamison examines the stories we tell about addiction recovery, what we want them to do, and what we do when they fail. (April 3)
Though I Get Home by Y.Z. Chin: In this debut short story collection, winner of the Louise Meriwether First Book Prize, Y.Z. Chin examines the dynamics between the intimate and the global, as well as Malaysian culture and politics; and art in social justice. (April 10)
The Trauma Cleaner: One Woman's Extraordinary Life in the Business of Death, Decay, and Disaster by Sarah Krasnostein: In her debut, lawyer Sarah Krasnostein tells Sandra Pankhurst's story, including her transition and life as a sex worker, trophy wife, small business woman, and now trauma cleaner who brings order and care to the lives of the dead. (April 10)
Sharp: The Women Who Made an Art of Having an Opinion by Michelle Dean: Part history, part biography and part literary criticism, Sharp highlights the lives of Dorothy Parker, Rebecca West, Hannah Arendt, Mary McCarthy, Susan Sontag, Pauline Kael, Joan Didion, Nora Ephron, Renata Adler, and Janet Malcolm as they intertwined and engaged in twentieth century America. (April 10)
High Ground Coward by Alicia Mountain: Alive, sensual, and groundbreaking, this debut queer poetry collection explores what it takes to satisfy ourselves, feed each other, and build identities alone and together. (April 15)
May
Little Fish by Casey Plett: Wendy Reimer is a 30-year-old trans women who learns that one of her now-dead grandparents might also have been trans. As she and her friends confront alcoholism, sex work, suicide and more, Wendy is drawn to finding the truth. Meredith Russo, author of If I Was Your Girl, writes in a blurb: "I have never felt as seen, understood, or spoken to as I did when I read Little Fish. Never before in my life. Casey remains one of THE authors to read if you want to understand the interior lives of trans women in this century." (May 1)
The Mars Room by Rachel Kushner: Romy Hall is at the start of two life sentences in prison in California's Central Valley, and must come to terms with both her new world inside and the one from which she has been cut off. From the author of The Flamethrowers, this novel is sure to be brilliant. (May 1)
Not That Bad: Dispatches From Rape Culture edited by Roxane Gay: This collection of first-person essays takes on rape culture from a deeply personal angle. Contributors include Gabrielle Union, Ally Sheedy, Amy Jo Burns, Lyz Lenz, Claire Schwartz and more. (May 1)
Against Memoir: Complaints, Confessions, & Criticisms by Michelle Tea: Against Memoir is the first journalistic essay collection from How to Grow Up author Michelle Tea, and investigates both individual queer lives and how the author cannot be separated from art. In a blurb, Inferno author Eileen Myles writes: "These essays … take turns erupting in a pulpy and marvelous parade: landscape, passion, morality, family, cigarettes — each cited frankly and exquisitely like a smart kid with a dirty crayon explaining to us all how she sees god." (May 8)
Lighting the Fires of Freedom: African American Women in the Civil Rights Movement by Janet Dewart Bell: Drawing on oral histories, this collection from social justice activist Janet Dewart Bell highlights women leaders of the civil rights movement at all levels. (May 8)
It's Only Blood: Shattering the Taboo of Menstruation by Anna Dahlqvist: Around the world, getting a period is still seen as something to keep silent. In this exploration, translated by Alice Olsson, Ottar editor-in-chief Anna Dahlqvist explores breaking menstruation taboos in the United States, Sweden, Uganda and Bangladesh. (May 15)
June and Beyond
Sick: A Memoir by Porochista Khakpour: Sometimes you're sick and you don't know why. In this memoir, writer Porochista Khakpour details discovering that late-stage Lyme disease is behind her constant sickness, ER trips, lethargy and multiple hospitalizations. She also explores living with uncertainty, struggling with mental illness, and coming to acceptance. (June 5)
Who Is Vera Kelly? by Rosalie Knecht: In 1962 New York City, Vera Kelly is working nights at a radio station when she's recruited by the CIA and is suddenly doing espionage in Cold War Argentina. The lesbian spy novel of your dreams. (June 12)
Girls Resist!: A Guide to Activism, Leadership, and Starting a Revolution by Kaelyn Rich: How do you fundraise? How do you network? How do you lobby and campaign when you're too young to vote? Activist, organizer, and Autostraddle staff writer Kaelyn Rich answers these questions and more in this essential guide to teen girl activism. (June 26)
Unclean Jobs for Women and Girls by Alissa Nutting: The women and girls in these 17 short stories from Tampa author Alissa Nutting confront abuse, infertility, abortion, desire and other emotional battles relating to gender, authority and the body. (July 3)
Autism in Heels: The Untold Story of a Female Life on the Spectrum by Jennifer O'Toole: Autism often looks different in women, and so is often overlooked. In this memoir, Jennifer O'Toole chronicles her own journey of self-discovery, including sexuality, self-esteem, mental health issues and more. (July 3)
Idiophone by Amy Fusselman: Art, motherhood, addiction, ballet, beauty, philosophy and more intertwine in this surprising essay from Amy Fusselman. (July 3)
Love War Stories by Ivelisse Rodriguez: What does it mean to be a woman in love? In her debut short story collection, Ivelisse Rodriguez, the senior fiction editor at Kweli, investigates the tension between love, communities, and expectations across generations. (July 10)
You Have the Right to Remain Fat by Virgie Tovar: Virgie Tovar investigates fatphobia, divorcing food and moral judgement, dismantling lies in fashion and more. (August 17)
SaveSave
---
Before you go!
It takes funding to keep this publication by and for queer women and trans people of all genders running every day. And A+ members keep the majority of our site free for everyone.
Still, 99.9% of our readers are not members.
A+ membership starts at just $4/month.
If you're able to, will you join A+ and keep Autostraddle here and working for everyone?
Join A+