This post was written by Riese and Heather
Caution: Many spoilers below for Season Two of GLOW! 
---
Last week Netflix dropped season two of its much loved ladies' wrestling dramedy, GLOW, and we were very excited about it this time because we knew going in they'd finally added a legitimate queer character to the mix! Her name is Yolanda, aka Yo-Yo, a Mexican American dancer/stripper who replaced Cherry, an actress who took a shot at starring in a TV show at the end of last season. Another queer woman of color on TV? Yes! What we didn't expect was for GLOW to add a second queer character; another queer woman of color, in fact. Over the course of Season Two, Mad Bomber Arthie Premkumar, the Indian-American med student who joined the circuit last season because she was strapped for cash, realized that hey, she's gay too — and she's got some feelings for Yolonda.
I wouldn't call them "main characters," really; their queer storylines don't take up a whole lot of time over the course of the season's ten episodes, but the moments they do share are sweet and fun and they feel real in your guts.
Below Riese and I chat about this glorious couple, our hopes and dreams for their future, and whether or not GLOW should tackle the tougher gay topics of the '80s.
---
Heather: I think you and I felt the same way about Season One of GLOW, which is that we're always annoyed at TV shows that don't have lesbian or bisexual characters, but when it's an entire ensemble of basically only women and it's on Netflix of all places, what in the world, man? Come on!
Riese: Yeah it was BANANAS. Plus it's a Jenji Kohan production. That's what made Erin's post I LOVE THAT HETEROSEXUAL SHOW GLOW! so perfect, is that this is the kind of show that twenty years ago would be entirely subtext but guess what ladies it's 2017, you cannot have that many women in shiny leotards grabbing each other's inner thighs without anybody being gay. That's homophobic. My resentment of their failure to deliver me a lesbian clouded my ability to truly enjoy Season One. I've already watched Season Two twice.
Heather: Let's just jump right in with Yolanda because the show jumped right in with Yolanda. I love a good coming out story as much as any other lesbian of a certain age who never saw coming out stories when she was a child, but I appreciated that they just got Yolanda's sexuality out of the way right away. She's confident about it, honestly to the point of brashness, which I particularly liked because it makes sense in the context of this show in the '80s in the sports world — which, outside of the WNBA and MLS, is still frankly homophobic as hell — for someone who's out to overcompensate by being OUT.
Riese: I don't know that I'd categorize this show as being part of the sports world, I think of it more as live theater? They do have storylines, and modern-day pro wrestling has some gay stuff although apparently it's not done very well, necessarily. But otherwise I agree! I appreciated this too. It also made room for Arthie to have that arc instead — subtly, but authentically. I loved Yolanda's unapologetic pride. It wasn't what I expected and it was refreshing.
Heather: When a supporting character reveals their sexuality on the show, I'm always looking at the main character to see how they react because that's how most audience members take their cue on how to react. Ruth acted weird about it, which bummed me out, but then she turned it around by learning the lesson that lesbians are fun and not trying to have sex with every single woman they see, which was… fine. I'm glad everyone else was chill about it.
Riese: See, I didn't feel like Ruth was weird about it at all! Unless I missed something? I thought Ruth was just experiencing weird but primarily positive feelings because she'd assumed that Yolanda had got there through Sam's bed, and was obviously wrong, and was dealing with that.
Heather: Oh, you know, that's a good point. Maybe I was over-reading. I've actually read some critics saying they wish everyone — especially the management — had pushed back more against Yolanda to make it more realistic. One of the real life ladies of GLOW, Tiffany Melon, for example said she left the pro wrestling circuit because she was harassed for being a suspected lesbian. I've also read some critics saying they'd like the show to go into more detail about the AIDS crisis in the '80s. I, frankly, do not want either of those things, especially the AIDS angle because I don't trust GLOW to do it well or right. Their tiptoeing around it this season was enough for me.
Riese: I agree, I do not want either of those things. As for the AIDS crisis specifically — I don't think any of these characters, especially Bash, are equipped to carry a story on this topic in a way that'd feel authentic or dialed in to reality. I think the attention paid to it was an adequate amount of attention for the situation (the death of Bashs' butler) and I did not want more. It did feel they were planting seeds for a future exploration, however, which would make sense — the first diagnosed AIDS case was in 1981, so we're relatively early into the crisis at this point, in 1985 —although 1985 was a huge year. 1985 is when amfAR was founded, when the first HIV antibody test was made available, when Reagan said the word "AIDS" for the first time and when Rock Hudson died of AIDS, considered a big turning point w/r/t "elevating the urgency of the epidemic." Still it seems too early for any of these characters to be able to say anything intelligent about it, and I think it'd be hard for a layman viewer to know enough about attitudes surrounding the spread of HIV at that specific moment in time for them to evaluate whether any given characters' feelings about HIV/AIDS were appropriate for the time and place, or whether they reflect moral or ethical shortcomings. So I don't think it would add to character development at all.
Heather: Yes, I agree, and this is huge for me. One of the thing that drives me the most bonkers about period TV is when the attitudes of the current time period shoehorn themselves into the story, through characters or dialogue or even just the camera winking at us. It's one of the things that made Netflix's Anne of Green Gables rebeoot unwatchable! That kind of moral superiority from this side of the TV decades in the future destroys fictional worlds. But anyway: Yolanda!
Riese: I'd assumed they were going to do a Tiffany Mellon storyline with Yolanda, like that was part of why she was there. But I liked Yolanda so much and was like, please don't do the Tiffany Mellon storyline with this precious angel!!! So I'm glad they didn't — but also, Tiffany Mellon was not a lesbian! I don't even know if she was bisexual or otherwise interested in women at all? She did girl-on-girl porn eventually, and worked in lesbian strip clubs, but only dated men as far as I know. I think she may have been straight and annoyed that they were so suspicious that she was a lesbian.
Anyhow, I feel like there's a perception today that prior to ten years ago, literally everyone was homophobic, which's partially 'cause yeah sure! But also because the homophobia stories are the only ones that seem to get told. It's true that lesbians faced (and still face) rejection and violence, and much moreso back then than they do now. But here and there, accepting environments and people did exist, and a lot of those enclaves were in LA! There were people who were out in their personal lives, if not publicly. It's funny to read books by lesbians written post-1970s about lesbian life because every one of them is like WOW THINGS ARE SO MUCH BETTER NOW THAN THEY WERE!!! WE NEVER DREAMED WE'D BE AS ACCEPTED AS WE ARE TODAY! WE CAN TEACH IN SCHOOLS! G-D GAVE US XENA!!! And it's like JUST YOU WAIT, LADIES, JUST YOU WAIT. Which is just to say that some people in the right place a the right time did feel like things were wildly better than they'd ever dreamed they could be. Parts of LA were like that, even if you couldn't be out professionally yet at all. West Hollywood became its own city in 1984, boasting the first openly lesbian mayor and the first-ever city council with a gay majority. This show is set in 1985. This is a group mostly of self-declared outcasts. So I'm glad that they went ahead with people being okay and accepting, it wasn't inaccurate and I also don't need to see another rejection story.
So I think it's realistic that many of her peers would actually be cool with it. However I'm not clear on who knows specifically. Sam and the girls know, but the network guy doesn't, right? I guess the strip club owner knows, but we'll have to wait 'til next year to see if there's pushback on that once they get to Vegas. I imagine there will be.
The kiss with Arthie, however — was that not filmed? Like, what?!!? That was not a thing you could do on television!
Heather: Right, like, even if the culture of professional wrestling — inside professional wrestling was the most forward-thinking, accepting place on earth — the audience for professional wrestling is the same as the NASCAR audience, for the most part, by which I mean: rural Republicans. If that kiss showed up on TV, there would have been riots in the streets!
Oh, but Arthie. Arthie! I am such a fan of stories where the person who's deeply uncomfortable with the openly gay character is: a) actually gay, and b) falling in love with the person they're being mean to. Paige McCullers, just for one obsession/example. So I loved this little storyline. It feels so real to me, like that viral tweet by that girl who said she didn't know how to handle her gay feelings for her friend in middle school so she put a note in her locker that said "Get out of my school!"
Riese: That's adorable! Internalized homophobia is a bitch, you know?
Heather: I liked when they kissed, but I loved when they danced. I love seeing women dance together. Neither of them had enough screen-time, but that part made me swoon.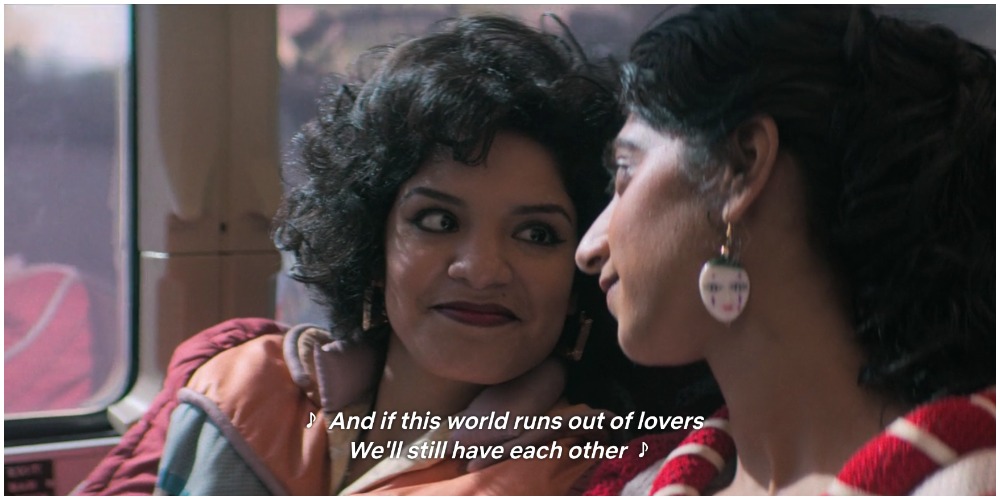 Riese: I loved it too, because it showed that Yolanda looks hot in unitards, and also in tuxedos. Also POC/POC relationships are so rare in television so as many screengrabs as we can get of these two, the better.
Heather: What do you wish season two had done better w/r/t Yolanda and Arthie?
Riese: GLOW is … too short. I wish they'd had more time. With an ensemble this big and diverse, the episodes really need to be twice as long, 'cause there wasn't much room for anybody to have a meaningful storyline aside from Ruth, Debbie and Sam. However, the one episode that took a genuine break from those three for another character, Mother of All Matches, was the season's best by far, and I'd like to see more of that. I want GLOW to do more storylines that aren't centered on Ruth, Debbie and Sam. For example: Yolanda and Arthie!
Heather: Mmm hmm, same. I actually don't mind the shorter episodes, but I wish there were twice as many. That'd still be less eps than a standard network comedy. It's doable! And then the writers and the camera could spread the love around. What do you hope happens for them in Season Three?
Riese: I imagine there'll be some conflict around them being an actual gay couple, once they get to Vegas. So I hope that when this happens, it doesn't employ any of the tropes I hate. Like, please don't have Arthie's inevitably homophobic parents come try to extract her from GLOW because she caught the gay, or have Arthie get scared of being gay and dump Yolanda for a boyfriend she can barely tolerate. That's where I'm at now: you don't even need to do something I like, just don't do anything I hate, okay? What do you want for them?
Heather: I would honestly really just love to see them in love and navigating this wild wrestling world, and the city of Las Vegas, as a queer couple in 1985. I've been watching Brooklyn Nine-Nine and I was sort of aware of it when I was watching in real time, but I didn't fully get it until I was marathoning it that the show did an exemplary job putting Jake and Amy together and keeping them together. Their will they/won't they arcs were fun, but also they've gotten more fun as characters as a couple, and their coupledom itself is its own character. Their togetherness opened up so many more storytelling opportunities. So it can be done! In a comedy! It can be done to have a happy couple in a comedy who have trials and tribulations and grow by themselves and with each other and also are exciting to watch!