This guide is co-written by members of the Autostraddle Indianapolis meet-up group, the Indystraddlers!
Hi folks, Brandalynn here – I grew up in a suburb on to the south of Indianapolis convinced my whole life that I would leave as soon as I got the chance. Staying in the city for university (what's up #IUPUI) lead me to realizing that Indy had a lot more to offer than I previously knew and I kinda love it now. To be honest, queer community can be hard to come by – it was this feeling that drove me to found Indystraddlers (Indianapolis' Autostraddle meet-up group) in 2014, but we're here and holding on in Indianapolis. A small group of us from Indystraddlers have put this guide together for you and I for one am super excited to get to share a piece of my city with you all. Let's meet the rest of the team and dive right in!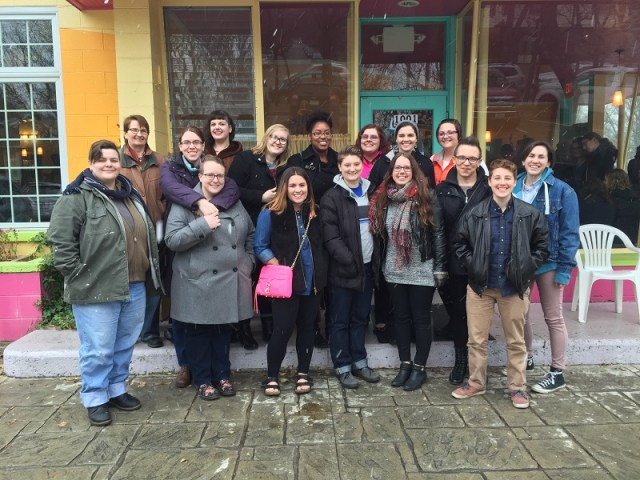 Jacqui: I'm your typical cat-loving sporty queer aspiring nurse. As a nomad, I've found my home and my people in Indy playing rugby and roller derby. I'd say Indy is a pretty average place for queers, but I've lived in places far more accepting (Washington, DC) and far less accepting (the Rio Grande Valley of Texas). It's a very family-centric city, so I get more flak from my coworkers for not wanting a life with kids than I do for dating women.
Candice: I've been in Indianapolis for a little over three years now and spent 18 years between Miami (FL) and Atlanta (GA), followed by 4 years in Statesboro (GA). I moved to Indianapolis to get the city life on a much smaller scale and so far, it's been alright. I was definitely surprised to find the small pockets of folks around the city and despite some of the politics, Indy is an alright place to spend time in.
Stephanie: I'm a lifelong (27 years) Indianapolis bi girl with a love for our city's food and beer culture and a hope that it grows ever more inclusive for queers of all kinds. Our city has grown a great deal in my time here, and I'm excited to see what the future brings!
Hannah: Indianapolis has been my home for the past 2 years, but it feels like a lifetime. I'm a Hoosier by birth, and I moved here to the "big city" to find people and experiences that would excite and challenge me. I love my city and I love the people in it. It is still a Midwestern town, but I see it becoming more and more open all the time, and our queer community is fierce. Most visitors I have are pleasantly surprised by how much they enjoy the Crossroads of America.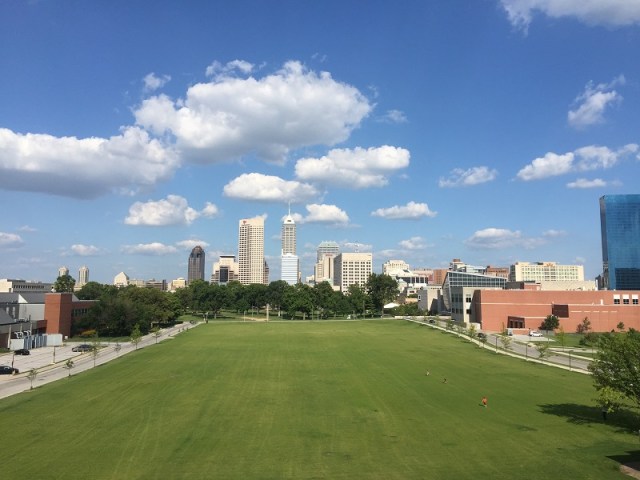 ---
School Daze: Colleges in Indianapolis
Indiana University
Butler University
University of Indianapolis
Marian University Indianapolis
Ivy Tech Community College
Several of Indiana's main universities reside in Indianapolis! IUPUI (or Indiana University Purdue University Indianapolis if you prefer a headache) is a public university home to degree programs and schools from both Indiana University and Purdue University. With an undergraduate student body hovering around 30,000 and selection of degrees found few other places in the world, IUPUI embraces its eclectic nature and recently opened an LGBTQ+ Center. Butler University is a private school home to just over 4,000 undergraduate students. While it may be known largely for its athletics, Butler students are making waves in Indianapolis as TRANSform, Butler's gender diverse student group, pushes their school towards becoming a safer and healthier environment for gender-expansive people. UIndy, or University of Indianapolis, is a private school on the south side of the city. Marian University is the smallest and most private of those included in this list but is impacting the state in large ways as it is became Indiana University's sole competitor as a medical school in 2013. Last but truly not least, we have the Central Indiana branch of Ivy Tech Community College. Affordable and accessible it is Indiana's largest public postsecondary institution as it serves almost 200,000 students per year.
---
Sports
Indianapolis has been branded as the "Amateur Sports Capital of the World." As an amateur athlete, I (Jacqui) can attest that there are plenty of opportunities to get your sport on. Though most of these teams aren't specifically queer, you'll probably run into lady-loving-ladies at a higher rate than in the general populace.
Roller Derby
Naptown Rollergirls
Circle City Derby Girls
Race City Rebels
Indianapolis Junior Roller Derby
Naptown Roller Derby has been around Indy since 2006, and has consistently been a D1 or D2 team (top 40 or 60 worldwide) since their inception, though we've ditched the fishnets since then. Athletes going by skater names, such as Maiden America or Ruthless Beater Ginsburg, grace the flat track on three teams: the Tornado Sirens (A/Travel team), Warning Belles (B team), and the Third Alarm (C/Fresh Meat team). The home season generally runs from late January/February till June, with training camps and tryouts twice per year.
If Naptown isn't enough Roller Derby for you, you can also check out the Circle City Roller Girls (another female team, less competitive than Naptown), Race City Rebels (a men's team, though technically there aren't gender restrictions, and there are often cis women who play with the team), and the Indianapolis Junior Roller Derby (co-ed, U18 teams).
Rugby
Indy Hoydens
Circle City Tempests
Indy is home to two women's rugby teams, the Hoydens and the Circle City Tempests. Both team's competitive seasons run August-October and tournament season from March-May, and accept new players at the beginning of either season. Whether you're continuing a college passion, or just looking to start something new and badass, the Hoydens and the Tempests offer an accepting and fun home for everyone.
Women's Football
Along with 50 other teams throughout the US, Canada, and Mexico, the Indy Crash is part of the WFA (Women's Football Alliance) league. Since 2010, Indy women have been defying stereotypes and playing full-contact football on Indy's southside. With a home season running from April to June, the Crash invite women to get active and involved to play like a champion.
Professional Sports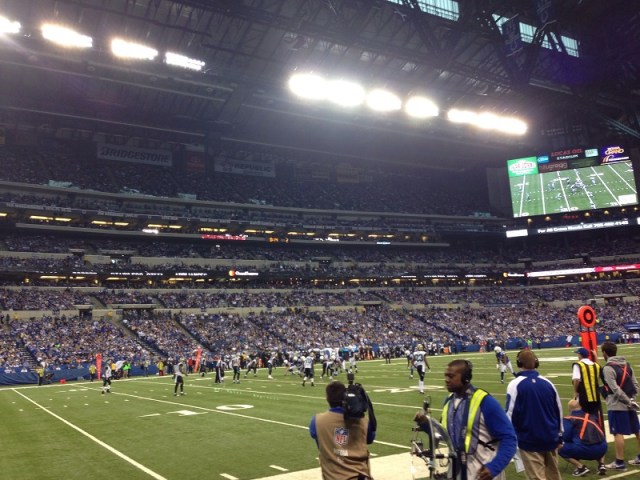 The Colts
The Pacers
The Indy Eleven
Indiana Fever
I guess non-amateur sports deserve a shoutout here too. Indy is home to two major league sports teams, the Indianapolis Colts (Football) and the Indiana Pacers (basketball), a minor league baseball team the Indianapolis Indians, a minor league hockey team the Indy Fuel, and D2 Professional soccer team, Indy 11. Our claim to fame in women's sports is the Indiana Fever women's basketball team, who last won the WNBA championship in 2012. Finally, any section on sports in Indianapolis wouldn't be complete without mention of the Indy 500, of car racing fame. Held every year over Memorial Day weekend, the "greatest spectacle in Racing" features 33 cars racing 200 laps of the Speedway and approximately 300,000 race fans partying all day long.
---
Eat, Drink, and Be Merry
Were you looking for a city guide put together by a bunch of Yelp-fueled foodies? If so you've come to the right place!
Lez Brunch
The Garden Table is a locally sourced restaurant and cold press juicery with two Indy locations, one on Mass Ave and one in Broad Ripple. Rotating seasonally, their menus are moderately sized but provide fresh and interesting options. They have the standard brunch booze options but their fresh juices push the flavor profiles to the next level. You can escape the wait of the weekend brunch crunch by grabbing a spot at the bar.
342 Massachusetts Ave and 908 E Westfield Blvd
hours vary by location
Billed as "a student union for adults since 1989," Cafe Patachou is a local brunch place with something for everyone. They have multiple vegan and gluten free options, including desserts, alongside standard breakfast fare and a self-serve coffee bar. Being downtown, this location can have quite a wait on the weekends but the food and service are always worth it. There are multiple Patachou establishments across the city, each with their own specific flavor and focus, each worth a visit.
225 W. Washington St
Mon-Fri 7am-3pm, Sat-Sun 8am-3pm
Milktooth may be one of the most hipster places in Indy, in the best possible ways. While it opens at 7am, it only serves coffee and pastries until 9am when full-service brunch starts. The full brunch menu has options that you can't find anywhere else in Indy, which can be intimidating as modifications and substitutions are politely declined. Between the general hype that surrounds it and the truly impressive quality there is almost always some sort of a wait. If you don't have time to spare, they have a walk-up counter that serves coffee and pastries to go or enjoy while you wait.
534 Virginia Ave
Wed-Tues 7am-3pm, closed Tuesdays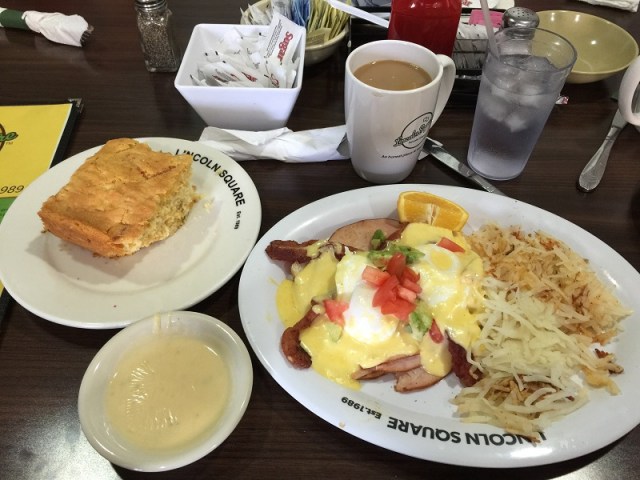 Lincoln Square Pancake House is the perfect local diner chain, with 11 locations across the state with seven of those being in Indianapolis. It's affordable, consistent, and has a decent array of gluten-free and vegetarian-friendly options. If you're a coffee person, not only is their brewed coffee delicious but they provide near constant refills and offer to go cups in case you still haven't had enough.
613 West 11th
2330 N Meridian St, Mon-Sun 7am-4pm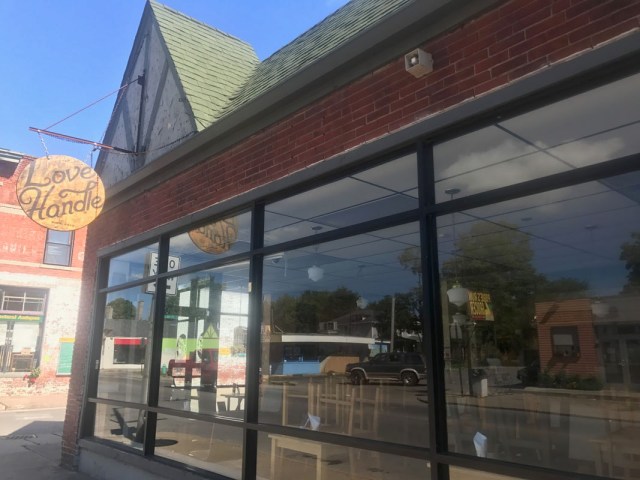 This little brunch spot is tucked away in one of the lesser-known neighborhoods of Indianapolis. The decor is delightfully kitschy — items you'd find in your grandpa's basement or the antique store next door adorn the shop. The food is well underpriced for the quality you receive. Biscuits and gravy, eggs, meats, and sandwiches are all crafted here with excellence. And you'll have to go back — the Midwest classic, biscuits and gravy, changes ingredients every week. Hit up the antique store next door before or after and you have the perfect Sunday brunch date.
2829 E 10th St
Mon & Tue CLOSED, Wed-Sun 8:30am-2:30pm
Looking for Linner?
Thunderbird is the place for creative, southern-inspired cuisine in Fountain Square. Not only can you get a bucket of fried chicken with sides to split (feeds 3-4 and is delicious) but they also offer a "From the Smoker" dish that changes daily. That being said, it's not the best options for vegetarians unless you're just looking for a place to drink. Their cocktails are different and innovative and strong af.
1127 Shelby St
Closed Mon; Tues-thur 11am-12am; Fri-Sat: 11am-3am; Sun 11am-10pm
Yes, a cafeteria-style restaurant made this list of Indy must-sees. Shapiro's is a traditional Jewish deli that has been around since 1905. Their in-house bakery is stunning, featuring bagels and breads, cakes and pies, rugelach and other small pastries, and even a rotating selection of gluten-free options. Most famous for their corned beef, pastrami, and brisket sandwiches, you should be prepared to share or take home leftovers if you choose to indulge as their portion sizes are monstrous.
808 S Meridian St
Mon-Sun 6:30am-8pm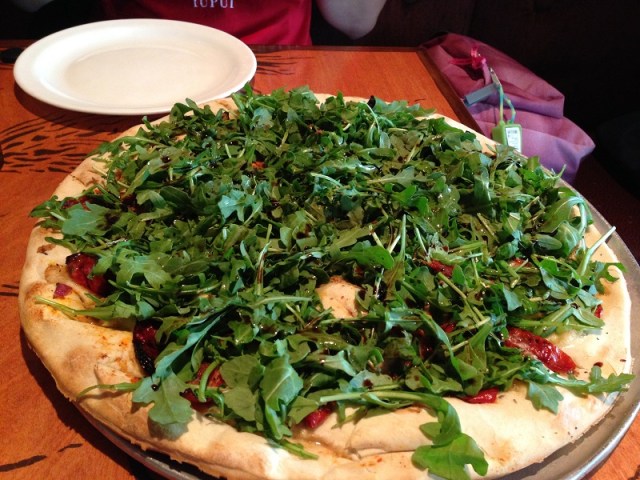 Voted "Best Overall Local Restaurant 2016″ by NUVO Readers' Best of Indy, Bazbeaux Pizza is the place for local pizza. All three locations have pizza by the slice available from 11-2 pm weekdays in house, the option of outdoor seating, and offer lunch and dinner delivery for full menu items. Not only do they offer gluten-free crust, dressing, and dessert options, but also all pizzas can be made vegan. They're great for groups and once served me (Brandalynn) in a mug that said World's Best Dad, so 5/5 stars from me.
333 Massachusetts Ave
Sun-Thurs 11am-10pm, Fri-Sat 11am-11pm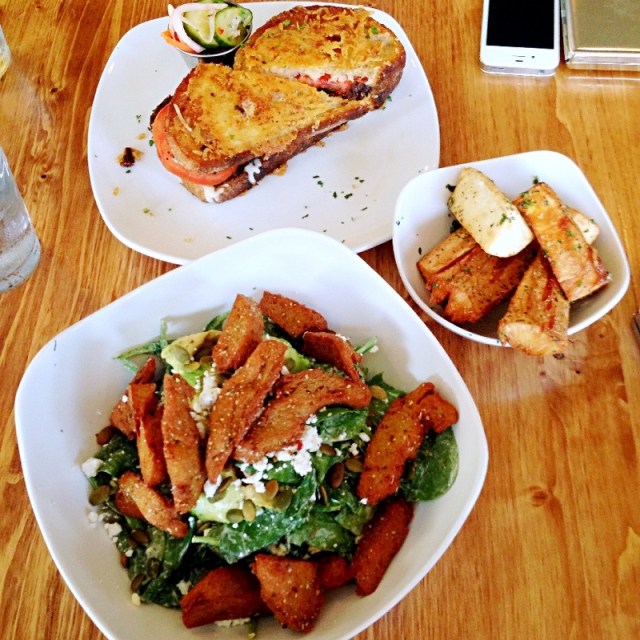 When I (Stephanie) worked at this little pub in Fall Creek Place, I spent more time drinking and eating here with my sweet coworkers than I did on the clock, and I have nothing but rave reviews of the place. The owners are committed to the neighborhood and to providing local, seasonal cuisine that's somehow both eclectic and homey. For those with children, the kids menu is superb. The bar serves only wine and beer (no liquor), but the wine-based cocktails are absolutely delicious, and the beer menu never fails to impress me. There are specials during the week too — ramen on Tuesday, fried chicken on Thursday, and rotating tacos du jour. The patio is wonderful and spacious in the summer, and there are even house-made treats for your pooch. Shoefly hosts a variety of events, including live improv comedy, trivia, live music, and yoga in the side yard. Shoefly manages to be family-friendly, pet-friendly, and queer-friendly in its own homey way. Try the yucca fries with aji sauce and one of the craft beers on draft or go all in and order a full serving of the no-meatloaf. You won't regret it when you have leftovers for lunch the next day. Come more than once and the staff will start to know your name. You'll probably make friends here if you stay long enough.
122 E 22nd St
Closed Sundays, Mon-Weds 11am-10pm, Thurs-Fri 11am-11pm, Sat 10am-11pm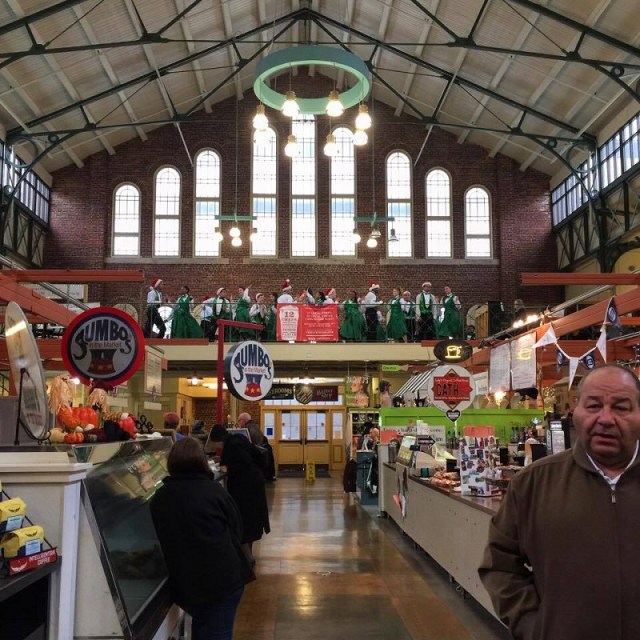 While it doesn't have an exclusively queer vibe, the City Market is its own hubbub of culinary experiences and a weekly summer farmer's market that takes over the adjacent Market Street. You'll find coffee, a vegan restaurant, shopping, pizza, soups, Indian cuisine, a bakery, chocolates, tamales, and a local craft beer bar all under one roof. The Market is super accessible by bike and public transit, with the Transit Center directly across the street and the Cultural Trail nearby. Most of the shops and restaurants close in the evening, but it's a great (though crowded) place for a quick lunch.
222 E Market St
Closed Sundays, Mon-Fri 7am-9pm, Sat 8am-9pm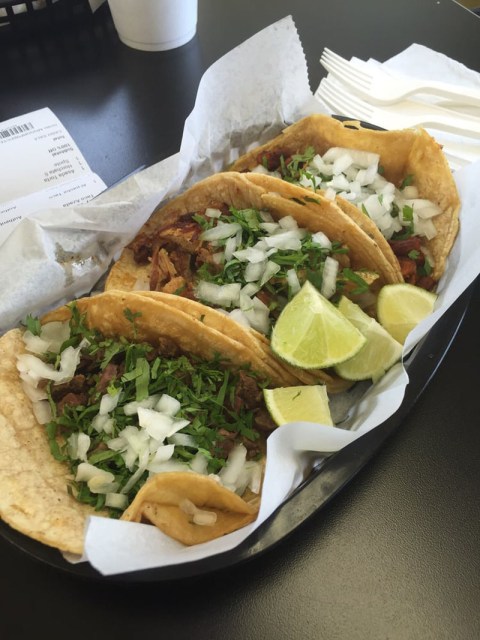 Paco's Taqueria makes the city guide because it's my (Candice's) girlfriend's favorite taco spot in the entirety of Indianapolis, and we spend a loooot of time eating tacos. In the art of many taco-car wash/laundry/tan hybrid joints, the food is quick, easy on the wallet, and delicious. I highly recommend visiting as a pre-derby game experience (less than 5 minutes from the arena), or on Sundays, when all tacos are half priced. The best thing is that this particular taco shop has incorporated morning hours, so you can pick up your morning fix as you head off to fight the patriarchy, wash your car, or whatever fancy you find yourself up to. Top recommendation: carne asada tacos.
4390 N Keystone Ave
Mon-Sat 7am-9pm, Sun 8am-9pm
There's Always Time for Desserts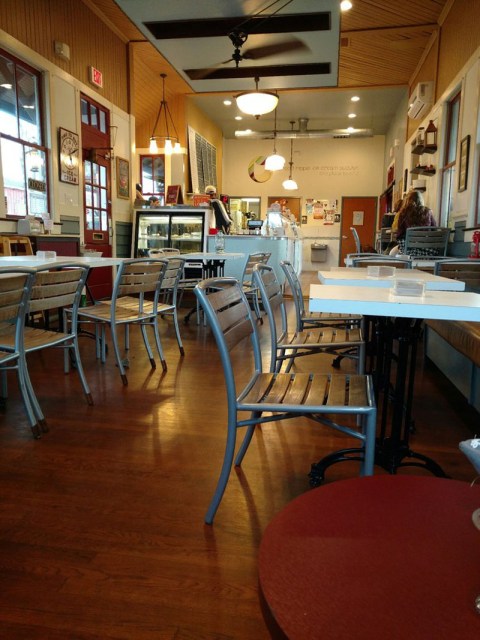 The line to BRICS is usually out of the door, but never fear — walk-up windows are here! BRICS is conveniently located along the 4.4 mile walking trail known as the Monon. They carry between 24-36 flavors at a time, including vegan options as well. It's a great place to hold small meetups; bring your pets as well as your partner(s).
901 E 64th St
Sun-Thurs 12pm-10pm, Fri-Sat 12pm-11pm
Identifiable by their plain white boxes, Long's Bakery has been serving up fresh donuts to Indy locals since 1955. They're most famous for their plain glazed yeast donuts but they offer a huge selection of yeast and cake donuts, tea cookies by the quarter pound, mini pies, and cakes. Being cash-only doesn't stop lines from forming daily, so be forewarned.
1453 N Tremont St
Mon-Sun 5:30am-10pm
Mamá Ines Mexican Bakery has been bringing delicious traditional Mexican sweets to Indiana since 1999. With item prices frequently hovering around $1, their $10 credit minimum can be a challenge to reach if you're not prepared to go home loaded down with awesomeness. In addition to their pastries they offer a range of tres leches cakes that are as beautiful as they are rich.
2001 W Washington St
Mon-Sat 7:30am-9pm, Sun 8am-9pm
The Gallery Pastry Shop is the ultimate date dessert spot. Come here after your dinner for coffee, tea, wine, champagne, and a wide selection of snacks and desserts, complete with a hot chocolate bar. This place is a magic fairyland tucked away in south Broad Ripple, guaranteed to make anyone swoon. The backyard is simple and elegant, with lights strung up all around — your date will feel like the royalty they are. The Gallery is known to employ queer folx of various types, and also has a fantastic brunch menu available on Sunday, complete with mimosas.
1101 E 54th St G
Closed Mondays, Tues-Thurs 10am-8pm, Fri-Sat 10am-10pm, Sun 10am-3pm
Late-Night Necessities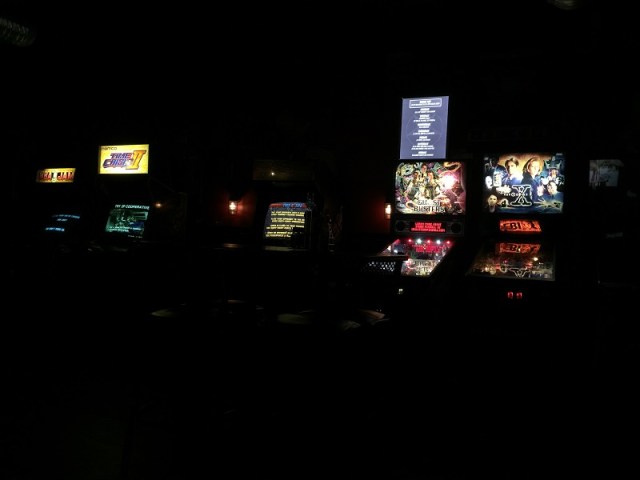 The Sinking Ship is its own breed of queer vegan hockey grunge bar. It's located south of Broad Ripple in a nebulous area of College Avenue that's recently seen a lot of development, and it's one of the great wonders of Indianapolis. Hands down, this is one of the most vegan-friendly restaurants in the city. I'm grateful to the Sinking Ship for providing non-meat-eaters the opportunity to eat fatty bar food in the form of seitan wings, tater tots in the shape of a star ("star tots" for the initiated), tempeh bacon, and "nacho teez." Another bonus? They're open late (think 3 AM). Sinking Ship will often donate proceeds to Indiana Youth Group (IYG), an organization for LGBT kids and their allies. It's dark and no-frills, the staff are genuine, the women's bathroom is full of feminist rantings and the bar fare is superb, but if you find it lacking, there's always Open Society across the street to give you a healthy dose of bouge.
4923 N College Ave
Mon-Thurs 2pm-3am, Fri-Sun 11am-3am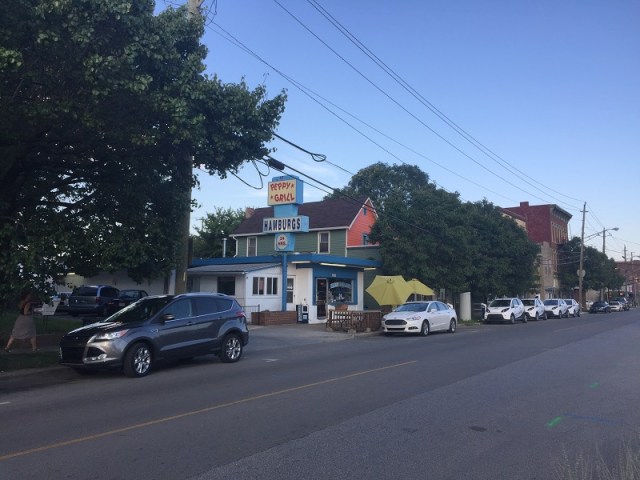 You can find the ultimate greasy spoon under the soft light of the sometimes confusing Hamburgs sign that marks your arrival. Open literally 24/7, Peppy's is the best place in the city for food when you've been out drinking and need to sober up, or for later when your hangover arrives. They serve standard diner fare with pie and endless coffee that'll leave you sounding like Agent Cooper in the Double R.
1004 Virginia Ave, 24/7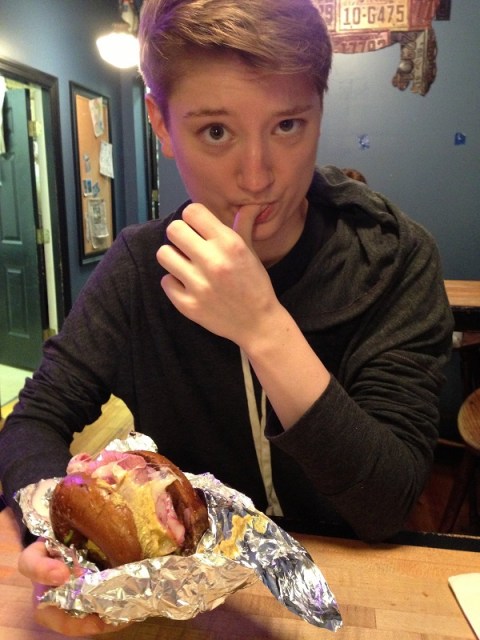 If you're looking for cheap eats in the Broad Ripple area, Ripple Bagel & Deli is a great option. Over the years employees and regulars have contributed sandwiches off the main menu which now paper the walls behind the counter. There are seriously so many combinations of toppings that it would probably take a year to eat through all the options. If you can't decide what to get and you're feeling lucky, order the lottery and they'll choose for you.
850 Broad Ripple Ave
Mon-Thurs 8am-8pm, Fri-Sat 8am-4am, Sun 8am-7pm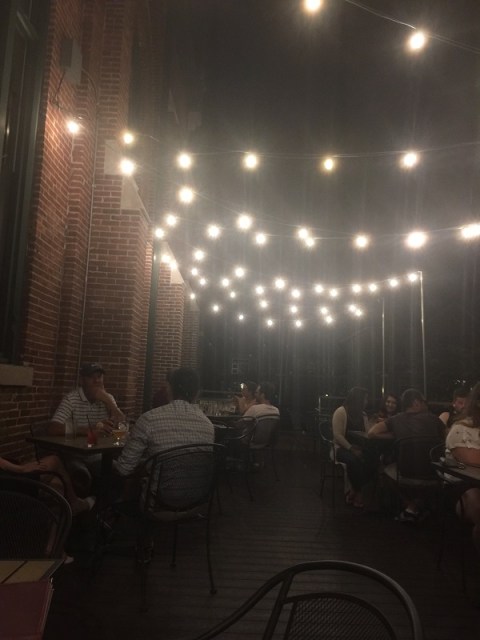 Feel like craft beer ought to be a religious experience? Head on over to St. Joseph's Brewery & Public House. St Joseph's repurposed one of the oldest Catholic churches in Indianapolis in 2015 after it lay dormant for over 50 years and turned it into a House of Beer. The brewing process takes place on the altar and you enter up the original church steps under a beer-themed stained glass work. With a quaint patio, small private parking lot, and well-rounded late night menu, St Joseph's has something to offer even the least spiritual among us.
540 N College Ave
Closed Mondays, Tues-Thurs 11:30am-12am, Fri-Sat 11:30am-1am, Sun 10am-11pm
Get Your Drink On (Alcoholic or Otherwise)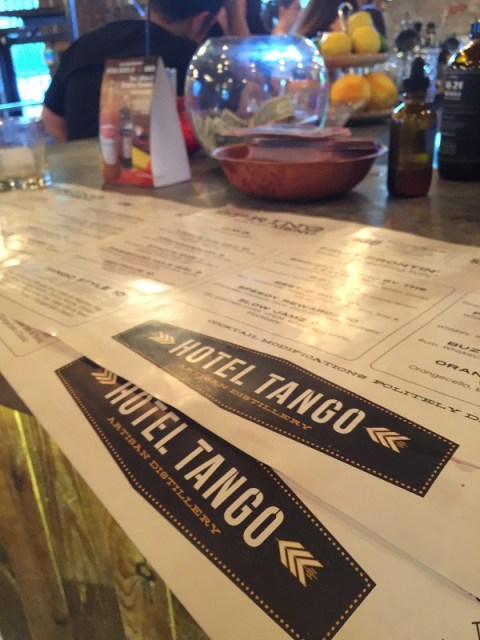 Hotel Tango Artisan Distillery was founded in 2014 by a disabled Marine veteran, his wife and several of their friends from a local law school. Since then the business has exploded with bottles appearing in grocers around the state and their tasting room becoming one of the coolest places to drink in the city. All beverages (whiskey aside due to obvious reasons) are named after the corresponding NATO phonetic alphabet and the cocktail menu rotates seasonally with expert results. The bar cat and the dog-friendly nature of the establishment become the cherry on top!
702 Virginia Ave
Mon-Thurs 2pm-10pm, Fri-Sat 12pm-11pm, Sun 12pm-10pm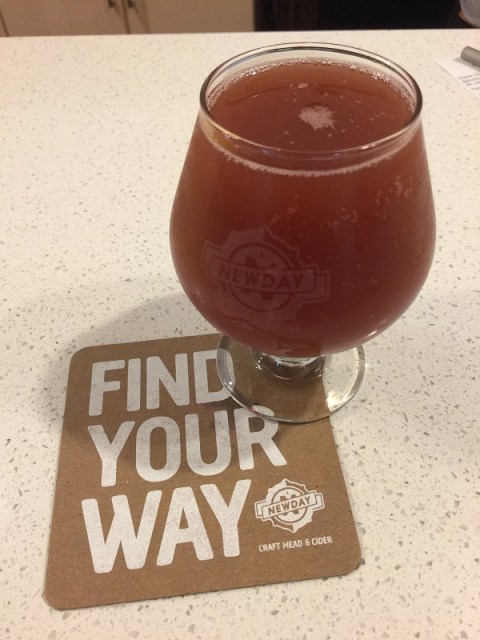 When you think Midwestern drink life, mead isn't always the first thing on your tongue. New Day takes mead out of your favorite anachronistic joust and into the present with their flights, slushies, cocktails, pours and carryout options. I'm a fan of the casual atmosphere that has your favorite girl groups of the 2000's on shuffle while you challenge your gal pals to some not-so-casual Scrabble. My personal recommendations are the Live Currant slushie or taking a chance with their seasonal specials.
1102 Prospect St
Closed Mondays, Tues-Thurs 2pm-9pm, Fri 2pm-10pm, Sat 12pm-10pm, Sun 12pm-6pm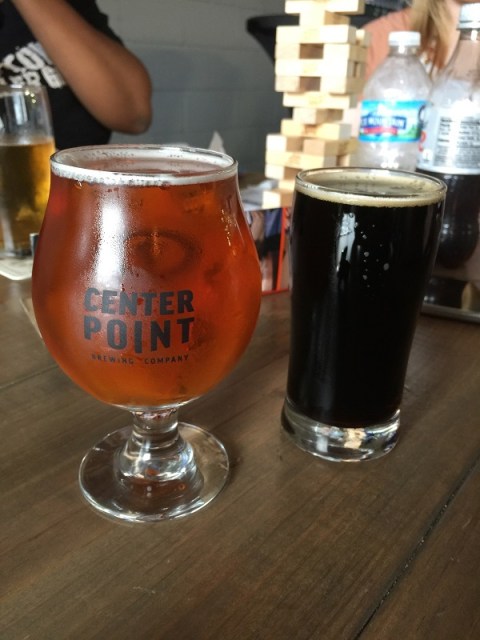 Centerpoint Brewing is still in its first year, but they are definitely a fan favorite in the community. From the weekly trivia night (often involving animals), to food trucks, brewery tours and more, Centerpoint is a mandatory stop on your way downtown. For sports fans, they play a healthy mix of hockey and soccer, but you can also gather up your queer girl gang and settle in for a night of Jenga and other retro games.
1125 E Brookeside Ave
Mon-Weds 4pm-9pm, Thurs 4pm-10pm, Fri 12pm-10pm, Sat 11am-10pm, Sun 12pm-8pm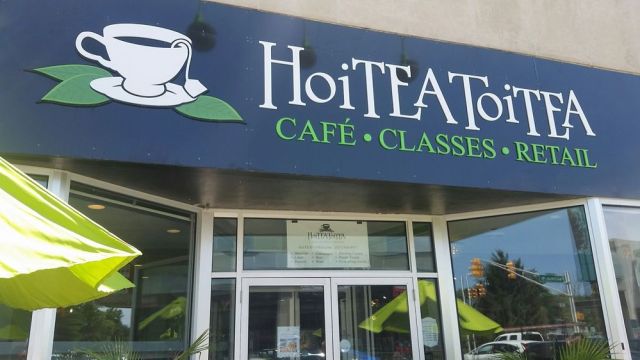 HoiTea ToiTea is a newer tea house that has settled into the hipster college/family community known as Broad Ripple. Whether you're looking for tea blending classes, interesting tea and kombucha combinations or your favorite cakepops (superior to St*rbucks), there is a good chance that the staff at HTTT can guide you to what you need. Personal recommendation: root beer float tea latte & white chocolate raspberry scones.
6283 N College Ave
Mon-Fri 8am-6pm, Sat 9am-5pm, Sun 10am-5pm
This cafe is the ideal spot for any cat lover. Grab a delicious coffee, tea, hot cocoa or espresso and head into the cat room, where there are always several cats wandering around, playing, and grooming themselves. All cats at Nine Lives are adoptable through the Humane Society of Indianapolis — if you find one you can't leave without, you can adopt them! If you're allergic or don't like cats, then you can grab a drink or snack and sit in the cat-free zone, where there are windows into the cat room so you can watch the antics at a safe distance.
1315 Shelby Street
Mon-Thurs 9am-8pm, Fri-Sat 9am-10pm, Sun 9am-6pm
The Thirsty Scholar is a coffee, beer, and wine bar located on the border of the Old Northside and Herron Morton Place, making it walking distance from a number of restaurants and local art venues like the Indy Indie Artist Colony and the Harrison Center. You can sit outside on a small patio along 16th Street, or you can sit indoors and people watch through the big glass windows. Everyone at the Thirsty Scholar is intimidatingly cool-looking, but the best part is they're also nice. The bar is incredibly queer-friendly. You'll see "Trans Lives Matter" on flags near the cash register, and you might catch one of a number of queer events that they host monthly. They serve craft beer from Indiana breweries, have a decent wine selection, and serve a fine cup of Intelligentsia coffee. They'll also serve you a number of appetizers, from hummus and olives to meat and cheese. You won't regret eating one of the truffles from Best Chocolate in Town. Overall, they're a local smorgasbord of snacks, drinks, and queers and a great place both for work or a chat. The Thirsty Scholar is next door to a boarded-up dive called The Varsity Lounge, one of the first gay bars in Indianapolis that dates to the 1940s, so when you stop by its modern neighbor make sure you give your ancestors a nod.
111 E 16th St
Closed Mondays, Tues-Fri 8am-1am, Sat 9am-1am, Sun 9am-12am
You may have noticed that we haven't really mentioned a gay bar yet in this guide and there's a reason for that — Indianapolis no longer has any that specifically cater to LBTQ+ women. While experiences differ among the writing group for this list, many of the Indy establishments that cater to gay men are not inclusive spaces. There is one floor of one bar that remains largely a queer ladies space – and that space is at Metro.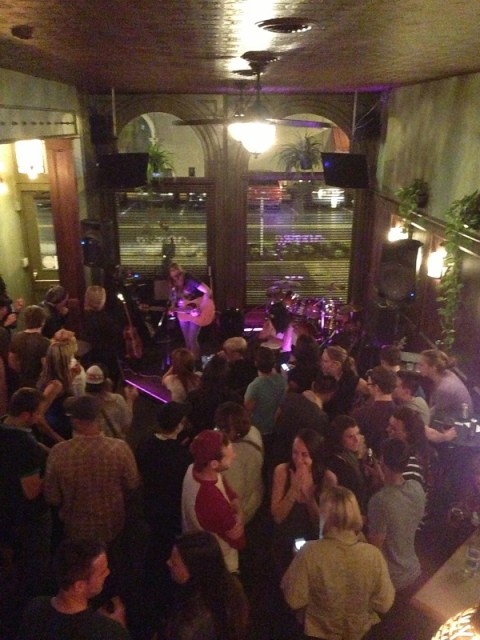 This double-decker establishment sure is something, but that something can vary largely by night and time of visit. They've got a patio out front and upstairs and after dark you'll regularly find the crowd divided by gender: men on the first floor and women on the second. Touchtunes controls the soundtrack most nights with DJs regularly in on the weekend. Pool is free and drinks are decently priced, sometimes low if you play your specials right.
707 Massachusetts Ave
Mon-Fri 3pm-3am, Sat-Sun 12pm-3am
---
Does Indy Read Books?
It does! And while we don't have a LGBTQ+ specific bookshop, we have Indy Reads Books, which is the next best thing.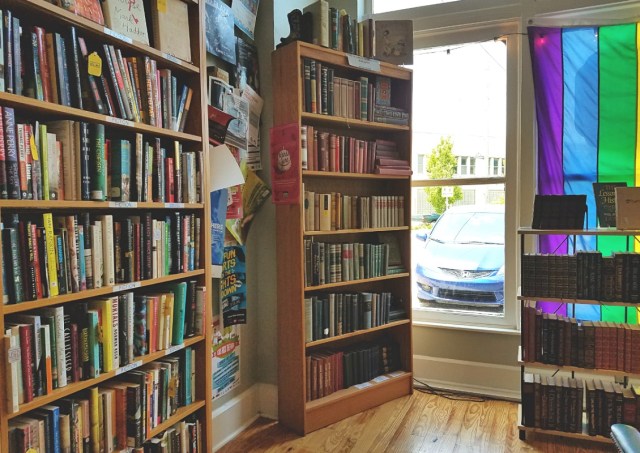 Indy Reads Books is an independent bookstore in the heart of the Mass Ave shopping district. Every purchase of either a new or used book will generate money for Indy Reads, a local nonprofit that helps adults in Indianapolis learn to read. The bookstore is mostly volunteer-run. The back of the bookstore is often used as an event space by various LGBT and activist organizations (notably Indy Pride and IndySURJ) for author visits, discussion panels, or fundraisers. There's plenty for people of all ages at the store, and lots of space to sit and read.
911 Massachusetts Avenue
Mon-Thurs 11am-7pm, Fri-Sat 11am-9pm, Sun 12-6pm
---
Health Services
Eskenazi Health's Transgender Health and Wellness Program was designed to fill a void in health services provided to transgender Hoosiers. Their expansive services include primary care, hormone therapy, specialty referrals, gender affirming surgery, civil legal aid services, and more.
720 Eskenazi Ave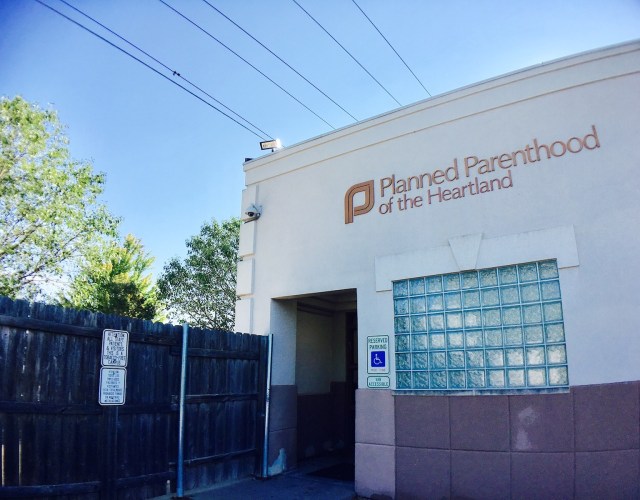 Planned Parenthood is an inclusive healthcare center for all needs related to sexual health and wellness, as well as diverse needs related to gender and sexuality. Come here for low cost birth control, STD testing, gynecological checkups, pregnancy services, services for trans folks, and abortion referral. The center on Georgetown Road offers abortion services on site.
935 East Hanna Dr, 3750 North Meridian St, 9385 East Washington St, 8590 Georgetown Rd
All clinics are open M-F, with some also open on Saturday. Call 800.230.PLAN to schedule an appointment.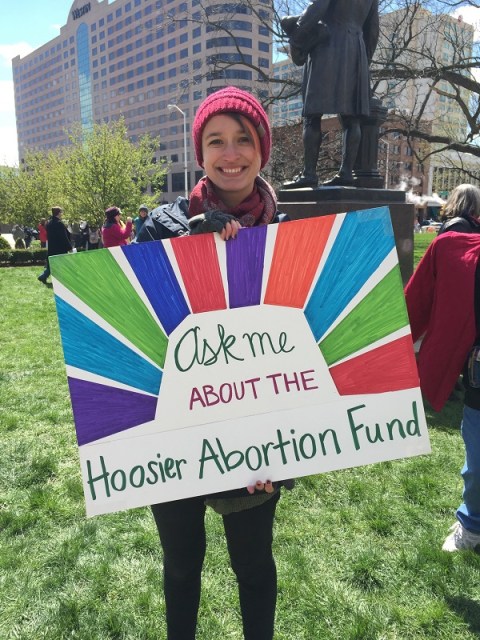 While not located in Indianapolis, the services All Options Pregnancy Center provides to the entire state of Indiana are critical. This secular, client-centered organization supports folks through all pregnancy and parenting scenarios under the guiding principle that everyone deserves to have all options. They operate both the Hoosier Diaper Program and the Hoosier Abortion Fund, the only abortion fund available to Hoosiers in need. Whether you're looking for a place to volunteer or a place to receive counselling or other services, All Options can serve as a great provider or point of contact. #HoosierAF
1014 S Walnut, Bloomington IN 47401
Closed Sundays & Mondays, Tues-Fri 12pm-5pm, Saturdays by appointment only
---
LGBTQ+ Family Services
Founded in 1987, Indiana Youth Group (IYG) has served as an independent hub for LGBTQ+ youth to hang out, often the first space. Focused on the under 21 crowd, IYG hosts weekday programming related to gender identity, free HIV testing, 'girls who like girls,' art outreach and one of my favorites — group cooking. Every June, IYG hosts Pride Prom, which provides young folks a safe space to dress up, compete for Prom Queen/King/Queer and dance the night away.
2943 E. 46th St
Weds-Thurs 3pm-9pm, Fri 3pm-11pm
The Indianapolis chapter of PFLAG has support meetings on the first Tuesday of every month at Life Journey Church from 6-8pm.
GenderNexus provides many different types of counseling and support groups for gender diverse individuals. Their wide range of services includes solutions-focused counseling, stage of life groups, family care groups, sexual health services, recovery support, legal consultation, referral and provider letters, and much more.
1100 W 42nd St, Suite 315
---
Time for Pride!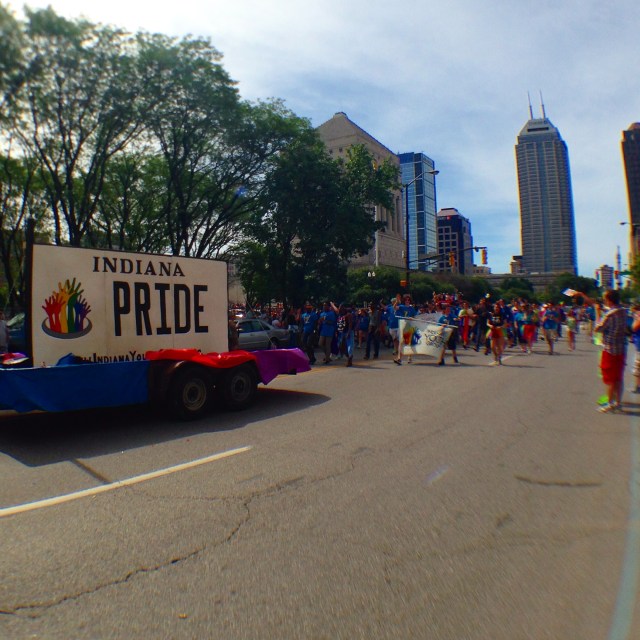 Indy Pride started in 1995 as a group dedicated to serving the LGBT community. With an all-volunteer board, Indy Pride puts on a gigantic parade and festival to celebrate LGBT pride in the city and state at large. After several ups and downs, including controversies over its predominantly white image, Indy Pride is striving to reinvent itself and make itself more racially inclusive by collaborating with Indy Pride of Color on events and discussion panels. In addition to the parade and festival, Indy Pride hosts almost a full month of programming leading up to the big day, including a 5k, pet pride, drag softball and community picnic, speakers panels, and more.
Started in 2014, Indiana Pride of Color, lead by Brothers United Inc., celebrates the life and achievements of the LGBTQ+ community of color through events throughout the year. Highlights include the annual Celebration festival at Ellenberger Park, which is free and open to all ages.
3737 North Meridian, Suite 401
---
Got Resistance?
Indiana definitely has its problems, and Indianapolis bears the burden of being one of the few blue dots in a sea of red. That being said, there are an incredible number of good people here doing as much work as they can to better our community. Highlighted below are just a few of the organizations doing the damn work and making me (Brandalynn) proud to be a Hoosier.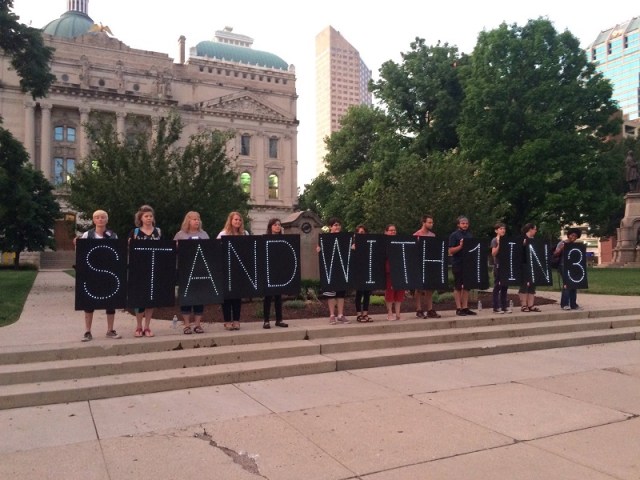 Operating under the guiding principles of reproductive justice, human rights, and community, Indy Feminists is a local feminist grassroots group. Programming changes yearly but you can expect a heavy focus on Indiana specific issues, the Indiana legislature, and an uplifting of events and programming hosted by other local organizations. They are a founding member organization of the Indiana Reproductive Justice Coalition and escort at the last standing abortion clinic in Kentucky.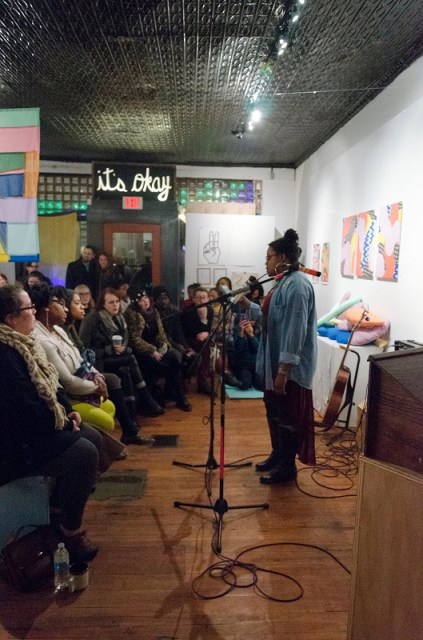 Shehive is best characterized as 'creating safe spaces to deconstruct gender inequity.' This is done through three platforms: buzzwords, women and femme space to tackle various types of assault; meetups, open to any and everyone to discuss the intersections of race, power, reproductive justice, gender and sexuality; and women317, intimate women and femme performance pop-up spaces to showcase local and international talent.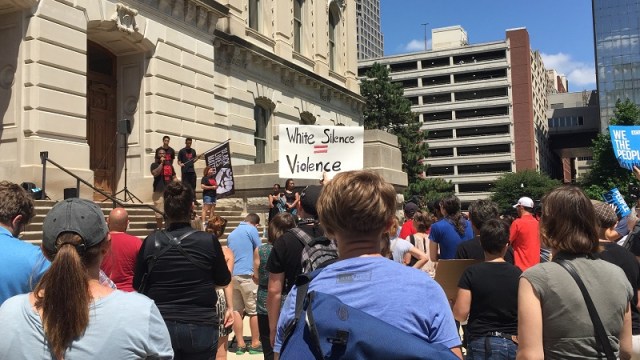 Indianapolis is home to two #BlackLivesMatter groups, Deconstructing Oppression Now Through Solidarity Liberation Empowerment Equity and Perseverance (DONT SLEEP) and Indy 10 BLM. DONT SLEEP offers such sweeping programming and advocates in so many fashions that it is truly difficult to summarize the incredible work they do. They have an annual Toys for Tamir toy drive, monthly Operation Care Kits where they organize and distribute care packages to the homeless, regular Know Your Rights campaigns, movie screenings and panels, town hall meetings, Black-owned business events, and so, so, so much more.
Established in 2011 after the founders held a peaceful sit-in at former Governor Mitch Daniel's office while asking for a veto on anti-undocumented immigrant state legislation, Indiana Undocumented Youth Alliance (IUYA) is a youth-led non-profit organization dedicated to empowering undocumented youth and improving the overall quality of life for undocumented communities in Indiana. Offering scholarships and other services, IUYA has quickly become a cornerstone in the Indianapolis activist community.
Indy SURJ is the Indianapolis, IN chapter of Showing Up for Racial Justice.They partner with DONT SLEEP, Indy10 BLM, and IUYA to decenter white voices in anti-racist work in the larger community. Regular programs include a book club held at Indy Reads Books, White Ally Trainings, and House Meetings for smaller discussions.
---
Thinking of moving here? Here's some harder stuff that no one wants to think about for a weekend visit.
Food Access
In a rapidly growing city, food access is still a major problem. In 2014, Indianapolis reported only 7% of the residents able to walk to a grocery store in 5 minutes (source) and in 2016, one of the largest grocery store chains filed for bankruptcy and either sold or shut down many of its locations, often the only source of fresh food in neighborhoods. In the words of the Indiana Healthy Food Access coalition, "Low access to a healthy food retail outlet is defined as living more than one mile from a supermarket or large grocery store in urban areas and as more than 10 miles in rural areas." Currently, community gardens, co-ops, and farmer's markets are few and far between. Community activist organizations are working with legislators to remedy this by developing Healthy Food Financing Initiative (HFFI) projects, which incentivizes stores to expand to low access communities as well as addressing education around nutrition and transportation.
When it comes to public transportation, we're getting better all the time. Unfortunately, we're getting better by slowly improving an extremely limited system. Indianapolis is serviced only by IndyGo, the city's bus system, on which single trip fares are $1.75. While the bus system has its drawbacks, one of the few good things to come from the 2016 election was the passing of the Marion County Transit Plan, which allowed the City County Council to enact a tax dedicated to transit and will allow the city to reinvest in its public transportation and bring us into the twenty first century. One other major step forward also occurred in 2016 with the opening of the Julia M. Carson Transit Center in downtown Indianapolis, the first hub of its kind in the city.
Cost of Living
According to NerdWallet, Indianapolis ranks as the 82nd most expensive city to live in the United States. Average salary per person falls around $24,430, unemployment rate is 9.4% (4.7% national) and the percent below poverty is 18.9% (13.5 national). Within the city, there is an ongoing political debate about raising the minimum wage ($7.25), to a much higher, livable wage. On the flipside of the low salaries, housing costs are low, making the city very attractive to outsiders, but costs are steadily rising due to the influx of young professionals into gentrified areas. Studies have shown that while there are policies in place to reduce discrimination in housing, LGBTQ+ identified folks have higher rates of homelessness, than their cis and/or heterosexual counterparts. Organizations like the Fair Housing Center of Central Indiana work to make sure housing agencies are in compliance with non-discriminatory practices as well as educate the general public on what laws protect them in the housing industry.
Safe Spaces
There's no getting away from the fact that while Indianapolis is a rather blue city, the state we are surrounded by is not. Frequently the laws and politicians in our state are hateful and vicious. Although the state does not prohibit discrimination based on sexual orientation and gender identity, Indianapolis does. When the state gave us Mike Pence and the legislature gave us RFRA (Religious Freedom Restoration Act), Indianapolis gave us PENCE MUST GO. The downtown hipster-hoods, Irvington, Fountain Square and Fletcher Place, Mass Ave, the Old Northside, and SoBro are generally more LGBTQ+ friendly but at the same time increasing in cost and challenged with the same food desserts that plague our city.
In the end there are plenty of LGBTQ+ folks who find and build homes in Indy. There are activists of all walks of life dedicated to their causes and fighting to not only preserve Indianapolis within the state but challenge it to grow and progress as well.
Indianapolis can't be everything to everyone; here's hoping it can be at least something to you.