~*spoilers ahead*~
"I need you to watch Russian Doll so we can talk about trauma," I texted my best friend.
"I'm in the mood for a comedy, think I'm going to start Russian Doll!" I saw a friend of a friend tweet.
Laneia's take gets at the heart of things:
https://twitter.com/grrreen/status/1092112107493937152
It's a show that's hard to categorize, is what I'm getting at here. The urge is not really to explain it, but to get everyone you know to watch it so you have someone else to sit in it with you. The premise at first might suggest a puzzle to be figured out: The night of her 36th birthday, a charismatic but caustic New Yorker is killed in a chance accident, only to find that the evening has reset itself until she inevitably dies again, looping endlessly unless she can figure out how to fix it. The twist halfway through the series — that someone else in New York City is experiencing the same morbid replay, their fates intertwined for some reason — only introduces more questions, more mysteries to be solved, more plot threads to tie together and resolve. Yet there's no urge after watching Russian Doll to dissect or theorize; that's not the point. The point is something else.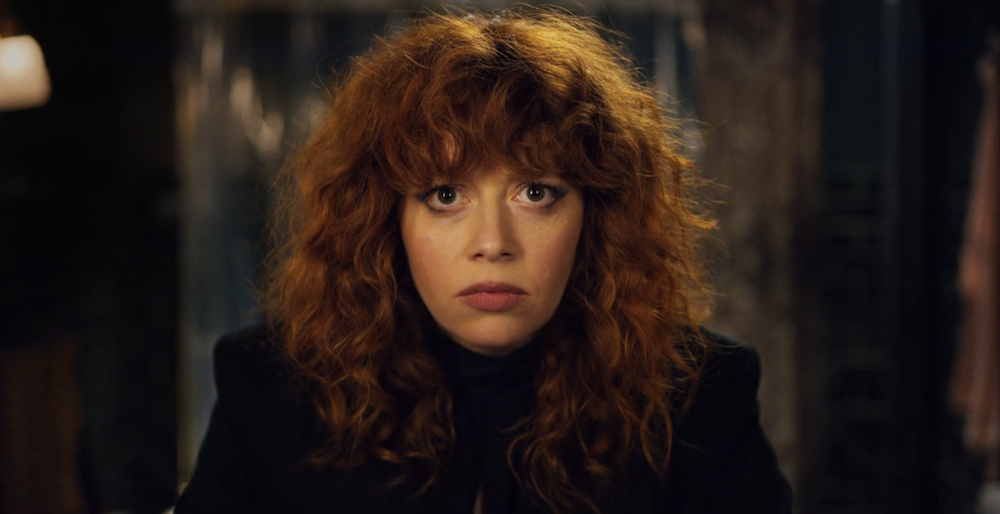 Regardless of the tough call of genre, Russian Doll is a good show, a tight show — the writing is electric, ranging from laugh-out-loud funny to daringly earnest; characters are pleasurable as NYC caricatures (the self-indulgent conceptual artist! the kooky, expansively maternal EMDR therapist who doesn't believe in the word crazy! The sex-and-the-city style divorced ex-boyfriend who wears trenchcoats!) without sacrificing a resonant humanity. The introduction of a sort of generation loss as Nadia's last day on earth continues to loop — things, people, the world around her starts slowly disappearing — adds an unbearable tension that propels you from episode to episode, not a given in a show that's largely about stasis. Most striking, maybe, is the show's difficult-to-describe generosity; a deep compassion for its characters that doesn't gloss over their failings and flaws. "You are the most selfish person I've ever met," Nadia's counterpart, Alan, tells her. "Thank you for changing my life. Lives are hard to change."
Natasha Lyonne is not only the star of the show, but a co-writer — she's been open about the fact that it's a very personal project, telling ELLE,
"I've been writing versions of what would become Russian Doll for at least 10 years, you know? …I've been collating and cataloging this series for a lifetime—in a deeper sense, on a more PTSD level, cataloging a lifetime of living through so many really dark experiences. I feel so lucky, and it's such a gift to be able to process things through humor that are too graphic and traumatizing to process any other way."
It bears her mark unmistakably, and more than that, of being unmistakably written by women (co-created with Amy Poehler and Leslye Headland, whose wife, Rebecca Henderson, plays Lizzy). Not in the sense that its concerns are broadcast as Feminist (although struggling to break out of cycles of trauma is certainly a feminist concern!), or even in the way that the threat of male violence forms a constant background drone (one recurring part of Nadia's time loop is being harassed by some drunk tourists in a deli; one of her deaths is at the hands of abusive, lascivious mental health workers). It's more that Nadia's arc of trying to shake off the generational pain she was saddled with and be a full person is presented not as a woman's narrative but a human one, written with ease and surety as a universally relatable man vs. himself conflict. If anything, Alan's story is given the treatment that female characters usually get – less screen time, less backstory, centered around a romantic relationship. Nadia's narrative is rich with context, history, its own themes and motifs, messy interconnections and callbacks; it has everything that men's narratives about their own reckoning have, plus something extra.
The obvious reference made in Russian Doll is Groundhog Day — which is fine, the show wants you to make that comparison. There's a whole Alice's Wonderland of references and pastiche and riffs: Groundhog Day, definitely, but Nadia also references Michael Douglas' The Game, also a story about a closed-off person being broken down and built back up; Nadia's effusive, loving return to her own party when she thinks she's finally left the loop behind her recalls nothing so much as Scrooged (another Bill Murray vehicle, another NYC story). Those stories are classics of a specific subgenre: a hardhearted, spiritually stunted man undergoes a surreal experience that forces him into an understanding of empathy he would never have been able to access otherwise, and leaves him finally open to the connection with the rest of humanity he was previously incapable of. They're overcoming selfishness, narcissism, arrogance, solipsism. To be a bit mean, they're movies about men learning how to be people.
Nadia is already fully human, albeit a difficult, skittish one in a lot of pain; she has friendships and important relationships in her life, a deep and abiding love for her cat, a central character. Her problem isn't that she's incapable of connection, but that she understands its importance all too well; the child of an unstable single mom, she understands the power and danger of relationships, and avoids them for her own and others' benefit. Mere seconds away from meeting her ex's young daughter for the first time and with the weight of letting them both down hanging over her, Nadia freezes. She realizes her endless death loop means she could well die in front of this little girl, and can't bear the thought of burdening her with that, so she flees — just like she's done with every adult relationship she's ever had. It's everything that the reconciliation that eventually marks Nadia's turning point in her time-travel struggle and her personal arc isn't with her ex, the seemingly good guy who's obviously still deeply in love with her; it's with this little girl, his daughter — when she's ready to entertain the possibility that she might be able to bring something to the table besides the potential for harm.
Nadia does, in fact, die in front of her ex's daughter in one of her time loops — she also dies in a gas leak explosion, gets shot by her oldest friend, freezes to death on the street; the list goes on. It's a dark show! There is no way around that. Yet if you stick with it, it turns into a surprisingly reassuring one; it's hard to describe the last few minutes of the finale, and it would be a disservice to try to without the context of everything that comes before. Natasha Lyonne said that "to have this show being received in this way is just about all my heart can take. The idea that it's being translated to people and that they're not making fun of it or something — that people aren't laughing at it, are in fact identifying with it, means everything to me, you know?" It's understandable that she's surprised and relieved, but it's not shocking that so many people are breathless and grateful over it. At its core, it's a show about whether we can change anything about how we are, whether it's possible to do things differently; the answer it offers us is yes, even if it's not easy, we still can.