The most surprising thing about She-Ra and the Princesses of Power's second season, which landed on Netflix Friday, is there's less implicit queerness than season one. But also: There's more explicit queerness than season one. Way more! Yes, Catra and Adora still have that more-than-best-friends-turned-enemies thing going on, but they confront each other mostly through bot cameras, imaginary fights, and passive aggressive messages from their friends (gay). However, this season Scorpia goes all in on her crush on Catra and Bow accidentally takes Adora and Glimmer home to meet his two dads. Plus everyone's favorite princess power couple, Netossa and Spinnerella, are back kicking butt and holding hands and gazing lesbianly at each other.
"The Frozen Forest" picks up not long after "The Battle of Bright Moon." Now that the princesses have formed their alliance and proven to themselves and each other how powerful they are as a team, they're learning to use their powers together. The problem is they're not making any progress. They're pushing back the Horde's bots and helping the forest heal each time, but the Horde has endless bots; he's just keeping them busy. While the Princess Alliance (and Bow) are working out that conundrum, Adora is training with Light Hope, trying to master her sword — which keeps turning into useless things like a tea kettle — and her feelings for Catra. "Did you have to make her so mean?" Adora asks, deflated, after one particularly rough fight inside Light Hope's matrix. Light Hope says the simulation is designed for total accuracy. (Which is also probably why when Catra springs on Adora, she grabs her hand and purrs, "Haaaay, Adora" before attacking her.)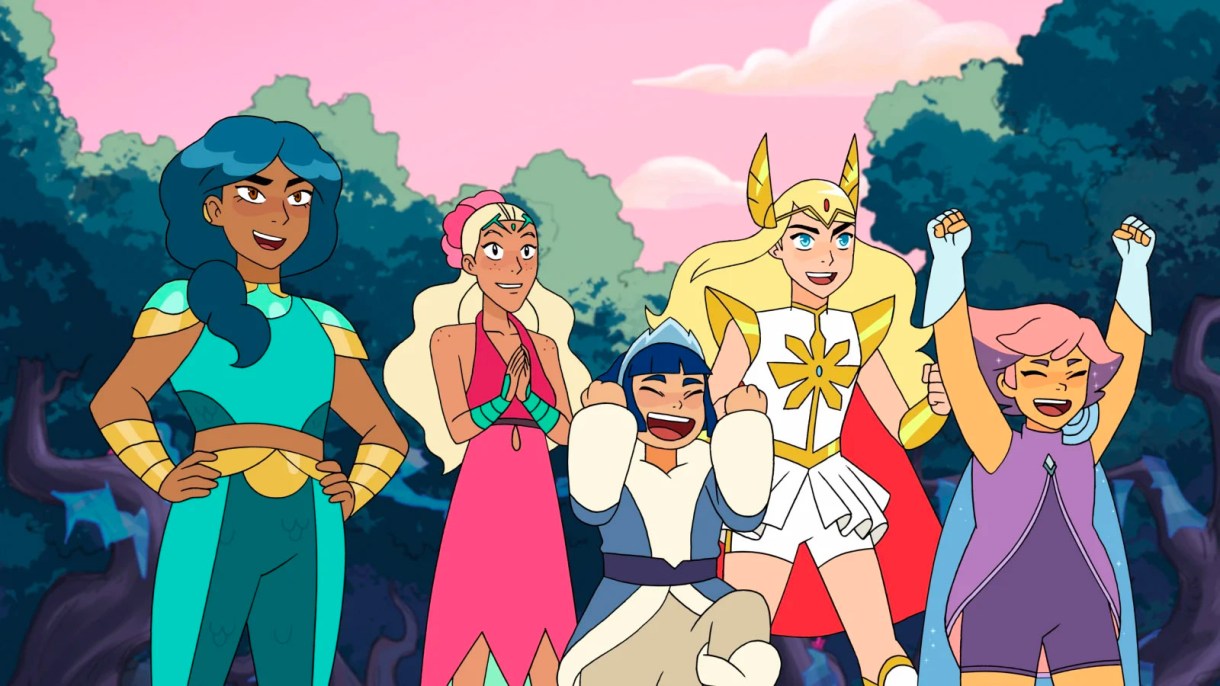 Season one had the heavy task of introducing an entire cast of princesses (something the original '80s series botched big time, as they aired episodes out of order or not at all to try to keep the cartoon aligned with Mattel's action figure rollout) and setting up and paying off the conflict between the rebels and the Horde. It did both of those things brilliantly. What season one didn't have to do — but did (also brilliantly) — was color in the humanity of the show's villains. At the end of 13 episodes, we knew as much about what motivated (and devastated) Catra, Entrapta, and Scorpia as we did about the inner workings of She-Ra, Glimmer, and Bow. Season two expanded the mythology of Bright Moon a little, especially around the First Ones — but the main goal of these new episodes is to dig even deeper into everyone's hopes and dreams and fears as they prepare for battle, and to explore She-Ra and Catra's interpersonal dynamics with their friends who aren't each other.
Catra continues to be heartbroken about Adora abandoning her; rather than dealing with that, though, she just doubles down on all her other intense emotions. She tries to win the approval of Hordak, to be recognized as the best and the favorite for once, but is thwarted by his connection with Entrapta over First Ones tech. She tries to outmaneuver Bright Moon but ends up falling victim to her abuse and evil machinations all over again. She tries to beat up Adora's new friends, but — actually, yeah, she does a nice job beating up Adora's new friends. They cannot outsmart her. While Catra's brooding and pacing and hissing orders, Scorpia shoots her shot, repeatedly. She wants to be there for Catra, to be the person Catra can talk to about her feelings; she wants Catra to be impressed with her; she asks Catra out on a date — but Catra is too hung up on Adora to even really notice. This leads to one of the best bondings of the entire second season: Scorpia and Sea Hawk, forced to fight together against some First Ones bots, spend the entire episode bemoaning the fact that the girls they like don't like them back enough.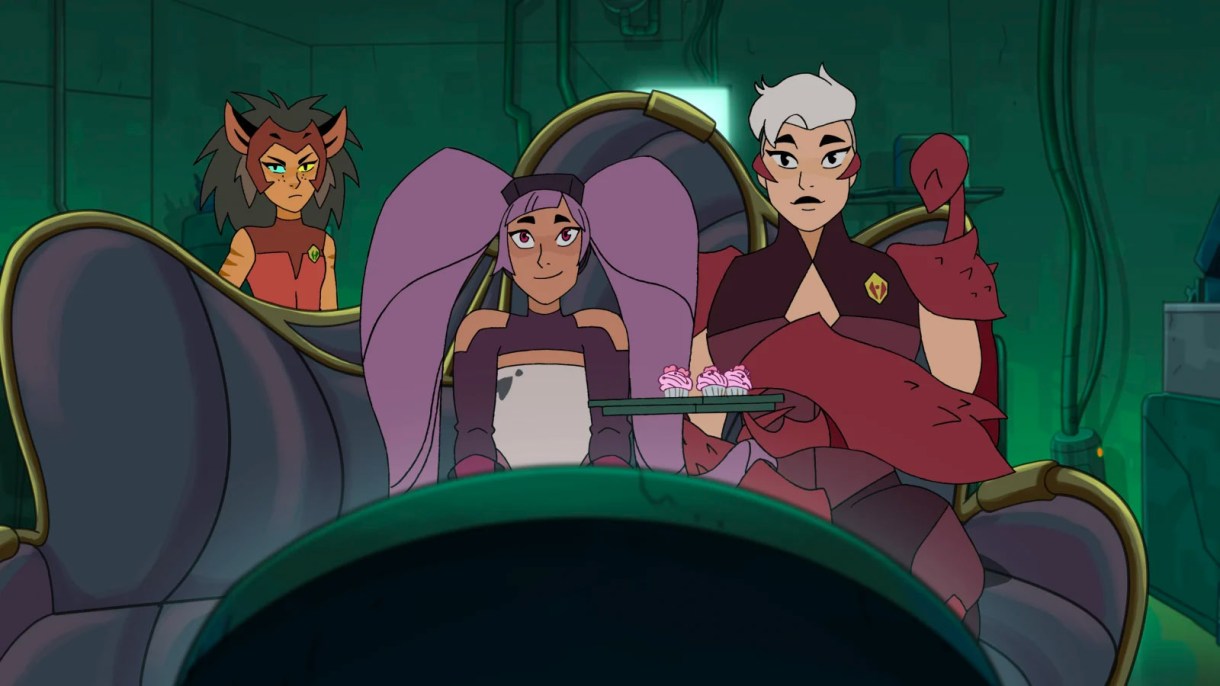 One of the other best bondings is basically Bow's coming out episode in "Ties That Bind" when he returns home to visit his two dads, and Adora and Glimmer accidentally ambush him there because they think he's been kidnapped. Turns out Bo just didn't want his dads to know he's a master marksman and inventor in the rebel alliance. He has 12 brothers and all of them are in the family business — history and books — in some way or another, but George and Lance always believed their youngest son would take over their extensive library/museum. They blame the princesses for the fighting that ripped Bright Moon apart. And so Bow has been lying to them, telling them he's in regular guy boarding school and definitely not a soldier in the rebellion. His lie unravels and when he finally confesses, it's got all the hallmarks of a good gay reveal, but to two gay dads. They love him no matter what. It's a neat script flip.
The only trouble with season two is it's too short! Only seven episodes! And you can really feel it — there's no overarching story or conflict like the one that propelled season one forward and tied it together. I do appreciate that even with the truncated season, the show didn't rush the story. Taking time to let the characters play Dungeons and Dragons (and reveal how they all think about Catra, including Bow's image of her as the exact Catra from the '80s cartoon) was well worth the linger.
Noelle Stevenson says more episodes are on the way soon, and I can hardly wait. In the meantime, I'll rewatch and take comfort in the fact that the gay agenda continues to dominate all the best all-ages TV.