As far as I can tell, camp is all about nature. Which means at some point you get dirty. Laneia and I planned ahead and made a face scrub that's good enough to eat (literally) and strong enough to scrub off a hard day of play.
Sugar Scrub
Ingredients
Sugar
Olive Oil
+
Directions
Mix the sugar and olive oil together until you have a paste that's the consistency of the sand you might use to build a sandcastle; not too wet and not too dry.
+
Use
This scrub is best to use at night because the oil washes off dirt and makeup and the sugar gets rid of dry and peeling skin. Take a dab the size of a quarter and massage it into your face in an upward motion. First your chin and cheeks, then your nose and lips, then your forehead. Use soap and lukewarm water (hot water can dissolve the sugar, leaving a sticky mess on your face) on a washcloth to wash it off. Don't let directions stop you from being creative, though! Try it on your feet, elbows, legs, or whatever body part needs a little bit of help in the smooth skin department.
+
Etched Glass Jar
Ingredients
Glass container
Adhesive labels
Sharpie
Exacto Knife
Etching Cream
Paintbrush
+
Directions
1. First plan your design out. Draw it out on a piece of paper and then throw it away and draw something 8 times simpler. Trust me, you're going to have to cut this thing out.
2. Draw your final design on an adhesive label and then stick the label on the jar.
3. Using an exacto knife, cut out the parts that you want to be etched.
4. Coat the cut-out parts with etching cream liberally (because that's the only way we do things around here) and then wait 12 minutes.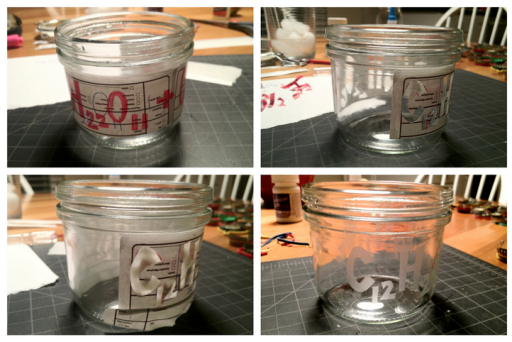 5. Wash the etching cream and sticker off the jar and–this part's really important–be careful not to touch your eyes. It's probably goes without saying, but since I'm the one who has touched my eyes after cutting serrano peppers twice this week, I'm going to point it out anyway.
6. Pour your scrub into the jar and ta-da! You're ready to launch your very own Esty store.
This post goes hand-in-hand with A-Camp's DIY Body Care Products with Laura and Laneia.