Hello! Did you know that right now, someone, somewhere is making poetry? That person could be you! Why don't we make poems, or write poems, or I guess create poetry and then share it with one another? Okay.
Blackout Poetry
by Carmen Rios
When I was younger and did things I don't do anymore, there came a night where I was sufficiently fucked up and having a lot of feelings and I just sort of did blackout poetry on an issue of the NY Times. It was absurd, really. I sat on my mattress making all of these poems about "being ———–2 ——— — —- — together —." To be honest, I did great. Writing blackout poetry is a very different process – I capture all of my feelings by challenging myself to find them. Finding poetry inside of something else is completely different than writing it. It's like the difference between creating something or uncovering something – they're both different ways to learn something.
I began doing blackout poetry in portable versions, then, because I got so into it that carrying around a newspaper to do it would certainly have made me look insane and not artistic. I began taking cards from my university library – the scrap paper cards that used to be the card catalog. Thank God for technology, right?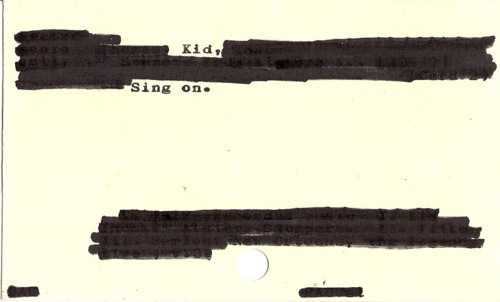 My friend Rebecca and I got into it and made this fail of a Tumblr: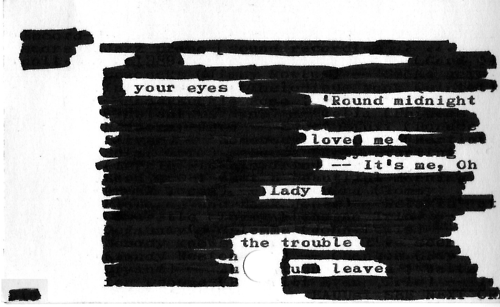 To do blackout poetry, you need only two physical things: a permanent marker, and something you own with words printed on it. Magazine articles, newspaper articles, printed-on note cards, books – seriously, anything. I'm currently blacking out my university's admissions book, an anthology of Ronald Reagan memorial speeches from Congress, and a bunch of these cards.
Then, there are two rules: first, you can't write anything. You can only blackout existing letters, phrases, and words in order to create new words, phrases, and statements. (You can make the decision on whether or not you allow word-making from random letters or if poems can be confined to pages and paragraphs.)
The second rule is to never overthink, to always be intuitive, and to keep looking for it. It's in there. Poetry. It's everywhere!
Slam Poetry
by Whitney Pow
How do you write slam poetry? You start writing — it starts with words. Don't think too hard about it. Don't wonder if your words are poetic or rhythmic enough, because they are perfect just the way they are. Ground rule one: Just write. Have a recent heartbreak? Write about that. Frustrated about racism? Write about that. Anxious about A-Camp? Write the shit out of that. You don't even need line breaks. Just get it onto a page.
When you've written all you think you can write, take a break. Drink a cup of chocolate milk. Go for a walk. Play a video game. Just take your mind off of it for a bit so you can get some brain space. When you're ready for step two, stand up. Get on your feet. Then read your writing out loud. Try to feel what you've written as if you're telling it to somebody in the room. Maybe there is somebody in the room. Tell your poem to them. Slam poetry is poetry that's meant to be communicated — physically communicated. Start talking your poem. If you talk with your hands, talk with your hands while you read your poem out loud. If you raise your eyebrows and flail a bit when you talk, do that, too. Do what comes naturally when you talk. Your poem is you.
Step three: Revision. You might want to take some time between step two and step three; you might just want to jump right into it. Go at your own pace. Read your poem out loud and then find the rhythm of your poem. How does it feel? Do the syllables roll over one another in a way that sounds and reads well to you? Get a feel for whether your poem could use an extra word or syllable here and there, and get rid of words or syllables that feel out of place. There is no right or wrong answer. Do what feels right.
Slam poetry comes from the gut. It's about feeling something incredibly clearly and sharply and putting it into rhythms and stanzas and words. You're taking your anxiety or love or anger and turning it into music — the rhythm of your syllables, the sometimes-rhymes, the sometimes-slant-rhymes, the musicality of the words themselves, the movement of your body as you speak creating a performed, lived experience. It's about writing thoughts and talking thoughts.
One of my favorite slam poets is Ishle Yi Park. Her poem, "Sai-I-Gu," was written about the 1992 Los Angeles race riots and the poem is filled with a poignant sense of fear and frustration. Here's an excerpt (and you can read the whole poem here):
koreans mark disaster
with numbers — 4-29 — Sa-I-Gu.
no police. no help.
fire. if I touch
the screen my fingers
will singe or sing.
raw hands rip nikes
out of boxes, break glass
into white cobwebs.
my mother presses her hand
to her ruined lips.
*
we see grainy reels of a black
fish flopping on concrete
arched, kicked, nightsticked,
flopping not fish but black man—
here I rub my own tender
wrists, ask unanswerable questions—
why are the cops doing this?
my mother will answer simply,
wisely, because they are bad.
of the looters, because they are mad.
and why hurt us ­ she chokes
because we are close enough.
I moan, slip under the fold
of her arm. she strokes my hair
and keeps me protected
as I must one day protect her.
Try talking "Sai-I-Gu." When the words come out of your throat, you start to feel the arches and angles of the sounds themselves: The hissing "S" of the "singeing" and "singing" of the fires of the riot. The pointed "K" of "kicked, nightsticked" — you start to feel punctuated physical attacks with your voice. Slam poetry isn't just an emotional experience. It's a physical one.
In In the Fray magazine, Park writes about the experience of performing "Sai-I-Gu":
Since I've written Sai-I-Gu, I've performed it in New York, California, and Minnesota. Reading it is always a visceral experience for me — I try to relive the emotions I felt while writing it, so rage, grief, and hope rise to the surface while performing it. It contains fragments of our story — my story — the story that has been ignored or denied by the media. The point of it is to communicate this experience, so people of all backgrounds feel it, with their minds and hearts.
Now watch Park perform "Sai-I-Gu" — the performance is pretty breathtaking.
It's this passing on of feelings through performance that makes slam poetry. If you have emotions (and I'm pretty sure you do), you can slam. You can slam about race riots. You can slam about love. You can slam about toast. You can slam about A-Camp. You can slam about anything.
——
Tell us your favorite type of poetry!
This post goes hand-in-hand with A-Camp's Slam Poetry with Whitney, Carmen and Gabby.