Welcome to the second of four fantastic recaps of our entire experience at the First-Ever A-Camp, which took place two hours outside of Los Angeles at Alpine Meadows in Angelus Oaks, California, from April 26th-29th.
The idea was to take the spirit of the website into three glorious dimensions while simultaneously creating an affordable option for queer ladies for whom other lesbian events (such as Dinah Shore) aren't a good fit. So, we rented out a summer camp in its off-season and enjoyed a transformative weekend of fun, friendship, panels, workshops, classes, sports, entertainment, events and so forth.
These epically long monster-posts will do their best to explain and extrapolate upon the camp experience, from shitstorms to emotional revelations to glory/triumph.
Yesterday we got stranded on the side of the road and today we cast our eyes upon Friday, April 27th — our first full day of camp!
+
+
Friday April 27th
+
I. Morning Has Broken
Marni, Camp Co-Director: I woke up before breakfast and headed up to Wolf Lodge to start getting materials and things together for the morning's workshops, only to find Robin – who had been up since 7 – just finishing up putting colored signs on the outside of the meeting spaces. She greeted me with a bright and cheerful "Good morning!!" as she taped up a sign-up sheet for flower pressing. In her captain's hat. Love that girl.
Carly, Videographer: I was rested and ready to get going when I woke up on Friday morning. Which was good, because I was going to need that extra energy to get me through what would wind up being the drunkest night of my life.
Lizz, Rubyfruit Counselor: Breakfast Friday morning was my first real chance to see everyone at camp. I was blown away by how many campers actually knew who I was! I assumed I'd just be Autostraddle Writer #5158 to them, but a lot of people said they liked my writing. Even though I've been with Autostraddle for over a year, up until then I'm not sure I'd really considered myself a writer before. I was wicked flattered — a lot of campers said they'd bought blazers because I told them to. I suggested they buy a second blazer.
Carmen, Sharks Counselor: I made a joke about how I enjoy serving others because I'm half Hispanic. I was then named Hopper for the morning and saw way too many eggs.
via text:
Laneia – Marni it's Laneia. Everyone in my cabin is still asleep. Wtf time is breakfast.
Marni – Now, almost over.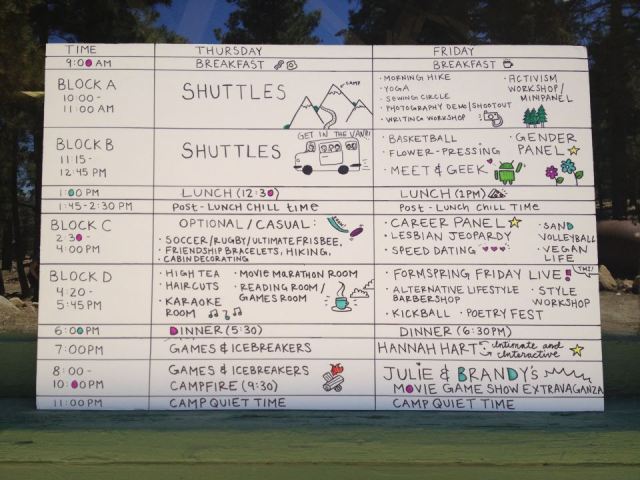 Laneia, Executive Editor: We caught the final three minutes of breakfast, which was just enough time to grab coffee and eat some cereal from a paper cup before being shuffled off to morning activities. This was the first time I was late to a scheduled meal, but sadly it wouldn't be the last.
Also I was wholly unprepared for how little time I would have between activities to prepare for the next one. Just like, totally and completely unprepared. In every way.
Riese, Editor-in-Chief: I woke up after three hours of sleep — and a relatively uncalled-for mental breakdown about Tinkerbell — feeling like a million bucks to the head, got a cup o'cheerios (breakfast of semi-champions) and huddled with Rachel to plan the writing workshop.
Carly: My primary purpose at camp was to shoot a documentary along with Sarah Croce and superstar director of photography, Lauren Aadland. I'd never shot a documentary before and I was also learning how to use Robin's fancy DSLR while up on the mountain, so it was a bit of a crap shoot. An exciting crap shoot. We used our time at breakfast divvying up the day's schedule of events and trying to make sure we covered as much as possible.
Lizz: I think it was just after breakfast, we all came back to the cabin and rocked out to "Call Me Maybe." It was pretty real– we kind of went theme song style with it. I love that all weekendlong when I would go back to Rubyfruit there would just be awesome queer women hanging around doing whatever. It was so surreal. Queer women blow drying their hair, queer women reading, queer women gossiping, queer women writing in journals. It ruled.
*
The  Tinkerbell Saga, Continued:
Background: As detailed yesterday, amid the stress of departing for camp and last-minute transportation issues, Riese accidentally left Tinkerbell in their hotel room. Tinkerbell is Riese's life-long canine companion who got born in Miami in January 2008 and has been with us ever since. She used to be a purse, has been in many vlogs, and sometimes writes for Autostraddle.
Marni: Because Riese had been so distraught about Whitney and her stranded passengers the night before, I didn't tell her at the time that at the exact moment she had learned about the stranded car, I had received a text from Vega telling me that Jess S had tried to retrieve Tinkerbell from the hotel in LA, but when she got to the front desk they told her that not only did they not have Tinkerbell, they had no record of ever having her.
Jess had campers to pick up and had to leave empty-handed, and I spent the next hour playing phone tag with the hotel's housekeeping, security, and front desk, each one bouncing me to the next. Despite the fact that the hotel had initially returned my call to confirm that they had found her, the night shift folks didn't seem to have been kept in the loop and kept trying to transfer me to a housekeeping department that was clearly done for the day. Finally they told me someone would call me the next day. Needless to say, this was not welcome news when I confessed it to Riese later on that night. Tinkerbell had been really excited about camp.
Not trusting them to follow-up, I got back on the horn Friday morning, explaining to a new shift of people that this was a very important item and to call me immediately as soon as they could confirm that they had her. Tensions were high.
Friday Block A:
Morning Hike w/Sarah Croce
Yoga w/Lizz and Jess R
Sewing Circle w/Laneia & Carolyn
Photography Demo/Shootout w/Robin & Sara Medd
Writing Workshop w/Riese & Rachel
Activism Workshop w/Carmen & Katrina & Alice & camper
***
Friday Block B:
Basketball w/Brittani
Flower-Pressing w/Carmen
Gender Panel w/Whitney, Marni, Annika, Sara Medd, Laura, Alex, Jess S, Gabby & Katrina
Meet & Geek w/Taylor, Bren & Lizz
**
II. Thank Goddess It's Friday
Lizz: Only a couple of people showed up for morning yoga. That was sort of okay though, because we found ourselves a nice little corner to nestle in to. Beth (Retreat Center Director), came over and told us we could use the space indefinitely if we planned on doing yoga for the entire day. We lasted about 45 minutes, but I appreciated that she thought we might yoga all day.
Stef, Wolfpack Counselor: During Croce's morning hike, some of the more outdoorsy campers were making fun of the urban, east coast campers for being really excited every time we found a lizard. WE FOUND SO MANY LIZARDS. Everything looked like a beer commercial. I don't go outside much.
Carly: Lauren went on the hike with Sarah and I stayed at camp and got footage of basically everything else that was going on: the sewing circle, writing workshop, photography demo, and the activism panel. Gabby was also grabbing footage, so I was very excited that Friday was off to an excellent start.
+
"[I loved the] Photo workshop. Robin was a wealth of information and very professional, and also really sweet and supportive."
+
Laneia: What was originally named 'BYOB Sewing Circle' had officially morphed into the Embroidery Square (because we were sitting in a square, of course) and was no longer BYOB (because even I can't drink that early). I was nervous no one would show up, but that was silly because a bunch of people showed up! Everyone was so bright and excited to meet each other! We sat on benches made from split tree trunks and helped each other thread needles and make knots, with the most ridiculously gorgeous view that I've ever had the pleasure of being perched in front of.
Also there was Becca!
Carolyn, Sharks Counselor: Laneia and I ended up co-opting the brains/fingers of a camper with vast embroidery knowledge — and the samples to prove it — Becca. It was really lucky she showed up and was awesome about teaching everyone.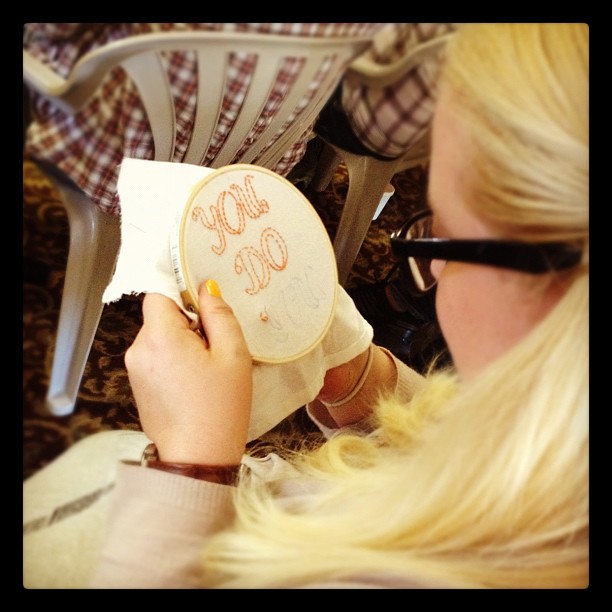 Marni: I was on a mission to hang the pigeonholes on the wall outside Wolf Lodge, with the assistance of fellow industrious Canadian Emily Choo. Emily was pretty set on some kind of "suspension" method using string and a pipe that ran along the upper part of the wall. I was unconvinced, and decided instead to experiment with broken sticks taped to the wall as tiny support ledges for each box, supplemented by tape along the top. Finally I gave up and just started taping the suckers directly to the wall, which worked great. I had three boxes up before Emily – still in deep concentration with her string – finally conceded defeat. If we'd had duct tape then no discussion would have been required.
+
Carmen: I blew up a beach ball for twenty minutes as we waited for The Activism Panel to actually start (mostly because I've never shown up early for something in my life and had no idea what the hell to do with myself). Once words started happening, though, it became clear that our "planning this by saying the word 'feelings' to each other via email" strategy had panned out.
Katrina, Cherry Bomb Counselor: We were so unprepared for this panel that it was more or less comical. That being said, I was really excited about how it went. I hope everyone takes up Katie's challenge to go to three meetings/demos/protests. I think they'll find what they're looking for.
Riese: For the Writing Workshop, Rachel and I tossed around prompt ideas but then were like, "well, anybody could give out writing prompts" and then my surrogate daughter Emily Choo suggested we do it in the style of a "master class." I haven't been a master of anything since my Dungeons & Dragons days, so this was very appealing. We made a game-time decision to ask the workshop what they'd prefer, and they were down to just open it up to questions about How to Be a Writer — how/where to submit your work, how to get started, the benefits/drawbacks of MFA programs, getting a web-based writing job, etc.
Rachel, Littlefoot Counselor: I still feel like I maybe don't have enough of a "real writing career" to say anything intelligent about it, but then we did this workshop and it felt really good! It was really exciting to see so many awesome, smart, self-possessed queer women who are writing and who want to make a living at it.
Riese: The weirdest part of the 'workshop' was realizing I am an expert on a thing. Taylor wandered through at some point, and as one of our most spectacular success stories I invited her to share tips too (Taylor and I met at a Halloween party Carly threw in late 2009, and we talked about the site a bit and that I was looking for a tech writer — she emailed me later that week and said she wanted to write for us and linked me to her tumblr, which's the only place she'd published anything online. She had the voice  and I knew she'd be a perfect fit so one thing led to another and Taylor launched our Tech blog and because of that experience realized that she wanted to be a professional writer! Now she works for Tecca and ReadWriteWeb as well as AS).
Also there was another me inside my body who was just looking at everybody in the circle and smiling.
Lizz: I walked in on the writing workshop just after it had finished and was instantly jealous of all the girls who got to gather around Riese and Rachel and soak up their wordiness.
Laneia: After the first block of activities, I had to get the supplies lined up for the next crafting workshop, which happened to be Flower Pressing with Carmen. I'd kept six bouquets (of the finest flowers my local Trader Joe's had to offer) alive for over three whole days so these lovely campers could press them, and I was pretty excited about that. The point is, this was when I realized that a) whatever 'organizational readiness' plan I'd naively thought I'd created was definitely not going to work and b) there was little I could do about it now.
Carmen: The best team-building exercise of all time is having a room full of queer women lift heavy stones to place on top of heavy books to turn flowers into flattened beautiful things. I was made to look a fool by pretty much every single person in the workshop, all of whom possessed better book-making intuition than I.
Brandy, "The Talent": Julie and I slept through breakfast and woke up with pounding headaches courtesy of the vicious cocktail we like to call "Kettle/soda with a splash of altitude." We stood around outside our cabin eating Snap Crisps and drinking Bloody Marys while we waited for the lunch bell to ring. This was our first view of the campsite during the day and it was fegging gorgeous!
Katrina: The Alternative Lifestyle Barbershop was my favorite thing. We turned it into a real queer barbershop with a bunch of homos sitting around, sewing, drinking, talking, laughing, loving, and breathing.
Lizz: I'm pretty sure Katrina changed lives.
Katrina: I'm still so grateful to everyone who trusted my amateur hands, especially those who engaged in undercut fun and general short hair transformation. Everyone looked super great, and I hope lots of women are touching your hair right now.
Rachel: Okay, the only way in which I was involved in this workshop was getting a haircut from Katrina, but it was awesome and it looks really cute! Thank you Katrina!
Katrina: Were there no Shane jokes because everyone knows that shit is tacky, or because I wasn't wearing enough eyeliner? I can step it up next time you guys.
Crystal: My body will still struggling with the time difference and so after everyone finished breakfast I went back to the cabin for a power nap and slept through the first half-hour of the basketball game that I think I was supposed to be helping Brittani with. It was fine though, 'cause she had that game on lock. Some very athletic looking campers and staff were tearing up the court and although I came fully prepared to join in, my body thought it was 3am and I just sat on the bleachers and watched. If you missed out on seeing Hannah Hart playing basketball then you missed out.
Carly: Robin volunteered to get footage of the rest of Block B so that Lauren and I could go play Basketball with Brittani, some campers, and a barefoot Hannah Hart.
Brittani, Hotel California Counselor: The basketball court was in the ideal location. Situated next to a drop off that led into the woods, watching the ball go careening into the grass turned a normal game into jungle basketball which sounds more badass and is better for your heart.
Carly: I haven't played basketball in over two years — when my "career" was derailed by a sprained ankle — and I also haven't done any sort of "physical" "exercise" in well over a year, so this was ill-advised at best.
Brittani: We gathered enough campers to get a full court game going and even though a couple of people claimed not to be that good, everyone was getting buckets. Angeline even had the foresight to bring her super nice ball to camp so we looked like pros. The best part was that people came just to watch us but we were all super shy and meek so no one tried to show off for the hot ladies in the stands at all.
Carly: I somehow managed to injure several toes during the game.

Next: The glory of the gender panel and so much more!
Pages: 1 2 3See entire article on one page