III. The Gender Panel
Riese: The Gender Panel was my favorite activity of the weekend and one of our best-attended daytime activities — we had so much variety there, from butch to trans* to "hard femme" to genderqueer to boi to femme to "grey area" and beyond. I know gender identity is something that rarely (if ever) gets discussed outside of queer/feminist communities and that this had serious LIFE-CHANGING POTENTIAL. Also I'd given myself this Activity Block off in order to attend the Panel, which was a big deal.
Marni: The gender panel was the only activity I got to really actively participate in, and I'm so glad I did. We had had a bit of an email string together leading up to camp, but only got a chance to really sit down and talk about it that morning before the panel. A few people weren't sure they had much to offer, but everyone insisted that each person's experience was valuable in its own way.
Annika, The Beats Counselor: We all met around an hour before the panel started to go over which questions we were going to discuss. I was expecting a crowd of maybe 20-30 people but OMG there were so many of you! I was nervous and didn't even get to half of what I wanted to say, but the panel still went really well. I really enjoyed learning from the other AS writers' experiences of gender. Sometimes it's easy for me to get wrapped up in trans* stuff so this was a good reminder that cis people have gender identities too!
+
"I thought it was amazing that there were all kinds of queer women on the gender panel, including femme cisgender women. It emphasized the fact that gender is everyone's issue, and something everyone has to think about and deal with in their own way. This panel was phenomenal. Especially everything Marni said."
+
Marni:  I shared some things on that panel that I've never told anyone. Afterwards, a few campers told me that what I'd said had really struck a chord with them, and one camper even told me it was the first time she'd heard something that close to her experience being articulated. It's amazing how affirming it can be for us to just hear each other's stories and think, "Yes, that's it. That's me too."
Jess S., Forever 21 Counselor: The gender panel was not only the first panel of the weekend, but also the very first panel some of us (myself included) had ever been on. We were nervous, but I think we modeled through it pretty well.
Whitney, Rubyfruit Counselor: There were so many amazing perspectives on gender and gender identity in one place, on one panel. I talked about identifying as genderfluid and genderqueer, and how my gender presentation has fluctuated and oscillated over the course of my life — from binding and men's hair cuts for several years to long hair and bras for another few years. It was great hearing about the experiences of other gender warriors (as I'd like to call them). WARRIORS.
Laura, Little Rascals Counselor: This was hands down my favorite thing to be a part of. It was one of those moments where something that would either go terribly wrong or nowhere in real life happened just how it should at camp. Everyone had such insightful things to say and I learned a lot from everyone else who participated on stage and in the audience. I also got really nice notes in my pigeon hole afterwards and that was a happy start to camp.
+
"The Gender Panel was so raw and beautiful…without even meaning to do so everyone talked about the intersections of their own class, race, culture, height w/r/t their gender expression. It was beautiful. Annika did an AMAZING job moderating it. I think it was the best put together and thought provoking panel. Also, she's super hot."
+
Carly: Lauren, Brittani and I stopped by the gender panel and I was completely blown away by what I saw. The room was packed and the lovely panelists were just completely killing it. I kept wishing I could have been there to see more, or that I could have been a part of it.
Riese: It was adorable that both my present girlfriend (Marni) and my ex-girlfriend (Alex) said that when they were younger, they used to see girls they liked dating douchebag boys and think, "I would be such a good boyfriend!" It's true, they're both really good boyfriends. There was so much applause and laughter.
Marni: At one point I actually got up and left the panel for a minute because I got a call from the hotel in LA. It was my new bff from security telling me that they did indeed have Tinkerbell, and that they would hold her until someone could come and get her on Monday. It was an A-Camp miracle!
Riese: (see?!)
IV. Meet & Geek
Lizz: The "Meet and Geek" activity was where I discovered I love Bren. It was amazing to hear Bren talk about leaving a civil engineering field after 10 years. Seriously, Bren is awesome. I talked about my background and sort of couldn't believe that anyone would care about what I do for a living. It was sort of the first time I realized I actually have a story to tell that might make a difference in someone else's life. I'm also 90% positive I bored the shit out of everyone when I explained my research.
Bren: I was freaking out because we hadn't really discussed what was happening. Taylor, however, had this shit on lock. She'd made signs and designated meeting pods in Deer Lodge for each geeky interest of choice (comics, sci-fi, etc.). She made merit badges! Merit badges! (I still have mine.)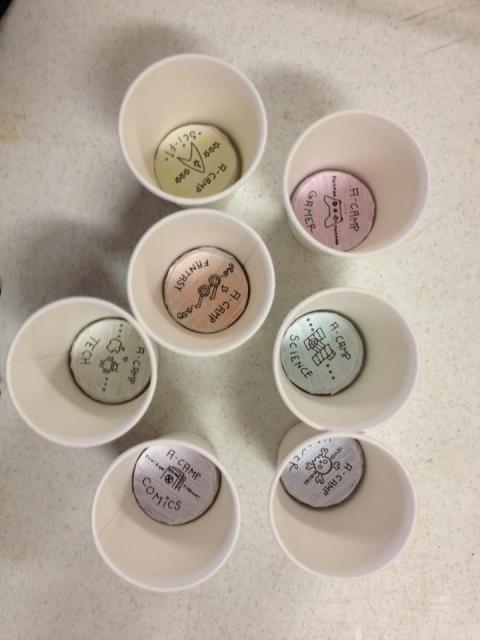 Bren: I don't think you can truly call yourself a geek until you've traveled across the country, climbed a mountain, and slept in bear infested woods just to sit in a room and talk to other people about video games.
Lizz: Then I overheard Taylor talking with Julie and Brandy about the Meet and Geek and wondering what RNA was. I burst in science style and gave a full blown impromptu lesson on DNA, RNA and proteins. I ended up using a construction metaphor which is, by far, the gayest type of metaphor.
*
Friday Block C:
Career Panel w/Crystal, Meredydd, Alex, Taylor, Carolyn & Jess R
Lesbian Jeopardy w/Riese, Haviland, Lizz & Jamie
Sand Volleyball w/Robin & Bren
Vegan Life w/Rachel & Croce
Speed Dating w/Hannah Hart
**
Friday Block D:
Kickball w/Jamie
Poetry Fest w/Carmen, Whitney and Gabby
Formspring Friday live with Rise, Laneia, Rachel, Taylor, Alex, Crystal and Laura
Style Workshop w/Sara Medd & Lizz
**
V. Love & Other Outdoor Sports
Jamie, Little Rascals Counselor: We had no bases or baseball diamond for kickball, and instead used pine cones and guesswork – all true facts. Also, altitude will kick you in the face! But I was pleased with the turn out and having any excuse to use my time drunk on Bud Lite Lime on a kickball team in Brooklyn last summer as a reason to contribute something else in this world. This time no one kept score which is to say we all won.
Lizz: After Brittani and I discovered one of the campers teaches pole dancing/erotic dance lessons, Brittani hopped on board for a demonstration. I grabbed the campers camera and began filming what would go on to be, perhaps, the greatest moment in sexy dancing history. Brittani learned how to do "The hip thing" and "Booty stuff" and demonstrated her newfound skills for the gathered crowd. When I handed the camera back to the camper, she asked if it had always had the red pause sign. Apparently I never filmed a minute.
VI. Afternoon Delights
Alex, Design Director: Meredydd did an amazing job moderating The Career Panel.
Crystal, Troubletones Counselor: It was great because she was totally on top of her shit while the rest of us seemed to be winging it.
Alex: We talked about being out at work, how to use the internet to your advantage to get a dream opportunity, salary negotiations (knowing what you're worth), how we got started at our current gigs, and other general gay (and not gay) things related to making your way in the career world. Everyone involved had quite different backgrounds, careers, and so there were a variety of insights.
+
"My favorite panel was the career panel. Meredydd talking about spiraling up rather than moving up a "corporate" ladder was very encouraging. I also enjoyed that it was smaller panel."
+
Crystal: I learned a lot from everyone in that session, particularly Meredydd.
Carolyn: I especially loved how many people were freelancers — it's always nice to find out that lots of other people are going crazy/trying not to go crazy alone in front of their computers too. Also guys! LinkedIn party?
Alex: It was a smaller panel than the others, which led lot of back-and-forth conversation between the panelists and the attendees.
Riese: After a thrilling hunt for a computer/printer sitch for me to print the questions I'd written the week before (my favorite topic was "What's the Root?" where we gave the origin of a certain aspect of Autostraddle Lingo and made them guess the lingo), we had Lesbian Jeopardy. I love trivia so it was awesome, Emma drank a lot beforehand and therefore won AND Chrissy knew more answers than Associate Editor Hot Laura.
Lizz: It was super important to me that we do Jeopardy properly, with answers in the form of questions and whatnot. I tried my hand at writing wordplay questions and was about 90% successful. "Gay Homophones" was not nearly as good of a category as "Gay Homophobes" would have been.
Jamie: Mostly lesbian jeopardy was an excuse for me to sit next to Grace (I like to think we have all sorts of inside jokes, but we really don't) and awkwardly try to be useful to Riese. Like the champ that she is Liz came up with the best questions, including a bunch about STIs.
Lizz: As it turns out, "Health For Women Who Have Sex With Women" is the most depressing jeopardy category ever. Also one of the campers, Alice, coined the term "Dental Damnit." I'm still not sure what that means. Honestly though, I don't think Jeopardy would have happened without Haviland. She was so wonderful at pumping everyone up. It made me feel like we were actually on a game show.
Jamie: Haviland channeled Vanna White to keep the crowd abreast of the spicy competition. Buzzers were buzzed, Autostraddle trivia knowledge was tested.
Riese: I got to do a thing with Haviland! Yay! I was like "I'm gonna be Alex Trebeck, and you're gonna be Vanna White, but as if we were on the same show." She was like, "Obvs."
Marni: Because the weather was so beautiful, we decided to do Speed Dating outside. We arranged a big row/circle of chairs facing each other and one side moved over one seat after every 2-minute round.
Brittani: I think speed dating was the surprise hit of the weekend. I spent most of the time hauling chairs from the lodge to the outside area while Jess and Hannah came up with conversation topics for each round. Campers kept showing up and I kept hauling chairs. All of that physical labor left me in dire need of "hydration." I was so "hydrated" that when someone wandered up with only a few minutes left in the activity and they were looking for a volunteer to keep the numbers even, I figured it'd be fine if I jumped in. I was even lucky enough to spend a couple minutes on the Island of Love with Chicagostraddler, Rachel. There was magic in the air.
Carly: It was one of the most wonderful and entertaining things I've ever seen, and after a few minutes a crowd of Autostaffers had gathered to watch the shenanigans unfold. It was really something.
Laneia: Megan and I stumbled upon the speed dating situation on our way to grab a thing from our cabin and it was FASCINATING. So fascinating, in fact, that we were transfixed and had to keep watching it. Someone said, "It's like watching National Geographic: Lesbians In The Wild." And it was. It was just like that.
Marni: Nobody ever wanted to rotate! It was so cute and hilarious. Hannah would blow the whistle and everybody would look at us like "why are you harshing our mellow?" It was almost as though the whole "speed dating" thing was unnecessary posturing.
Sidenote: Have you ever tried raspberry vodka? It's not great, but it's better out of Hannah Hart's cup.
Gabby, Rubyfruit Counselor: I never thought I'd be in the mountains, surrounded by queer women and having my mind blown by amazing poetry at the Poetry Fest. Surreal. At first, no one wanted to read their work. Everyone was focused on their black-out poems. Then one by one our people got up and did their thing.
Whitney: There were blackout poems and spoken word poems and written poems. There were collaborative poems and poems that started with anxiety and ended with sighs of relief and poems that started with trembling and ended with tears (the good kind of tears).
Carmen: Despite my efforts to not have overwhelming feelings at my own workshops, the poetry group ended up engaging in open crying, group hugging, over-sharing, and group poetry-building (which, thank God, took us to a hilarious and dirty place).
Whitney: I read a piece about my mother to everyone and cried one of those exhausting, good cries — everyone gave me a gigantic hug. The best kind of hug.
Gabby: Alex Roxx came to me for help afterwards on her poem and then performed it at the talent show like a badass, making everything that happened in that workshop come full circle.
Whitney: If there is poetry in the mountains, there will be feelings. And there were so many feelings.
Lizz: In a lot of ways I was most scared for the style workshop. I mean, this is what I'm supposed to be doing for Autostraddle. Was this going to be the moment where I was found out as a fraud who actually just likes online shopping too much?
Instead it went really super well! We just all sat in a circle and talked about out fashion feelings. What style meant to us, what we were all looking for. A lot of people said things I've often felt– that they wanted to spice up their look or look more queer but weren't sure where to start.
If nothing else, campers left the style workshop knowing that J.Crew sells great button-ups for busty women and it's okay to look nice for no reason.
+
VII. Formspring Friday Live: The (Word) Limit Does Not Exist! 
Riese: This was one of our first ideas for camp. Since Laneia and I sport 1,000+ unanswered questions on formspring — an online anonymous question-asking interface which feeds our answers onto the autostraddle tumblr — I thought we could knock five or six off the list by letting anybody ask whatever LIVE IN PERSON.
Alex: Based on the impromptu poll we took at the start of this panel, a surprisingly low number of people actually knew what Formspring was but so many people showed up at Formspring Friday Live! to ask their weirdo questions anyway! It was awesome.
Laneia: This was my first and only panel and it was so so neat and fun. We passed around a few notebooks so the campers could ask things anonymously, which helped alleviate some of the pressure that I think the audience might have been feeling — or maybe I'm projecting.
Crystal: Speaking in front of a full room is pretty much my worst nightmare, but thankfully no one else on the panel seemed to share that fear and so I didn't need to say much at all.
Riese: I made a mental note to myself that it's really important to get some sleep before you talk to groups of people all day — but again, like every time I talk in front of a group, I can't really remember afterwards what I said. I hope it was funny.
Laura: I don't have much practice with formspring, so I mostly sat there on stage drinking whisky out of a disappearing coffee cup and laughing because everyone is hilarious.
Laneia: Formspring Friday Live was exactly what I'd wanted the whole of camp to be — just all of us talking to each other. It felt like hanging out with a room full of friends, which sounds cliche but I'm serious. I wish we could've had dinner in there together.
Alex: We "answered" questions, but also asked the audience questions ("How many of you comment" etc) thanks to Camper Emily who suggested this idea. Turns out a lot of people just wanted to talk about the website itself and the behind-the-scenes stuff, which was a special moment for all of us I think. My heart grew two sizes that day.
Rachel: The embarrassment I later felt at telling the story of the first time I had sex with a boy was mostly outweighed by the intimacy and joy of the on-stage lesbian sex demonstration Laneia and I took part in.
Crystal: Rachel and Laneia's demonstration of lesbian sex was magical / essential.
Riese: Emily's idea for us to be able to ask THEM questions was awesome. We found out how many people comment, how long they've been reading AS, and had a long conversation about whether or not they felt like the site was cliquey or a "personality cult" — it was sweet to hear them say that our friendships and love for each other going on in the background of the site made them like it more. We talked about site-related tech stuff too, and afterwards Rachel W and Cee talked to us about being able to help with some of our tech needs. Also, I learned that NONE OF YOU BITCHES WATCH THE REAL L WORD, but y'all read my recaps. CHEATERS. It's not fair to make me watch it alone!
It was like a Team Meeting, but with answers to the hypothetical questions that always come up in team meetings.

Next: At night everybody gets wet!
Pages: 1 2 3See entire article on one page