Welcome to the second of four fantastic recaps of our entire experience at the First-Ever A-Camp, which took place two hours outside of Los Angeles at Alpine Meadows in Angelus Oaks, California, from April 26th-29th.
The idea was to take the spirit of the website into three glorious dimensions while simultaneously creating an affordable option for queer ladies for whom other lesbian events (such as Dinah Shore) aren't a good fit. So, we rented out a summer camp in its off-season and enjoyed a transformative weekend of fun, friendship, panels, workshops, classes, sports, entertainment, events and so forth.
These epically long monster-posts will do their best to explain and extrapolate upon the camp experience, from shitstorms to emotional revelations to glory/triumph.
Yesterday we got stranded on the side of the road and today we cast our eyes upon Friday, April 27th — our first full day of camp!
+
+
Friday April 27th
+
I. Morning Has Broken
Marni, Camp Co-Director: I woke up before breakfast and headed up to Wolf Lodge to start getting materials and things together for the morning's workshops, only to find Robin – who had been up since 7 – just finishing up putting colored signs on the outside of the meeting spaces. She greeted me with a bright and cheerful "Good morning!!" as she taped up a sign-up sheet for flower pressing. In her captain's hat. Love that girl.
Carly, Videographer: I was rested and ready to get going when I woke up on Friday morning. Which was good, because I was going to need that extra energy to get me through what would wind up being the drunkest night of my life.
Lizz, Rubyfruit Counselor: Breakfast Friday morning was my first real chance to see everyone at camp. I was blown away by how many campers actually knew who I was! I assumed I'd just be Autostraddle Writer #5158 to them, but a lot of people said they liked my writing. Even though I've been with Autostraddle for over a year, up until then I'm not sure I'd really considered myself a writer before. I was wicked flattered — a lot of campers said they'd bought blazers because I told them to. I suggested they buy a second blazer.
Carmen, Sharks Counselor: I made a joke about how I enjoy serving others because I'm half Hispanic. I was then named Hopper for the morning and saw way too many eggs.
via text:
Laneia – Marni it's Laneia. Everyone in my cabin is still asleep. Wtf time is breakfast.
Marni – Now, almost over.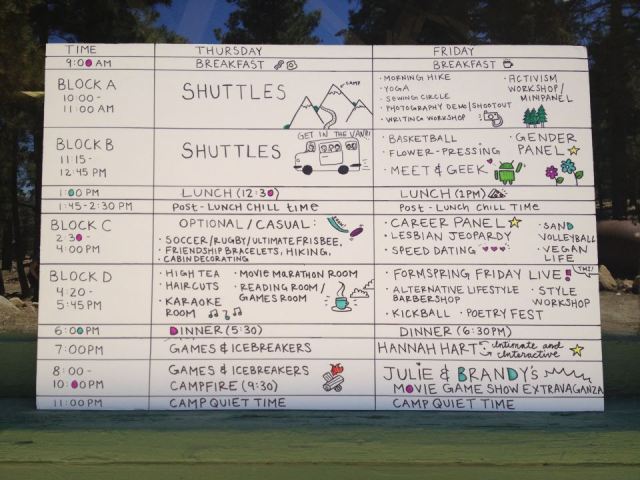 Laneia, Executive Editor: We caught the final three minutes of breakfast, which was just enough time to grab coffee and eat some cereal from a paper cup before being shuffled off to morning activities. This was the first time I was late to a scheduled meal, but sadly it wouldn't be the last.
Also I was wholly unprepared for how little time I would have between activities to prepare for the next one. Just like, totally and completely unprepared. In every way.
Riese, Editor-in-Chief: I woke up after three hours of sleep — and a relatively uncalled-for mental breakdown about Tinkerbell — feeling like a million bucks to the head, got a cup o'cheerios (breakfast of semi-champions) and huddled with Rachel to plan the writing workshop.
Carly: My primary purpose at camp was to shoot a documentary along with Sarah Croce and superstar director of photography, Lauren Aadland. I'd never shot a documentary before and I was also learning how to use Robin's fancy DSLR while up on the mountain, so it was a bit of a crap shoot. An exciting crap shoot. We used our time at breakfast divvying up the day's schedule of events and trying to make sure we covered as much as possible.
Lizz: I think it was just after breakfast, we all came back to the cabin and rocked out to "Call Me Maybe." It was pretty real– we kind of went theme song style with it. I love that all weekendlong when I would go back to Rubyfruit there would just be awesome queer women hanging around doing whatever. It was so surreal. Queer women blow drying their hair, queer women reading, queer women gossiping, queer women writing in journals. It ruled.
*
The  Tinkerbell Saga, Continued:
Background: As detailed yesterday, amid the stress of departing for camp and last-minute transportation issues, Riese accidentally left Tinkerbell in their hotel room. Tinkerbell is Riese's life-long canine companion who got born in Miami in January 2008 and has been with us ever since. She used to be a purse, has been in many vlogs, and sometimes writes for Autostraddle.
Marni: Because Riese had been so distraught about Whitney and her stranded passengers the night before, I didn't tell her at the time that at the exact moment she had learned about the stranded car, I had received a text from Vega telling me that Jess S had tried to retrieve Tinkerbell from the hotel in LA, but when she got to the front desk they told her that not only did they not have Tinkerbell, they had no record of ever having her.
Jess had campers to pick up and had to leave empty-handed, and I spent the next hour playing phone tag with the hotel's housekeeping, security, and front desk, each one bouncing me to the next. Despite the fact that the hotel had initially returned my call to confirm that they had found her, the night shift folks didn't seem to have been kept in the loop and kept trying to transfer me to a housekeeping department that was clearly done for the day. Finally they told me someone would call me the next day. Needless to say, this was not welcome news when I confessed it to Riese later on that night. Tinkerbell had been really excited about camp.
Not trusting them to follow-up, I got back on the horn Friday morning, explaining to a new shift of people that this was a very important item and to call me immediately as soon as they could confirm that they had her. Tensions were high.
Friday Block A:
Morning Hike w/Sarah Croce
Yoga w/Lizz and Jess R
Sewing Circle w/Laneia & Carolyn
Photography Demo/Shootout w/Robin & Sara Medd
Writing Workshop w/Riese & Rachel
Activism Workshop w/Carmen & Katrina & Alice & camper
***
Friday Block B:
Basketball w/Brittani
Flower-Pressing w/Carmen
Gender Panel w/Whitney, Marni, Annika, Sara Medd, Laura, Alex, Jess S, Gabby & Katrina
Meet & Geek w/Taylor, Bren & Lizz
**
II. Thank Goddess It's Friday
Lizz: Only a couple of people showed up for morning yoga. That was sort of okay though, because we found ourselves a nice little corner to nestle in to. Beth (Retreat Center Director), came over and told us we could use the space indefinitely if we planned on doing yoga for the entire day. We lasted about 45 minutes, but I appreciated that she thought we might yoga all day.
Stef, Wolfpack Counselor: During Croce's morning hike, some of the more outdoorsy campers were making fun of the urban, east coast campers for being really excited every time we found a lizard. WE FOUND SO MANY LIZARDS. Everything looked like a beer commercial. I don't go outside much.
Carly: Lauren went on the hike with Sarah and I stayed at camp and got footage of basically everything else that was going on: the sewing circle, writing workshop, photography demo, and the activism panel. Gabby was also grabbing footage, so I was very excited that Friday was off to an excellent start.
+
"[I loved the] Photo workshop. Robin was a wealth of information and very professional, and also really sweet and supportive."
+
Laneia: What was originally named 'BYOB Sewing Circle' had officially morphed into the Embroidery Square (because we were sitting in a square, of course) and was no longer BYOB (because even I can't drink that early). I was nervous no one would show up, but that was silly because a bunch of people showed up! Everyone was so bright and excited to meet each other! We sat on benches made from split tree trunks and helped each other thread needles and make knots, with the most ridiculously gorgeous view that I've ever had the pleasure of being perched in front of.
Also there was Becca!
Carolyn, Sharks Counselor: Laneia and I ended up co-opting the brains/fingers of a camper with vast embroidery knowledge — and the samples to prove it — Becca. It was really lucky she showed up and was awesome about teaching everyone.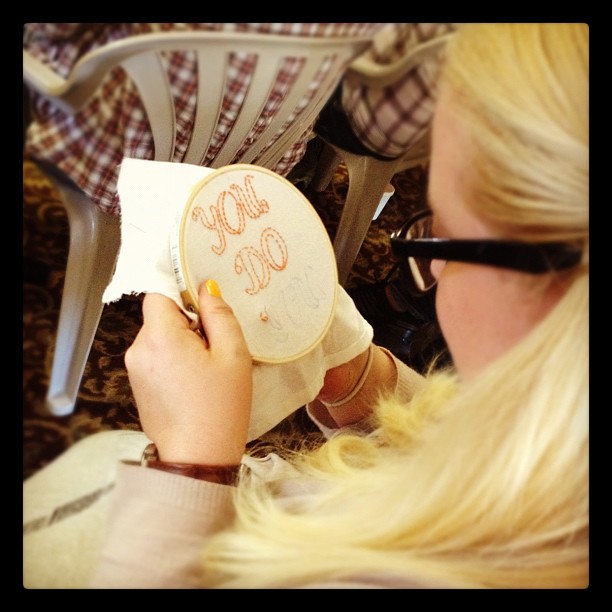 Marni: I was on a mission to hang the pigeonholes on the wall outside Wolf Lodge, with the assistance of fellow industrious Canadian Emily Choo. Emily was pretty set on some kind of "suspension" method using string and a pipe that ran along the upper part of the wall. I was unconvinced, and decided instead to experiment with broken sticks taped to the wall as tiny support ledges for each box, supplemented by tape along the top. Finally I gave up and just started taping the suckers directly to the wall, which worked great. I had three boxes up before Emily – still in deep concentration with her string – finally conceded defeat. If we'd had duct tape then no discussion would have been required.
+
Carmen: I blew up a beach ball for twenty minutes as we waited for The Activism Panel to actually start (mostly because I've never shown up early for something in my life and had no idea what the hell to do with myself). Once words started happening, though, it became clear that our "planning this by saying the word 'feelings' to each other via email" strategy had panned out.
Katrina, Cherry Bomb Counselor: We were so unprepared for this panel that it was more or less comical. That being said, I was really excited about how it went. I hope everyone takes up Katie's challenge to go to three meetings/demos/protests. I think they'll find what they're looking for.
Riese: For the Writing Workshop, Rachel and I tossed around prompt ideas but then were like, "well, anybody could give out writing prompts" and then my surrogate daughter Emily Choo suggested we do it in the style of a "master class." I haven't been a master of anything since my Dungeons & Dragons days, so this was very appealing. We made a game-time decision to ask the workshop what they'd prefer, and they were down to just open it up to questions about How to Be a Writer — how/where to submit your work, how to get started, the benefits/drawbacks of MFA programs, getting a web-based writing job, etc.
Rachel, Littlefoot Counselor: I still feel like I maybe don't have enough of a "real writing career" to say anything intelligent about it, but then we did this workshop and it felt really good! It was really exciting to see so many awesome, smart, self-possessed queer women who are writing and who want to make a living at it.
Riese: The weirdest part of the 'workshop' was realizing I am an expert on a thing. Taylor wandered through at some point, and as one of our most spectacular success stories I invited her to share tips too (Taylor and I met at a Halloween party Carly threw in late 2009, and we talked about the site a bit and that I was looking for a tech writer — she emailed me later that week and said she wanted to write for us and linked me to her tumblr, which's the only place she'd published anything online. She had the voice  and I knew she'd be a perfect fit so one thing led to another and Taylor launched our Tech blog and because of that experience realized that she wanted to be a professional writer! Now she works for Tecca and ReadWriteWeb as well as AS).
Also there was another me inside my body who was just looking at everybody in the circle and smiling.
Lizz: I walked in on the writing workshop just after it had finished and was instantly jealous of all the girls who got to gather around Riese and Rachel and soak up their wordiness.
Laneia: After the first block of activities, I had to get the supplies lined up for the next crafting workshop, which happened to be Flower Pressing with Carmen. I'd kept six bouquets (of the finest flowers my local Trader Joe's had to offer) alive for over three whole days so these lovely campers could press them, and I was pretty excited about that. The point is, this was when I realized that a) whatever 'organizational readiness' plan I'd naively thought I'd created was definitely not going to work and b) there was little I could do about it now.
Carmen: The best team-building exercise of all time is having a room full of queer women lift heavy stones to place on top of heavy books to turn flowers into flattened beautiful things. I was made to look a fool by pretty much every single person in the workshop, all of whom possessed better book-making intuition than I.
Brandy, "The Talent": Julie and I slept through breakfast and woke up with pounding headaches courtesy of the vicious cocktail we like to call "Kettle/soda with a splash of altitude." We stood around outside our cabin eating Snap Crisps and drinking Bloody Marys while we waited for the lunch bell to ring. This was our first view of the campsite during the day and it was fegging gorgeous!
Katrina: The Alternative Lifestyle Barbershop was my favorite thing. We turned it into a real queer barbershop with a bunch of homos sitting around, sewing, drinking, talking, laughing, loving, and breathing.
Lizz: I'm pretty sure Katrina changed lives.
Katrina: I'm still so grateful to everyone who trusted my amateur hands, especially those who engaged in undercut fun and general short hair transformation. Everyone looked super great, and I hope lots of women are touching your hair right now.
Rachel: Okay, the only way in which I was involved in this workshop was getting a haircut from Katrina, but it was awesome and it looks really cute! Thank you Katrina!
Katrina: Were there no Shane jokes because everyone knows that shit is tacky, or because I wasn't wearing enough eyeliner? I can step it up next time you guys.
Crystal: My body will still struggling with the time difference and so after everyone finished breakfast I went back to the cabin for a power nap and slept through the first half-hour of the basketball game that I think I was supposed to be helping Brittani with. It was fine though, 'cause she had that game on lock. Some very athletic looking campers and staff were tearing up the court and although I came fully prepared to join in, my body thought it was 3am and I just sat on the bleachers and watched. If you missed out on seeing Hannah Hart playing basketball then you missed out.
Carly: Robin volunteered to get footage of the rest of Block B so that Lauren and I could go play Basketball with Brittani, some campers, and a barefoot Hannah Hart.
Brittani, Hotel California Counselor: The basketball court was in the ideal location. Situated next to a drop off that led into the woods, watching the ball go careening into the grass turned a normal game into jungle basketball which sounds more badass and is better for your heart.
Carly: I haven't played basketball in over two years — when my "career" was derailed by a sprained ankle — and I also haven't done any sort of "physical" "exercise" in well over a year, so this was ill-advised at best.
Brittani: We gathered enough campers to get a full court game going and even though a couple of people claimed not to be that good, everyone was getting buckets. Angeline even had the foresight to bring her super nice ball to camp so we looked like pros. The best part was that people came just to watch us but we were all super shy and meek so no one tried to show off for the hot ladies in the stands at all.
Carly: I somehow managed to injure several toes during the game.

Next: The glory of the gender panel and so much more!
III. The Gender Panel
Riese: The Gender Panel was my favorite activity of the weekend and one of our best-attended daytime activities — we had so much variety there, from butch to trans* to "hard femme" to genderqueer to boi to femme to "grey area" and beyond. I know gender identity is something that rarely (if ever) gets discussed outside of queer/feminist communities and that this had serious LIFE-CHANGING POTENTIAL. Also I'd given myself this Activity Block off in order to attend the Panel, which was a big deal.
Marni: The gender panel was the only activity I got to really actively participate in, and I'm so glad I did. We had had a bit of an email string together leading up to camp, but only got a chance to really sit down and talk about it that morning before the panel. A few people weren't sure they had much to offer, but everyone insisted that each person's experience was valuable in its own way.
Annika, The Beats Counselor: We all met around an hour before the panel started to go over which questions we were going to discuss. I was expecting a crowd of maybe 20-30 people but OMG there were so many of you! I was nervous and didn't even get to half of what I wanted to say, but the panel still went really well. I really enjoyed learning from the other AS writers' experiences of gender. Sometimes it's easy for me to get wrapped up in trans* stuff so this was a good reminder that cis people have gender identities too!
+
"I thought it was amazing that there were all kinds of queer women on the gender panel, including femme cisgender women. It emphasized the fact that gender is everyone's issue, and something everyone has to think about and deal with in their own way. This panel was phenomenal. Especially everything Marni said."
+
Marni:  I shared some things on that panel that I've never told anyone. Afterwards, a few campers told me that what I'd said had really struck a chord with them, and one camper even told me it was the first time she'd heard something that close to her experience being articulated. It's amazing how affirming it can be for us to just hear each other's stories and think, "Yes, that's it. That's me too."
Jess S., Forever 21 Counselor: The gender panel was not only the first panel of the weekend, but also the very first panel some of us (myself included) had ever been on. We were nervous, but I think we modeled through it pretty well.
Whitney, Rubyfruit Counselor: There were so many amazing perspectives on gender and gender identity in one place, on one panel. I talked about identifying as genderfluid and genderqueer, and how my gender presentation has fluctuated and oscillated over the course of my life — from binding and men's hair cuts for several years to long hair and bras for another few years. It was great hearing about the experiences of other gender warriors (as I'd like to call them). WARRIORS.
Laura, Little Rascals Counselor: This was hands down my favorite thing to be a part of. It was one of those moments where something that would either go terribly wrong or nowhere in real life happened just how it should at camp. Everyone had such insightful things to say and I learned a lot from everyone else who participated on stage and in the audience. I also got really nice notes in my pigeon hole afterwards and that was a happy start to camp.
+
"The Gender Panel was so raw and beautiful…without even meaning to do so everyone talked about the intersections of their own class, race, culture, height w/r/t their gender expression. It was beautiful. Annika did an AMAZING job moderating it. I think it was the best put together and thought provoking panel. Also, she's super hot."
+
Carly: Lauren, Brittani and I stopped by the gender panel and I was completely blown away by what I saw. The room was packed and the lovely panelists were just completely killing it. I kept wishing I could have been there to see more, or that I could have been a part of it.
Riese: It was adorable that both my present girlfriend (Marni) and my ex-girlfriend (Alex) said that when they were younger, they used to see girls they liked dating douchebag boys and think, "I would be such a good boyfriend!" It's true, they're both really good boyfriends. There was so much applause and laughter.
Marni: At one point I actually got up and left the panel for a minute because I got a call from the hotel in LA. It was my new bff from security telling me that they did indeed have Tinkerbell, and that they would hold her until someone could come and get her on Monday. It was an A-Camp miracle!
Riese: (see?!)
IV. Meet & Geek
Lizz: The "Meet and Geek" activity was where I discovered I love Bren. It was amazing to hear Bren talk about leaving a civil engineering field after 10 years. Seriously, Bren is awesome. I talked about my background and sort of couldn't believe that anyone would care about what I do for a living. It was sort of the first time I realized I actually have a story to tell that might make a difference in someone else's life. I'm also 90% positive I bored the shit out of everyone when I explained my research.
Bren: I was freaking out because we hadn't really discussed what was happening. Taylor, however, had this shit on lock. She'd made signs and designated meeting pods in Deer Lodge for each geeky interest of choice (comics, sci-fi, etc.). She made merit badges! Merit badges! (I still have mine.)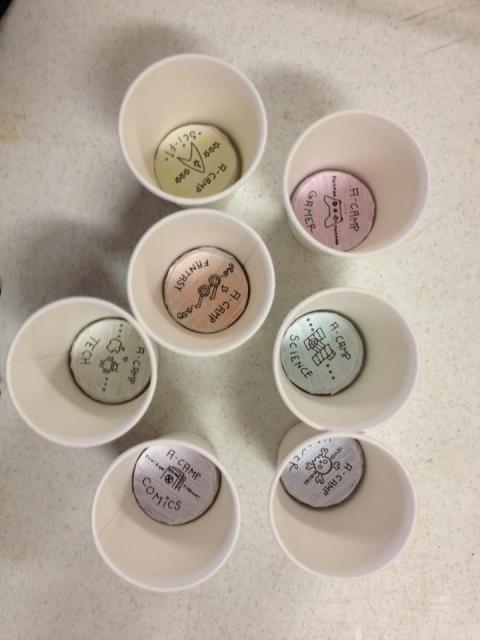 Bren: I don't think you can truly call yourself a geek until you've traveled across the country, climbed a mountain, and slept in bear infested woods just to sit in a room and talk to other people about video games.
Lizz: Then I overheard Taylor talking with Julie and Brandy about the Meet and Geek and wondering what RNA was. I burst in science style and gave a full blown impromptu lesson on DNA, RNA and proteins. I ended up using a construction metaphor which is, by far, the gayest type of metaphor.
*
Friday Block C:
Career Panel w/Crystal, Meredydd, Alex, Taylor, Carolyn & Jess R
Lesbian Jeopardy w/Riese, Haviland, Lizz & Jamie
Sand Volleyball w/Robin & Bren
Vegan Life w/Rachel & Croce
Speed Dating w/Hannah Hart
**
Friday Block D:
Kickball w/Jamie
Poetry Fest w/Carmen, Whitney and Gabby
Formspring Friday live with Rise, Laneia, Rachel, Taylor, Alex, Crystal and Laura
Style Workshop w/Sara Medd & Lizz
**
V. Love & Other Outdoor Sports
Jamie, Little Rascals Counselor: We had no bases or baseball diamond for kickball, and instead used pine cones and guesswork – all true facts. Also, altitude will kick you in the face! But I was pleased with the turn out and having any excuse to use my time drunk on Bud Lite Lime on a kickball team in Brooklyn last summer as a reason to contribute something else in this world. This time no one kept score which is to say we all won.
Lizz: After Brittani and I discovered one of the campers teaches pole dancing/erotic dance lessons, Brittani hopped on board for a demonstration. I grabbed the campers camera and began filming what would go on to be, perhaps, the greatest moment in sexy dancing history. Brittani learned how to do "The hip thing" and "Booty stuff" and demonstrated her newfound skills for the gathered crowd. When I handed the camera back to the camper, she asked if it had always had the red pause sign. Apparently I never filmed a minute.
VI. Afternoon Delights
Alex, Design Director: Meredydd did an amazing job moderating The Career Panel.
Crystal, Troubletones Counselor: It was great because she was totally on top of her shit while the rest of us seemed to be winging it.
Alex: We talked about being out at work, how to use the internet to your advantage to get a dream opportunity, salary negotiations (knowing what you're worth), how we got started at our current gigs, and other general gay (and not gay) things related to making your way in the career world. Everyone involved had quite different backgrounds, careers, and so there were a variety of insights.
+
"My favorite panel was the career panel. Meredydd talking about spiraling up rather than moving up a "corporate" ladder was very encouraging. I also enjoyed that it was smaller panel."
+
Crystal: I learned a lot from everyone in that session, particularly Meredydd.
Carolyn: I especially loved how many people were freelancers — it's always nice to find out that lots of other people are going crazy/trying not to go crazy alone in front of their computers too. Also guys! LinkedIn party?
Alex: It was a smaller panel than the others, which led lot of back-and-forth conversation between the panelists and the attendees.
Riese: After a thrilling hunt for a computer/printer sitch for me to print the questions I'd written the week before (my favorite topic was "What's the Root?" where we gave the origin of a certain aspect of Autostraddle Lingo and made them guess the lingo), we had Lesbian Jeopardy. I love trivia so it was awesome, Emma drank a lot beforehand and therefore won AND Chrissy knew more answers than Associate Editor Hot Laura.
Lizz: It was super important to me that we do Jeopardy properly, with answers in the form of questions and whatnot. I tried my hand at writing wordplay questions and was about 90% successful. "Gay Homophones" was not nearly as good of a category as "Gay Homophobes" would have been.
Jamie: Mostly lesbian jeopardy was an excuse for me to sit next to Grace (I like to think we have all sorts of inside jokes, but we really don't) and awkwardly try to be useful to Riese. Like the champ that she is Liz came up with the best questions, including a bunch about STIs.
Lizz: As it turns out, "Health For Women Who Have Sex With Women" is the most depressing jeopardy category ever. Also one of the campers, Alice, coined the term "Dental Damnit." I'm still not sure what that means. Honestly though, I don't think Jeopardy would have happened without Haviland. She was so wonderful at pumping everyone up. It made me feel like we were actually on a game show.
Jamie: Haviland channeled Vanna White to keep the crowd abreast of the spicy competition. Buzzers were buzzed, Autostraddle trivia knowledge was tested.
Riese: I got to do a thing with Haviland! Yay! I was like "I'm gonna be Alex Trebeck, and you're gonna be Vanna White, but as if we were on the same show." She was like, "Obvs."
Marni: Because the weather was so beautiful, we decided to do Speed Dating outside. We arranged a big row/circle of chairs facing each other and one side moved over one seat after every 2-minute round.
Brittani: I think speed dating was the surprise hit of the weekend. I spent most of the time hauling chairs from the lodge to the outside area while Jess and Hannah came up with conversation topics for each round. Campers kept showing up and I kept hauling chairs. All of that physical labor left me in dire need of "hydration." I was so "hydrated" that when someone wandered up with only a few minutes left in the activity and they were looking for a volunteer to keep the numbers even, I figured it'd be fine if I jumped in. I was even lucky enough to spend a couple minutes on the Island of Love with Chicagostraddler, Rachel. There was magic in the air.
Carly: It was one of the most wonderful and entertaining things I've ever seen, and after a few minutes a crowd of Autostaffers had gathered to watch the shenanigans unfold. It was really something.
Laneia: Megan and I stumbled upon the speed dating situation on our way to grab a thing from our cabin and it was FASCINATING. So fascinating, in fact, that we were transfixed and had to keep watching it. Someone said, "It's like watching National Geographic: Lesbians In The Wild." And it was. It was just like that.
Marni: Nobody ever wanted to rotate! It was so cute and hilarious. Hannah would blow the whistle and everybody would look at us like "why are you harshing our mellow?" It was almost as though the whole "speed dating" thing was unnecessary posturing.
Sidenote: Have you ever tried raspberry vodka? It's not great, but it's better out of Hannah Hart's cup.
Gabby, Rubyfruit Counselor: I never thought I'd be in the mountains, surrounded by queer women and having my mind blown by amazing poetry at the Poetry Fest. Surreal. At first, no one wanted to read their work. Everyone was focused on their black-out poems. Then one by one our people got up and did their thing.
Whitney: There were blackout poems and spoken word poems and written poems. There were collaborative poems and poems that started with anxiety and ended with sighs of relief and poems that started with trembling and ended with tears (the good kind of tears).
Carmen: Despite my efforts to not have overwhelming feelings at my own workshops, the poetry group ended up engaging in open crying, group hugging, over-sharing, and group poetry-building (which, thank God, took us to a hilarious and dirty place).
Whitney: I read a piece about my mother to everyone and cried one of those exhausting, good cries — everyone gave me a gigantic hug. The best kind of hug.
Gabby: Alex Roxx came to me for help afterwards on her poem and then performed it at the talent show like a badass, making everything that happened in that workshop come full circle.
Whitney: If there is poetry in the mountains, there will be feelings. And there were so many feelings.
Lizz: In a lot of ways I was most scared for the style workshop. I mean, this is what I'm supposed to be doing for Autostraddle. Was this going to be the moment where I was found out as a fraud who actually just likes online shopping too much?
Instead it went really super well! We just all sat in a circle and talked about out fashion feelings. What style meant to us, what we were all looking for. A lot of people said things I've often felt– that they wanted to spice up their look or look more queer but weren't sure where to start.
If nothing else, campers left the style workshop knowing that J.Crew sells great button-ups for busty women and it's okay to look nice for no reason.
+
VII. Formspring Friday Live: The (Word) Limit Does Not Exist! 
Riese: This was one of our first ideas for camp. Since Laneia and I sport 1,000+ unanswered questions on formspring — an online anonymous question-asking interface which feeds our answers onto the autostraddle tumblr — I thought we could knock five or six off the list by letting anybody ask whatever LIVE IN PERSON.
Alex: Based on the impromptu poll we took at the start of this panel, a surprisingly low number of people actually knew what Formspring was but so many people showed up at Formspring Friday Live! to ask their weirdo questions anyway! It was awesome.
Laneia: This was my first and only panel and it was so so neat and fun. We passed around a few notebooks so the campers could ask things anonymously, which helped alleviate some of the pressure that I think the audience might have been feeling — or maybe I'm projecting.
Crystal: Speaking in front of a full room is pretty much my worst nightmare, but thankfully no one else on the panel seemed to share that fear and so I didn't need to say much at all.
Riese: I made a mental note to myself that it's really important to get some sleep before you talk to groups of people all day — but again, like every time I talk in front of a group, I can't really remember afterwards what I said. I hope it was funny.
Laura: I don't have much practice with formspring, so I mostly sat there on stage drinking whisky out of a disappearing coffee cup and laughing because everyone is hilarious.
Laneia: Formspring Friday Live was exactly what I'd wanted the whole of camp to be — just all of us talking to each other. It felt like hanging out with a room full of friends, which sounds cliche but I'm serious. I wish we could've had dinner in there together.
Alex: We "answered" questions, but also asked the audience questions ("How many of you comment" etc) thanks to Camper Emily who suggested this idea. Turns out a lot of people just wanted to talk about the website itself and the behind-the-scenes stuff, which was a special moment for all of us I think. My heart grew two sizes that day.
Rachel: The embarrassment I later felt at telling the story of the first time I had sex with a boy was mostly outweighed by the intimacy and joy of the on-stage lesbian sex demonstration Laneia and I took part in.
Crystal: Rachel and Laneia's demonstration of lesbian sex was magical / essential.
Riese: Emily's idea for us to be able to ask THEM questions was awesome. We found out how many people comment, how long they've been reading AS, and had a long conversation about whether or not they felt like the site was cliquey or a "personality cult" — it was sweet to hear them say that our friendships and love for each other going on in the background of the site made them like it more. We talked about site-related tech stuff too, and afterwards Rachel W and Cee talked to us about being able to help with some of our tech needs. Also, I learned that NONE OF YOU BITCHES WATCH THE REAL L WORD, but y'all read my recaps. CHEATERS. It's not fair to make me watch it alone!
It was like a Team Meeting, but with answers to the hypothetical questions that always come up in team meetings.

Next: At night everybody gets wet!

+
VIII. Marry the Night
Riese: After Formspring Friday I had about ten minutes free, which I used to lie on my bed and stare at the ceiling. Taylor came by looking for a beer and/or action, and I said I'm just being still, and she said, that sounds nice, so then we laid there together in silence for ten minutes being still before dinner. I mean I spend a lot of time indoors alone with my stuffed animal Tinkerbell, so this was a lot of talking.
Brandy: (Pre-game) Julie and I decided to skip the smelly cafeteria, and just stay in our room. So we drank alcohol and ate Xanax for dinner.
Carly: Ever since basketball, my body pain level had been steadily rising from somewhere around a 2 to now roughly a 9, which seemed like something that Jameson could take care of. Over dinner I'd learned that I was going to be an exciting addition to Julie & Brandy's Movie Game Show Extravaganza Eleganza, which was THRILLING. I had no idea what that entailed, however, so I left Lauren to filming and wandered over to Julie & Brandy's cabin.
Brandy: Carly had agreed to be the scorekeeper/DJ for our game and we needed to go over everything. The meeting consisted of Carly sitting on the bed polishing off Riese's left-over bottle of whiskey while teaching us how to play the Smash drinking game that Robin created. (In a nutshell- you drink whenever anyone is wearing a scarf, whenever Ellis is lurking, and whenever anyone says 'what Marilyn would do').
Carly: Sorry Riese! There wasn't that much left anyway.
Riese: Basically, their idea was that they'd ask a trivia question, and whomever got it wrong would be pelted with a super-soaker in the boobs or the vadge. It sounded like a PG-version of every moment of Dinah Shore, except with less skin, no alcohol (well, for the contestants, but I believe the hosts were eventually smashed) more trivia and the comedic stylings of Julie and Brandy. I knew we had a lot of serious shit going on and I agreed that it'd be fun to have something more sexy and funny for people who are into that, but where we celebrate actual queer women (not the gay-for-pays) and the beautiful spectrum of lesbian bodies. Like a grown-up version of Truth-or-Dare? Also, Brandy is obsessed with boobs, which is fascinating. Anyway, they did not disappoint!
Carly: My role was to keep score and play music any time they had to blast anyone with their Super Soakers. NO PROBLEM GUYS, I WAS BORN TO DO THIS.
Brandy: It would be impossible to sum up this wondrous event in one paragraph, but some of my feelings included:
~ hating being on stage in front of people
~ wishing I had Nacho to hide behind
~ seeing Julie's flushed cheeks and thinking she was the funniest cutest girl in the world
~ wondering if frostbite could turn to heat stroke (I got really hot during the game)
~ loving the five adorable angels that volunteered for the game
~ watching Carly DJ the music and add up the score at the same time, and having a realization that Riese, Carly, Liz and Julie are all really smart and that must mean that Jewish girls are the smartest people in the world.
~ knowing how Michael J Fox felt in Teen Wolf when he became the wolf
~ seeing Laneia horrified at the back of the room and hoping she wasn't mad at me for turning into Teen Wolf
Carly: Somehow I was able to keep score, play music on cue, and drink a flask of Jameson (thanks Robin!) at the same time! The game was utterly ridiculous. I was convinced that Beth was going to kick us the fuck out of Alpine Meadows, but I think it just made her love us more.
Carmen: Aside from giving all women showing some skin a standing ovation (whatever I can do to empower you), I also became friends with Jamie at this activity, partially because she is hilarious and partially because we sat next to each other. This is a perfect combination at A-Camp.
Lizz: The image of Brandy wielding a super soaker will forever be tattooed in my mind. Someday it might also be tattooed on my back.
Laneia: I sat way in the back with Riese, Marni and other people and mostly just couldn't believe what I was watching? But not necessarily in a bad way. I mean, it was like the speed dating workshop from earlier, only entirely in reverse and opposite, and with water guns.
Carly: The game didn't really have much of an exit strategy (and I think we were all just getting too drunk to figure it out anyway). I came up with a few bonus round questions and a winner was finally crowned.
Riese: The next day Brandy apologized for being Teen Wolf and and we all learned and grew and changed and thought about our feelings and then all was well in the village. I love them so fucking much.
+
IX. FIRED UP!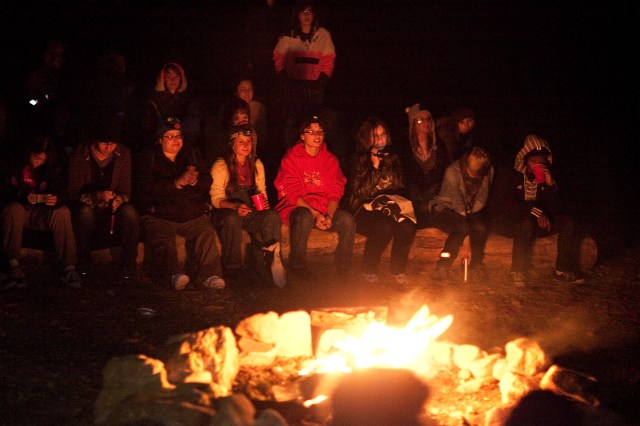 Riese: Then we all trotted down to the fire pit for S'mores! I'd actually rented a car and JOINED COSTCO to make S'Mores happen so it was crucial that everybody imbibe as much chocolate as possible. However we went home with ten billion chocolate bars still intact, and y'all will be seeing those suckers again in September!
Lizz: The thing is that around a campfire everyone is equal. By the light of giant burning pile of sticks I was finally able to finally exhale and just hang out with everyone. We could all just shoot the shit. It's funny how, just like summer camp when I was a kid, camp fast tracked friendships from the "meeting" phase straight to the "openly talking about all kinds of embarrassing stuff" phase.
About halfway through the campfire I really had to pee but no one would go with me to find a bathroom. Everyone kept trying to get me to go pop a squat out in the woods but I was terrified that a badger or a bear would sneak up behind me. Wasteunit had this amazing headlamp she loaned me to trek what felt like a million miles back to my cabin to pee.
Carmen: To be honest, by this point I had met this Olympian named Joanna and I kind of followed her around (as well as Brittani/Alice/Grace/Jamie) for the remainder of my life.
Carly: I stopped off at our cabin to refill my recycled plastic flask. If I had to pick a point in the night where things went wrong, it would be this very moment! The rest of the night is kind of a blur, though I do remember going up to every single person I saw, telling them I loved them and explaining how drunk I was. 7,000ft. altitude + 3 flasks of Jameson = a rough morning, to say the least.
Riese: Carly was SO DRUNK you guys, it was super-cute. We hugged a lot and talked about all the things we'd worked so hard on for the past five years to get here. She said she was proud of me a lot.
Lizz: On my way back to my cabin I was abducted by a bunch of staff off to "Cabin Bomb" i.e. go in to cabins and talk with campers unexpectedly. We went in to the first one and there were some girls in the bathroom… um… privately and they yelled at us to get out because "This isn't your cabin!!!" They definitely had no idea that Riese was the one who had just come in and they probably would have been mortified had they found out.
Riese: I wanted to CABIN BOMB so bad! But nobody was in their cabins or if they were, they were in the bathroom. It was so sad! BUT THEN we hit up Forever 21, aka 21 Hump Street, and they had multicolored drinks and a serious pranking plan. I drank all their drinks since I was the only sober person on the campsite, and sharing all that saliva is the camp equivalent of becoming blood brothers.
Lizz: The next cabin we bombed was planning an elaborate prank involving staying up until 4am. Most importantly, I got to tell my favorite story about Rachel getting drunk circa 2011 Pride to an extremely captive audience. Someone stopped me mid story to let me know one of my metaphors "was a good detail" and I thought to myself "Wow, these are my people."
Alex: I don't remember much after the fire besides running around raiding cabins to talk to our campers. Then passing out really hard.
Riese: Alex was also really drunk and I was super-pumped to go harass more people in more cabins but Alex needed to lie down and I forget what happened to Lizz.
Carmen: The solo cups did not survive this night. I ate a granola bar in Brittani's bed in our staff cabin and left a lot of crumbs. I did not think I would feel bad in the morning. Texted my friends "B really IS hilarious" and "I love Drpaked."
Laneia: What you need to know is that this seemed to be the night when all the drinkers decided to really, really drink, except me! PJ later explained to me that it was because Friday night was a 'safe night' — not the first night and not the last night. This is the best rationalization for a hangover I can think of.
Pages: 1 2 3See entire article on one page