+
VIII. Marry the Night
Riese: After Formspring Friday I had about ten minutes free, which I used to lie on my bed and stare at the ceiling. Taylor came by looking for a beer and/or action, and I said I'm just being still, and she said, that sounds nice, so then we laid there together in silence for ten minutes being still before dinner. I mean I spend a lot of time indoors alone with my stuffed animal Tinkerbell, so this was a lot of talking.
Brandy: (Pre-game) Julie and I decided to skip the smelly cafeteria, and just stay in our room. So we drank alcohol and ate Xanax for dinner.
Carly: Ever since basketball, my body pain level had been steadily rising from somewhere around a 2 to now roughly a 9, which seemed like something that Jameson could take care of. Over dinner I'd learned that I was going to be an exciting addition to Julie & Brandy's Movie Game Show Extravaganza Eleganza, which was THRILLING. I had no idea what that entailed, however, so I left Lauren to filming and wandered over to Julie & Brandy's cabin.
Brandy: Carly had agreed to be the scorekeeper/DJ for our game and we needed to go over everything. The meeting consisted of Carly sitting on the bed polishing off Riese's left-over bottle of whiskey while teaching us how to play the Smash drinking game that Robin created. (In a nutshell- you drink whenever anyone is wearing a scarf, whenever Ellis is lurking, and whenever anyone says 'what Marilyn would do').
Carly: Sorry Riese! There wasn't that much left anyway.
Riese: Basically, their idea was that they'd ask a trivia question, and whomever got it wrong would be pelted with a super-soaker in the boobs or the vadge. It sounded like a PG-version of every moment of Dinah Shore, except with less skin, no alcohol (well, for the contestants, but I believe the hosts were eventually smashed) more trivia and the comedic stylings of Julie and Brandy. I knew we had a lot of serious shit going on and I agreed that it'd be fun to have something more sexy and funny for people who are into that, but where we celebrate actual queer women (not the gay-for-pays) and the beautiful spectrum of lesbian bodies. Like a grown-up version of Truth-or-Dare? Also, Brandy is obsessed with boobs, which is fascinating. Anyway, they did not disappoint!
Carly: My role was to keep score and play music any time they had to blast anyone with their Super Soakers. NO PROBLEM GUYS, I WAS BORN TO DO THIS.
Brandy: It would be impossible to sum up this wondrous event in one paragraph, but some of my feelings included:
~ hating being on stage in front of people
~ wishing I had Nacho to hide behind
~ seeing Julie's flushed cheeks and thinking she was the funniest cutest girl in the world
~ wondering if frostbite could turn to heat stroke (I got really hot during the game)
~ loving the five adorable angels that volunteered for the game
~ watching Carly DJ the music and add up the score at the same time, and having a realization that Riese, Carly, Liz and Julie are all really smart and that must mean that Jewish girls are the smartest people in the world.
~ knowing how Michael J Fox felt in Teen Wolf when he became the wolf
~ seeing Laneia horrified at the back of the room and hoping she wasn't mad at me for turning into Teen Wolf
Carly: Somehow I was able to keep score, play music on cue, and drink a flask of Jameson (thanks Robin!) at the same time! The game was utterly ridiculous. I was convinced that Beth was going to kick us the fuck out of Alpine Meadows, but I think it just made her love us more.
Carmen: Aside from giving all women showing some skin a standing ovation (whatever I can do to empower you), I also became friends with Jamie at this activity, partially because she is hilarious and partially because we sat next to each other. This is a perfect combination at A-Camp.
Lizz: The image of Brandy wielding a super soaker will forever be tattooed in my mind. Someday it might also be tattooed on my back.
Laneia: I sat way in the back with Riese, Marni and other people and mostly just couldn't believe what I was watching? But not necessarily in a bad way. I mean, it was like the speed dating workshop from earlier, only entirely in reverse and opposite, and with water guns.
Carly: The game didn't really have much of an exit strategy (and I think we were all just getting too drunk to figure it out anyway). I came up with a few bonus round questions and a winner was finally crowned.
Riese: The next day Brandy apologized for being Teen Wolf and and we all learned and grew and changed and thought about our feelings and then all was well in the village. I love them so fucking much.
+
IX. FIRED UP!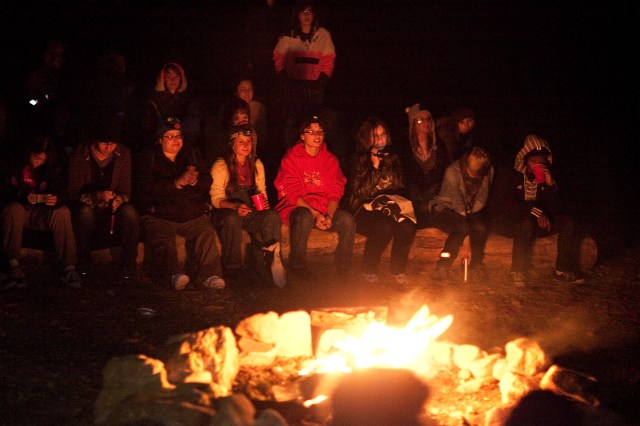 Riese: Then we all trotted down to the fire pit for S'mores! I'd actually rented a car and JOINED COSTCO to make S'Mores happen so it was crucial that everybody imbibe as much chocolate as possible. However we went home with ten billion chocolate bars still intact, and y'all will be seeing those suckers again in September!
Lizz: The thing is that around a campfire everyone is equal. By the light of giant burning pile of sticks I was finally able to finally exhale and just hang out with everyone. We could all just shoot the shit. It's funny how, just like summer camp when I was a kid, camp fast tracked friendships from the "meeting" phase straight to the "openly talking about all kinds of embarrassing stuff" phase.
About halfway through the campfire I really had to pee but no one would go with me to find a bathroom. Everyone kept trying to get me to go pop a squat out in the woods but I was terrified that a badger or a bear would sneak up behind me. Wasteunit had this amazing headlamp she loaned me to trek what felt like a million miles back to my cabin to pee.
Carmen: To be honest, by this point I had met this Olympian named Joanna and I kind of followed her around (as well as Brittani/Alice/Grace/Jamie) for the remainder of my life.
Carly: I stopped off at our cabin to refill my recycled plastic flask. If I had to pick a point in the night where things went wrong, it would be this very moment! The rest of the night is kind of a blur, though I do remember going up to every single person I saw, telling them I loved them and explaining how drunk I was. 7,000ft. altitude + 3 flasks of Jameson = a rough morning, to say the least.
Riese: Carly was SO DRUNK you guys, it was super-cute. We hugged a lot and talked about all the things we'd worked so hard on for the past five years to get here. She said she was proud of me a lot.
Lizz: On my way back to my cabin I was abducted by a bunch of staff off to "Cabin Bomb" i.e. go in to cabins and talk with campers unexpectedly. We went in to the first one and there were some girls in the bathroom… um… privately and they yelled at us to get out because "This isn't your cabin!!!" They definitely had no idea that Riese was the one who had just come in and they probably would have been mortified had they found out.
Riese: I wanted to CABIN BOMB so bad! But nobody was in their cabins or if they were, they were in the bathroom. It was so sad! BUT THEN we hit up Forever 21, aka 21 Hump Street, and they had multicolored drinks and a serious pranking plan. I drank all their drinks since I was the only sober person on the campsite, and sharing all that saliva is the camp equivalent of becoming blood brothers.
Lizz: The next cabin we bombed was planning an elaborate prank involving staying up until 4am. Most importantly, I got to tell my favorite story about Rachel getting drunk circa 2011 Pride to an extremely captive audience. Someone stopped me mid story to let me know one of my metaphors "was a good detail" and I thought to myself "Wow, these are my people."
Alex: I don't remember much after the fire besides running around raiding cabins to talk to our campers. Then passing out really hard.
Riese: Alex was also really drunk and I was super-pumped to go harass more people in more cabins but Alex needed to lie down and I forget what happened to Lizz.
Carmen: The solo cups did not survive this night. I ate a granola bar in Brittani's bed in our staff cabin and left a lot of crumbs. I did not think I would feel bad in the morning. Texted my friends "B really IS hilarious" and "I love Drpaked."
Laneia: What you need to know is that this seemed to be the night when all the drinkers decided to really, really drink, except me! PJ later explained to me that it was because Friday night was a 'safe night' — not the first night and not the last night. This is the best rationalization for a hangover I can think of.
Pages: 1 2 3See entire article on one page