To care for small humans, all you have to do is keep them fed, watered, rested and equipped with the necessary cognitive and emotional skills to process the constant onslaught of heterosexist and cissexist messaging that assaults our senses every day. No big deal, right?
I was one of those kids who inhaled books growing up — as I suspect many of you were too — but now as an adult in bookstores and libraries I'm often exasperated at the options available to my younger siblings. There's so much I want to share with them, and it's rarely easy to figure out how.
Adults can debate endlessly about when it's appropriate to "expose" children to "sensitive" topics like sex and sexuality, gender expression and diversity, non-conventional methods of conception and so on, but kids don't live in isolated bubbles — they're right here in our complex, messy world with us. And for many of us and the kids in our lives — queer kids, kids of queer parents, kids who don't otherwise belong to heterosexual two-parent families, kids with other queer relations — these "sensitive topics" don't just exist in the abstract: they're our lives! We owe it to these kids to help them make as much sense of themselves, their families and our society as possible. That's where these LGBTQ-friendly books come in.
From personal experience, most of these titles will likely be hard to find in store. Buying them on Amazon through the affiliate links in this post will give Autostraddle a small kickback (thank you!), but if you'd rather shop local, plenty of our Queer Girl City Guides will point you to your closest queer bookstore. Try requesting them at non-specialist bookstores, too, so that other kids might find them. Don't have small humans of your own to shop for? Queer picture books make great gifts (the shopping process is far less anxiety-inducing than trying to find suitable clothes, I promise) or your community library might have some use for them.
---
Written by Marcus Ewert / Illustrated by Rex Ray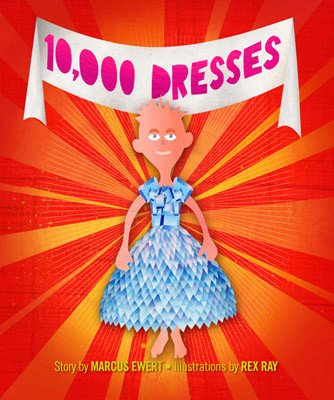 Every night, Bailey dreams about magical dresses: dresses made of crystals and rainbows, dresses made of flowers, dresses made of windows… Unfortunately, when Bailey's awake, no one wants to hear about these beautiful dreams. Quite the contrary. "You're a BOY!" Mother and Father tell Bailey. "You shouldn't be thinking about dresses at all." Then Bailey meets Laurel, an older girl who is touched and inspired by Bailey's imagination and courage. In friendship, the two of them begin making dresses together. And Bailey's dreams come true!
---
Written and illustrated by Innosanto Nagara
A is for Activist is an ABC board book written and illustrated for the next generation of progressives: families who want their kids to grow up in a space that is unapologetic about activism, environmental justice, civil rights, LGBTQ rights, and everything else that activists believe in and fight for.
---
Written by Bobbie Combs / Illustrated by Brian and Desiree Rappa
Have fun with the kids, moms, dads and pets in this delightful book that celebrates LGBTQ families as it teaches young children the alphabet.
---
Written by S. Bear Bergman / Illustrated by Suzy Malik
Tulip deals with the birthday wishes of all the nine-year-olds in North America. When a wish Tulip is unfamiliar with crosses his desk, from a child known as David who wishes to live as Daniela, he seeks the wise counsel of the Wish Fairy Captain and learns some new Wish Fairy Skills. Tulip gets in a little hot water, but ultimately his compassion and thoughtfulness win the day.
---
Written by Justin Richardson and Peter Parnell / Illustrated by Henry Cole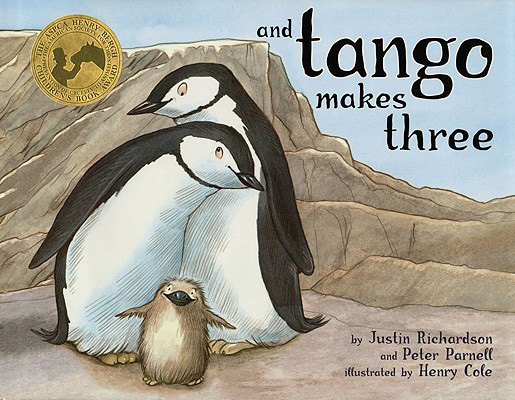 In the zoo there are all kinds of animal families. But Tango's family is not like any of the others. This illustrated children's book fictionalizes the true story of two male penguins who become partners and raised a penguin chick in the Central Park Zoo.
And Tango Makes Three is one of the most challenged books in the US. In a recent incident that was pretty much internationally recognised as a gross move, the book was taken off the shelves — and slated to be pulped, lest its dangerous content fall into the wrong hands — by Singapore's National Library Board together with The White Swan Express: A Story About Adoption and Who's In My Family: All About Our Families. Following public outrage, two of the books were later returned… to the adults' section.
Roy and Silo aren't the only same-sex penguin couples in the Central Park Zoo (just the most popular ones) and Tango later paired with another female penguin herself. However, the male penguins were eventually kicked out of their nest and split up, with Silo taking up with a female penguin named Scrappy and Roy joining a group of unattached males. Anti-gay crusaders would have parents tell their children the "truth" after reading this book and I wholeheartedly agree — not as a cautionary tale, but a wonderfully queer illustration of mutable sexualities and evolving relationships.
---
Written by S. Bear Bergman / Illustrated by KD Diamond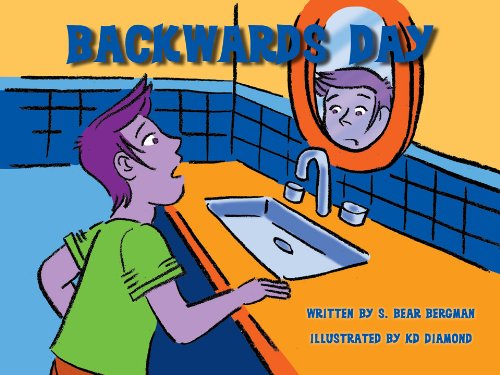 Backwards Day, set on the planet Tenalp, introduces us to a world where there are seventeen seasons, including one where bubblegum falls from the sky for three days and a single day when everything — everything everywhere — is backwards. Andrea looks eagerly forward to Backwards Day every year, so she can turn into a boy for the day. But one year she doesn't turn along with everyone else. She's miserable. The very next day, however, she turns into a boy — and stays that way! He's delighted, but his parents are distressed, and take him to the big city to consult with Backwardsologists.
---
Written by Jennifer Carr / Illustrated by Ben Ruhback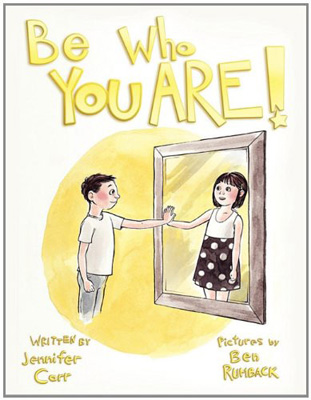 Based on the author's experiences with her own children, this book traces the story of a young trans girl and her family. Born "Nick," Hope's family supports her when she says she no longer wants to be called a boy or dress like a boy. Her parents find a group for families like theirs.
---
Written by Lesléa Newman / Illustrated by Peter Ferguson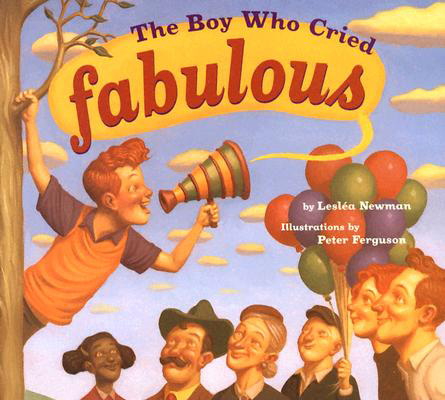 The only thing Roger likes better than exploring the world around him is describing it. And Roger describes most things as fabulous! But his parents have a different view. They want Roger to see things the way they do, so they ban "fabulous" from his vocabulary. Fabulously illustrated by Peter Ferguson, this cheerful tale will have children rejoicing along with Roger at all the fabulous — no, marvelous! no, dazzling! — things that await him when he steps outside.
This book has plenty of repetition, so it's great read out loud in class. What could be more fabulous than a group of smalls yelling "fabulous"?
---
Written and illustrated by Michael Willhoite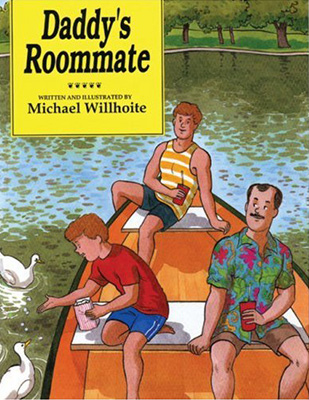 This story's narrator begins with his parent's divorce and continues with the arrival of "someone new at Daddy's house." The new arrival is male. This new concept is explained to the child as "just one more kind of love."
Reviews warn that the characterisation of the couple in this book might be a little dated, but it's still worth looking out for as one of the first few out there (it was published in 1991) to portray a same-sex couple in a positive light.
---
Written by Jennifer Bryan / Illustrated by Danamarle Hosler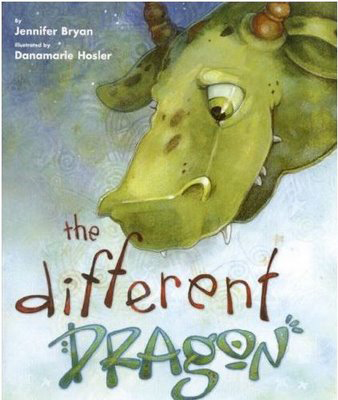 This bedtime story about bedtime stories shows how the wonderful curiosity and care of a little boy, with some help from one of his moms, can lead to magical and unexpected places. Join Noah and his cat, Diva, on this nighttime adventure and you too will leave with an unforgettable new dragon friend!
---
Written by Susan Meyers / Illustrated by Marla Frazee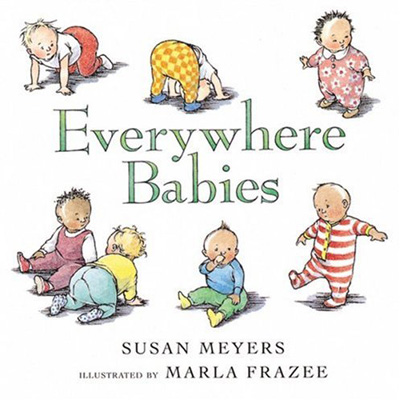 Every day, everywhere, babies are born. They're kissed and dressed and rocked and fed — and completely adored by the families who love them. With an irresistible rhyming text and delightfully endearing illustrations, here is an exuberant celebration of playing, sleeping, crawling, and of course, very noisy babies doing all the wonderful things babies do best.
This board book has gotten considerable flak for its (very, very subtle) "homosexual depictions" of babies being — unthinkably! — cuddled by same-sex couples, so it's safe to say you'll probably love it. With a little luck, it might also be more easily inserted into the libraries of your more conservative relations than some of the other books on this list.
---
Written by Lesléa Newman / Illustrated by Adriana Romo
It's bedtime, but before Felicia goes to sleep she wants to hear her favorite story, the story of how she was adopted by Mama Nessa and Mama Linda. And so Felicia's parents tell her how they flew off in a big silver airplane to meet the baby girl who was waiting for them, and how they loved her from the very first moment they saw her.
---
Written by Brett Axel / Illustrated by Terra Bidlespacher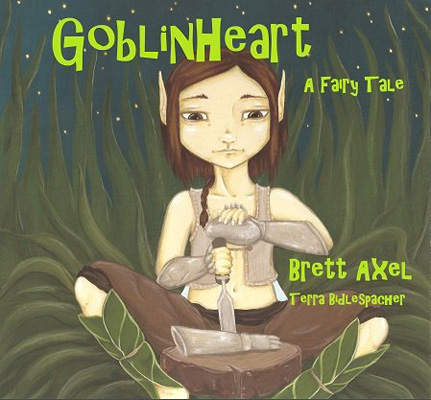 Using "fairy" and "goblin" in lieu of female and male, the author has created a timely allegorical fairy tale. A youngster named Julep, who lives in a forest tribe, insists on growing up to be a goblin rather than a fairy. The tribe learns to accept that Julep is a goblin at heart, eventually coming around to support the physical transition that must be made for Julep to live as a goblin.
---
Written by Mary Hoffman / Illustrated by Ros Asquith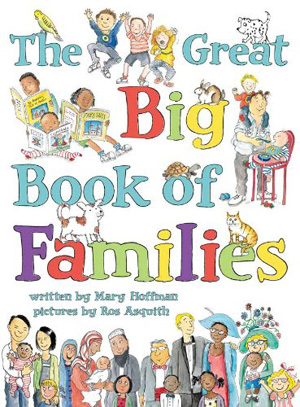 This fun and fascinating treasury features all kinds of families and their lives together. Each spread showcases one aspect of home life-from houses and holidays, to schools and pets, to feelings and family trees. Ros Asquith's humorous illustrations perfectly complement a charming text from the acclaimed Mary Hoffman; kids will love poring over these pages again and again. A celebration of the diverse fabric of kith and kin the world over, The Great Big Book of Families is a great big treat for every family to share.
When I first stumbled upon the wonder of London's Gay's the Word bookstore, this was the first book I bought for my then 6-year-old brother. Not (only) for the queer content, but because it was the only book on the shelves that had a hijabi mother on the cover. Can't recommend it enough.
---
Written by Lesléa Newman / Illustrated by Diana Souza
This minor classic presents the story of Heather, a preschooler with two moms who discovers that some of her friends have very different sorts of families. Juan, for example, has a mommy and a daddy and a big brother named Carlos. Miriam has a mommy and a baby sister. And Joshua has a mommy, a daddy, and a stepdaddy. Their teacher Molly encourages the children to draw pictures of their families, and reassures them that "each family is special" and that "the most important thing about a family is that all the people in it love each other."
---
Written by Patricia Polacco
Marmee, Meema, and the kids are just like any other family on the block. In their beautiful house, they cook dinner together, they laugh together, and they dance together. But some of the other families don't accept them. They say they are different. How can a family have two moms and no dad? But Marmee and Meema's house is full of love. And they teach their children that different doesn't mean wrong. And no matter how many moms or dads they have, they are everything a family is meant to be. Here is a true Polacco story of a family, living by their own rules, and the strength they gain by the love they feel.
---
Written by Robie H. Harris / Illustrated by Michael Emberley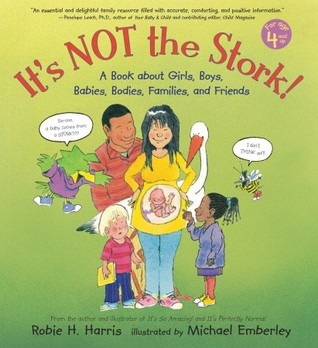 Young children are curious about almost everything, especially their bodies. And young children are not afraid to ask questions. What makes me a girl? What makes me a boy? Why are some parts of girls' and boys' bodies the same and why are some parts different? How was I made? Where do babies come from? Is it true that a stork brings babies to mommies and daddies? It's Not the Stork! helps answer these endless and perfectly normal questions that preschool, kindergarten, and early elementary school children ask about how they began.
---
Written by Todd Parr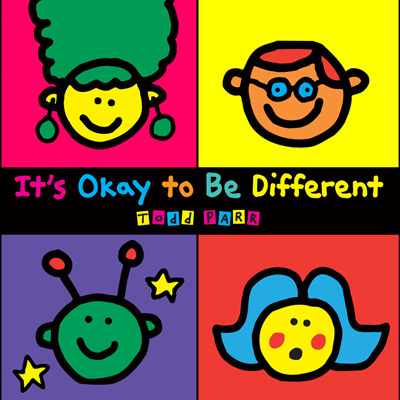 It's okay to be a different color. It's okay to dance by yourself. It's okay to wear glasses. It's okay to have a pet worm…. It's okay to be different!
---
Written by Sarah and Ian Hoffman / Illustrated by Chris Case
Jacob loves playing dress-up, when he can be anything he wants to be. Some kids at school say he can't wear "girl" clothes, but Jacob wants to wear a dress to school. Can he convince his parents to let him wear what he wants?
---
Written by Linda de Haan and Stern Nijland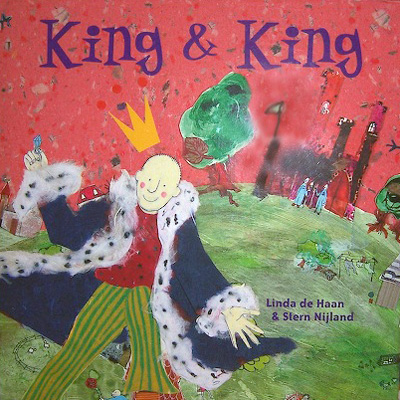 Once there lived a lovelorn prince whose mother decreed that he must marry by the end of the summer. So began the search to find the prince's perfect match and lo and behold… his name was Lee. You are cordially invited to join the merriest, most unexpected wedding of the year.
---
Written by Linda de Haan and Stern Nijland
Join newlyweds King Lee and King Bertie on their journey into the noisy jungle. The kings are greeted by wild animal families, but the royal travelers suspect that something more significant awaits them in the trees. King & King soon discover that there's no adventure more wonderful than starting a family of their own.
---
Written by Roma Downey / Illustrated by Justine Gasquet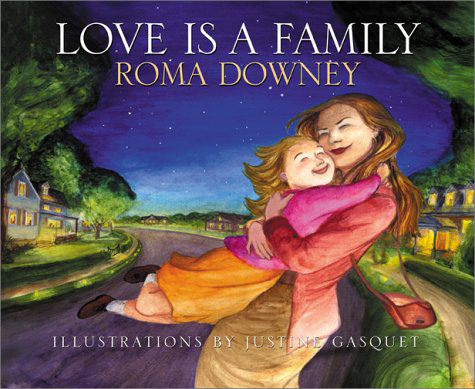 Irrepressible young Lily loves her mother dearly. But when it's time for Family Fun Night at her school, she worries… and worries. What will the other kids think when she just brings her mother? Will they be the strangest family there? But when they arrive at Family Fun Night, Lily sees all her friends having fun with their families — of every shape, size, and color. She learns that there are as many ways of showing love as there are stars in the sky.
---
Written and illustrated by Eric Carle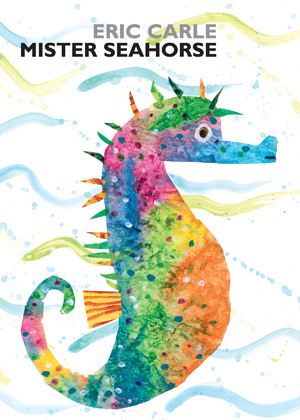 When Mrs. Seahorse lays her eggs, she does it on Mr. Seahorse's belly! She knows he will take good care of them. While he swims waiting for the eggs to hatch, he meets other underwater fathers caring for their babies.
---
Written by Nancy Garden / Illustrated by Sharon Wooding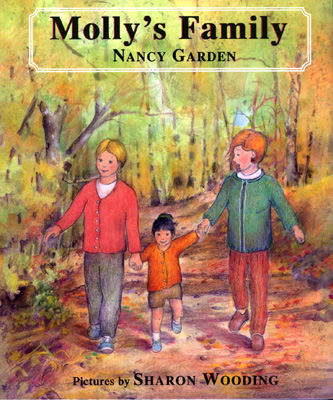 The members of Ms. Marston's kindergarten class are cleaning and decorating their room for the upcoming Open School Night. Molly and Tommy work on drawing pictures to put on the walls. Molly draws her family: Mommy, Mama Lu, and her puppy, Sam. But when Tommy looks at her picture, he tells her it's not of a family. "You can't have a mommy and a mama," he says. Molly doesn't know what to think; no one else in her class has two mothers. She isn't sure she wants her picture to be on the wall for Open School Night.
---
Written by Lesléa Newman / Illustrated by Carol Thompson
Rhythmic text and illustrations with universal appeal show a toddler spending the day with its mommies. From hide-and-seek to dress-up, then bath time and a kiss goodnight, there's no limit to what a loving family can do together.
---
Written by Arthur Levine / Illustrated by Julian Hector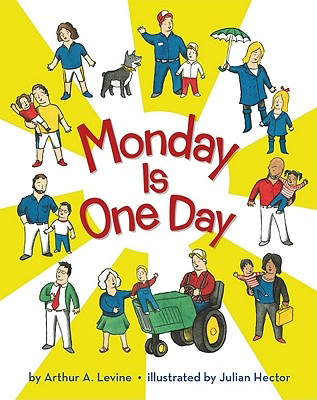 A love note from a working parent to a child, counting the days of the week — each one a special opportunity to spend time together. One by one, the days of the week roll by. Monday is one day, Tuesday is blue shoes day, and Wednesday is halfway day. When Saturday and Sunday finally come, it's time for little ones and the adults who love them to play, share, and celebrate. Every day of the week offers a special opportunity for families to enjoy being together!
---
Written by Cheryl Kilodavis / Illustrated by Suzanne DeSimone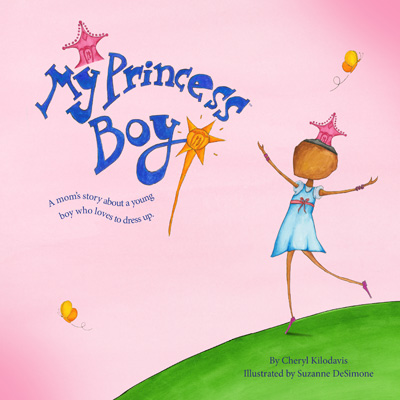 Dyson loves pink, sparkly things. Sometimes he wears dresses. Sometimes he wears jeans. He likes to wear his princess tiara, even when climbing trees. He's a Princess Boy.
---
Written and illustrated by Tomie dePaola
A little boy must come to terms with being teased and ostracized because he'd rather read books, paint pictures, and tap-dance than participate in sports.
---
Written by Cornelia Funke / Illustrated by Kerstin Meyer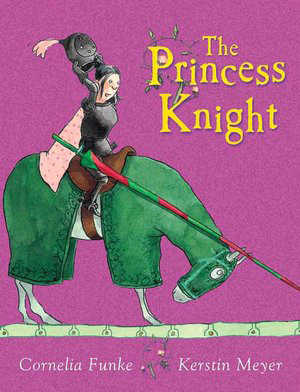 Violet is a young princess who wishes she could show the world that she is just as brave and strong as her brothers. But her strict father insists that she get married, and her brothers only mock her when she wants to be included in their fun. So Violet decides to use her intelligence and bravery to show everyone — once and for all — what she's made of. Disguising herself as a boy, Violet takes part in a knights' jousting tournament. When she wins the contest, she reveals her true identity — and wins the prize of freedom!
---
Written by Verla Kay / Illustrated by Adam Gustavson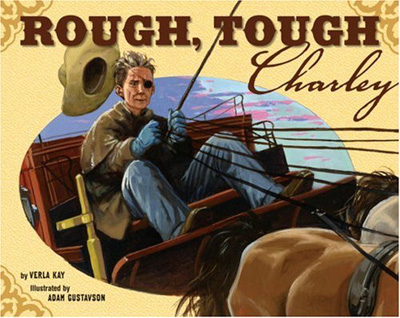 Charley was rough. Charley was tough. Charley wore fancy blue gloves. Charley Parkhurst always was more comfortable around horses than around humans. One of the most respected stagecoach drivers in the old West, Charley also kept one of the biggest secrets anyone could keep.
---
Written by Harvey Fierstein / Illustrated by Henry Cole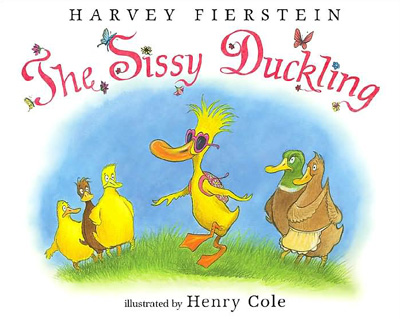 Elmer is not like the other boy ducklings. While they like to build forts, he loves to bake cakes. While they like to play baseball, he wants to put on the halftime show. Elmer is a great big sissy. But when his father is wounded by a hunter's shot, Elmer proves that the biggest sissy can also be the greatest hero.
---
Written by Lesléa Newman / Illustrated by Catherine Stock
Zoe's Uncle Leonard makes her feel special, taking her out to lunch and star-filled afternoons at the Planetarium. Though ill and always tired, he surprises her by decorating the ceiling in her room with hundreds of glow-in-the-dark stars. Uncle Leonard can't promise Zoe when or if he will ever get well, but he reassures her he will always love her and, like the stars, be "close enough to see."
This book specifically deals with AIDS, but would be appropriate for any child coming to terms with terminal illness or the death of a loved one.
---
Written by Cory Silverberg / Illustrated by Fiona Smyth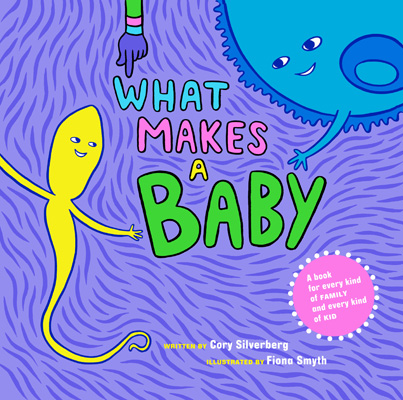 What Makes a Baby is a book for every kind of family and every kind of kid. It is a twenty-first century children's picture book about conception, gestation, and birth, which reflects the reality of our modern time by being inclusive of all kinds of kids, adults, and families, regardless of how many people were involved, their orientation, gender and other identity, or family composition. Just as important, the story doesn't gender people or body parts, so most parents and families will find that it leaves room for them to educate their child without having to erase their own experience.
In 2012, the Kickstarter project to publish this book raised almost 7 times its target amount. I own it and can verify that it is by far the most inclusive, approachable and beautifully illustrated book I've come across explaining the fundamentals of baby-making. And it made Ali cry.
---
Written by Amy Fabrikant / Illustrated by Jennifer Levine
Kyle doesn't understand why the other kids at school call him names. He looks like other boys, but doesn't feel like them. Can Kyle find the words to share his feelings about his gender — and can his parents help him to transition into the girl he was born to be?
---
Written by Elaine M. Aoki and Jean Davies Okimoto / Illustrated by Meilo So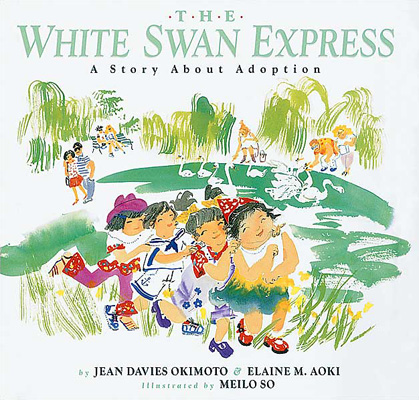 In China, the moon shines on four baby girls, fast asleep in an orphanage. Far away in North America, the sun rises over four homes as the people who live there get ready to start a long, exciting journey. This lovely story of people who travel to China to be united with their daughters describes the adoption process step by step and the anxiety, suspense, and delight of becoming a family.
---
Written by Robert Skutch / Illustrated by Laura Nienhaus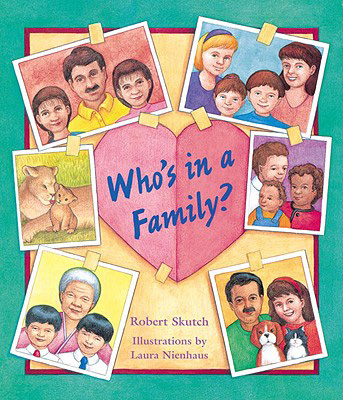 Family is important, but who's in a family? Why, the people who love you the most!
---
Written by George Anne Clay / Illustrated by Lisa Krebs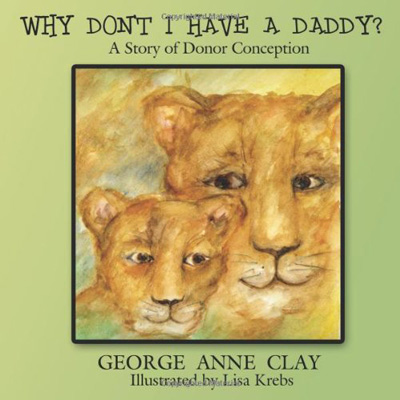 As the little lion cub notices all different types of families, he starts to question his own family. His family consists of his mother and him. The little cub learns that while there is no "daddy" in his family, there is a donor lion who made his life possible. Through his mother's love and nurturing, the lion cub understands how special he and his family are.
---
Written by Charlotte Zolotow / Illustrated by William Pene du Bois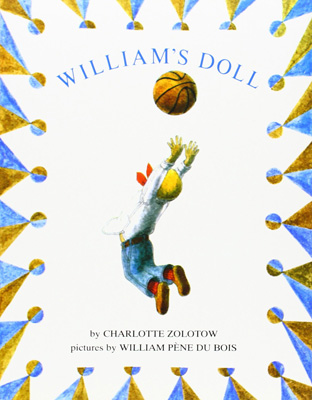 More than anything, William wants a doll. "Don't be a creep," says his brother. "Sissy, sissy," chants the boy next door. Then one day someone really understands William's wish, and makes it easy for others to understand, too.
---
Written by Anna Kemp / Illustrated by Sara Ogilvie
Princess Sue dreams of finding her Prince Charming. But when that Prince proves to be a bit more traditional than what she had hoped for, Princess Sue — along with the help of a fiery dragon — becomes determined to find a way to get the fairy-tale ending that she always envisioned for herself.
At one point Princess Sue looks like she's about to trample the Prince while on her dragon, having bested him in a joust. MISANDRY IS REAL.
---
Written by Lisa Campbell Ernst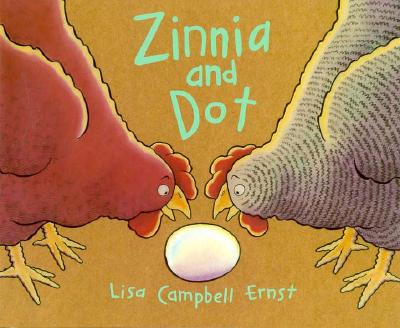 Meet Zinnia and Dot — two plump, self-satisfied hens who bicker constantly about the quality of their eggs. Whose are more lustrous, shapely, smooth? Their rivalry rages until a weasel bursts in and steals the eggs —all but one, a particularly prime specimen. Just in time, they realize they've got to stick together to protect their prized egg.
---
It was, unsurprisingly, pretty hard to find books that featured queer people or families of colour. However, you might be interested in the Flamingo Rampant Book Club!, a soon-to-be-launched children's book series which aims to celebrate LGBTQ2S kids, families and adults, moving away from the dominant narratives of struggle, oppression and bullying, as well as to centre the stories and writing of people of colour. Creator S. Bear Bergman (author of The Adventures of Tulip, Birthday Wish Fairy and Backwards Day, both of which are listed above, as well as co-author of Gender Outlaws: The Next Generation) is currently seeking funding on Kickstarter, while Miriam Zoila Pérez of Colorlines has written a more in-depth piece about the series exploring related issues of marketability, how racism is portrayed (or sidestepped) in children's books, and the portrayal of girls of colour.
---
This list was put together with the help of Pooja Makhijani, a writer, editor, teacher, book artist, mother, and New Yorker living in Singapore. Check out her blog and latest initiative, The Feminist Parent.