Welcome to the fourth of four fantastic recaps of our entire experience at the First-Ever A-Camp, which took place two hours outside of Los Angeles at Alpine Meadows in Angelus Oaks, California, from April 26th-29th.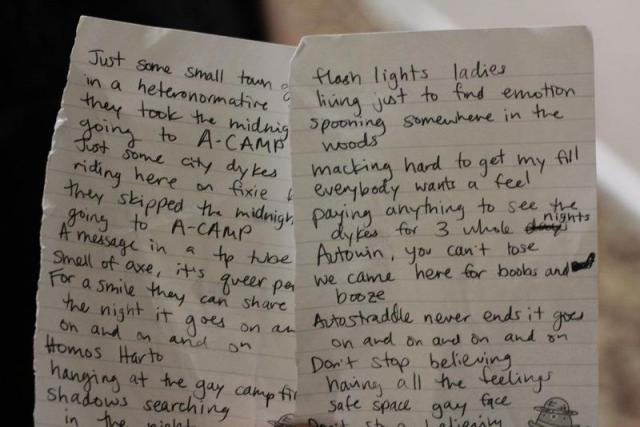 The idea was to take the spirit of the website into three glorious dimensions while simultaneously creating an affordable option for queer ladies for whom other lesbian events (such as Dinah Shore) aren't a good fit. So, we rented out a summer camp in its off-season and enjoyed a transformative weekend of fun, friendship, panels, workshops, classes, sports, entertainment, events and so forth.
These epically long monster-posts will do their best to explain and extrapolate upon the camp experience, from shitstorms to emotional revelations to glory/triumph.
Last week, we got stranded on the side of the road, last weekend we detailed the first full day of camp, yesterday we enjoyed rehashing the last full day of camp, and today we'll talk briefly about the last morning of camp but mostly about camp altogether as like, an experience.
+
Sunday, April 29th
Part One: I'm Wide Awake, It's Morning
Marni: Ah, Sunday. The Lord's day. The day of rest. The peaceful, restful end (technically start) to the week. Ani wrote a song about it. So relaxing, Sunday.
Marni: I woke up at 5:00am on Sunday (after going to sleep around 2:30 once Laneia's car was sufficiently loaded up with leftover craft supplies) in order to see off Bren's 6:00am minivan. I don't know what we would do without the Brens of the world, I honestly don't. There was one person more than we were aware of, and she gamefully volunteered to sit on the floor of the van between the two bucket seats for the two-hour trip to the airport. What choice did she have, really. And so began Sunday.
Laneia: I didn't want to wake up. I didn't want to get dressed. I didn't want to put things in suitcases. I didn't want to go.
Marni: Riese had made some kind of driving plan the day before, but had succumbed early in the night to the overwhelming joy of the talent show and hadn't had the chance to impart the subtle intricacies of said plan to yours truly, so I was left to my own devices to organize and deploy the morning shuttles, armed only with my tuque, a cup of possibly-decaf-coffee, and a spreadsheet that had been left open on her laptop.
One might not necessarily immediately categorize the ensuing events as "success," but I can tell you this much: there isn't anybody left on that mountain as I write this. Not one single human. And we take our small victories where we can.
Carmen: I packed with a Turbie Twist on, since by this day I was done being ashamed of doing my hair routine in front of other people. Joanna left super early and Taylor confessed to all of us that she super loves bananas and wants to start carrying them around in a Banagrams case. I forgot to drink coffee.
Laneia: Megan and I were scheduled to drive our savior AAA Conley to LAX so she could fly back to the other side of the country. Beth had set up some tasty breakfast treats for the early risers, so we grabbed some danishes and coffee and sort of slipped out before I could say a lot of goodbyes or have any real feelings of departure. I did get to hug Rachel and Crystal though. At least there was that.
Laneia: We wasted no time — as soon as we started down the mountain, the three of us were processing our post-camp feelings. I drilled Alicia on what she considered the highs/lows of the weekend and we all talked about wishes and expectations vs. reality. I was pretty much consumed with how I hadn't spent as much time hanging out with campers as I'd wanted to. We stopped at McDonald's for more coffee and Alicia had tea. After we dropped her off at LAX, Megan and I agreed that Alicia had really adorable outfits.
Riese: I woke up and had my intern fetch me a coffee and then I assumed van-plan-duty, which was also the duty of making sure Marni still loved me despite my incomprehensible spreadsheet. I had a surprisingly tasty breakfast situation with my daughter, Emily Choo, and then planted myself in Deer Lodge with my laptop trying to figure out how to get everybody off the mountain while apologizing a lot, and running around like a gazelle.
Sara: Beth set out a sandwich bar for us because we had to leave before lunchtime. I was so thankful that there was sunshine for the drive back down the mountain and not fog. We stopped at a gas station and were reminded that the real world outside has straight people and men and it was disappointing.
Carmen: Between breakfast and lunch I reapplied sunscreen, smoked two cigarettes, made five new friends, halfway became a lesbian club promoter, and continued to follow Brittani around. I saw my first lizard. Also Katrina shared stories with us around a picnic table from the night before. I drank a coffee. I had chosen specifically to wear my YOLO shirt so I could look ridiculous on the plane.
Laneia: I literally couldn't stop talking about camp. Somewhere around Indio I decided that if I didn't eat some Chipotle soon I would probably die. Then I talked about camp while I ate Chipotle and didn't die.
Riese: There were a few hours of respite when all the vans were on the road and we were awaiting their return, which's when I "packed" and said "bye" to people like Haviland and Ashley. Brandy told me she felt the weekend had been transformative and Julie and Brandy said they'd definitely be there next time and my heart enlarged and burst out of my chest.
Carmen: Beth said "vagina warriors" at lunch. Someone got a fortune cookie reading, "IT gets better when YOU get better."
Riese: Which just-so-happens to be what Sarah Palmer and I said in our It Gets Better video.
Whitney: We drove back in a 15-passenger van that Rachel was driving — she said she was actually really enjoying driving the gigantic scary vans ("I'm really starting to identify with van drivers").
Riese: Rachel took TWO LOADS, you guys! TWO. That's 7.5 hours of driving vans with people in them. What would we do without the Brens and the Rachels of the world. Also, at some point I manned a merch table. This was a crucial decision, because later I'd need the cash earned from selling merch to pay the camp kitchen staff to drive campers back to LA because we ran out of vehicles. I'm serious.
Katrina: Rachel was really great at handling those curves if you know what I mean. Laura read us a poem about life being ephemeral, unlike Mike and Ikes, which can be consumed many times. Whitney led a discussion weighing the pros and cons of the camp bear situation being about leather daddies rather than animals.
Whitney: Riese sent out a memo about not having snacks or liquor in the cabins before we got to A-Camp. Why? Bears. Supposedly, bears will come and get you if you have snacks or alcohol in your cabin. While we didn't see any furry four-legged animal bears, it seemed like the gay kind would be more likely to come into your cabins to partake of booze and snacks. And if that happened, I'd totally share my edibles and drinkables with those leather daddy bears.
Riese: Sugar & Fitzi told me that they had a "couples crush" on me and Marni and I thought that was just the cutest thing.
Carmen: I freestyled a full verse as Lil Carmen from her debut hit single, "Two Girls At Once."
Katrina: Carmen rapped, Jamie bought a holographic cat bookmark, and I fell asleep on the wheel of the van, which started vibrating intensely on a bumpy road, which I think counts as getting laid at A Camp.
Carmen: When I woke up from my nap there were men outside the van, which was really strange and off-putting. Also, "I Came, I Saw, I YOLO'ed" was said in the van by Rachel Kincaid.
Riese: A lot of campers weren't flying out until like, 10pm, including our staff, and so like a month before camp I'd decided that we should have a Roller Skating party in the afternoon at a roller rink, like Xanadu + Roller Derby + The L Word. I was imagining pizza, pitchers of soda pop and lots of hand-holding. Unable to rouse group enthusiasm for this project, I looked up nearby excursions and decided instead we could all go to Santa Monica Beach!
Riese: I'd sent out emails pre-camp about it and had my nice list of the 20 or so humans who wanted the field trip. This number exploded on the day of… so for that reason and many others this really ridiculous idea of mine became a giant clusterfuck, eventually, but talking about it will give us all PTSD, so let's pretend like it never happened. I just wanted people to have fun and not be bored in the airport!!
Marni: Six hours, several vans, two SUVs driven by Alpine kitchen staff and many frantic text messages later and we were all at Santa Monica Pier, having The Best Time of Our Lives Unmarred By Any Negative Feelings Whatsoever.
Lizz: Trying to shuttle everyone back to the airport was almost as hard as getting them all there. Dictator-Lizz came out for a victory lap.
Marni: I had a few very tender moments with my Canadians, who were in great spirits and rallied in a manner befitting our homeland.
SAYING GOODBYE
Lizz: Grace and I arrived at the airport hours and hours and hours early. We didn't want to go in to our gates because we were in separate terminals. Unfortunately we also couldn't sit down for a bite to eat because there was no food before security in either of our terminals. Instead, we hung out underneath the last remaining pay-phones on earth while I charged my iPhone. When we parted ways after an hour we went right back to texting like we always do. It strikes me as amazing how I can have these perfectly seamless in person/online relationships. I sort of love it.
Sara: I left a little bit of my heart at each terminal that I stopped at. As I said goodbye to each camper, I realized just how much I was impacted by each of them, and how sad I would be if I never saw them again.
Carmen: Carrie bought me peanut butter pretzels and popcorn chips for dinner. We dropped everyone off at the airport and I said goodbye to Brittani twice because the first time I left all of my flight information, bus information, and shuttle tickets on the dashboard.
Riese: The good news is that Marni had taken all the extra alcohol, so we generously gifted Robin with a prime bottle of Barefoot Merlot to top off the amazing afternoon.
Carmen: I left my terminal after going through security to get a drink with Jamie and Whitney because I felt like maybe I would start crying if I didn't. Katrina met up with me and we went back through security together and I started sweating. I listened to Drake's entire discography on the plane while Katrina slept and Gabby and I drank Corona Extras out of cans.
Riese: We parted ways and Marni and I spent the evening with Crystal in Los Angeles and enjoyed a delightful meal at her favorite restaurant, The Cheesecake Factory. The next morning we went to Executive Van Rental — Lizz and Gabby successfully cajoled them out of charging us for their fucked-up tire, but they did charge us for $200 of "damage" on a different van which was nowhere to be seen. So. Whatever. That part of Monday was so close to the part where we went to the hotel and got Tinkerbell back that it's all just a fever dream at this point.
Marni: Tinkerbell was found poolside, with a fresh tan and mani/pedi, having enjoyed a weekend of self-care and relaxation at the Four Points Sheraton LAX. I'm still not convinced she didn't stage the whole thing.
Carmen: I refused to sleep until I'd written everything down, because I didn't want to lose one moment in the rewriting. I fell asleep right before Saturday and woke up in New York.
Riese: The whole (eight hours) home we talked about next camp, and how to give me more time to hang out with campers.
Marni: Then I slept for three weeks.

Part Two: Feelings
[photos in this section come from: robin roemer, gabby, taylor, carly, vanessa, ashley p, rachel w, mary b, jamie, jess r, elise b, kate h, kelsey d, hilary m and ashley reed]
Riese: I can't believe it actually happened. Really, I can't. I couldn't believe it was going to happen, I couldn't believe it was happening, and now I can't believe that it happened.
Marni: In the end, the brief hugs and loving words I had the chance to exchange with the parting staff were a poor counterfeit for the immense gratitude and awe I felt for each one of them, for the beauty and talent and grace that each one of them brought to camp. It was an incredible privilege to be able to work alongside these amazing women, and so humbling to be able to play even a small role in the labour of love of this army of brilliant, hilarious, and talented warriors. I will be forever grateful for the opportunity to be a part of this vision.
+
"It was a safe space that made me feel welcome and completely at home. The workshops, the cabin assignments, the shuttles- all the hard work that the staff put into our stays and our getting there made me feel loved."
+
"I really enjoyed the panel discussions. They were very informative and I feel I left camp with more knowledge than I came."
+
"[I liked] finding community, meeting my people and being in the presence of so many amazing queer unicorns just like me."
+
Brittani: I don't think I've ever felt less aware of my identity than when I was at camp which is a weirdly freeing experience. I felt at camp like straight white dudes probably feel everywhere. Camp made me feel better about being a person that exists in the world because I know all of you are out there. Now when I think to myself everyone is stupid, I have a sidebar with myself and say, "Except for those A-Campers. They're quality through and through." And then I eat a waffle. For everyone to claim to be so awkward, we had a really non-awkward time.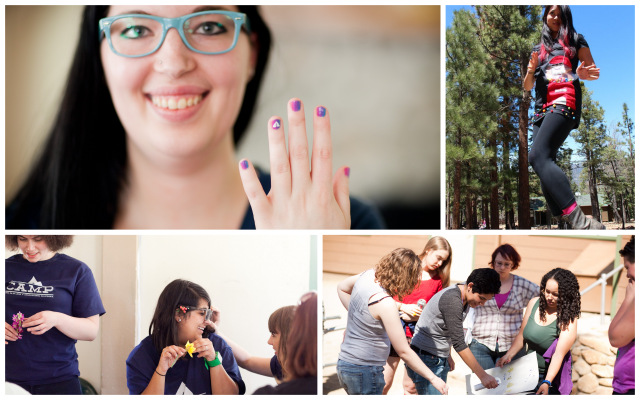 +
"Everyone was really open, accepting and lovely. I felt like I could just relax and be myself without running every sentence spoken through a filter."
+
Marni: I loved being able to meet and talk with all the campers – every single person that I met was so lovely and friendly and interesting – and I really wish, in retrospect, that I'd had more time to just hang out and get to know people more. Next time I'm going to make sure to devote more time to that.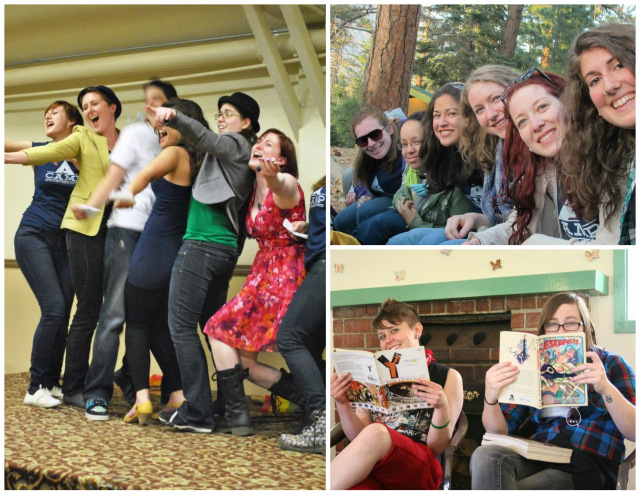 +
"I loved how sweet and welcoming Robin and Marni were, loved my cabin-mates, all the panels I was able to attend, Julie Goldman, the campfires, the talent show, Hanna Hart, all the people who came, etc. Just the atmosphere was my favorite part. Even when I wasn't doing anything, I just felt like I was in the "right" place."
+
"It was amazing to be surrounded by so many talented, smart people and never feel put down. All the love, basically, was the best part."
+
Jamie: The Little Rascals and I didn't get to spend as much time together as I'd have liked, but their Tegan & Sara singing circle and talent show performance will remain in my heart forever.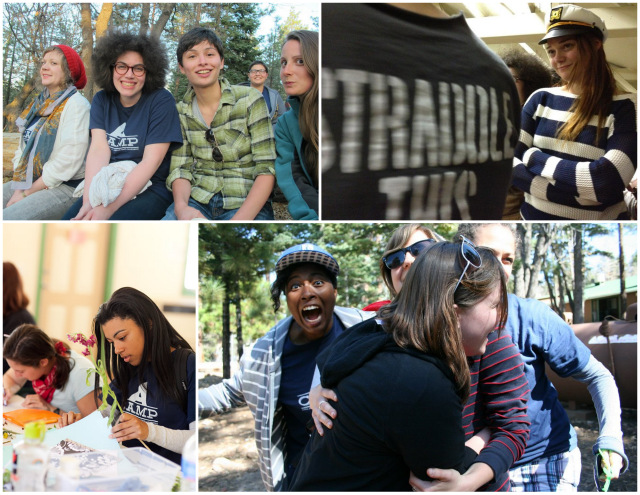 +
"I've never been in such a positive and safe space before, and it was incredible to look around and think, "Wow…all of these girls are totally queer and it's GREAT." Also, I loved getting to chat with other early risers in Wolf every morning. There are a thousand wonderful little things and great panels and awesome campfires, but those were probably my absolute favorite parts!"
+
Annika: My campers made a halfhearted attempt at modesty that lasted for approximately twelve hours. I thought I was being risqué on Friday morning by doing my makeup in my underwear, but then some of the other girls just started walking around topless. By the end of the weekend, it wasn't surprising to enter the cabin and find someone hanging out on the bed completely naked. This was exactly what my friends pictured when I told them I was going to lesbian camp.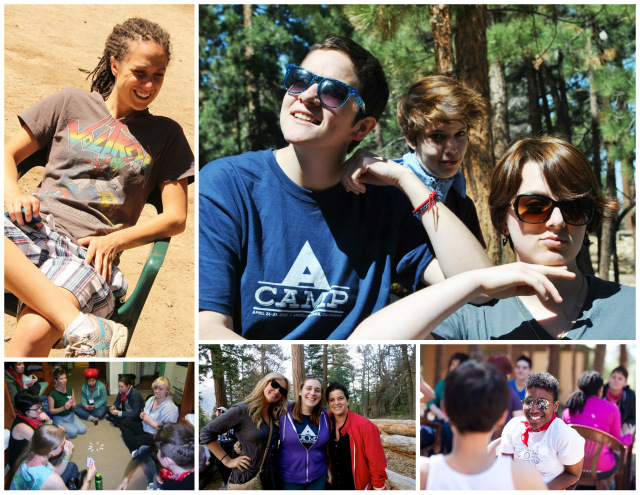 +
"[It was great] having so many (all?) aspects of myself embraced and celebrated in one space. Everyone was so affirmative and positive. It was truly magical."
+
"[I liked] meeting women who were not only queer but actually had a lot of similar interests! Geekery, internet, reading, CAMPING, etc! The panels were very interesting and informative and the activities were fun. The people definitely took the cake though. Good staff + campers."
+
Laneia: The one-on-one conversations I had with campers were by far the best part of everything. I keep thinking about the conversation I had with Fitzi, about being married to a guy and the aftermath of coming out, divorce etc, and wondering if she knew how much it meant to me to hear her story. Talking with her about those things — things that used to humiliate me and leave me feeling completely alone — was basically the culmination of all the tiny parts I've tried to share, terrified, hoping it would matter to someone, for all these years. And it did. And I got to see it in her face! It was all really real. It was a lot.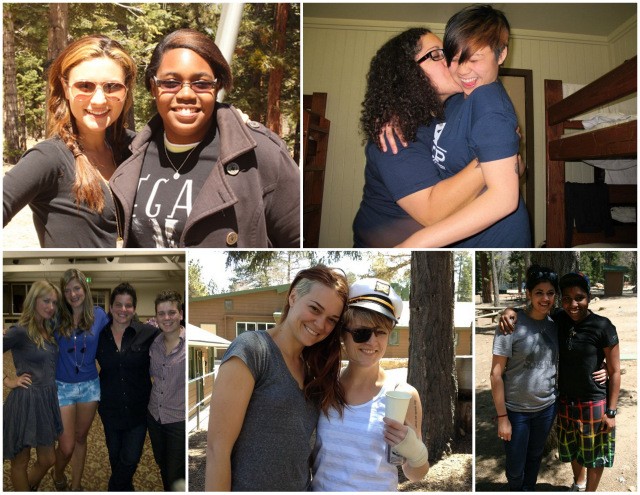 +
"It was strange because I felt like I knew so many of the staff already and yet it was so exciting to put real voices with the amazing people who I had 'known' for sometime now. It was like meeting celebrities and dear friends all at once. In a word, magical."
+
Carmen: To be honest, before I came to A-Camp I wasn't really sure I needed A-Camp. After all, I live, as of today and as of then, in my own little world with about 600 queer separatist friends (which is half a joke and half an accidental reality of our lives). I didn't really realize until I found campers at the airport that this was going to be quite as out-of-the-ordinary an experience for me as it was. A-Camp wasn't just hanging out with lesbians (and otherwise inclined women). Being at A-Camp was like being on Autostraddle, only without the sad articles about homophobes and their stupid cakes and stupid laws and stupid lives, in real life and uninterrupted by 503 Errors.
+
"[It was great] seeing and hearing speak in person the people who I have been reading everyday online for so long. It was pretty surreal to see the website brought to life the way it was. The panels were also really, really good… Activism, Gender, Queer Women of Color, Formspring Friday, and Sex panels were all really smart/funny/awesome/entertaining and were exactly the type of thing I came to camp for. It was very much "the website come to life" which was SO amazing."
+
Riese: At the Formspring Friday panel, we did a quick survey and discovered that maybe only a third of the campers had ever commented on the website. This is typical — only 33% of blog readers will ever comment, it's a statistical fact! Afterwards, Abbey approached me to say she's one of the 66% that never comment, and she said something like, We're here, I wanna say on behalf of the people who don't comment that you don't hear from, that we're here, there are so many of us, and we support you and we love what you do. It's true — most readers and most campers have never and will never comment. We wonder about you guys all the time — what you like, what you're like. And there you were.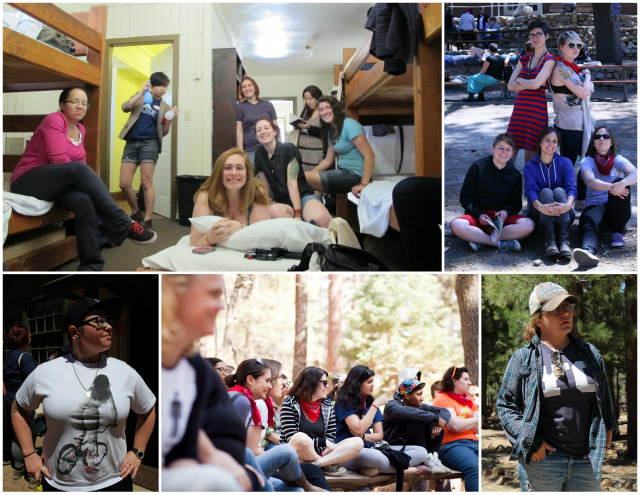 +
"Everyone was approachable and super into just getting to know other people, which made the experience that much better. I am still shocked by the fact that every staff member genuinely cared about us/A-Camp/each other -like, how do you get so many amazing people in one group? Automagic, that's how."
+
Carmen: Everyone sort of understood one another without even needing to speak, and I never felt like people were being harsh, mean, or anything but pleasant. In fact, most people were there to be as nice as possible. My anxiety melted away alongside my first drinking cup, and because of that I felt kind of like I was living this entirely different life for a few days. I liked who I was in that life very much, and I liked everyone else too. If I had let my emotions grab control of me on the last day I would have been such a mess, you guys. I remember Brittani asking me if I wanted to ride shotgun in her shuttle (I did, but didn't end up inside of it), and listening to Lil Carmen with Katrina and Jamie, and then suddenly I was saying goodbye to all of them and texting Gabby and running toward Washington, DC and I just wanted to run back. I'm sincerely sitting on the edge of my seat until next time.
+
"All of the workshops and panels were great! Every time Gabby was on a panel, I knew I had to go. The style workshop and vegan living taught me stuff I can't learn in a gender studies classroom, so that's cool! Then processing all my feelings with cabinmates. Meeting the staff of Autostraddle was really incredible! Omg, Beth. Camp had an indescribable energy to it. Thank you so much for existing and making this happen!!! Every single one of you is super hot/funny/smart and make me happy in my heart."
++
+
Cabin Photos // April 2012
+
+
The Troubletones
"It was nice that [my cabin mates and I] seemed to share a common vision of what we wanted the weekend to be – balance of programming, soul searching, queer lady bonding, high stargazing, whiskey shots, etc. But I really feel like I would of loved any randomly selected group of campers. Everyone was soooo cuuuute!"
+
Forever 21
"I think we formed such a tight bond because we were all in the same stage of life. Being 21, we were transitioning from school to the real world and shared similar experiences and perspectives on the world."
+
Little Rascals
"The cabin was like home base; you could venture off and meet new people, but then you could come back to the cabin and gush about all the cute girls you talked to and your new gender knowledge."
+
Wolfpack
"Whoever put us together realized that we were (almost) all weirdo introverts that would get along well in our nerdiness."
+
Cherry Bomb
"Our counselors were amazing, they were the only ones who opted out of moving into staff cabins, and I will love them forever for that reason. My cabin mates were amazing people who I will be friends with always… THANK YOU for assigning me to Cherry bomb. I know there was a lot of thought process put behind all those flashcards."
+
The Beats
"We all really clicked well, our age range was similar and we were all living in San Francisco, which, I guess takes a similar type of person, lol."
 +
The Golden Girls
"Every single person, including/especially our counselors, were so open, welcoming, honest and had something special that they brought to the group (and I'm not just talking about the booze!). They are just incredible women and I feel so lucky to have met them and spent time with them."
+
+
Hotel California
"I feel like I've known my cabin mates for fifteen years, and still can't understand why we had not met before camp."
+
The Sharks
"I felt like our cabin was very well put together, people had lots in common and seemed to be very similar in temperament, attitude, etc – very easy going, up for a laugh, immediately sociable, friendly… I don't know how the A-Camp team made that happen without knowing us, but it worked. Maybe 'cause a lot of us are Canadian?! All the cabins seemed so nice and friendly and sweet, but I definitely had the general feeling of "I'm super glad that I'm a Shark!""
+
Littlefoot
"Pretty much all of us clicked, and we were all fairly laid back, which was nice. I would have died in a bigger, more excitable cabin!"
+
Rubyfruit
"My cain mates were just awesome. RUBYFRUIT, YEEEEEEAAAH! I did want to know how the cabins were selected because it was kind of an amazing combination… ALSO! LOL I lied about my age to you guys but I totally fit right in. I GUESS IT WAS LIKE, FATE."

+
After cabin photos and the all-camp photo, we took a photo of the A-Camp Staff and also a photo of the team that launched Autostraddle back in March 2009 (minus Tess & Natalie!).
Original team:
+
Present team:
+
On Camp
by riese
A few months after launching Autostraddle in March 2009, we decided to throw a fundraising party for New York City Pride, which took place the last weekend of June. By "we" I mean those of us on the team who lived in New York City, which is to say "almost all of us" — me, Alex, Carly, Robin, Stef and our then-business-manager Brooke. (Isn't it funny that when we made $30 a month, we had a business manager, and now we don't? I think it's hilarious!)
A couple of weeks prior, Brooke had suggested we obtain interns, and so we'd put out a call for interns and literally accepted every single person who applied, developing a 15-strong "Intern Army" deployed to complete mundane duties like "transcribing interviews" and "photoshopping a picture of Sarah Shahi onto a picture of a Volcano." Hoping to obtain their support in promoting our Pride Party online, we let them know that it was happening and provided basic details along with suggestions for press outlets and potential sponsors to contact.
Within a week, Intern Nicole, who lived in the city and sometimes worked with us in 3-D, informed us that almost all the interns had decided to COME to New York for the Pride Party. We hadn't even thought to invite them! But our only not-broke Intern had somehow swung a hotel room via an ex-boyfriend which they all planned to share — yes, all 14 of them. They came from all over the world — Chicago, Belgium, Canada, Los Angeles, Boston, D.C, Philadelphia, Pittsburgh — and they did this despite being broke, despite being 19, despite being college students, despite parental disapproval, despite it being a long way to travel for just one weekend and despite common sense.
But they came because that's how intense one's desire can be to meet other people who think like you do, who care about the things that you care about. They did what they had to do to get there — and I'll get back to that in a bit because that revelation came last, after the weekend, and it's that revelation that made camp happen. Because that's what I'm getting into here is the story of how camp happened.
I think when we tell these possibly self-indulgent stories about times when the Autostraddle team converged and bonded — like Pride '09, Pride '10, the National Equality March, Dinah Shore, etc. — we tend to leave out the terrible parts and we make it sound like we all clicked right away and everything was magical. That's not true. We don't just exclude the unseemly stories — girls throwing up on their pants/in hotel rooms, girls' homophobic parents chasing Alex's car around Manhattan to retrieve their daughter from our homosexual clutches, drunken Palm Springs bar fights that kick-start actual legal battles, or awkward and ill-resolved intra-team crushes — but we exclude the parts where we were just a bunch of awkward weirdos in a room, too.
When the team met the Interns for the first time, at Brooke's Extended Stay Apartment Situation the day before the Pride Party, it was terrifyingly awkward. For starters, the stress of the week had kicked my Fibromyalgia into overdrive, so I was lying on the floor moaning and remained prone until Intern Lex offered me respite in the form of a joint, which we smoked in the shower, dampening our socks and blowing smoke out a tiny air vent while I prayed the kids in the other room had found something to talk about. But also our planned "wordpress workshop" was foiled by dysfunctional Wi-Fi, and the DVDs we'd wanted them to burn for the party wouldn't burn, and it looked like rain and we were 95% sure that none of the interns would get into the party and we didn't know what to do about that or how to tell them. There we all were, in a room! All of us similar people! What the fuck were we gonna SAY to each other? I panicked internally — Is this what happens when you put so many weirdos in a room? We just sit here staring at each other, wishing we could be g-chatting instead, or reading a book?  
I wanted to tell you about that awkward first Pride Intern/Team meeting in my "speech" on the first night of camp so that you wouldn't feel weird if it happened to you, but instead of telling you that I think I just shrieked a lot and covered my face. And then I would've told you that things changed, gradually, over the course of that day and the next. We had a big dinner in Little Italy, and loose after carafe after carafe of wine and high on anticipation, we broke down a little bit, started actually getting to know each other one-on-one, and we kept on like that throughout the weekend. The best part, oddly, was when the interns (predictably) got kicked out of our party for being underage and we all took turns sitting outside with them, where finally it was quiet and we could talk about their lives and what brought them here.
So basically what happened that weekend is that we met 14 of Autostraddle's biggest fans/supporters, and it gave us something past this screen and this keyboard and the miles and hours of bandwidth between us to hold onto. I wrote, after Pride: "I have never felt such overwhelming positivity about a group of people before in my life. Seriously it was almost transcendent and in a strange way totally incomparable to any feeling I've ever felt before."
Sound familiar?
The camaraderie developed by meeting each other made Autostraddle a better website. It made us better people. It got us through that first year when there was no money and very few readers and all our Moms thought this was an enormously terrible idea.
And after that first weekend the interns kept coming back to New York, against all odds. They kept coming back throughout that year and into the next; sleeping stacked like sardines in the sweaty summer of my West Harlem living room, eating mini-pizzas and drinking cheap beer, writing in their notebooks, taking photos in the park, sitting on my bed making lists, getting us coffee in the morning. Some interns dated and/or hooked up and some just drew pictures together.
And the closeted ones started coming out, too — to themselves, to their families, to their friends. Brooke came out to her parents first, like a month before Pride, on the day we first met and interviewed Katrina, and I remember how over mediocre tacos on the Lower East Side we balanced Brooke's jubilant texts with Katrina's interview and I felt like things were moving forward so quickly in so many positive directions, and not just because Katrina was probably on drugs and talking really fast. Most of us on the team were already out, but most of the interns weren't, but gradually and then suddenly — they were.
We were all there in the messy living room on video-chat with Intern Vashti after she came out to her parents. She said it went well, better than she expected, and we all got teary-eyed and this enterprise felt perfectly tangible.
But what I always forgot about in between team events and remembered the moment we all showed up in the same room again was how much we already understood about each other, how much we laughed, how much we felt seen by one another in a way we never felt seen in the rest of the world. I can't put my finger on it, or maybe I don't want to, but there's something we all have in common, and it's not just being queer. I didn't see any reason why that experience should be limited to those of us who run the website. I wanted all the readers to have it, too.
Which brings me to this point: when pitching the A-Camp idea to others, my primary piece of evidence for why A-Camp would work was that 14 interns came to Pride in 2009. It's a ridiculously small sample size and no businessperson would ever run a business on that theory. But I knew that because they came, that you would find a way to come. And you did. This is just the beginning.
Most of you reading this will never come to camp and many of you reading this don't want to or can't, but I hope you know that camp will enable a better website for everybody and ideally, one day, a better world. After next week we'll stop talking about camp all the time, but I know that the fact that it happened and will happen again will only strengthen the site's primary mission, which is accessible to anybody with an internet connection.
Some of you reading this did go to camp and honestly didn't really have an amazing time, or can't relate to the more effusive memories relayed in the recaps' camper quotes and if that's you, I hope you still feel brave for trying. If you got on a plane or in a car and traveled all the way to Angelus Oaks to be stranded on a mountain with 200 strangers for an entire weekend and you did that alone, then I am so fucking proud of you, and I'm honored that you trusted us enough to make that choice and I hope you come back some day. We've got heaps of constructive feedback from all the campers and about a billion things we need to do about a zillion times better next time, and we're already working on that.
After Pride 2009, I read all the interns' blog entires about their trip (obviously all interns have blogs) and the one that touched me most of all was from one of our quieter interns —  I'd been worried throughout the weekend that she wasn't having a good time, or that she felt lost amid the loudness and oft-expressed ecstasy of the other more outgoing interns. But in her blog post she talked about how even though she was too shy to talk too much, or too insecure to put herself in the middle of the action, that just being there was enough, just to be part of that energy and amongst those women, just to witness it. I didn't see her again after Pride until a few months ago and when I saw her a few months ago she was surrounded by awesome queer women. She was radiant with a new happiness I'd not seen all those years prior and she was still as beautiful as ever. We grow into things — we grow into ourselves. We grew into this. We take tiny steps and we all have our own paths towards that comfortable place and we get there at our own pace.
At A-Camp, we had deeply closeted campers and young campers who'd never met other queer people — but we also had campers who have been out and proud for decades and campers who have families or strong queer communities where they live. Everybody is at a different stage of their life and we have so much to learn from each other — just like that first Pride Weekend, but multiplied by 10,000 and with more panels, more Julie Goldman and much cuter t-shirts.
It took us three years to get to Camp — three years of trashing hotel rooms and having dramatic email fights with each other about fliering, three years of growing up and moving and finding our footing in the world and figuring out who we are and what we want. We never could've done this three years ago, or two years ago, or last year, and I'm so blessed to have watched these girls grow into the inspirational women they are today. In turn, we're all blessed by you — we only know what we are because you tell us what we are, after all — our patient, enthusiastic, intelligent, funny and endlessly kind readership.
I'd always thought that I'd lived my life to get to the writing, but it turned out I'd done the writing to get to my life — and what I learned that summer was that it wasn't just mine anymore. It was ours.
And now it's yours, too.
A-Camp 2.0 will take place from September 12th-16th at the same location — Alpine Meadows Resort in Angelus Oaks, California. Pre-registration will begin Monday, May 21st, at which time additional information will be shared and further questions will be answered. So please save your questions for Monday!
xoxo
autostraddle
Pages: 1 2 3See entire article on one page