Welcome to "I Just Now Saw," a new column in which I attempt to conduct conversations about television shows you watched ten years ago and I just now saw, in their entirety, for the first time. Today I'm gonna talk about Lost Girl, which's the only show on my list for this series that's actually still on the air!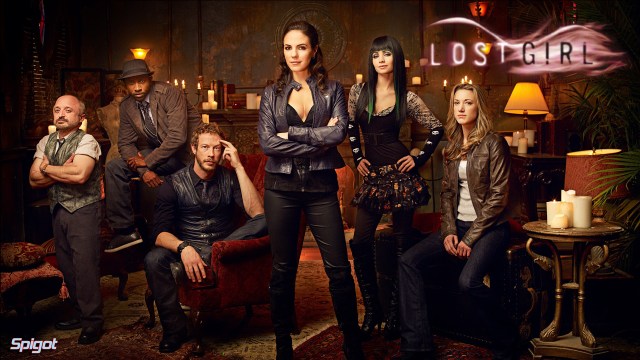 1. Overall Feelings
Y'all have been bugging me to watch Lost Girl for a while now because of its bisexual lead character, Bo, and so a few weeks back after finishing Battlestar Galactica, I dove in. I ate it in about a month, finishing the second-to-last episode online about half an hour before the finale aired on SyFy, which was the first episode I saw as it aired on television! (Syfy uses different opening credits than Netflix, sidenote.) Obviously I totally hated the finale, even though I hadn't followed any of the magical mystery storylines in Season Three with enough consciousness to care about whether or not those loose ends were tied up. It's just that I will smash my face into a rock if Bo and Dyson become a thing again. "I offered her my wolf." Oh, shove it.
I've read absolutely nothing about Lost Girl anywhere, except for a review of the first episode of the third season on AV Club to see if they said anything about the fact that it was the most transphobic thing I've seen on television in quite some time. (They didn't.) (I was personally appalled that a show with such a passionate queer following actually launched its third season with a classic "deceptive transsexual" storyline. I mean honestly the entire episode was profoundly stupid, like Sucker Punch or something, but just when you thought it couldn't get one ounce stupider… it did!)
Obviously it reminded me immediately of Buffy, particularly because it has the same structure of each episode being its own procedural of sorts and the entire season dedicated to one Big Bad, and then the Kenzie/Willow parallel (especially if Kenzie gets powers next season) and, perhaps, even a Tam-Tam/Faith parallel? A Giles/Trick parallel? I could go on.
I liked that the show was really dark and sexy and I liked the aesthetic. Is it a "good show"? I'm not sure. It's a pretty good show, though.
2. Yay Bisexual Representation!
This is, hands down the best depiction of bisexuality I've ever seen on television, in that it was completely a non-issue. We're completely spared the standard coming out narrative and nobody has any problem with Bo's bisexuality or her relationships. Her feelings for women are never seen as "less than" her relationships with men. Her sexual orientation was actually seen, more or less, as the norm, rather than the exception. I think this is part of why queers are so drawn to sci-fi narratives; because we can make our own worlds there, worlds without compulsory heterosexuality or traditional gender roles. It actually seemed like all the fae were bisexual. It was a magical world where nobody assumes anything about your sexual orientation just from looking at you. Girls kissed other girls so often that I stopped even noticing it!
3. Doccubus Processing Fees Were Through The Roof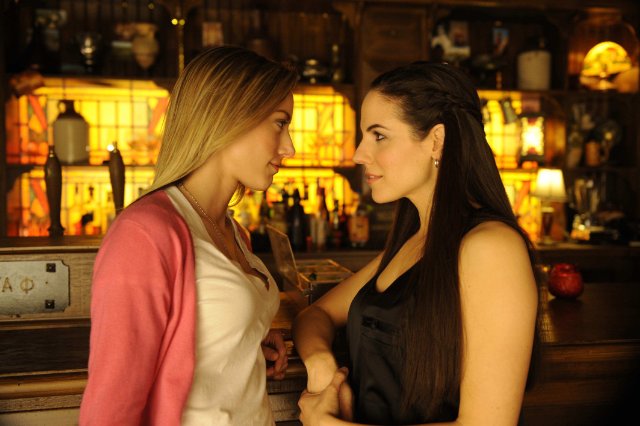 As a queer lady, I think all women on television should date and fuck other women, exclusively. Yup. Every single female character on television would be a better character, in my opinion, if they were gay. I will root for the girl-on-girl hookup over the girl-on-boy hookup any day of the week.
Thus I rooted enthusiastically for Lauren and Bo… until they got together and suddenly the relationship was transformed from the sexually electrifying and emotionally complex coupling we'd fallen for and replaced by the standard media depiction of lesbian relationships as tedious, passionless and high on emotional processing. They got off to a good start — those early-season sex scenes, for example — but as Season Three prodded on I was repeatedly frustrated by how intensely it seemed the show wanted us to favor Bo and Dyson! I was having serious Marissa/Alex/Ryan flashbacks. Even Kenzie was on Team Dyson, and I always figured Kenzie was on my team implicitly. As it so often goes with bisexual women in television, her lingering affection for a male ex is repeatedly referenced, as is her BFF's preference of that male suitor over the female one. While I appreciated that gender was never addressed as a factor in who Bo would favor, it was still an unfortunate trope for this show to entertain. I felt like I could sense the writers favoring Dyson and that pissed me off.
As it was written in the AV Club before they gave up on Lost Girl, "It's difficult not to get annoyed when every single conversation Bo and Lauren have is dripping with unasked questions and they can't have a normal conversation without the weight of a relationship barging into the room."
4. When Did Bo Become Such a Bitch?
As Season Three advanced towards its confusing end, I felt like my brain was on a spin cycle. Suddenly Bo, who I thought was all about caring for other people, was being exceptionally selfish — perhaps best exemplified by the episode in which she misses Lauren's science award ceremony.  That particular plot — the overworked partner lies about his/her actual activities and misses a significant event in which their partner expects their attendance! — is done all. the. time. I hate it. It even happened in an episode of Breaking Bad I saw two days ago, where a character missed his wife giving birth to facilitate a drug deal. I hate it. I hate that plot! So from the moment Lauren announced that she'd won the award (about which Bo was totally uninterested and a complete cunt), I knew how this shit was gonna go down and I spent the episode in the fetal position, whimpering "no" over and over again softly into my bed.
5. OMG Bo's Rack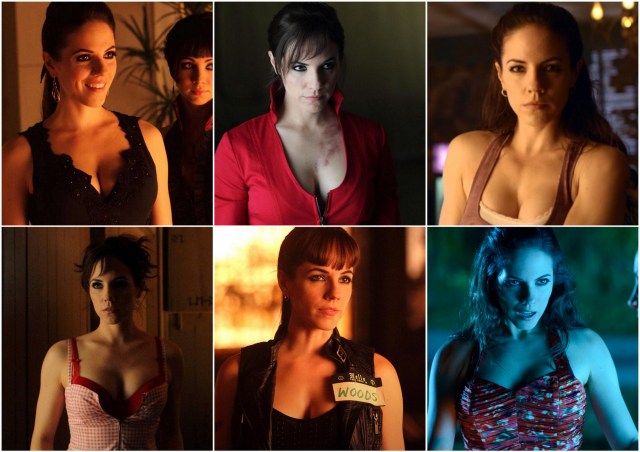 Bo's rack was practically it's own character. I admit at times I was sort of confused by this, like is there any mission she participates in where maybe a wonderbra isn't the best choice? It would seem that answer is "no." Okay then!
6. She Blinded Me With Science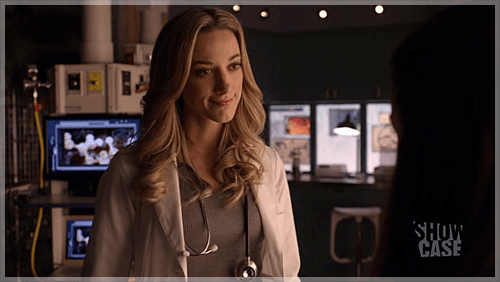 One of the many things that made Lost Girl different than Buffy was that it was way less geeky. Like I said in the Buffy post, the fact that Buffy was an outsider wasn't enough to make me connect to her because she wasn't really geeky in other ways — she hated school and books and computers and all of it. Bo is the same way, of course, and actually so are most of the characters in Lost Girl. Except Lauren! Lauren was the nerdiest coolest science person of all time, and everything about her rang true.
7. The Acting…
I really liked Trick's character and position in the story, but was I the only one who felt like his acting was consistently sub-par to the point of being comically bad? I felt like every one of his lines sounded like a terrible actor in community theater being like "Hey guys! Look at that over there! I think it's a grizzly bear!" Ditto for The Morrigan.
8. Kenzi BFF 4Ever Always
I love love love shows which emphasize the importance of female friendship over everything else in the whole entire world! I love how when Kenzi and Bo referred to each other as "best friends," they spoke with the expectation that the Best Friend Relationship would be privileged like any other official intimacy, like lovers or family.
I'm sure there are shit-tons of Kenzi/Bo shippers out there in the sea, but were I to ship a ship on this show besides Doccubus, it would be this one:
9. I Liked Vex
I was so excited about Vex, who in my mind is the lovechild of Spike and Andrew from Buffy. He provided some welcome and clever comic relief and when he left the gang near the start of Season Three I was super sad about it.
10. OMG Emma from Degrassi
!!!!!