Welcome to Almost Famous, a weekly segment where we ask up-and-coming queer musicians some not so hard-hitting questions about music and life and maybe even convince them to share photos of their pets. Get to know intimate details about your new favorite artist or band before they hit the Big Time and become too famous for us to interview for real.
Header by Rory Midhani

---
Emily "Brushes" Roth
Em & Them
Chicago, IL
Emily "Brushes" Roth is the 'Em' of Em & Them, a funky four-piece from Chicago that's about to become your new favorite thing. She's an amazing vocalist, talented guitarist and all-round impressive human being. Emily's voice has been described as being "as smooth and soulful as the fro she rocks on-stage" and as you're about to hear, that's no exaggeration. I could listen to Emily's voice for days. Thankfully, that's entirely possible due to the release of the Milk & Honey EP, which features six incredible tracks that are guaranteed to make you groove.
How would you describe your music?
The boys that make up the "Them" in Em & Them come from jazz, blues, and indie rock backgrounds, so we like to bring a myriad of genres to the table. Vocal harmonies are a tasteful constant, bringing an almost choir-like emotion to our live show. While our last EP dances across soul, R&B, and even folk, be on the lookout for some grooves that will ignite your inner funky very soon.
What instrument/s do you play?
An important rule growing up in the Roth home was that if you wanted three meals a day, you had to play an instrument. So to avoid starvation I played the piano and cello before falling in love with the guitar. I have been playing since 2005. I took a few lessons in high school in between sports seasons, and have been trying to teach myself as much as I can since then.
Which song would you most like our readers to hear?
Front Yard – based on a beautiful poem by the powerful and brave Gwendolyn Elizabeth Brooks. She once said, "Poetry is life distilled." For me, music is life distilled.
[soundcloud url="http://api.soundcloud.com/tracks/83814761″ params="" width=" 100%" height="166″ iframe="true" /]
What are you doing when you're not making music?
I am a Site Director at a non-profit that specializes in working with at-risk youth and their families. A lot of my youth and families have experienced all sorts of trauma and are trying to cope with situations many adults wouldn't be able to confront. They are a talented group of kids and I am continually blown away by each and every one of them.
I spend the rest of my time playing soccer, hanging with all of the beautiful folks in my life, and dancing as much as possible.
What was the last song you wrote about?
Well, I walked into my last practice and the boys were playing an upbeat soul progression that turned my hump day into something that felt closer to the feeling you get when you realize it's Friday. My bassist, Mike, and I threw together a chorus, a few verses, and a mean old bridge. I knew exactly where this one was going. The song quickly became, what would've been, the track playing in the background after an amazing first date a little over 4 months ago. It captures what happens when you find yourself delighted to have had someone so brilliant walk into your life.
What's your 'guilty pleasure' music?
Someone must have put that One Direction station on my Pandora without me knowing. Weird.
If you could only listen to one album for the rest of your life?
The Miseducation of Lauryn Hill. This was her incredible debut solo album where Ms. Hill turned life into music. I plan on listening to it for the rest of my life.
If you could share a line-up with any two other artists?
I would give my left arm to perform with Rachael Price from Lake Street Dive. I would ask Sharon Jones and Dap-Kings to join us as well because everything sounds better with horns.
When you're super famous what will be the name of your autobiography?
Ballet in Khakis. Let me paint the picture for you. My brother Kev and I took an epic ballet class in 1992 that my mom recorded. The class consisted of three girls in tutus, myself, and my brother. I was wearing high red socks, khaki shorts, a bright red shirt, and was sporting a perfectly picked afro. My brother was wearing something as equally offensive to the instructor.
I was a horrible ballerina. I was built like a baby giraffe and had no business in a ballet class. I continually try to stay true to myself, and if that means attempting to do ballet in khakis, then so be it!
What is your favorite thing about Chicago?
My favorite thing about Chicago is a little something called Summertime Chi! There is nothing like it. During the winter months, it feels like 3/4 of the city population hibernates. On the first hot day of summer, I find myself thinking, "Where the hell did all of these people come from?" Summertime Chi offers street festivals every weekend, patio seating, and much less clothing.
Do you have any pets?
I myself don't have a pet, but I am Auntie Em to a young pup named Dutch. Don't tell her owners, but she likes me better.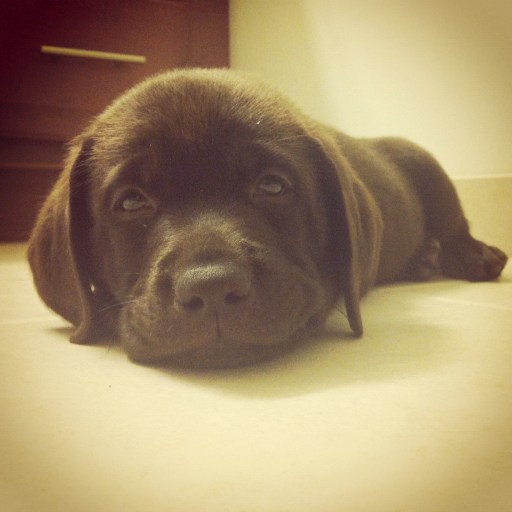 You can listen to Em & Them's Milk & Honey EP on Soundcloud and purchase it via iTunes. Other things worth checking out include:
Video: Cover of Sam Cooke's "Bring It On Home To Me"
Em & Them official website
Em & Them on MySpace
Em & Them on Twitter
Emily Roth on Instagram

---
If you are, or know of, a queer artist or band that should be featured in Almost Famous, drop me the details via crystal [at] autostraddle [dot] com. Please write 'Almost Famous' in the subject line!