When I first read Jonesy last year I fell in love as quickly as one of the people she uses her power on. If that doesn't make sense to you, you should pick up Sam Humphries' and Caitlin Rose Boyle's comic from Boom! Box about a cool Latina teen girl who has the magical power to make people fall in love. It's also a comic full of awesome teens of color and queer characters that will burst your heart open with cuteness and bust your gut with laughter. Recently, the third trade paperback of the series came out, collecting issues 9-12, so it's a perfect time to catch up on the series! I've read the Jonesy Volume 1 and Volume 2 and they are wonderful and colorful and some of my favorite monthly comics of the last couple years.
Jonesy makes zines and hangs out with her friend Farid and her pet ferret, but most of the school thinks she's a weirdo (probably because she is). After the first issue she also befriends popular and queer country lovin' girl Susan who joins her and helps to found the Secret Crush Investigation Squad (crushes are an extremely major theme in these books.) I relate to Jonesy a lot because both of us are Latina, both have great hair and senses of style, and both of us have incredibly inflated egos that lead to us monologuing about how we're going to save the school using our special powers. I also relate because I too am a crush monster.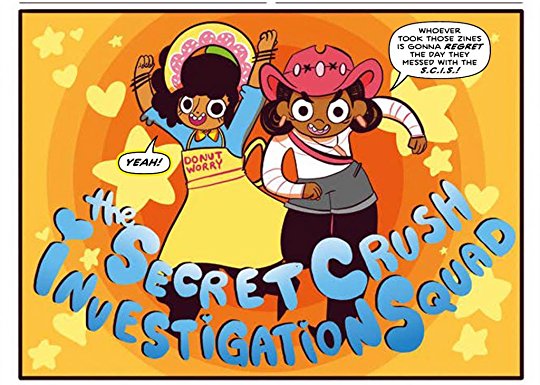 While there are plenty of hijinks and comic disasters she gets herself and her friends and rivals into, these comics also show some really lovely and important messages. Jonesy starts out each story using her powers for selfish reasons, to get back at enemies or make her crushes fall in love with her, but things always go wrong. She usually ends up finding that the most important versions of love are the ones she doesn't even see at first. She learns that her mother's love and the love she has for her friends are actually more important than something like her crush on a pop star, no matter how cute he is.
As much as I love the writing, it's really the art that sold me on this book. Caitlin Rose Boyle has such a distinct style and character design method and it perfectly fits the fun-loving rebellious attitude of the comic. When you add in Mickey Quinn (Vol. 1), Fred C. Stresing (Issue 5) and Brittany Peer (6-8) on colors, this comic has an art style you won't find anywhere else. It's like punk rock by awesome girls who write letters to inmates, read Autostraddle and Teen Vogue and organize protests against rape culture. Jonesy is a great comic book, and now that I've read the first two volumes, I can't wait to get into the third one. Jonesy is a comic about crushes, being cool, friendship and learning what love really is, and that's something I can definitely fall for.
New Releases (Sept 20)
Harley Quinn A Celebration of 25 Years HC
Harley Quinn Batman Day 2017 Special Edition #1
Bitch Planet Triple Feature #4
Generations Ms. Marvel & Ms. Marvel #1
Generations Unworthy Thor & Mighty Thor #1
Journey to Star Wars: The Last Jedi: Captain Phasma
Baby Sitters Club Vol 5 Dawn Impossible GN
Disney Descendants Rotten to the Core GN Vol 2
---
Welcome to Drawn to Comics! From diary comics to superheroes, from webcomics to graphic novels – this is where we'll be taking a look at comics by, featuring and for queer ladies. So whether you love to look at detailed personal accounts of other people's lives, explore new and creative worlds, or you just love to see hot ladies in spandex, we've got something for you.

If you have a comic that you'd like to see me review, you can email me at mey [at] autostraddle [dot] com