Every time I've sat down to write about my morning routine over the past few weeks, the opening lines of Fiona Apple's "Criminal" began playing in my brain. Yes, soundtrack-of-my-mind, you are right. I have been a bad, bad girl, and not the kind who is all sultry and sexy and messing with delicate men, but instead the kind who has drifted far, far away from her beloved morning routine. Drifted so far, in fact, that in place of sultry or sexy I am very unshowered, moderately unhealthy, and not-even-close-to-efficiently moisturized.
About a month ago while I was working (very responsibly!) at my local library, Jenny was served with papers that told us that we were being evicted from our house. We panicked, we cried, we found a new place to live, we moved all of our stuff in less than a week, and then we flew to FlameCon in NYC. Oh, and then we returned home to battle with both a kitten-flu and a personal flu of my own (and, of course, unpacking and re-making a whole new home). In all of the chaos I did what many of us often do and lost hold of my morning rituals.
Since these are the rituals that hold me together day in and day out, my thinking is that I will tell you about my lost morning routine so that I can find my way back! On the journey, maybe you'll find some fun things to add into your own routine… and we will also all remind ourselves that sometimes life makes things messy but that we can always write an article for Autostraddle.com and return to some semblance of order. RIGHT?! Right.
I start by waking up. I highly recommend this as a way to begin the day. Jenny and I almost always have our alarm set for 7am, but for the past year or so my body has taken to waking itself up around 6:45. I also have an extra layer of wake-up protection in our kitten Sam, who licks my face promptly at 7 am and never a minute later (having had cats for my whole life, I do realize the gift I have been given that she waits until 7 am, thank you).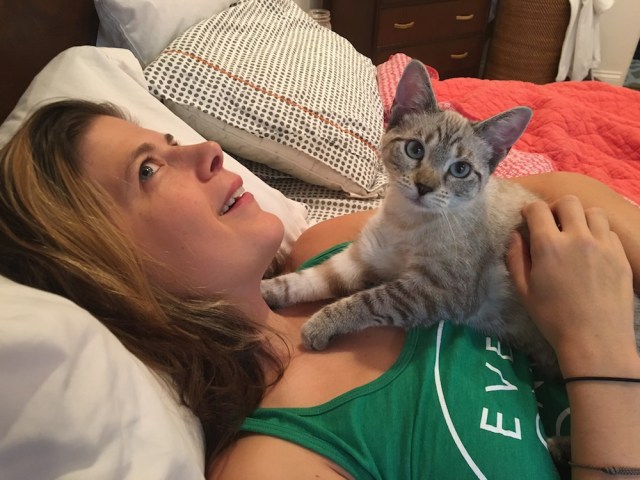 After waking up and cuddling Sam for a few moments, my first stop is oil pulling. I swish a tablespoon of coconut oil in my mouth for 15 – 20 minutes before anything else, because I read on the internet that it it is most effective at its detoxifying job if it is the very first thing you do! Bonus: since I am oil pulling for 15 – 20 minutes, I have a built-in bit of the morning to do other tasks. I usually feed Sam, get the hot water kettle going (you'll see why momentarily), and tidy up any errant kitchen or office messes while I swish.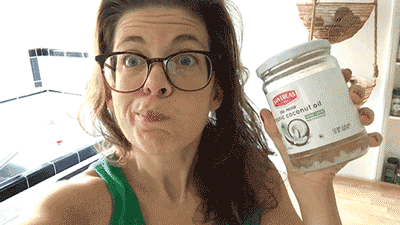 Once I have efficiently spit my oil in the trash (DON'T CLOG YOUR PIPES), I floss and brush my teeth. I spent most of my life rolling my eyes at flossing, but now that I am an old lady (jk I am a very young 36), I have realized the error of my ways. I *just* had a dentist appointment a few days ago where I was praised and lauded for my efforts (smart move, dentist, I am a sucker for positive reinforcement). Also, I use an electric toothbrush and it. is. great. If you can do these things, you should! Oral health is body health! WOOOO!
Okay, so now that I have oil pulled and flossed and brushed I go back to my hot water kettle and make a honey-lemon-apple cider vinegar water. I am not sure exactly how I came to this combination (dollop of honey, wedge of lemon, tablespoon of ACV), but I know that apple cider vinegar is very good for so many things (less heartburn! lowered risk for heart disease! better nutrient absorption!), and I also know that I follow Alanis Morisette on Instagram and she told me that lemon water is good for you. Alanis Morisette rules *and* she narrated my teenage years *and* she seems very peaceful and at one with the world, so I trust her. Honey is delicious.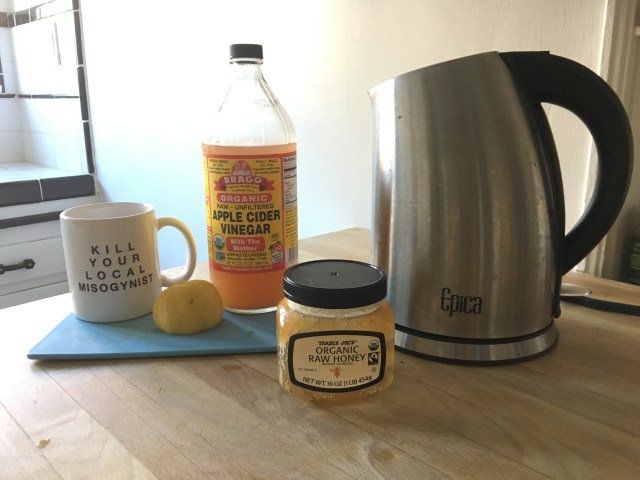 I take my honey-lemon-vinegar potion with me to my "meditation armchair" and settle in for a fifteen minute session with Headspace. I have used Headspace for a long time, but recently switched over to the Headspace Pro packs, which have a lot less narration. The more comfortable I became with the general rhythm of meditating, the less I wanted to hear someone talking in my ear. That said, even though what I am after is mostly silence, the app-like organization of Headspace is exactly what someone like me needs to keep at it. When I have a running streak of 25 or more days of meditation YOU JUST TRY AND STOP ME! (Eviction worked.) My mind wanders a lot (a LOT), but I have just accepted that I have a mind that wanders, and I do my best to count my breaths, refocus, and not beat myself up if I am a bit distracted.
After meditating, I do three sun salutations. I do them slowly, and facing a window so I can see outside as I move. This combination of meditation and yoga (which never takes more than 25 minutes) leaves me feeling more calm and centered than any other practice I have found to date. As a person with anxiety and depression, I hold tightly to it. If you've never done a sun salutation, you should check out this video by Lily Cushman! Lily owns a yoga studio that I frequented when I lived in Brooklyn, and she is a great teacher — plus this is a free video. Win-win.
At this point in my routine, there are some variable factors. I try to exercise at least four times a week – swimming is my preferred method, but my shoulders get SO GIANT and my hair gets SO DRY if I swim every day, so I alternate with the elliptical machine and neighborhood walks. If my morning has time for exercise (sometimes I schedule it in the afternoon — and I do schedule it, otherwise I don't do it), then I will exercise right after completing my sun salutations. If it is a no-exercise day or I will be exercising in the afternoon, then I move on to the wash-your-face and eat-your-breakfast segments, which are the final two bits before beginning my workday!
I cannot begin to tell you how many times I have realized, midday, that I am still in my pajamas with my face unwashed. These are some of the traps that exist for those of us who work from home, and I am here to report that IT FEELS AWFUL. So, before I do any work at all I make sure that I have either taken a shower or washed my face, and that I am wearing, at the very least, clothing that I would feel comfortable answering the door in. I typically don't use products that contain (m)any chemicals, but my skin is changing and I don't want it to change too much too fast because I was raised in a world that places value on looking young sooooo I totally use things with (mild?!) chemicals on my face. My cousin is an aesthetician and once recommended Dermalogica, so I use it for cleanser and daytime moisturizer.
Now and only now, with my face clean and full of sun-protecting moisture, with my breathing regulated and my mouth detoxified, and with my body enjoying the benefits of Alanis Morisette's lemon-water recommendations, is it time for breakfast! I MAKE MY OWN GRANOLA NOW, EVERYONE. That isn't entirely relevant, but I am proud of myself. I will either have some of my homemade granola, oatmeal with berries if it is a chillier day, or one of my very favorite breakfasts which Jenny and I call "Banana Mash."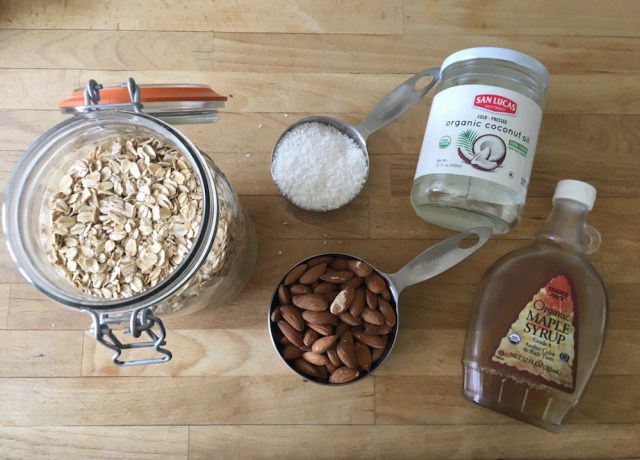 If I've exercised, I usually dig into the day at around 10am or so, and if I haven't then I usually get to my desk at around 9am. I do my very best to not look at my phone until I do these morning things… but sometimes I do cheat and check my text messages. I never, never, never check my email, and I *really try* not to check social media, either. In my opinion, having even two hours of time without the clatter of the outside world (and with the focus on caring for yourself) is necessary to survival.
So, kind reader, that is how I begin my days! I want to report that I am sitting at my desk right this very moment, showered, moisturized, and fed because I had to take pictures to document my morning rituals. It worked! Writing for Autostraddle.com: Cures All That Ails You.