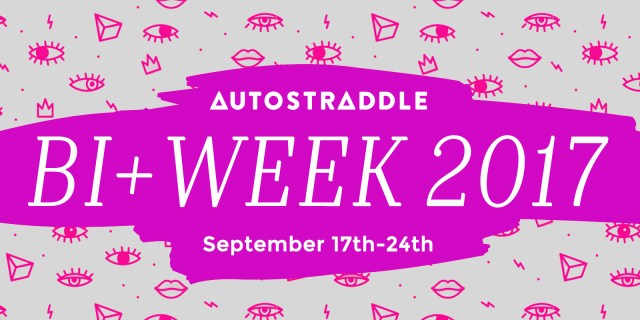 When I was a wee baby bisexual, I combed through every book and TV show and movie for validation that I deserved love and sex and friends and everything the people I saw in media had. I was 12 and I didn't have much luck beyond the boring lesbian couple on Queer As Folk. (Seriously, everyone else gets to have wild sex but they just fight all the time? Ugh.)
When the Internet came around, I became addicted to LiveJournal. By that time, I was incredibly depressive and lonely, and was self-harming. I didn't see a future when I was allowed to be the way I was. But then online, for the first time in my life, I started to read about happy queers.
There was the rocker chick living with her girlfriend in Boston, and the single and lonely Aussie gay guy who documented all his dates, and the other teenage bisexual comic book fangirl in Canada. I didn't see these people in media, but because of blogging, I knew they were out there IRL. Bisexuality was real. Queer people had fulfilling and exciting lives. I could read about a potential positive, hell, even normal, outcome for my life. This idea kept me living it.
When my comedy partner Allison Raskin and I were given the opportunity to write a young adult novel last summer, I knew one of the main characters would be a bi teenager. I Hate Everyone But You, out September 5, is about two odd-couple friends starting their first semester of college on opposite coasts. We borrowed heavily from our real experiences for the lead characters. "Mywp_postscharacter, Genevieve, attends the LGBT-friendly Emerson College, my alma mater, and comes out as bisexual, my identity. Since Emerson's environment is so "gay,wp_postsI wanted to accurately portray the student body as I experienced it: with a variety of wacky, smart, emotional queer and trans characters.
Thus, I Hate Everyone But You is a very queer book. And one aimed at a teenage demographic. I didn't do this to be controversial. I did it because it was realistic and obvious. I went to Emerson. I was a bisexual teenage girl. Emerson's student body is gay as hell. Queers hang out with other queers. And given my empty youthful search for myself in media, if I could make a drop in the bucket of content created for our community by our community, why wouldn't I try?
I had a lot of fears about broaching bisexuality in a young adult book because, for one, I couldn't possibly encompass every bi's experiences. Low representation to begin with means I initially felt like I had to portray Gen as some sort of perfect model minority. Stereotypical bisexual characters, many of whom have their bisexuality tied up in evil or duplicity or cheating, means the identity has a dirty reputation. But that "scarlet Bwp_postshas also brought us to a place where bisexual characters have to be explicitly monogamous or prudish to be considered "good portrayals.wp_postsI worried about Gen fulfilling the bisexual stereotype of the "slutty bisexual.wp_postsBut I also knew that that wasn't fair. I was never malicious or "evil,wp_postsbut "perfect, normativewp_postsbehavior was never my reality.
I remember watching a YouTube video about bisexual stereotypes. Bisexual people stood against a dramatic black background and said: "I'm bisexual but I'm not… non-monogamouswp_postsor "I'm bisexual but I'm not easywp_postsor "I'm bisexual but I'm not into casual sex or threesomes."
Videos like that one strike a lot of self-hatred in me. Because… I am those things. So am I, in real life, bad bisexual representation and then by association, is Gen the same? Sure, it's not okay to only show one kind of bisexual. But it's also not okay to imply that one kind is more worthy than the other. Taking in that kind of rhetoric made me hate myself for a long time. Why does Gen have to meet normative standards in order to be a valid human being? Why do I?
Writing for Gen, I only focused on what I knew to be true to my experiences — I am bisexual and I like casual sex and threesomes, and I'm non-monogamous and hey, I may even be easy! And so is Gen! And that's awesome! Gen's — and my own — promiscuity isn't because of her bisexuality. It's another aspect of our personalities entirely.
I understand where they're coming from, but to me, the goal isn't to convince the straights (and gays) that you're just like them. The goal is to open their minds to accepting all kinds of bisexuals — because we're a vast community. Just like the gay or straight ones, we're not a monolith. And there's room for all kinds, and all kinds deserve respect.
For the other LGBTQ characters that I didn't have direct experience with but also didn't want to depict incorrectly (for instance, Gen's newspaper rival Alex Cassidy, a trans man), we hired consultants — Mey Rude, Kip Reinsmith and Tiq Milan — who gave much-needed insight, corrections, and suggestions. I knew Gen backwards and forwards, but we needed members of the trans community to help realistically shape Alex. I wanted trans teenagers to see themselves represented in something other than a tearful coming out narrative, or someone mid-transition. Alex is a man. Full stop. And he's a dogged journalist, a sweet, tumultuous love interest, and an opinionated, ambitious dude.
And I wanted the same for Gen. In I Hate Everyone But You, we depict an 18-year-old bisexual woman whose main problem isn't her bisexuality. Gen enjoys, and remains firm in, her queerness. She likes sex of all kinds. She's experimenting and discovering and getting it wrong all the time. When she discovers she is queer, she writes an email to her straight best friend, ecstatic about the news. I loved the idea of a queer young person throwing confetti for their own coming out and being excited to experience the sex and relationships now open to her. Being bi is Gen's favorite thing about herself. It's as freeing for her as it's become for me. Gen is the kind of teenage girl I wanted to read about when I was one and I was so, so lucky to be able to create her.