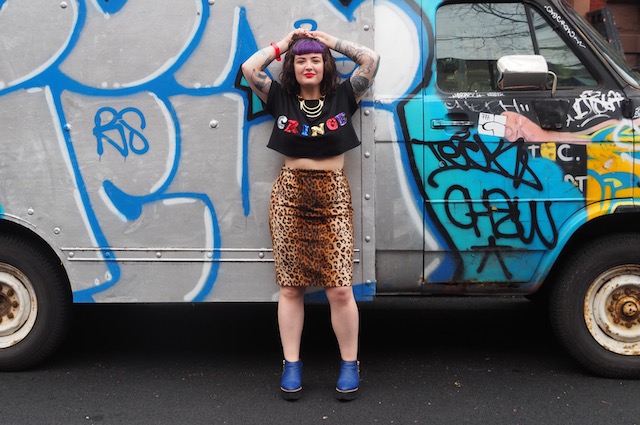 Hello and welcome to the first installment of Let's Get Weird, a judgement-free place to talk about fashion and feelings! I'm Nora, Autostraddle's new Fashion and Beauty Editor, and I thought I'd start my tenure here by talking about my personal style and its function in my life before opening up the floor so you can talk about yours. Sound good? Great, let's do it.
As you may have guessed from the photo above, my personal take on fashion is a bit all over the place; early and enduring inspirations include the fur bikini from Lil Kim's "Crush on You" video, Bjork's infamous swan dress (one of the best red carpet looks ever, and I will not budge on that), and most things Dolly Parton has ever worn. I tend toward extremes: solids or sizable graphic prints, black or super saturated colors, avant-garde or new money gaudy, etc.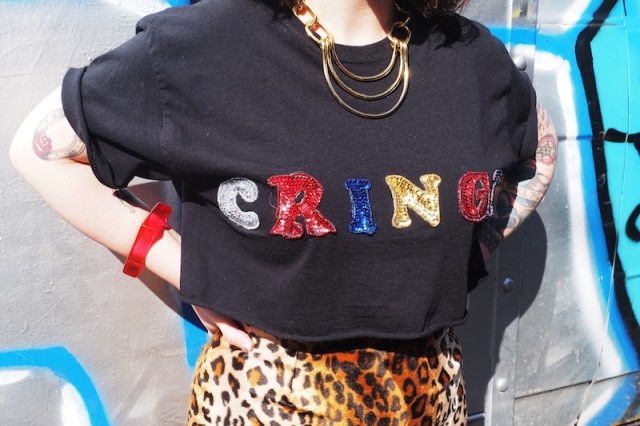 This outfit felt like the perfect way to introduce myself as someone who draws from all sorts of aesthetics: the punk in my creeper-esque boots, the rockabilly elements of my skirt, the humor in my "cringe" top (which acknowledges both how I imagine most people feel when they see me, and how I generally feel in public). You'll notice more strange and disparate influences in future editions of this column, but a common thread is exercising my pretty high femme-ness while attempting to maintain distance from the patriarchal gaze.
Which brings me to the role fashion plays in my life. While I respect — and often envy — folks who view getting dressed simply as a method of avoiding an indecent exposure summons, I personally view it as an accessible, everyday mode of self-expression, a way to find one's people (both friends and sex partners), and a tool for weeding out the wrong company (creepy dudes; I mean creepy dudes). The truth is, as a shy, awkward person of 5'2″, I feel safer and more powerful in pieces that are somehow alienating. As labels go, "off-putting femme" seems about right.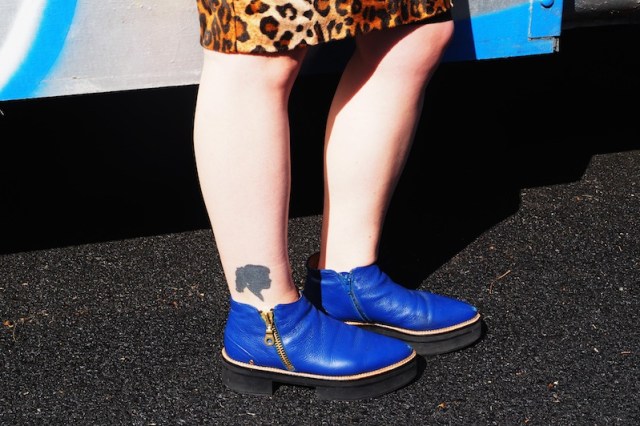 Fellow over-the-top fashion weirdos can find similar pieces to my own below, but I also recognize my style isn't for everyone — which is totally fine, and kind of the point! I'm looking forward to bringing you a variety of fashion and style pieces from writers who identify all over the gender presentation and overall-style spectrum, as well as writing about all different types of fashion myself.
Either way, tell me about your own style and to what ends you use it, and I'll see you in the comments section.