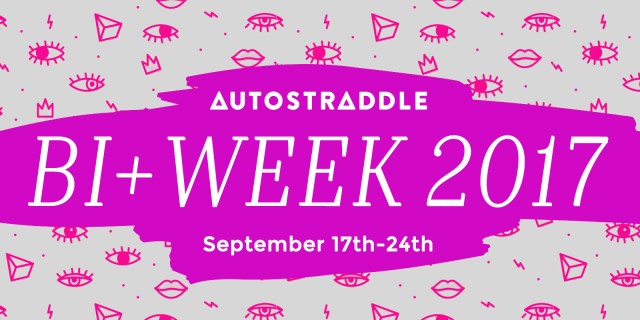 It's a tricky business being a bisexual woman on teevee. There are so many lazy cliches and tropes writers are constantly forcing you to trip over, and oftentimes those hackneyed storylines perpetuate harmful stereotypes that actually harm bi women in real life. But sometimes, on a rare harvest moon when the mermaids sing and the unicorns take flight, we're treated to really authentic, layered, swoon-worthy portrayals of bisexual women on our favorite shows. These are the best of them.
A note: Labels are hard, in real life and in fiction. Language isn't science; it's constantly evolving and everyone comes to the label table with different experiences. Some of these characters have used the word bisexual to describe themselves. Some of them have not labeled their sexuality in any way, but their storylines seem to indicate that they're bisexual. We really just want to celebrate some really rad fictional characters who have found themselves attracted to other fictional characters of various genders.
Okay? Okay! Happy #BiWeek!
---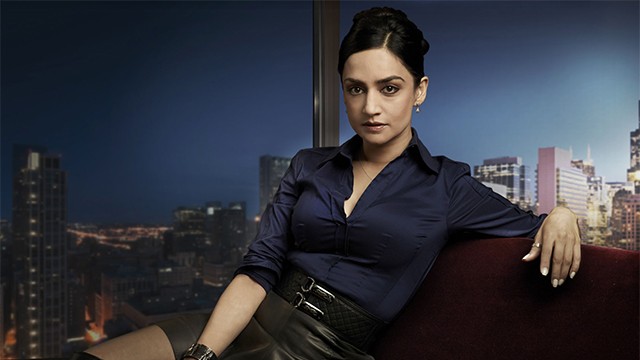 by heather
Kalinda's sexuality was a surprise! The Good Wife's writers never dangled the hope that she'd be bisexual in any interviews and CBS certainly didn't tease it in any press releases. Then one night, out of the blue, she kissed a woman! (Supposedly; it happened behind a garage door and we only saw their feet.) But then she kissed more women and had sex with some of them and fell in love with at least one of them. She also had a very significant relationship with a man throughout the course of the show. None of it ever felt forced or like a ratings stunt. Kalinda was Kalinda. She never cared what anyone thought of her or felt compelled to explain herself. Her sexuality just made sense. She is also one of the very few South Asian queer characters in TV history, which, as Kayla Upadhyaya noted in our Best QTPOC TV and Movie Characters Roundtable, is a really big deal. Having someone as talented as Archie Panjabi — who was nominated for multiple Emmys during her time on The Good Wife — portraying such a complicated character was just icing on the cake.
---
by riese
Transparent is a stand-out for its progressive portrayal of sexuality and gender on so many fronts and dancing on the outside of the dysfunctional Pferfferman clan was Syd Feldman, played by Carrie Brownstein. We know Syd is Ali's best friend and then suddenly there she is sleeping with Josh (who is the worst) and then she's in class with Ali, saying she slept with the female professor! And also she has a crush on Ali who she's had a crush on since 8th grade. The ensuing arc feels real if also sad in that it ended in a Syd/Ali breakup (but anybody who was an angsty teen in the '90s like me was probably just honored to witness any moments of Gaby Hoffman / Carrie Brownstein romance), but I think Syd deserves better. The bad thing about her character is that I guess she had to leave the show to find it.
---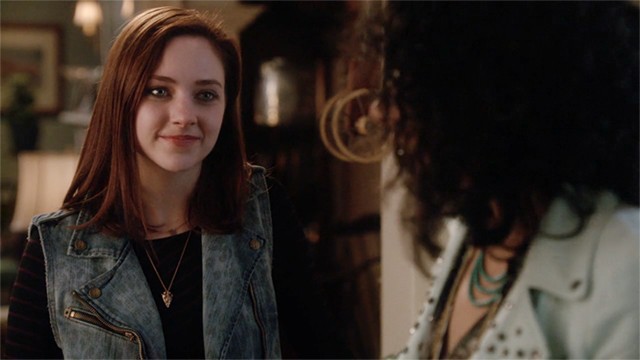 by heather
Brenna Carver is one of the few characters on this list who used the word "bisexual" every chance she got. She dated guys and liked them a lot, she dated girls and liked them a lot too. And when people tried label her as something else, she had no problem correcting them. She also spent a lot of time clearing up misconceptions about bi people. "I'm not attracted to everyone I walk by," she snapped at a lesbian in her Gay-Straight Alliance who hinted that bi girls are indecisive cheating machines. "I'm not changing my mind; I'm attracted to the person for who they are, not the gender!" Brenna's grandma got it, and she shipped Brenna and Greer hardcore.
---
by heather
No one was more surprised than Waverly Earp when she fell for a literal hot cop in season one of Wynonna Earp. She'd been dating Champ, Purgatory's rodeo jock for a while, when Nicole swaggered into town. She only fought her feelings for a minute; when she fell, she fell. One of the major questions the series has explored over the first two seasons is: Who is Waverly Earp? It's something Waverly herself doesn't really know; she's constantly struggling to figure it out. But never once has her sexuality factored into her confusion. She knows who she loves. She knows why. She also makes out with her girlfriend with the lights on, a special gift on television, even in 2017.
---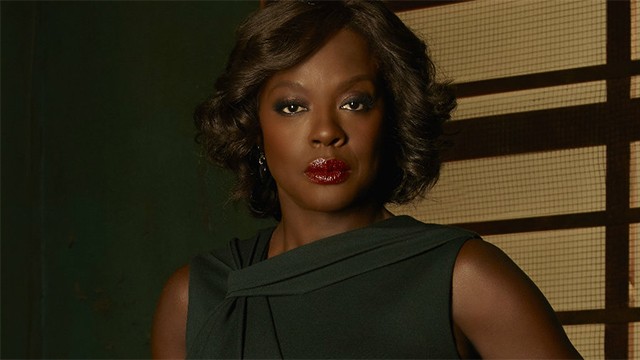 by heather
I have written why Annalise Keating is one of the best bisexual character on TV so many times I don't know what else to say! Annalise has loved some terrible men and some good men. And she's loved at least one woman who makes her light up from the inside. Annalise is just unlike any other woman we've ever seen on TV. She's brilliant and driven and broken and messy and glorious and in charge and out of control and holding the entire world together through the sheer power of her will. And she's played by VIOLA DAVIS, one of the greatest actors on the face of the earth. I'm just going to quote Natalie's feelings from the Best QTPOC TV and Movie Characters Roundtable: "It's hard to divorce my love for Annalise Keating from the woman that plays her because so much of what makes me feel seen is that she's portrayed by someone that looks like Viola Davis. Annalise Keating is a dark-skinned black woman, who isn't a size zero and whose natural hair hides beneath impeccable wigs. Hollywood has a very narrow definition of what a beautiful black woman ought to look like —*cough* Halle Berry *cough* — and Viola Davis upends all of that."
---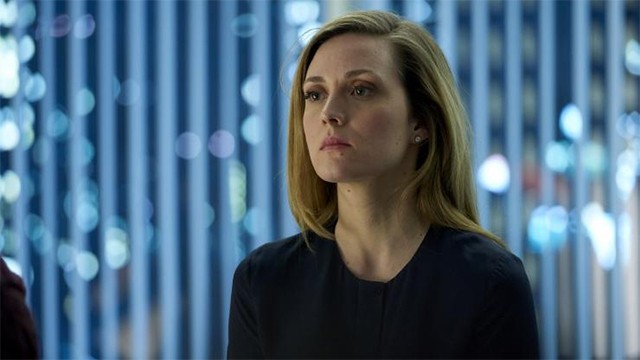 by heather
Delphine was very nearly all the bad bi tropes. She seemed duplicitous, conniving, unable to make up her mind, she even died! But it turns out she was really just Severus Snape, minus the casual torture of young witches and wizards and their pet frogs. By which I mean: She started out working for the bad guys, became a double-agent because of the woman she loved, and every single decision she made after that was to keep Cosima (and her sestras) safe. Also, she gave one of the best speeches about sexuality I've ever heard: "I have never thought about bisexuality. I mean, for myself, you know? But as a scientist, I know that sexuality is a spectrum. But, you know, social biases, they codifiy attraction. It's contrary to the biological facts… you know?" Cosima did know. They immediately had sex and then ice cream.
---
by riese
In 2005 and 2006, I was grappling with questions around my own sexual orientation while working doggedly on a non-fiction/memoir hybrid about bisexuality — which involved a lot of "research" and by "research" I mean "watching every bi storyline I could get my hands on." Paige was the first bisexual character in the Degrassi franchise, and although as a character I find her insufferable (particularly for how she shamed Alex for working at a strip club), at the time of its airing, Paige's portrayal was pretty revolutionary. Many passionate television watchers go bananas watching characters do cartwheels and circle dances all around the word "bisexual," and Paige's storyline starts out being an extended exercise in that particular art. She might be falling for Alex… but she's not gay! She says this a lot, "I'm not gay!" "I can't be gay!" Her brother is gay, you see, and she doesn't think her parents can handle two gay kids. Guest Star Kevin Smith tells her to stop getting hung up on gender and just follow her heart, and she does, taking the plunge to openly date Alex. When she and Alex break up (they're not a great match, let's be real), her best friend Hazel laments, "I just got used to you being a lesbian," and Paige reminds her that it's not about her and also "I'm free to date whoever I want, boy or girl." The Palex Storyline, Round One, leads to a pair of revelations: Pagie realizes she's into boys and girls, Alex realizes she's a lesbian. The two girls reunite a year later but Paige, having recently flunked out of college and thus disappointed her parents, is resistant to do anything that might ruffle their feathers: "Look you're cool with being a lesbian, but I don't know what I am." Alex, "The word is bisexual, Paige, and it's just a label. Who cares?" Paige gives it a think and soon enough it turns out that Paige in fact does not care. She wants to give it another go with Alex. Although Paige does fall into the "dates four boys and one girl" trope, it's worth noting that she does date a girl twice, it just happens to be the same one. Back then, that didn't happen much — the lesbian storyline served its purpose, then vanished into the ether. Degrassi gets points for not letting it go there, and for using the word "bisexual," too.
---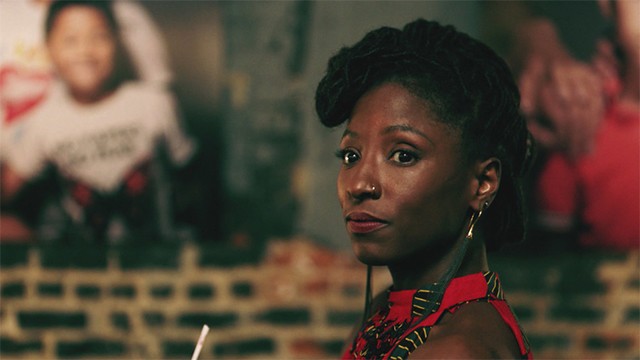 by heather
In her Queen Sugar season one review, Carmen Phillips praised Nova and her exploration of her sexuality like this: "Nova Bordelon is the first time on television where I have seen a queer black women character that feels like the queer black women that I know and love in my life. She's committed to community, not only through her activism — which in season one focused on Black Lives Matter and the prison industrial complex — but in her spiritual work and everyday life." She has had serious and beautiful relationships with wonderful men and she's had a serious and beautiful relationship with a wonderful woman. Through it all she has remained committed to her family and to her activism. Her love is unwavering.
---
by heather
Callie Torres is the longest running bisexual character in the history of television and she is played by real life bisexual Latina superhero Sara Ramirez. Over the course of her eleven seasons on Grey's Anatomy, she was married to a man and a woman, both of whom she loved deeply. She never shied away from calling herself bisexual, whether as confrontation or as comfort. Callie's journey to figuring out she was bisexual and ultimately falling in love with Arizona Robbins happened right on the heels of California's Proposition 8 in 2008, one of the most devastating blows to the marriage equality movement in modern history. Her storyline happened at a crucial moment on one of the most-watched and most talked about shows in the country on broadcast network television. There's really no way to overstate her impact. But she's more than just what she accomplished. Callie was a joy to watch on TV. Smart and savvy and silly and relentlessly loyal to the people she loved. Perhaps one day the goddesses will smile upon us and she will return to Seattle Grace Mercy West and the open arms of her ex-wife.
---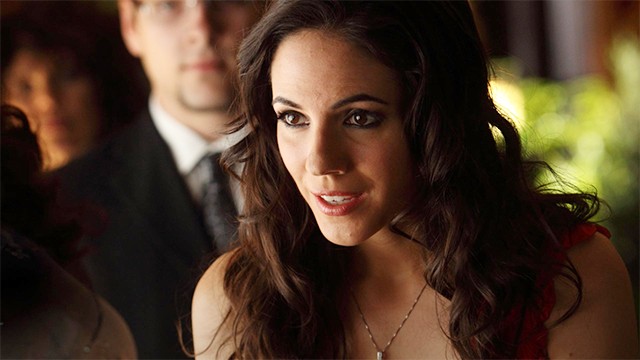 by riese
Lost Girl was the first time I saw a storyline in which a female protagonist was torn between a male and a female love interest and their gender was never summoned as a factor in her decision or situation. Nor did it seem that the writers were inherently biased towards the male love interest, as most stories I'd seen until then had been. There's no coming out narrative, nobody has an issue with her bisexuality or relationships, her feelings for women are never seen as "less than" her relationships with men. Her sexual orientation was actually seen, more or less, as the norm, rather than the exception. I think this is part of why queers are so drawn to sci-fi narratives; because we can make our own worlds there, worlds without compulsory heterosexuality or traditional gender roles. It actually seemed like all the fae were bisexual. It was a magical world where nobody assumes anything about your sexual orientation just from looking at you. Girls kissed other girls so often that I stopped even noticing it!
---