This year's inaugural Gay Emmys were fun, huh? There were so many gay shows we had OUR OWN EMMYS to honor them! In fact, there were so many shows that we couldn't even fit them all into our Emmys! We left like three-quarters of the gay TV shows behind! It felt so good to see that reality before our eyes. Did it satiate us? Friends, no! It only made us hungrier! These last few weeks, we've been prowling around our TV Team Slack channel feeding each other's incandescent bewilderment that all shows aren't gay. And so of course we made a list. Here are 20 TV shows that always make us yell MAKE IT GAY, YOU COWARDS at our televisions and at each other.
---
The Good Place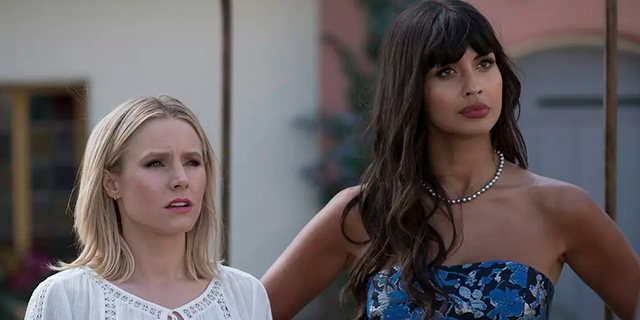 Heather: Listen, Eleanor Shellstrop is bisexual and that's canon and I'm not going to argue about it. HOWEVER, enough tip-toeing around her feelings for Tahani. Let's see that attraction and affection play out ON OUR TEEVEES. The Good Place is one of my can't-miss shows and I'm going to watch it forever. I love Eleanor and I love Chidi but I just do not buy them together. (And I am not immune to the charms of straight couple will-they/won't-they storylines, okay? Pam and Jim are one of my all-time favorite TV couples.) Anything can happen on this show. Anything. Maya Rudolph is God. Stop forcing what's not there, Michael Schur. You've done it before, do it again: Make it gay!
Valerie Anne: COSIGNED IN PERMANENT INK.
Carmen: X3.
---
Doctor Who
Heather:  Obviously the Doctor is canonically queer. Her wife is/was River Song. Now I want to see them interact with each other while the Doctor is a woman. I'm not just saying this because Alex Kingston is one of the great loves of my life (along with Viola Davis and Stacy); I'm saying it because it adds a very fascinating dynamic to an already established story and all these dillhole straight white men have already said they won't watch Jodie Whittaker in the TARDIS so why not just go all in, you know? "You and me. Time and space. Watch us run." GIVE IT TO ME.
---
Insecure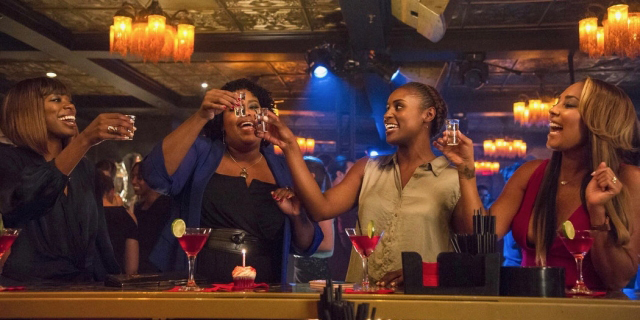 Carmen: This is my hill, and I am willing to die on it. IT MAKES NO SENSE THAT NONE OF THE BLACK GIRLS ON INSECURE ARE GAY. I'm only a year younger than Issa Rae. I've known many crews of young, black "woke millennial" homegirls who saw each other through turbulent times. Do you what was true about every one of those crews? Especially in cities like LA? At least one of them was queer. It doesn't have to be Issa (though that is a mighty lesbian wardrobe that she's always wearing, full of graphic tees and sweatshirts and cute natural hairstyles), it doesn't even have to be Molly, the up-and-coming lawyer. But I am putting my foot down, there's no way that Kelli – the body positive, sex positive, hilarious, accountant – isn't sexually fluid.
I should point out that after two years of pretending that black queer women didn't exist at all, the currently airing season of Insecure finally paid passing homage to the women of #BlackGaySlay. Issa had a black lesbian couple in the back of her Lyft once, and she commented how cute they were. While the crew partied at Beychella, Kelli made a quip that she'd hook up with a woman because "Janelle Monae made it OK." Which only furthers my point! She's the one! It's time to stop being a coward Issa, and go there already.
---
The Flash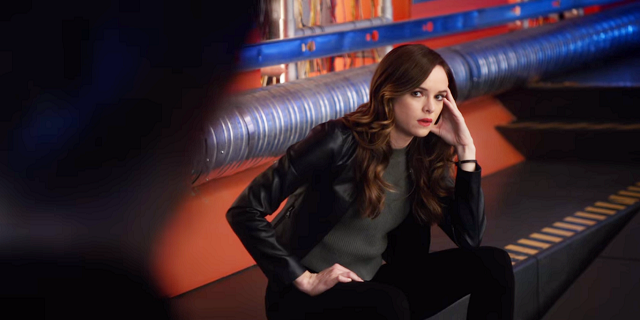 Valerie Anne: The Flash is the only show in the CWDCTV universe who hasn't given us a recurring queer lady at all over the entire course of the series so far. Arrow had Sara and Nyssa (though now has none), Supergirl has Alex, Black Lightning has Anissa, Legends is the gayest show on the CW. But the closest thing The Flash has is the relationship between Caitlin Snow and Killer Frost which is just confusing. Actually that's not true, the closest they came was when the villain of last season took a new body that happened to be a woman and still slow-danced with his wife who he was drugging, which is worse than confusing, it's downright awful. Give me a lesbian speedster, a bisexual meta, anything. Here, look, after a quick Google search I've decided that they should add Andrea Martinez aka The Comet, a canonically queer DC Comics character. And she can date Caitlin and/or Killer Frost. Boom. Solved it.
---
Superstore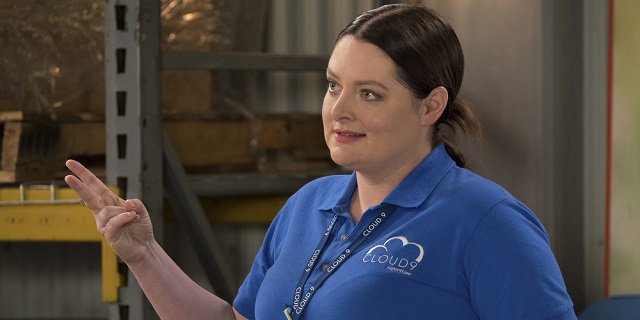 Natalie: Superstore is the best show on television you're probably not watching. I love it so much. It shines a light on blue collar Americans — you know, like Roseanne, but without the tokenism or the repugnant racism — and tackles the issues in a beautifully subversive and hilarious way. How could this already great show get even better? Give the people what they want, Justin Spitzer: make Dina gay!
I get why they didn't make the character gay to start with: having this blunt, aggressive, power-hungry, arrogant, mean female character be a lesbian would've been a bit too stereotypical for this socially conscious show (a la Kerry Weaver on ER). But, with the fourth season of Superstore just around the corner (you've still got time to catch up on Netflix!), I think both the show and the character are in a place where they can take that stereotype and turn it on its head. What if lesbianing was the one thing that Dina Fox couldn't conquer effortlessly? What if developing feelings for a woman turned Dina into the emotional mess that she's always criticizing Amy for being? There's so much comedy gold that could be mined, Superstore… all you gotta do is make her gay.
---
The Gifted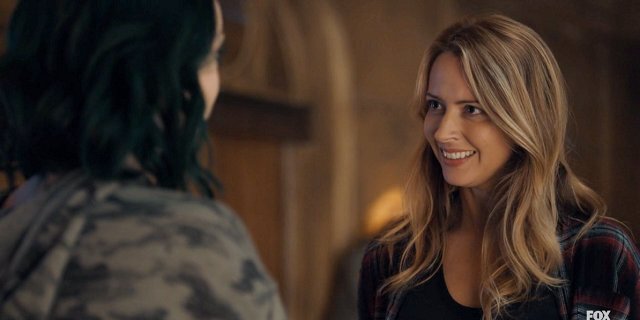 Valerie Anne: It should be illegal to have Amy Acker, who played lesbian icon Root on Person of Interest, on a TV show and not have a single lady for her to flirt with. Or even baby gays for her to support knowingly. Also it's been said many, many times, but learning you have powers/the entire X-Men deal is such a strong allegory for queerness that it's a damn shame they don't have a single lesbian lurking around the mutant safehouse.
---
Murphy Brown Reboot
Carmen: I was approximately between two and ten years old when the original Murphy Brown aired, so my memories of it are fuzzy. Here's the biggest highlight: Murphy Brown was at its core about feminism and the realities women face in the workplace. If the promos for the reboot are to be believed, that much hasn't changed.
When people say a television show is about feminism, in my brain I hear l-e-s-b-i-a-n.
So.
Heather: Mmm hmm.
---
Westworld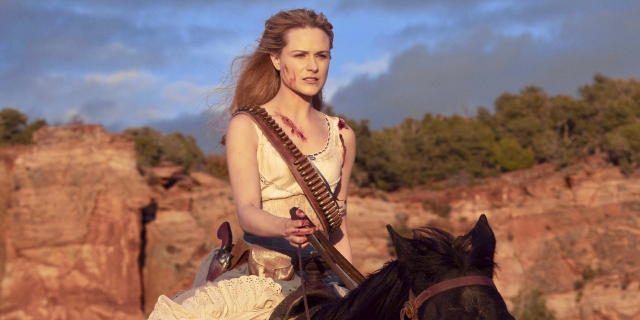 Riese: At the beginning of this season Erin mentioned the "three timelines" from last season and I was like WOW this show never makes any sense to me, yet I keep watching it! Even more confusing than the three timelines? The lack of lesbian action. There's some, sure. Like, THE TINIEST AMOUNT POSSIBLE. But not nearly enough!
---
Blindspot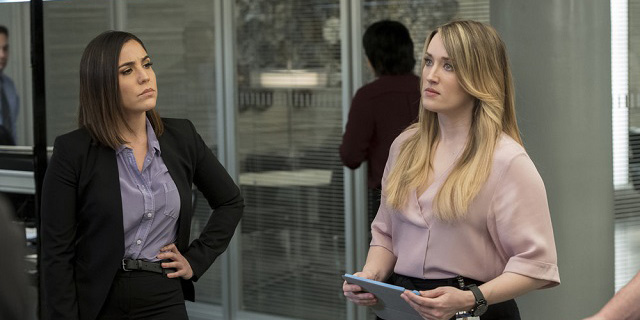 Valerie Anne: HOW ARE YOU GOING TO TELL ME PATTERSON IS STRAIGHT, FAM?! I don't believe it. I won't! Maybe I've been watching too much Critical Role, but in my humble and gay opinion, Ashley Johnson has queer vibes pouring off her and it feels rude for the show to not be leaning into that (the way it seems the video game The Last of Us is doing with the character she voices). There was definitely also a point I thought Zapata was going to fall for a lady but alas. Ever since Blindspot buried their gays so hard in early seasons, they've done nothing to make up for it. I don't want to quit the show (have you SEEN JAIMIE ALEXANDER), but I need a lesbian to hook me, if you know what I mean.
Natalie: I agree with you wholeheartedly on this very important subject, Valerie — I mean, Patterson thought about getting a cat, despite the fact that she's allergic, and if that doesn't scream gay, I don't know what does. You're right, after the killing off two lesbians and shipping the other one off to Paraguay or something, Blindspot owes us this. That said, let's be clear about something: Natasha "Tasha" Zapata is a bisexual goddess who is so clearly in love with her best friend who she (mistakenly) believes is straight. The writers need to just go ahead and make that canon.
(Also Tasha totally had a crush on Kalinda Sharma Nas Kamala but, c'mon, it's Archie Panjabi… who wouldn't?)
Last season, Patterson's dad stopped by the FBI labs and everyone's shocked to learn that Patterson's dad is Bill Nye the Science Guy. Know who's not shocked, though? Tasha Zapata, because she's already done her due diligence and met her future girlfriend's parents. And when Bill Nye discovers that Patterson and Tasha are fighting, her urges his daughter to make amends and in doing so, parallels their relationship and his marriage. Even Bill Nye knows!
It's ironic that a show called Blindspot wouldn't be able to recognize that the true love story isn't between Tasha and Reade (stop trying to make me like them together, I will not!), but between Tasha and Patterson. It's only because Patterson rejected her last season — she was mad that Tasha kept secrets about her torturous ex which, I mean: VALID — that Tasha even went to Reade. He's the rebound. Blindspot writers, why can't you see that?!
---
Single Parents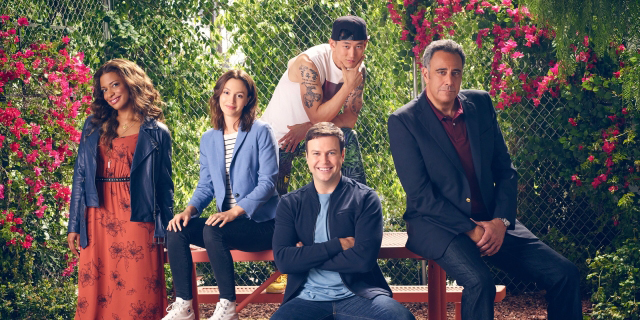 Riese: This show hasn't started yet, so I haven't seen it yet, but it is absolute blasphemy that a show about single parents does not feature ANY lesbian Moms.
Carmen: ESPECIALLY one that stars Leighton Meester in that blue blazer and those chucks on her feet.
Heather: Serena's out now. You're turn, Waldorf.
---
Big Little Lies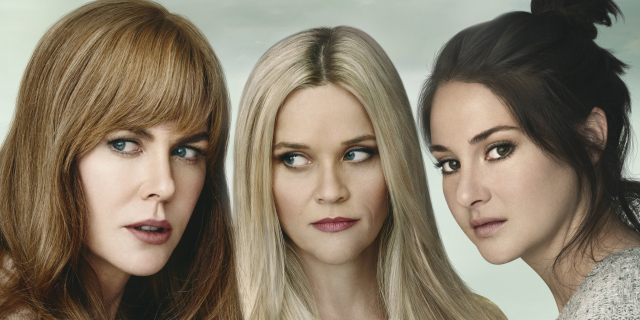 Riese: The only logical endgame here is: two beautiful women drink white wine. Cut to a shot of the beach. Cut back to a shot of the two women, except now they're having sex.
---
Law & Order: Special Victims Unit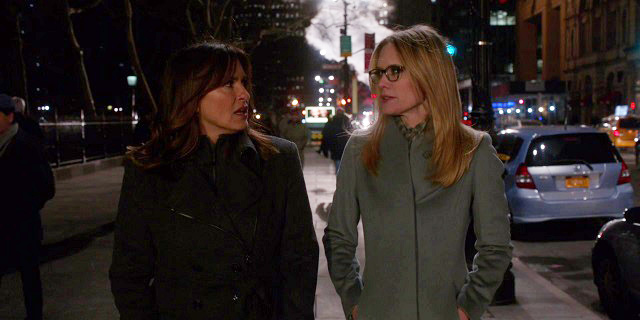 Natalie: Sometimes when you unwittingly end up shipping non-canon couples and you talk about it publicly, people (read: the straights) start to look at you strangely. It's not their fault really, they haven't spent a lifetime mining subtext for some inkling of representation so, of course, they don't get it. But, if you bring up the fact that Olivia Margaret Benson of SVU should be gay and that she and the love of her life Alexandra Cabot should be building a family together, even the straights are like, "you right."
EVEN THE STRAIGHTS CAN SEE IT!
Last year they brought Stephanie March back to SVU for a very special episode and Alex and Olivia didn't even end up making out! I mean, what was even the point?! You're 20 seasons into SVU's run, NBC, there's no reason that in 20GAYTEEN, Olivia Benson should still be denying what even the straights can see: SHE'S GAY.
So, so very gay.
---
Agents of SHIELD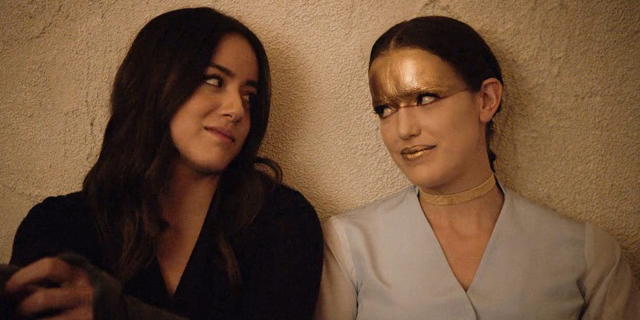 Valerie Anne: Similar to why at least one of the mutants in The Gifted should be gay, same goes for inhumans on SHIELD. I know my dream ship of Skimmons will never sail, but I don't think it's unreasonable to hope that Daisy is bisexual. I mean the name she originally chose for herself was Skye. So gay. She hasn't had a love interest in a minute, maybe some superpowered babe can drop by next season and quake things up for her. (Get it? Quake? I'll be here all week.)
---
The Rookie
Natalie: I'm not holding out much hope for the new fall season — I haven't seen a single trailer that surprised me with any lady loving characters that I didn't already know about — but if I have to pick the new show most likely to have a lesbian or bisexual character, I'm going to go with ABC's The Rookie.
Now, to be sure, there's not much in the trailer that suggests that lesbianism might be happening on the show, but "lesbian cop" is a well worn television trope for a reason. The cast boasts four main women. We know one gets involved with Nathan Fillion's character, so she's out, leaving: Afton Williamson, Alyssa Diaz and Mercedes Mason. The short pixie cut has me leaning in Williamson's direction, but something about Alyssa Diaz's swagger in her uniform has me thinking that she might be ABC's newest queer character.
---
Midnight, Texas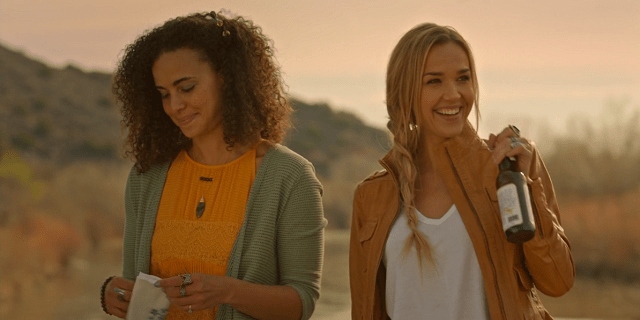 Valerie Anne: Everyone knows all witches are queer and I'm not sure why Midnight, Texas refuses to admit it. I guess what I'm realizing is, when there is a supernatural element to a show, I cannot accept that there are no lesbians as far as the eye can see. How are you going to have angels and demons and witches and psychics and vampires and not ONE SINGLE QUEER PERSON. This town is full of outcasts and misfits, and I feel like we fit the bill, especially in a place like Texas. I really enjoyed the first season of this show but I want to REALLY LOVE it this season. So you know what to do, show.
---
This Is Us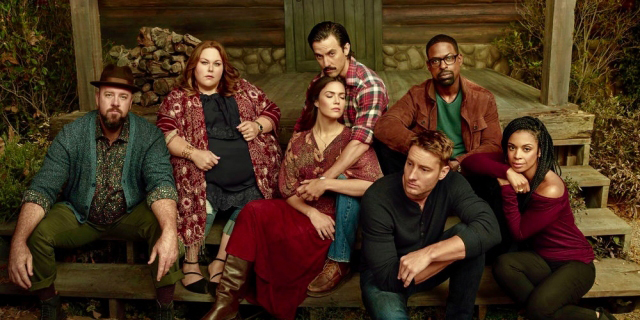 Carmen: The Pearsons are an idyllic, if weepy, modern American family. They love each other across race and class differences. They share meals, and fight, and harbor old secrets for decades that they always eventually forgive each other for. They're custom designed in the liberal Hollywood TV making factory to have you cry into a box of kleenex every week. Granted, Randall's birth father (masterfully portrayed by Ron Cephas Jones in a historic Emmy winning performance) was bisexual, but he left us nearly two years ago!
As the Pearson family keeps expanding, it's time for one of the women to come out of the closet. Are you trying to tell me that this is somehow the only big messy family in America without a gay cousin or aunt? I mean, doesn't Beth Pearson come from a tribe of sisters? And a cousin who's also like her sister? You want me to believe that zero of them are gay? C'mon!
One of the major mysteries of the new season involves a fast forward, which means we will get to know currently angsty pre-teen Tess as adult social worker Tess. An empathetic social worker with a cute wardrobe who specializes in foster care and child adoption? Sounds like she is the one we've been waiting for.
---
Supergirl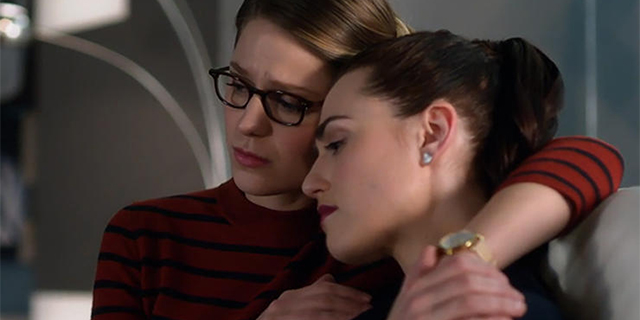 Heather: Look, I know Supergirl's already gay. Alex Danvers is one of my all-time favorite lesbians. I know what she had with Maggie was so special, and it was a goddamn delight and gloriously heartbreaking watching their story. I know Alex is getting a new girlfriend this season, and I am excited. BUT I have been watching Katie McGrath have queer chemistry with every woman (and inanimate object she brushed up against) since Merlin. When she came to Supergirl, I incorrectly told Valerie not to lean in too hard to the subtext in her recaps. I just thought, you know, I didn't want another Faberry/Brittana war on our hands. Now I just have this build up of ANGSTY GAYNESS trapped inside me and have had to ask Valerie to murder me because of it in Slack more than once.
Valerie Anne: "KARA DANVERS, YOU ARE MY HERO," SHE SAID, TO THE WOMAN WE'RE SUPPOSED TO BELIEVE IS JUST HER GAL PAL.
---
Outlander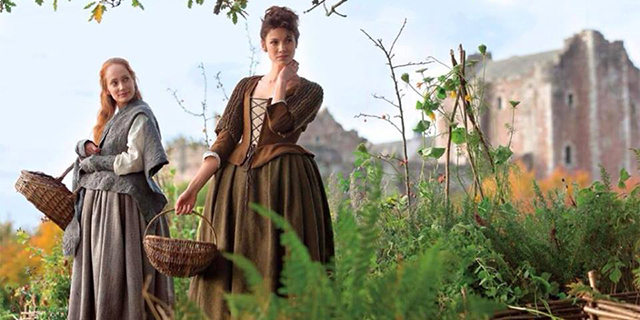 Kayla Kumari Upadhyaya: Especially because it is on Starz, which has been really great on the Make It Gay front lately (see: Vida and Black Sails), it is incredibly frustrating that in three whole seasons of historical/sci-fi/fantasy/romance series Outlander there has been nary a lesbian. EVEN THOUGH CLAIRE AND GEILLIS HAVE JUST AS MUCH CHEMISTRY AS CLAIRE AND JAMIE, A HILL (IN THE HIGHLANDS OF SCOTLAND) THAT I AM WILLING TO DIE ON. Sure, it's based on an incredibly hetero book series, but the show has already taken some liberties by deviating from it's source material, so is it really so much to ask for a lesbian or two or a hint of bisexuality for Claire who lbr already exudes Big Bi Energy?
---
Sesame Street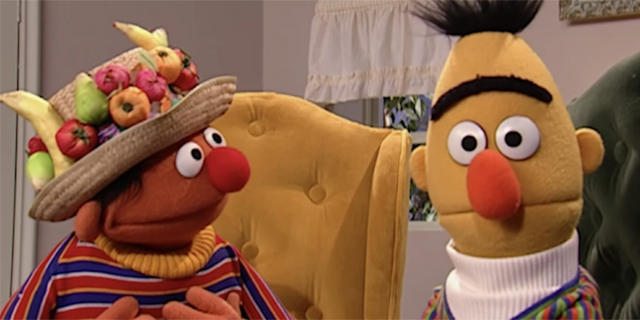 Riese: Sorry, I had to.
---
Okay now you tell us your MAKE IT GAY, YOU COWARDS television shows.