I think I've already written about 3,000 pieces on marriage equality since starting out at Autostraddle a month or so ago and even though I usually talk about girls laying in the grass together, we all know that marriage equality is about love and kittens but also about money, hospital visits, having a family and so forth and those are the things we're still sorting out.
Now that Obama's refused to defend DOMA, a lot of pressing issues are sort of in limbo. Boehner has said that the House will defend DOMA, but in a recent panel discussion, Congresswoman Tammy Baldwin, at a panel discussion, said she thinks the GOP is divided on whether or not to defend DOMA:
Baldwin said the fact that House Speaker John Boehner decided against taking a floor vote on whether to defend the Defense of Marriage Act (DOMA), which bans federal recognition of the marriages of gay and lesbian couples, now that President Barack Obama won't, demonstrates that the GOP is divided on the issue.
"They had two paths they could take: They could bring a resolution to the floor directing the general counsel of the House to defend the constitutionality of DOMA, or they could do what they did do which was convene the five top leaders of the House – the three Republicans and two Democrats – and vote to direct the general counsel to defend the constitutionality of DOMA."
A Human Rights Campaign poll released Tuesday that found 51 percent of American voters are opposed to DOMA, compared to 34 percent that favor it. Yet it still exists. This is confusing and we end up with these weird problems like what just happened with TurboTax. The software program, which has helped countless families manage their taxes while they buy lattes, recently experienced, well, a breakdown. The breakdown was related to the software's inability to deal with legal gay marriages. It can't accommodate same-sex couples in the three states where gay people get married and stuff. The response has been a mix between "sorry, we can't help you right now" and a big ol' "I told you so" –
The Bay Citizen reported in January that the IRS decision would make filing returns remarkably complicated for gay couples. Tax experts warned that e-filing would not be possible, and the only way to correctly fill out returns would be to hire professional accountants.
Some online tax blogs attacked the experts, calling their concerns misguided, misinformed and alarmist.
The experts were right.
The returns have turned out to be so complex that some San Francisco accountants are charging more than double their normal fee.
So, apparently your marriage being legitimate means that Turbo Tax will be overwhelmed with how attractive y'all were in your matching pink jumpsuits. I was. Or I guess actually, according to this article, "because of the Defense of Marriage Act, the IRS only recognizes heterosexual marriages as legitimate." So um, a little depressing, but also mostly CONFUSING. Don't forget that Obama declared DOMA unconstitutional, but now he's still stuck upholding it until it is repealed. And if you need TurboTax to, well, do your taxes, they recommend you seek professional guidance from a CPA or Enrolled Agent. You should do that, then go out and celebrate your kind of gay rights. Or do that and then move to Canada.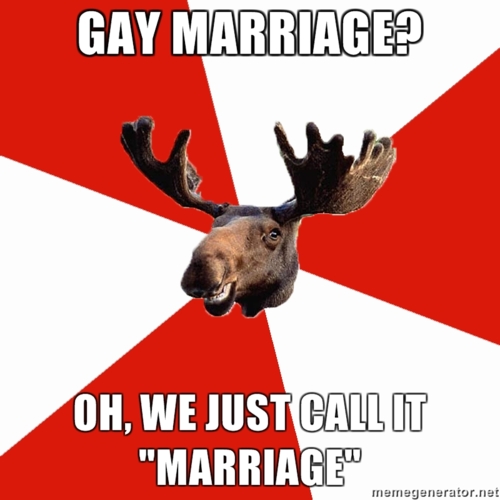 The confusion over DOMA extends past your personal computer, though – it extends over to your insurance, as you probably know. Because of DOMA, insurance benefits are hard to extend to your gay partner when you're gay, which is confusing:
A federal judge refused Wednesday to order the government to provide insurance benefits to the wife of a lesbian court employee in San Francisco, coverage the Obama administration has denied because of a law the president considers unconstitutional.
For example, a Federal Judge in San Francisco this Wednesday refused to order the government to extend insurance benefits to the partner of a longtime lesbian court employee. (Yeah, sounds kind of awkward for your boss to be your judge this time around.) DOMA makes this decision shitty but completely legal. In fact, it makes deciding otherwise a little out of the question:
The employee, Karen Golinski, won a ruling in 2009 from another judge, Alex Kozinski of the Ninth U.S. Circuit Court of Appeals, where Golinski has worked for nearly two decades.
Kozinski, acting as administrator of the court's benefits system, said its coverage extends to all employees' legally married spouses, including Amy Cunninghis, whom Golinski wed in 2008 before California voters banned same-sex marriage.
But the Obama administration's Office of Personnel Management refused to comply, saying it was bound by the Defense of Marriage Act, the 1996 law denying federal benefits to same-sex couples.
In conclusion, we're ready for DOMA to be repealed now, please. Because we don't have time for this sh*t.