This week on NSFW Lesbosexy Sunday: porn, sex toys, and the winner of Embarrassing Lesbian Sex Story-Fest 2012!
In case you've forgotten: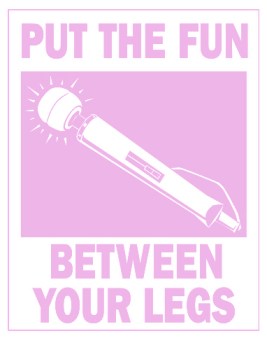 Have you noticed how every time anyone brings up something gross about lesbian sex, we always link to the fingernails post? That's because the internet severely lacks the lesbian/bisexual/queer-girl-person sex equivalent of Cosmopolitan's Sex Stories or Sassy's Mortifying Moments.
The winner will receive the Pop Your Top kit from Good Vibrations this kit was previously reviewed by NSFW Sunday), which includes:
+ Hitachi Magic Wand
+ Fuchsia Pop Top Deluxe Silicone attachment
+ 2 oz. bottle of Please Liquid Lube
+ And internet fame!
And the winner is #3, Fucking and the Police, with 44.8% of your votes!
The summer before college, I had my first girlfriend, and once I discovered the wonders of gay sexytimes I was obviously obsessed, to the point of being willing to do it almost anywhere. Exhibit A: one night after a dinner out, we decided to park my car behind a closed-for-the-summer elementary school and go at it. A girl's gotta do what a girl's gotta do, amiright??
So things are going great until we see headlights behind us and we realize IT'S THE COPS. We get dressed as quick as humanly possible and after a few frantic seconds of, "YOU'RE SUPPOSED TO BE THE BUTCH ONE," "NO YOU ARE," we decide to take equal responsibility and we both get out of the car. The cop is a big middle-aged dude and clearly shocked to see two ladies emerge from the vehicle. He's all, "What are you girls doing back here?" and I don't even think sex occurred to him as a possibility, despite the fact that we were sweaty, disheveled, the car was steamy, etc. HETEROSEXISM AT ITS FINEST! So we're like, "Oh, uh, hanging out, sorry." He eyes us suspiciously and says, "Well, I've got to take your information." My girl is freaking out about her parents getting wind of anything, but he assures us it's just routine procedure. So he hands us a notepad and has us write down our names (why he didn't just ask for our licenses, I have no idea). He shines his flashlight so we can see the notepad and then I notice … my girlfriend's hand is COVERED in blood. I guess I'd gotten my period during sex and hadn't noticed. So IMMEDIATELY the cop is like, "WAIT, YOU'RE BLEEDING. WHAT'S GOING ON HERE?" And my girlfriend sees and freaks out and makes up some crazy story about having cut herself on the pocket knife on her keychain. The cop insists on searching the car (for bodies?) and, finding nothing, finally finally finally lets us go. But not before my girlfriend has inadvertently gotten my period blood all over his notepad.
We vowed never to have sex behind a school again (but not never in a car, cuz that's just too good), then laughed for like six months straight. For years afterward we'd joke about the time we got caught '"red-handed."
Congratulations, and thank you to everyone who entered!
+ According to Ms. Naughty, female porn consumers have become increasingly comfortable with being female porn consumers:
"Something that has become apparent over the last 12 months is that female consumers have become incredibly comfortable with adult material; the new generation of internet users see porn as their birthright and nothing to be shocked about. And alternative visions of porn are increasingly being embraced by more and more people."
+ Orgasms are, unsurprisingly, more fun than sleeping pills as a cure for insomnia:
"Those muscle contractions aren't just in your vagina – many women feel their orgasm through their pelvis and legs as well, and feel like they've had a work-out after they come. Add to the physical exertion the orgasmic mind-blowing that clears out much of the brain debris from the day…and I think you've found a great way to relax enough to fall asleep at night. Much better to get yourself off than to get yourself habituated to sleeping pills."
+ The new world of sex-scandals involve people targeted by their exes, former friends, or total strangers:
"This week, a judge rejected a plea by popular gossip hub TheDirty.com, which features user-submitted content, to dismiss a suit brought by a woman who was the subject of nasty rumors on the site. Sarah Jones, a Cincinnati Bengals cheerleader, alleges that she was defamed in two posts published on the site in 2009. The entries claimed that she slept around a whole bunch and had STDs.
In other words: This is really mature, highbrow stuff that we're talking about here."
+ The LA City Council has pledged to pass an ordinance requiring porn performers to use condoms on set. People are conflicted about this:
"The condom issue speaks to the strange cultural space the porn industry occupies: It is for the mainstream, but not of it. Publicly, we view porn as a danger to itself—and to us. But privately, well, we view porn. 'I wouldn't mind using condoms more,' 20-year-old performer Lily LaBeau told me. 'It's just not what people want to see.'"
+ Toothbrush vibration technology + a sex toy company = super weird, intriguing sex toys:
"Revel Body's pitch is that the resonant motor technology allows the device to produce a more vigorous and pleasing vibration, something much more modern and advanced than the old-fashioned devices proliferating the adult market today.
'The big things that consumers don't like about these products, pretty much the majority of them, come back to the motor,' [Revel Body founder Robin] Elenga says. 'It seems like with a vibrator, you'd want to compete on vibration. But nobody is doing that. It's kind of a head-slapper when you look at it that way.'"
+ And Violet Blue writes about why vague sex industry marketing is good (because it makes the industry like basically every other industry) but bad (because it is not helpful to consumers):
"I'm just a caveman — that is, a consumer — so tell me why I would want to put your surely-expensive device on my oh-so-private thingie.
I could ascribe the lack of specifics negativity and an unwillingness to talk about the down and dirty of sex, but I don't read it that way. It's simply Hype Repetition, rather than genuine information…and, needless to say, it occurs in every sector of the tech market. Sex toys — particularly vibrators — are products whose inner workings are probably unfamiliar to most of the readers of tech news. But Vibrator Hype shouldn't get any more of a free pass than Smartphone Hype."
Disclaimer: All of the photographs on NSFW Sundays are taken from various tumblrs and do not belong to us. All are linked and credited to the best of our abilities in hopes of attracting more traffic to the tumblrs and photographers who have blessed us with this imagery. The inclusion of a photograph here should not be interpreted as an assertion of the model's gender identity or sexual orientation. If there is a photo included here that belongs to you and you want it removed, please email our tech director at cee [at] autostraddle dot com and it will be removed promptly, no questions asked.