In Lost Movie Reviews From the Autostraddle Archives we revisit past lesbian, bisexual, and queer classics that we hadn't reviewed before, but you shouldn't miss.
---
I had my first experience with an abortion provider because of a lesbian Christmas movie. Happiest Season, to be exact. I was killing time in Pittsburgh, waiting to interview the cast on-set, looking for a used bookstore near my hotel, when I wandered into a crowd of furious men shoving bloody, crudely Photoshopped pamphlets at me and shouting about cursed wombs and lakes of fire. It was disorienting and terrifying and of course the man screeching the loudest was wearing a Ben Roethlisberger Steelers jersey. You know, the Super Bowl-winning quarterback accused by who-knows-how-many women all over the country of sexual assault. That Ben Roethlisberger.
I'm not often scared of men, especially on crowded sidewalks in broad daylight; the exact opposite, in fact. I'm usually galvanized by the mere presence of men, and itching for a fight. A walking angry lesbian cliche. Or, as Lily Tomlin's lesbian poet, Elle Reid, says in her 2015 film, Grandma: "I have an asshole problem. When people are assholes, I get angry."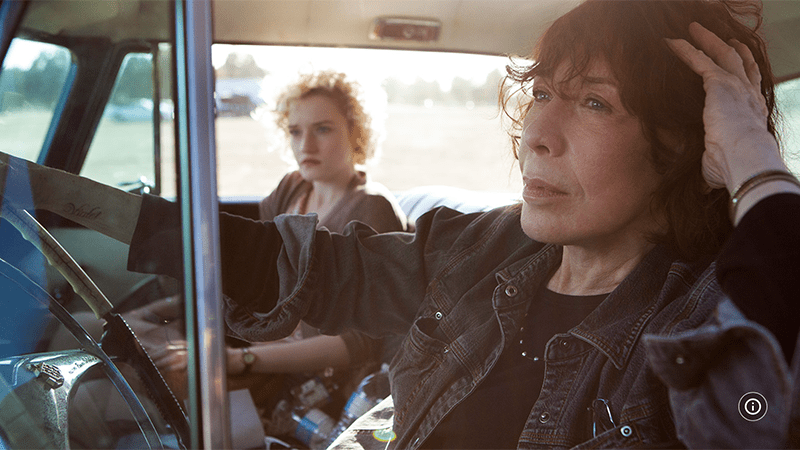 I was in a holiday headspace that day, a hopeful lesbian movie headspace. I was looking at a map on my phone, mentally rehearsing ways to sound cool when I was introduced to Clea DuVall, and then I was stopped in front of an abortion clinic and a man was screaming so loud, so close to me that his spittle landed on my face like rain. My body, my brain, my hammering heart: they wanted me to run. But my thoughts landed and stuck on Lily Tomlin's Grandma. Her rage, her impetuousness, the exaggerated and reverent way she says "Simone de Beauvoir" — and of course the scene where she wallops her granddaughter's boyfriend. He got Sage pregnant, he promised to scrape together the $630 she needed to get an abortion, and then he bounced. I smiled when I remembered it — "Everyone's gonna talk about it at school!" "What's he gonna say, 'Sage's grandma beat me up?'" — and smiled harder when my smirk made the screaming abortion clinic man step backwards. I fully grinned when I realized he was having to look up to yell at me. I snatched the entire stack of ghoulish pamphlets from his hand, told him to run, and he did.
I wanted to be proud of myself for standing firm, but mostly I couldn't shake the terror of finding myself in that situation, and I didn't even need an abortion. Had never needed an abortion. Not for some morally superior reason, but because I learned at a very young age that men — including pastors, deacons, grandfathers, and uncles — cannot be trusted. In high school, I famously left one of the stars of our boys basketball team stranded at a Texaco station in the middle of Nowhere, North Georgia in the middle of the night because he wouldn't keep his hands off me on the drive home from an away game. I've done everything in my power, my entire post-third grade life, to never be alone with any man who isn't my dad or my dad's brothers or my dad's dad.
I never made it to the used bookstore in Pittsburgh. I wobbled back to my hotel and then spent the rest of my time sitting knee-to-knee with Kristen Stewart, with Mackenzie Davis, with Mary Steenburgen. Lush garland, fresh pine trees, twinkling Christmas lights wrapped around everything in sight — and I couldn't stop clawing at my cheeks. Kristen Stewart winked at me. Winked! At me! And I could feel that guy's spit on my face, no matter how many times I rubbed the imaginary flecks of outrage away.
If it was that bad for me, how much worse was it for the people who needed to be there?
I rewatched Grandma the day after Supreme Court Justice Alito's leaked draft opinion was published, with its stated intention to roll back the 1973 Roe v. Wade decision. And I marveled, once again, at how prescient Lily Tomlin's best roles are. Her overworked, overlooked single mom in 9 to 5. Her aging, divorced artist in Grace and Frankie. And yes, her grandma in Grandma. Elle Reid is a woman in her 70s who has recently lost her partner of nearly four decades. She tries it on with a younger woman to manage her grief, and decides paying off her debts will be a more rewarding late-life experience. She's misanthropic, by her own admission and her own daughter's accusation. She's sometimes even cruel. She's that angry lesbian feminist we grew up being warned about, a leather jacket-wearing ball of fury and Feminine Mystique quotes who is determined to scrape together abortion money, no matter what it costs her.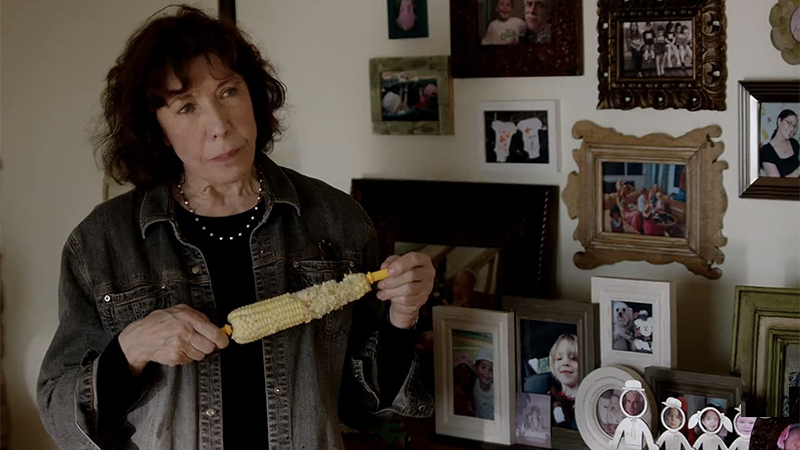 It'd be reductive to call Grandma a lesbian movie, or a road trip movie, or a coming of late-age movie, or The Ghost of Girlfriends Past. It is all those things, but that's not all it is. The catalyst is the granddaughter's abortion, but what Elle and Sage find on their quest is a connection that's deeper than DNA, one that forces them to examine who they are and what they really want with what's left of their lives. Grandma is hard on men in all the right ways, but mostly it ignores them. Elle says men are okay, that her dad was a man. Sage says her dad was a sperm. And Sage's boyfriend, the one who got her pregnant — like I said, Lily Tomlin kicks the shit out of him.
I chose Grandma last week because I was looking for a little hope, but, like Sage, Lily Tomlin gave me more than I asked for. Or, maybe it's more accurate to say she gave me exactly what I needed. I was back in Pittsburgh as I was watching Elle and Sage drive all over the place looking for ways to get money to get not-pregnant. I could feel that screaming guy's breath on my cheeks all over again. But I could feel Lily Tomlin's influence too. She's a grandma, but not the apron-wearing kind. And she's a grieving widow. And she's a complicated parent to a straight, over-achieving, workaholic daughter. And she's a poet. And my god, she is fucking furious.
When most people hear "grandma," they think "cookies" — not "abortion." And that's kind of the point. Sometimes you need a chocolate chip treat and a hug. Sometimes, as Lily Tomlin's lesbian poet says, you need to learn to say "screw you."
I'm angry. You're angry. Grandma is angry. And that makes it just right for right now.