Happy Sunday Funday! It's the first day of the rest of your life. Shouldn't it be full of good news and sandwiches? I'm going to brunch today, so I'll be having a little bit of both.
This week, gay people are one incredibly small step closer to equality and a bunch of badass, outspoken, and/or good-looking women are working hard for LGBT equality and saying important stuff.
Gay Parents May Soon Take VA By Storm
A Virginia State Senator is shaking up the issue of gay adoption to protect hopeful queer parents from discrimination, although the state's marriage laws still serve as an obstacle to non-hetero couples trying to start families:
Although Virginia's Board of Social Services voted to continue a policy that allows faith-based groups and adoption agencies to screen prospective parents on religious or moral beliefs back in April of last year, Senator Adam Ebbin has recently introduced legislation "which would not allow Virginia to fund or contract adoption agencies who discriminate against prospective parents on the basis of 'race, religion, national origin, sex, age, family status, disability, sexual orientation or gender identity.'"
Jane Lynch to be Honored for Gay Advocacy
The National Center for Lesbian Rights will be honoring Jane Lynch for her gay advocacy in May at their 2012 Anniversary Celebration.
Kelli Connel's Photography is Nice
The Advocate described Kelli Connel's series of dual portraits as "packed" with feeling, which makes sense considering that's what the images in her "Double Life" collection are about. The pivotal descriptor they left out, though, was "lesbian feelings."
She created each image in the series by taking photographs and then collaging them digitally to form one photo of two figures. Each is meant to describe some facet of lady relationships. It looks like your life.
Cynthia Nixon Thinks "Gay Is Better"
You're probably gonna enjoy "Life After 'Sex,'" the New York Times Magazine feature on Cynthia Nixon's new play and love of being gay.
The actress even went all queer theory on us once or twice, discussing why being gay can be a choice and why nobody is allowed to label her:
"I gave a speech recently, an empowerment speech to a gay audience, and it included the line 'I've been straight and I've been gay, and gay is better.' And they tried to get me to change it, because they said it implies that homosexuality can be a choice. And for me, it is a choice. I understand that for many people it's not, but for me it's a choice, and you don't get to define my gayness for me. A certain section of our community is very concerned that it not be seen as a choice, because if it's a choice, then we could opt out. I say it doesn't matter if we flew here or we swam here, it matters that we are here and we are one group and let us stop trying to make a litmus test for who is considered gay and who is not." 
Hardcore 8-Year-Old's Debut Goes Smoothly
I can't tell whether this is enjoyable, inspiring, cool, or kind of weird:
Kids death-growl the darndest things. Yesterday YouTube user thetinaxo uploaded this music video for 8-year-old Juliet's "First Hardcore Song," and after racking in more than 4 million views in the first day, I think it's fair to say that it's a hit. Among the things Juliet snarls about in the Mum-produced video are her love for her dog Robert, her affection for her unnamed fish (smell notwithstanding), and, again, her love for her dog Robert. Just watch out for that stuffed animal mosh pit.
Aung San Suu Kyi is a Total Badass, Read About Her
Slate's extensive interview with Aung San Suu Kyi is like reading a conversation being had with an intelligent and poetic woman. Oh, wait.
Slate: How did you keep going?
I had enough to do to keep this house from toppling down. I could listen to the radio and I had access to books from time to time. Not all the time.
Two Pretty Things Featuring Bread
Looking at food is almost as great as having it in your mouth, I think. And right now I wish I had bread in my mouth.
+ "9 Masterpiece Sandwiches" are both delicious and, for the art history majors in the house, actually pretty funny: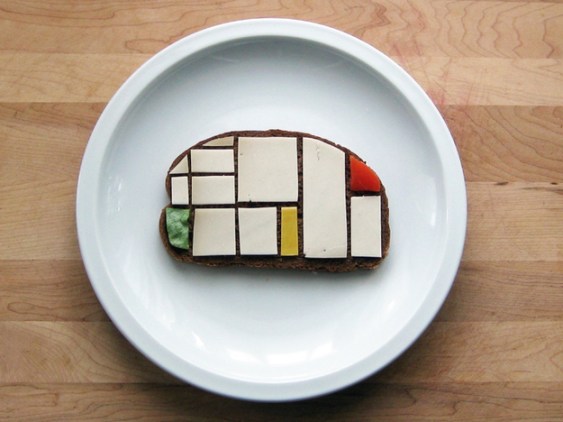 + And also if admiring 20 photos of croissants is wrong, I don't wanna be right:
Nicki Minaj's New Music Video
You a stupid hoe.
David Bowie's Wife
There are a lot of ways to end the sentence "David Bowie's Wife _____," but I think my favorite way is "looks great as Wonder Woman."
And the only thing better than pictures of Angie Bowie in full superhero costume is her story about being too damn sexy and empowered to even get the role of Wonder Woman anyway:
First I showed them the photographs, which totally flabbergasted the director- things were going well so far- but then, before I went to my dressing room to don the stipulated turtleneck, some woman from the studio came up to me.
"I see you're not wearing a bra," she said. "You have to wear one for the screen test. It's mandatory."
I couldn't believe it. I hadn't worn a bra for years. […]
After that setback, one of the show's purported writers tried to pull a "casting couch" on her. Bowie's response to this creep? "Now take yourself out of my dressing room before I fucking kill you!"
Models Wearing Less Clothing Than Usual
I consider any photo of a girl titled "A Way To Wear Clothes And Still Be Naked" relevant to my interests.
Porcupine Video
You're going to watch this and be all "what even IS THIS?!" The answer is video footage of an adorable and hungry porcupine stuck in a mug:
Irwin, the educational porcupine at the Animal Rescue League Wildlife Center has to work a little harder for his breakfast this morning!