Welcome to Insta Crush, a column on Autostraddle dot com where every other week we feature a queer Instagram account we love. I strongly believe that the way we all connect on Instagram is forging and fostering community in new and interesting ways, and I want to highlight the people contributing to that endeavor. Much like Instagram itself, these interviews are a little slice of queer life.
The world of wedding photography is pretty heteronormative, so it's always exciting to find a queer photographer who does the work – what's even more exciting is a queer wedding photographer only interested in working with the queer community! Jamie Thrower, the bubbly Cancerian fat femme behind Studio XIII Photography, embodies this dream! Jamie, who is based in Portland with her soon-to-be-wife Risa and their adorable dog, cat, and brood of named-after-characters-on-the-L-Word-yes-really chickens (and who has a personal Instagram that is just as adorable as you'd imagine based on that description!) prioritizes the LGBTQ community above all else in her work. She'll occasionally shoot a wedding for allies, if her schedule permits it, but her goal is to serve the queer community first and foremost. The passion she feels for this job is clear when you look at her work – Jamie says her goal is to make people feel when they look at her pictures, and wow, she accomplishes that goal x 1000.
It's always really fun to follow a professional photographer on Instagram because you can tell they really know what they're doing. Studio XIII Photography's feed is filled with joyous explosions of queer love, stunning portraits, and every so often, a beautiful selfie of Jamie herself. It's also always fun (and often eye opening) to hear what a professional photographer has to say about Instagram. So here's Jamie speaking to her hopes and dreams for future photography projects, her tips and tricks for throwing a Big Gay Wedding, and, of course, her thoughts on everyone's favorite photography-based social media app.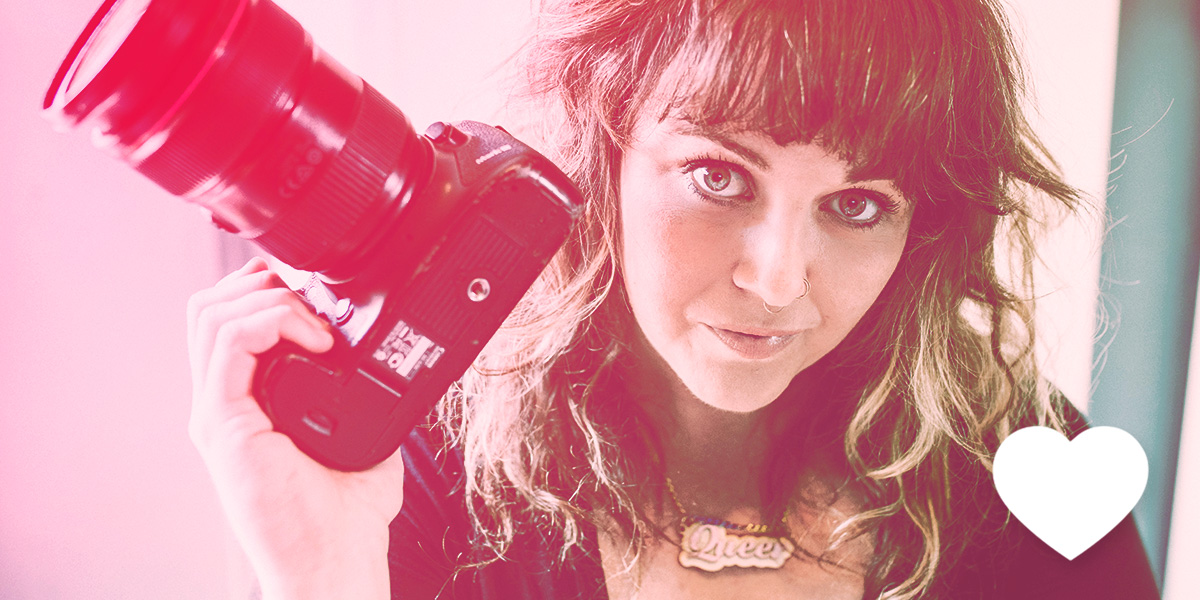 Tell me about Studio XIII photography. First of all, where does the name come from?
Studio XIII came mostly from not wanting to have my personal name associated with my photography. Ha! But, I also always imagined my business being bigger than myself, so I wanted to have a name that could grow and expand with me. Thirteen is my lucky number and it shows up in really important moments as a sign, so I figured what better than to use it for my business!
When did you start Studio XIII, and how has it evolved from the beginning?
I started freelancing full time in 2012 and I was doing just about everything under the sun to make ends meet – I did graphic design, floral design and photography, scattered in with house sitting, dog sitting…you get the picture. Eventually I realized that my gift and my passion was in photography and in 2016 I overhauled my entire photography business to focus solely on my LGBTQ communtiy. I was finding that folks were not just hiring me because they felt drawn to my work, but because I was out and proud and they felt more comfortable and safe with a fellow queer behind the camera. Making my business Queer AF was the best thing I could have ever done, and I've met so many incredible humans through my work.
What does it mean to you to be a fat femme photographer?
I spent most of my life hiding from the camera and also hiding from the word fat. But in my unlearning of so much in my twenties and thirties, identifying as a fat femme photographer feels liberating and powerful. I feel like I have so much to share with the world, both through my work and my own self and visibility.
You and I have spoken a bit about how photography can be a useful tool to help people, especially marginalized people, feel powerful and reclaim their bodies and their personhood from a world that tries to take that away from them. Can you speak a bit to that, and how you try to help people do that in your creative work?
My true exploration into the power of photography came from having a bad experience with a photographer when I was in high school. I remember feeling so un-seen, that when I looked at the photos I was in tears and I could barely recognize myself. So I set out to take a self portrait that I could use in the yearbook. I spent countless hours in the darkroom and experimented all year with photographing myself inside and outdoors, creating portraits that made me look at myself and feel good. Self portraiture is still one of my favorite parts of photography.
I started doing portrait sessions in the last year called "studio XIII stripped," where I invite queer folks to step in front of my lens for a creative portrait session. We sit down and talk about how my subject is feeling in their body in that moment of time, what they want to document or celebrate, how they want to feel when they look at the photos. And then I just ask them to trust me. The sessions are not only just about the photos themselves but the experience of being photographed. I believe that stepping in front of a camera is one of the most vulnerable things you can do, and so I want everyone who allows me the honor of photographing them to feel celebrated and seen and loved. As queer people, we are constantly bombarded with other people's expectations and assumed to fit inside boxes and labels that society creates for us. To be able to have someone's heart and soul unfold and bloom in front of me is so incredibly beautiful, and to capture someone's true, authentic, most stripped down self is the highest honor I can have as a photographer.
You are also a truly stunning wedding photographer. What is your favorite part about shooting a queer wedding?
There's nothing better than a queer wedding. I love that my business is exclusively queer because it means that the weddings that come my way are dynamic and unique and beautiful celebrations of love – love that so many people in this world still seek to deny. Every wedding that I go to feels like an act of resistance, every queer love story that I photograph feels like a miracle. I cry at just about every wedding that I photograph. There's something that is innately powerful and special about the way queers do weddings. We get to define our own rules and throw out gender norms and create ceremonies and rituals that mean something personal to us and to our community. Plus, if I can be frank for a moment, queer weddings are always filled with hot babes and killer dance parties.
One of your taglines is "visual love letters to our community" which makes my heart explode. What does that phrase mean to you?
I love being part of the queer community. I'm so incredibly grateful for my queer family, far and wide. Every chance that I get to photograph someone in my community or capture queer love and relationships and families feels like an opportunity to create a love letter back to them. I want folks to look at the photos and feel so incredibly loved. I want my community to look at the photos that I take as a collective and see how beautiful we are, how special we are, how glorious we are! The photos I take are for us…as tangible reminders of how resilient and powerful we are.
You're getting married soon! Do you have any tips or tricks people should take into account when planning a big gay wedding?
Planning a big gay wedding is not for the faint of heart. The wedding industry is a strange, hetero, expensive world and I feel lucky that I work in the industry (and am actively working to change the industry) so that I know fabulous queer vendors who we won't have to come out to every step of the way. We are trying to fill our wedding with as much queerness as possible, because that means so much to us and to put our money back into our own community feels important. I always tell folks who are struggling to think about their own wedding that the best part about being queer is that we get to define the rules for ourselves…so a wedding can be exactly what we want it to be and doesn't have to be anything more or less. I also recommend finding trusted vendors who are queer or queer friendly and to get personal recommendations from them of other people to hire. At the end of the day, creating a ceremony and a celebration of the love you share with someone is really, really special. Take time to soak that in…and fuck the rules!
What's one (or more!) misconception you think Instagram gives people about photographers?
I struggle so much with Instagram. As someone who is obviously very visual, I love looking at other people's photos of their lives and I love sharing my work, both personal and professional on Instagram. I also have gotten a ton of work through Instagram and I'm not sure I would be where I am in my business without it. But I think that most people assume that photography is inherently easy or simple for those who are good at it. Instagram can make the lives of a photographer look very glamorous and fabulous and effortless, when in reality, being an artist is incredibly difficult and complicated and stressful. I find a lot of folks, especially influencers, lose sight of the artistry that goes into creating a photograph, and that photographers earn their livings this way. Sadly, "exposure" just doesn't pay the bills. (But boy I wish it did because then I'd be rich!)
On a more positive note, what's your favorite part about being an Instagram photographer?
I love how Instagram has a way of connecting folks from all over the world and gives visibility and a platform to so many different people. I've done so much of my own learning and unlearning through Instagram. I also realize the impact that Instagram can have when I get folks in my DMs telling me how much seeing queer love represented means to them. I've even had parents reach out and tell me that because they followed my account they felt more equipped to being there for their kids when they come out. Reading these messages or seeing my own work shared on a broader platform is so incredible and I'm grateful every day.
Do you have a dream photo project that you haven't gotten to shoot yet but that you'd like to speak into existence here?
I'd love to do a photo project on Femmes…to be able to bring to life that special magic that femmes possess would be incredible. I also dream of touring the US to make a coffee table book of Queer Fashion at courthouse weddings.
Who are some of your favorite photographers to follow on Instagram?
This is an impossible question! I know soooo many talented photographer friends and colleagues that the list would be never ending!
Do you have other non-photography favorite Instagram accounts you'd like to shout out?
I love following accounts that check me on my privilege and remind me of all the work I have to do like @Ihartericka, @lilnativeboy, and @nowhitesaviors. I also love following @notesfromyourtherapist it feels like a daily dose of therapy!
My favorite account on the internet right now though is @mattxiv – his voice for the LGBTQ community is so beautiful and the visuals he creates through makeup to do this is genius.
Is there anything else you want to share with the Autostraddle audience?
Just that I love your publication and I'm grateful it is in the world!
---
If you have a suggestion about which Instagram account we should feature next on Insta Crush, leave a comment here or DM me at vanessatakesphotos.