I remember when I realized something more-than-friendly was brewing with the first girl I dated. Our high school's GSA threw a party at the park by my house to celebrate summer break, and someone suggested we all gather around for a photo. She and I sat next to each other on a picnic bench, my arm around her shoulders and hers around my waist. Then, just as the shutter went off—one, two, three!—she squeezed my hip.
I'm pretty used to being touched. A lifetime of physical therapy and surgeries will desensitize you to strange hands. Part of dealing with all that manipulation is divorcing touch from meaning. I've had to understand my body, for however many moments at a time, as a thing to be handled. But I've always been very tactile; my mom's theory is that it has to do with being premature, which I can get behind. I spent the first month of my life in an incubator, so that skin-to-skin contact people talk so much about didn't get a chance to happen. It follows that I'd want to make up for lost time. Today I am the cuddliest person I know. Any of my friends will tell you: give me the slightest opening to hug or hold hands and I will literally be all over it. When I feel close to someone, I also want to be close to them. As evidence, here is an actual text I sent last week: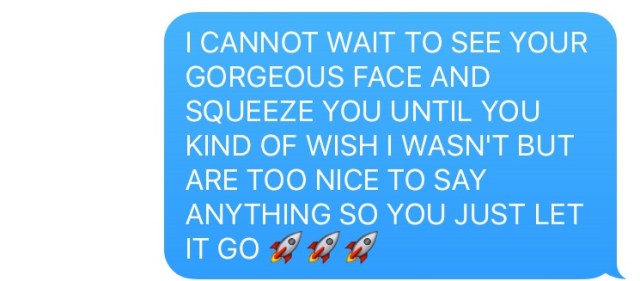 (And yes, that's what wound up happening.)
People don't validate my body very often; they're much quicker to comment on my mind. And while I'm not going to turn those compliments away, I also have to be careful not to fall into the separation trap. It's tempting to ignore your body's needs when you're disabled, to draw focus elsewhere so that you don't have to deal with all its complications. I Hermione-d the shit out of high school and college as a diversion from all the things I hated about how I looked and the body I lived in. And as part of my wholesale rejection of that body, I swallowed my impulse to reach out and touch and assumed physical affection was a type of appreciation other people got to feel.
As I've started to treat my body with respect — a terrifying process I would recommend to anyone but am not going to sugarcoat — I've started to understand why I can remember that day at the park so clearly after ten years. If someone touches me when they don't have to, it establishes my body as something they appreciate and want to be close to. It shows me that they're willing to engage with my body as much as with me. Initiating contact with other people is a way of asserting my body's needs. And all that plays a big part in taking it back from the place of distance, uncertainty, anxiety, and distrust where I let it languish for so long.
That is, until you put me in bed with someone. Often, when I'm having sex, a very specific thought runs through my head on a loop: "don't touch me.wp_postsWhat gives? If I get so much out of being close to other people, shouldn't sex be the ultimate way to prove it?
I start to have trouble once touch meets expectation. All the old anxieties I've otherwise put to sleep wake right up: what if my body won't respond in the right way? They won't understand — how could they? My body is going to take too long to explain, so let's just drop it. Is this too much? Am I too much? The stuff disability bores into you.
For a long time, I hesitated to acknowledge the difficulty of disabled experience, because I don't want to give any more ammunition to the argument that cerebral palsy somehow wrecked my perfect body/life and oh, what a shame. But the fact is CP puts your body through a lot, and none of it is easy. People have been cutting me open and moving my parts around since I was four. And I think the way I feel about touch — and the fact that touch is the puzzle I haven't quite solved — reflects a challenging truth about what that can mean. Disabled bodies exist in a state of conflict — sometimes with our minds, sometimes with the world at large, and sometimes with themselves. That push-pull space is tough to occupy. Being proud of a part of you that also saps a ton of energy, devalues you in the eyes of people you've never even met, and forces you to put your body in someone else's hands to ensure its safety? That takes active, constant, grueling work.
I hope that someday the panic tape will stop running when I'm in bed with someone new, but am slowly opening up to the possibility that maybe that won't happen. I don't think it's a matter of meeting the right person; it's about me giving my body a chance and allowing myself to be patient. We all try so hard to tidy up our relationships to ourselves and resolve all of our internal tensions. We want to be able to say "I am okay with this nowwp_postsand have that be that. But I appreciate how touch forces me to sit in that place no one really likes to visit, and actually stay there.
If I can be happy there, accept that in one way or another I may always have an unresolved body, and still delight in what I find? That is loving who I am now rather than the person I hope to one day be. When one of the most pervasive stories about your body type is that true happiness lies in your freedom from it, acknowledging and enjoying yourself as-is is a victory. I'm not supposed to like it, and yes, I certainly have down days, weeks, months, and years. But touch shows me all the work I have left to do as it reminds me of my right to be physical in a world that's quick to deny that right.
Touch is my sticking point. It reveals the conflicts that still exist — maybe to be resolved, maybe not. I'll keep trying; I want to keep trying. But maybe, like my limp or my curved spine, this is just one of those ways my body works. And not pushing that possibility away counts for just as much.