It's time for A-Camp!!! Yay!!! For those who don't know, an annual gathering that we put on in the beautiful mountains of California where hundreds of queers and lesbians and bisexuals and trans ladies and similar folk get together to do arts and crafts and panels about gay children's cartoons. But that's not all we do, we also get to see amazing concerts, hilarious comedy sets, and brilliant movie and webseries screenings featuring some of the coolest LGBTQ women/folks in the galaxy. But what do those women/folks get up to when they're not on the mountain? Do they adopt cats? Do they go shopping at Ikea? Do they read comics? You might be surprised to find out they do all these things! Probably not, though, those all seem like pretty obvious guesses. Knowing that these A-Camp All-Stars live parts of their lives off the mountain and reading comics, I decided to ask some of them what their very favorite comics are.
---
Jenny Owen Youngs: Musician Extraordinaire, Bear-Suit Superstar
I pick Ninoma by Noelle Stevenson. Y'ALL. Do you enjoy fantasy, shape-shifting, and adorable scamps with asymmetrical haircuts? Have you always wanted to intern for your favorite super villain (hoping to discover they're deeply evil for a reason your tender heart understands)? Are you DTDragon? Then please check out this delightful web comic-turned-graphic-novel; you'll laugh and cry and possibly breathe fire all the way through.
---
Jen Richards: Her Story Co-writer/Co-star, Hot Redhead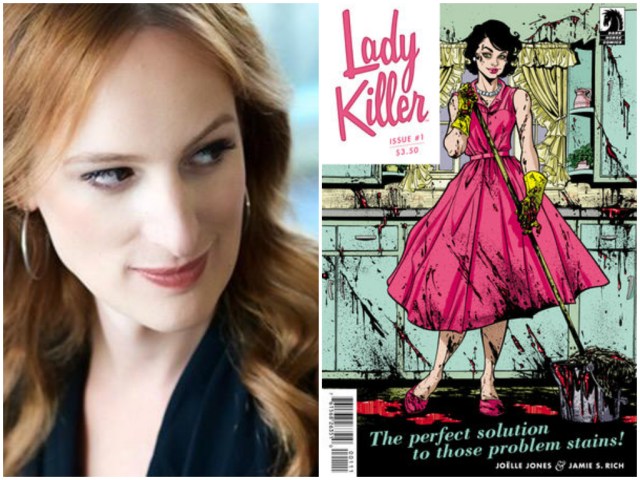 I'd say Lady Killer (Joëlle Jones, Dark Horse). I was hooked by the cover image of the first trade, of main character Josie Schuller in early 60's perfect housewife attire, mopping up a kitchen covered in blood. I love the idea of the woman who maintains the image of docile domesticity while actually being an incredibly skilled professional assassin. Similar qualities are found in Velvet (Ed Brubacker, Image), though with a more noir look.
---
Kristin Russo: Everyone is Gay, A-Camp Co-Director, Really Great Eyes and Smile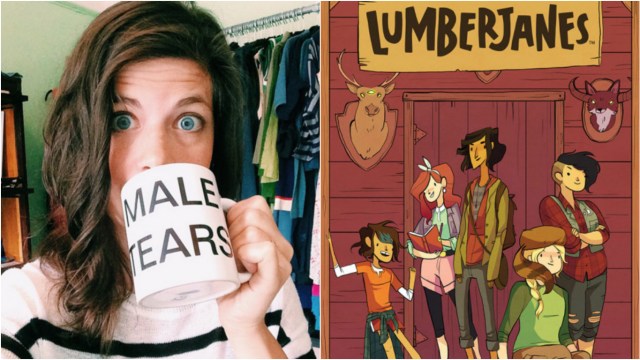 Lumberjanes: UGH I KNOW EVERYONE HAS ALREADY READ ALL OF THESE, of course you have, they are the best. They are the actual best. The reason I am choosing Lumberjanes is because, much to the chagrin of my lovely wife, I haven't read all that many comics in my lifetime. This is high on my list of things to remedy, but in the meantime let me tell you why I read and adore Lumberjanes: it centers strong women, it centers queer women, it centers fun and badassery, and, holy shit, how I wish I were a Lumberjane! Also apart from centering all that goodness within its pages and (brilliant) characters, it is created by strong, badass, fun, queer women. Hell. Yes. (Also, sidebar, I ammmm headed to A-Camp, so maybe I will pack a hat with a raccoon tail and find all of the magic and adventure, and transform into a Lumberjane?!)
---
Mal Blum: Musician, Dreamiest Dreamboat that Ever Dreamed
Hmmmm well, just off the top of my head this probably isn't cool but I was really obsessed with Spider-Man as a young queer/trans/questioning child. I think because he was just a regular kid who struggled with kid stuff like fitting in in high school but also had this secret thing thrust upon him that made him inherently different, and was a gift but was also a burden that he had to hide and not disclose to people. And he couldn't really date because of it. Unclear, but it's basically the same origin story as Buffy the Vampire Slayer and I was also very invested in that. Also they both try to be good and righteous people and are consistently misunderstood by the people they protect, which also spoke to me as a youth.
---
Laura Zak: Her Story Co-Creator, Actress, Looks Great in a Hat (And Really All Other Clothes Too)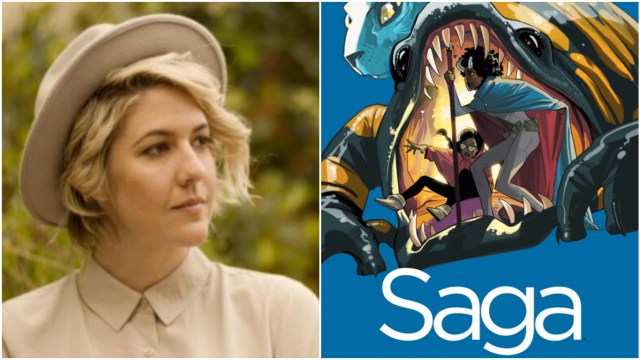 Having never delved much deeper into the world of comics or graphic novels than Allison Bechdel, this past year I tried out Brian K. Vaughan's comics, alternating between issues of Y: The Last Man and Saga. I was hoping for (even) more overt lesbianism in Y: The Last Man, since it's about what happens when all of the (cis) men in the world die off, except for one, but I still enjoyed it. Saga is epic and sexy and drops you into a galactic version of the classic theme of forbidden love in war.
---
Elicia Sanchez: Comedian, Funniest and Coolest Person Alive
I would suggest the Charles Soule and Javier Pulido run on She-Hulk in 2014! You can buy it now in two trades, She-Hulk: Law and Disorder and She-Hulk: Disorderly Conduct! I can unequivocally tell you with absolute certainty this book is fucking beautiful. Not because I'm biased due to the fact that She-Hulk is my favorite comic book character of all time (who I may have tattooed on my forearm), but in comparison to her varied self-titled series over the years, all of which I've read, this book is fucking fantastic. She-hulk titles have always managed to remain light-hearted, self-aware and self-deprecating, even during the age of the many money-grabbing, soul-sucking cross-overs (i.e. Secret War, House of M, Civil War, Annihilation, etc). This self-titled series focuses more on Jennifer Walters opening a new legal practice/the pitfalls of being an officer of the court AND a superhero rather than her general She-hulk smashing, but as per usual with She-Hulk titles, it's funny, quirky and FOR ONCE the character is not constantly drawn in weird-looking sexual stances for the sole purpose of the hetero male gaze (THANK YOU, JAVIER PULIDO). With gorgeous water-color painted covers by Kevin Wada, inner artwork reminiscent of Romita by Pulido and fun, engaging story-telling by Charles Soule, I LOVE THIS BOOK. When it was coming out monthly, I bought all the single issues and STILL bought the trade paperbacks when those were released. If you're not a big She-Hulk fan, YOU SHOULD BE. If you are a big She-Hulk fan, PLEASE JOIN MY CAMPAIGN TO CONSTANTLY HARASS MARVEL EXECS VIA TWITTER TO MAKE A LIVE ACTION SHE-HULK MOVIE SOME TIME BEFORE I DIE. Thanks.
---
Marni Kellison: Camp Co-Director, Canadian Idol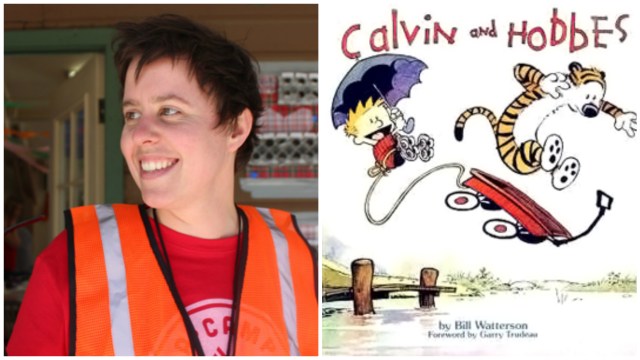 I'm not a big comics reader so I'm totally intimidated to recommend something to actual comics people but what I can say is that Calvin & Hobbes was a huge part of my life growing up (and it still holds up!) It was fun and full of imagination and also made really adult concepts palatable to me at a really young age.  I still quote it all the time! And I always thought Susie was awesome.
Mal added: YES I read Calvin and Hobbes and Foxtrot religiously!
---
New Releases (June 1)
A-Force #6
All-New All-Different Avengers #10
Spider-Woman #8
Spider-Woman Vol. Baby Talk TP
---
Welcome to Drawn to Comics! From diary comics to superheroes, from webcomics to graphic novels – this is where we'll be taking a look at comics by, featuring and for queer ladies. So whether you love to look at detailed personal accounts of other people's lives, explore new and creative worlds, or you just love to see hot ladies in spandex, we've got something for you.
If you have a comic that you'd like to see me review, you can email me at mey [at] autostraddle [dot] com.