There's a lot to be said about what's happening on TV for bisexual representation in general, and the unique throughline bisexuality has had in reality TV in particular, from Tila Tequila's Shot At Love to the Bachelor contestants who found love with each other to the current season of MTV's dating show Are You The One?, which features exclusively bi+/sexually fluid contestants of varying genders. Or, in lieu of saying those things outright, we could consider the image of Kari, a 23-year-old bisexual, laid out on the ground after biting it trying to overcome a literal hurdle labeled "fear of being vulnerable," and arrive at similar places.
In the wave of social media buzz surrounding this season's casting, you could be forgiven for thinking that Are You The One? is an entirely new franchise. In fact, our ragtag band of bisexuals is only the latest season of a show with truly one of the most bananas premises of all time: matches between contestants are actually predetermined ahead of time in an opaque matchmaking process somehow tied to experts and science, and a cash prize of $1 million is available for all the cast to share only if they all end up with their predetermined matches by the end of the season. At the end of each episode, a sort of lightshow semaphore system (for real) is used to indicate how many correct pairs have been made so far, although not which pairs they are. Which makes sense, because if anyone is poised to be good at logic puzzles of interpersonal relations it's a bunch of 22-year-old bisexuals with relationship baggage and intimacy issues. Cast members can find out if they're matched correctly by choosing to enter a Resident-Evil-style laser cybertunnel and have a computer announce to them — and everyone else in the house! Who's gathered outside, in front of a screen, watching! — if they're a perfect match or not. A heartwarming story to tell your grandchildren gathered around in the MTV Experience Underground Bunker in 2055!
The show's casting is maybe not quite as groundbreaking as it likes to imagine it is – as Drew observed when we watched it together, outside the two trans cast members — Kai, who identifies as a transmasculine nonbinary person, and Basit, who identifies as genderfluid — the 14 cis cast members could be drawn from virtually any other MTV casting, and the overall level of knowledge around trans issues seems… not high. At the same time, the bisexuality of the cast members is foregrounded and discussed in frank and refreshing ways, not sidelined or exoticized; cast members talk about their coming outs, their past experiences of attraction, and their internalized biphobia when discussing their relationships and attraction to each other. The wide range of visible tattoos and their varying degrees of advisability also spoke to the bisexual experience in moving and authentic ways.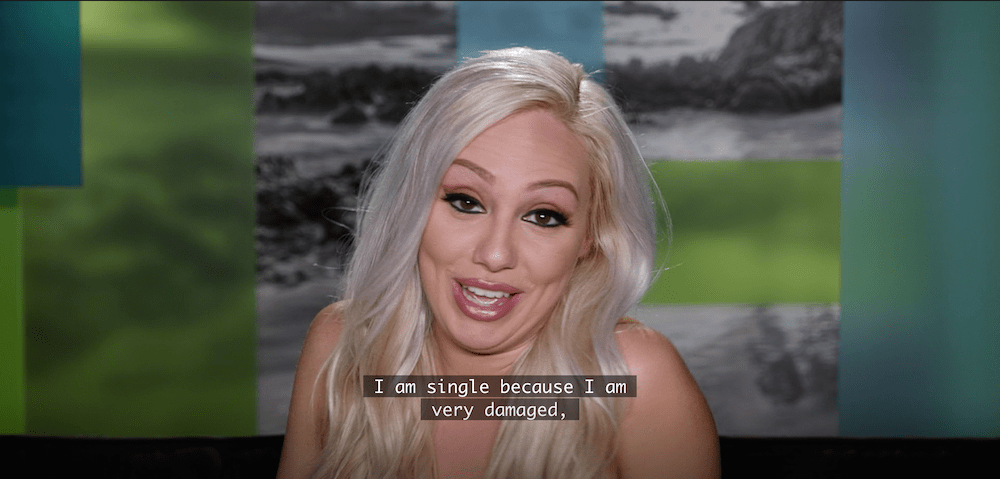 There's a take somewhere about the underpinning entertainment logic of having 16 very young bi+ people largely occupying the "model/actress/DJ" cultural space, not a group broadly associated by the general public with successful lasting relationships, featured in a show about trying to find The One as determined by relational science and an omnipresent couples therapist with an asymmetrical haircut. The cast doesn't seem particularly interested in that take, though, and we should empower ourselves to go ahead and follow their lead and enjoy the show on its own terms, which are both very dumb and genuinely sweet and earnest. Certainly there's Remy, the chaotic sexually voracious Gemini that our own Drew describes as having "Shakespeare villain energy;" an extremely doomed connection between heart-eyed Jenna and little lost boi Kai, and an alarmingly intense trajectory between Amber and Nour, who are already ready to start training a falcon if the show doesn't match them together. But as eye-rolling as the predictable queer plot conflicts might be, none of them are outside the run of the mill for reality television — any given episode of the Bachelor is more offensive in its depiction of heterosexuality than the queer representation here.
Maybe the most surprising thing about Are You The One?'s eighth season is that it's… really enjoyable to watch? Maybe too many seasons of Bachelor in Paradise and VPR have given me the false impression that watching reality television always leaves the viewer staring into the middle distance trying to recoup their sense of spiritual wellbeing for hours afterward, but I'm looking forward to watching the next episode! Stay tuned to find out whether Amber and Nour adopt a pet together, and the exciting potential future of Justin the tattooed vet and Max, who Stef lovingly describes as a "sex idiot."
---
As a bonus, please enjoy knowing the zodiac signs of each cast member, thanks to painstaking research by Drew and Stef.
Amber: Sagittarius
Aasha: Leo
Jenna: Aries
Danny: Sagittarius
Justin: Sagittarius
Basit: Taurus
Jonathan: Pisces
Kai: Virgo
Kylie: Gemini
Kari: Sagittarius
Max: Leo
Nour: Aries
Paige: Leo
Remy: Taurus
Jasmine: Scorpio
Brandon: Pisces