Last week, BET aired their annual Black Girls Rock Awards and, as is too often the case, black queer girls — particularly black trans girls — were left out of the narrative. Pose star, Angelica Ross, tweeted her disappointment and the hoteps and herteps have been in her mentions ever since.
Thankfully, though, this summer gave us A Black Lady Sketch Show which distinguished itself as a model of inclusivity. The show's creators, Robin Thede and Issa Rae, understand what BET, seemingly, does not: that the stories of "black ladies" are incomplete without black queer women included in them. As Carmen wrote last month, "ABLSS recognizes that 'black ladies' come across a variety of gender identities and sexualities. Black lesbians are funny. Black queer women are funny. Black trans women are funny. And we aren't going anywhere, any time soon."
The HBO series wrapped up its six episode first season last Friday and, while the sketch series will return for a second season, that debut seems so far away. Until we get some new episodes, we've got to make due with the best sketches from Season One.
Here are my Top 10:
---
1. Get the Belt // Episode 106:"Born at Night, But Not Last Night"
Black nostalgia is a precarious thing: on the one hand, there's that sentimentality that comes with remembering our pasts, especially our childhoods, but, on the other, it's almost inevitable that whatever time's being reflected on was fraught. It's why "Make America Great Again" never really had much resonance for our community. So doing a good comedic sketch evoking black nostalgia? A difficult needle to thread… and yet, ABLSS manages to do just that with "Get the Belt." Can something be both slightly traumatic and absolutely hysterical at the same time? Apparently so.
"We set 'Get the Belt' in 1992, mainly because I wanted to wear this Salt-N-Pepa wig. But also because it was the last time you could whoop your kids without getting child services called. Ah, the good ol' days!" Thede joked during her weekly livetweet of the show.
2. Bad Bitch Support Group // Episode 101: "Angela Bassett is the Baddest Bitch"
The "Bad Bitch Support Group" is the third sketch of ABLSS's inaugural run and, right away, it lets you know about what kind of show this is about to be. Yes, that's Angela Bassett — AKA, the reigning queen of Wakanda — leading the support group of bad bitches, an early sign that ABLSS will attract all of Black Hollywood's Elite. But, more importantly, I think the "Bad Bitch Support Group" illustrates how ABLSS handles black lady politics. Masked in the hilarity of the debate between being a "Bad Bitch" or an "Okay Bitch" or — shutters — a "Basic Bitch" is an insightful commentary about modern beauty standards.
But perhaps my favorite moment from the sketch is when Kiana, played by the inimitable Laverne Cox, takes it upon herself to police the space. She says, "I just don't know how I supposed to feel safe in the presence of an aspiring 'okay bitch.' Her attendance here undermines the whole notion of the Bad Bitch Support Group." There's something beautifully subversive about seeing a trans woman be the arbiter of safe spaces. Also? I need someone to greenlight Laverne Cox as a lead in a full-throated TV comedy right now.
3.The Basic Ball // Episode 102: "Your Boss Knows You Don't Have Eyebrows"
There are about thousand ways that "The Basic Ball" could've gone horribly wrong. A sketch appropriating ballroom for the basic bitches among us could've easily veered off into lampooning the culture, but because there are empowered black queer women in the writers' room — Lauren Ashley Smith, Ashley Nicole Black and Brittani Nichols — and queer people featured in the sketch, it never goes in that direction. The sketch itself is a celebration of ball culture and a hilarious affirmation that the fact that "you could never" rings true. Ms. Elektra Wintour would be proud.
4. Courtroom Kiki // Episode 106: "Born at Night, But Not Last Night"
On more occasions than I'd care to remember, I've walked into a room and been the only black woman in the room. I look around, I sigh, and proceed about my business, knowing that whatever happens in that room, I'll be seen as the symbolic representative for all black women. It's exhausting. But sometimes you're lucky enough to find yourself in a room where everyone is a black woman and it feels like cause for celebration.
"I have done this in elevators, waiting rooms, stores, every time I end up in a spot with only Black women, I do this. We do this. This is real. It really happens and this sketch is my heart," ABLSS writer Amber Ruffin shared.
5 + 6. Invisible Spy: Part One & Part Two // Episode 101: "Angela Bassett is the Baddest Bitch" // Episode 102: "Your Boss Knows You Don't Have Eyebrows"
There are moments when, as a black woman and, particularly, as a big black woman, I am hyper-visible to the world — I feel like everyone's eyes are on me — but there are other moments when, as a black woman and, particularly as a big black woman, I disappear.
I am, to quote Roxane Gay, "extraordinarily visible but invisible." That experience made Ashley Nicole Black's adventures at Trinity, the Invisible Spy, feel even more resonant. Despite being the CIA's best agent, most of the time, her regular appearance allows her to slip through even the tightest of security undetected, but when an elusive target darts through a TJ Maxx-like store to make her escape, Trinity's suddenly hyper-visible… and everyone suddenly thinks she works there.
I won't embarrass myself by telling you how many times that's happened to me but I will say, I've learned the hard way never to wear a red polo shirt when I'm making a Target run.
My favorite thing about the Invisible Spy sketch: Aja Naomi King's guest starring role as the villain in Part Two. She and Trinity are in a standoff when the CIA agent falters. Trinity concedes, "I'm sorry, you are so hot, I'm honestly, having trouble focusing." As someone who thirsts over Aja Naomi King every week on How to Get Away With Murder, this is the relateable content I'm after.
7+8. Church Open Mic: Part 2 and No-Fun Threesome // Episode 105: "Why Are Her Pies Wet, Lord?" // Episode 106: "Born at Night, But Not Last Night"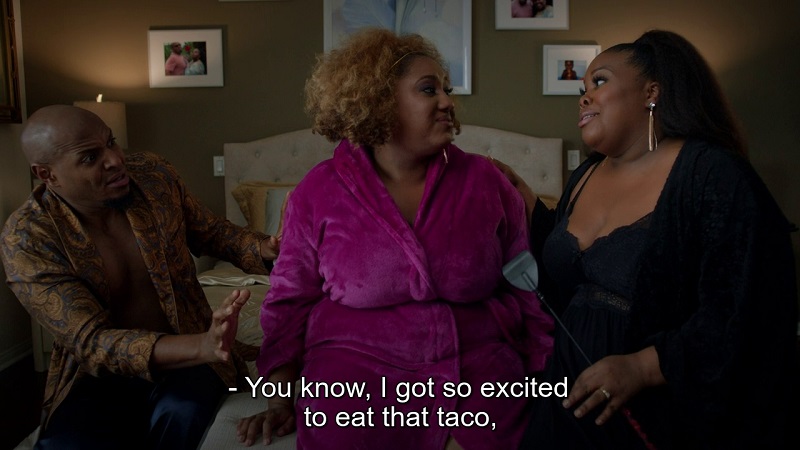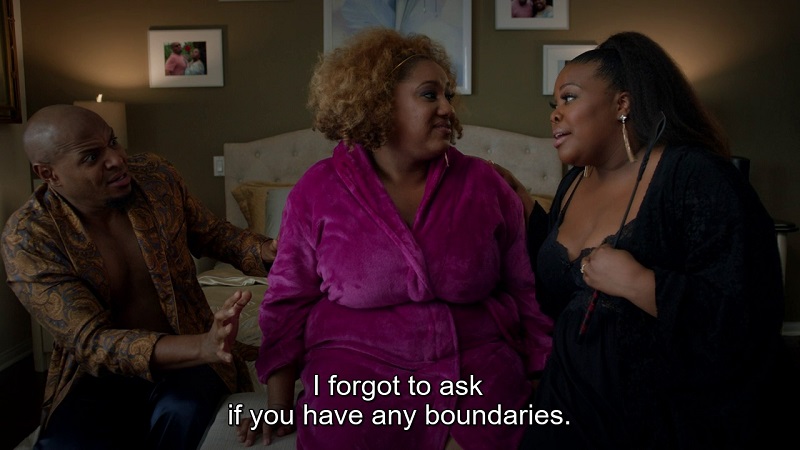 On its face, there's nothing spectacular about these two sketches. The first starts with couple who use their microphone time before the church's potluck dinner to solicit fellowship — in a biblical way — from the membership. In the second, they've found themselves a partner and prepare to have a threesome. Both sketches are funny, no doubt, but the thing that takes them over the top… the thing that makes these two of my favorite sketches of the entire series… is that the female half of the coupling is played by Amber Riley.
Amber Riley, of Glee fame. Mercedes "I'm Beyoncé, I ain't no Kelly Rowland" Jones. Turns out, hearing Mercedes Jones say, "You know, I got so excited to eat that taco, I forgot to ask if you have any boundaries," was a thing that I needed in my life. Who knew?
Personally, I feel like this opens up a whole new lane for Glee fanfiction that we haven't explored.
9. Dance Biter // Episode 101: "Angela Bassett is the Baddest Bitch"
The best thing about a shows with genuine representation is you get to step into moments like these… ones that feel so lived in and comfortable, that you could easily see yourself (or, in my case, a younger version of myself) stepping into a scene an feeling right at home. "Dance Biter" is so steeped in black queer culture that everything feels familiar, even the characters' dialogue echoes things you've heard from your friends. A few of my favorite lines:
"Oh my God, please don't do this, I've got eight exes in this corner alone and you don't see me causing a scene."
"Is she really going to stand there like we not about to get back together 12 more times before we break up for good?! The audacity. The gall. The temerity."
"You think I'm trying to leave the turnup because I passed out in the alleyway under mysterious circumstances?"
So real, so hilarious.
10. 227: The Reboot // Episode 103: "3rd & Bonaparte Is Always in the Shade"
Reboots are all the rage these days but reboots of classic black television shows of the '80s and '90s rarely enter that discussion. There was talk of a New York Undercover reboot but it wasn't able to score a network pick-up. Every now and again, you'll hear talk about a reboot of Living Single or Martin but nothing ever seems to come to fruition. We're getting a Girlfriends reunion on an upcoming episode of black-ish but that's far short of the full reboot we deserve. Thankfully, the women at ABLSS came through for us, delivering a pitch perfect reboot of the NBC sitcom, 227.
Everything about this sketch is great. I love how it captures Rose's perpetually naïveté and Pearl's habit of throwing non-stop shade from her window perch. And Robin Thede's turn as Sandra Clark? Short of Jackée herself, I cannot imagine anyone doing it better. Only thing missing from the sketch? Oscar winner, Regina King, reprising her role as Brenda Jenkins.
---
Have you caught up on A Black Lady Sketch Show yet? If not, why are you robbing yourself of joy? You can still find it on demand and streaming across all HBO platforms. What were your favorite sketches?