If you've ever felt super duper freaking overwhelmed by money and like personal finance advice was not meant for people "like you," whatever that means, you need to run and preorder Gaby Dunn's Bad With Money: The Imperfect Art of Getting Your Financial Sh*t Together. Like, go. Now. I'll wait.
This book would have saved me many, many hours of deep internet research when I was trying to teach myself about personal finance. The sixteen chapters cover everything you'd expect in a financial advice book from credit cards (Chapter 8: Imaginary Money) to student loan debt (Chapter 3: The Neck Tattoo of the Financial World) to dating and relationship spending (Chapter 11: My Love Don't Cost a Thing) to retirement saving [Chapter 14: Plan (Michael B(ay)].
It also covers topics that you might not expect, but that are really, really important for all of us to know — like why financial advice gurus are maybe just selling you a capitalism-fueled crock of shit (Chapter 9: A Fad Diet for Your Wallet), the gritty reality of freelancing and side hustles (Chapter 5: #Freelancelyfe), how your family history impacts the narrative we all internalize about money (Chapter 1: Your Roots are Showing), and how mental health and stigma and spending intersect (Chapter 7: Bipolar II: The Sequel).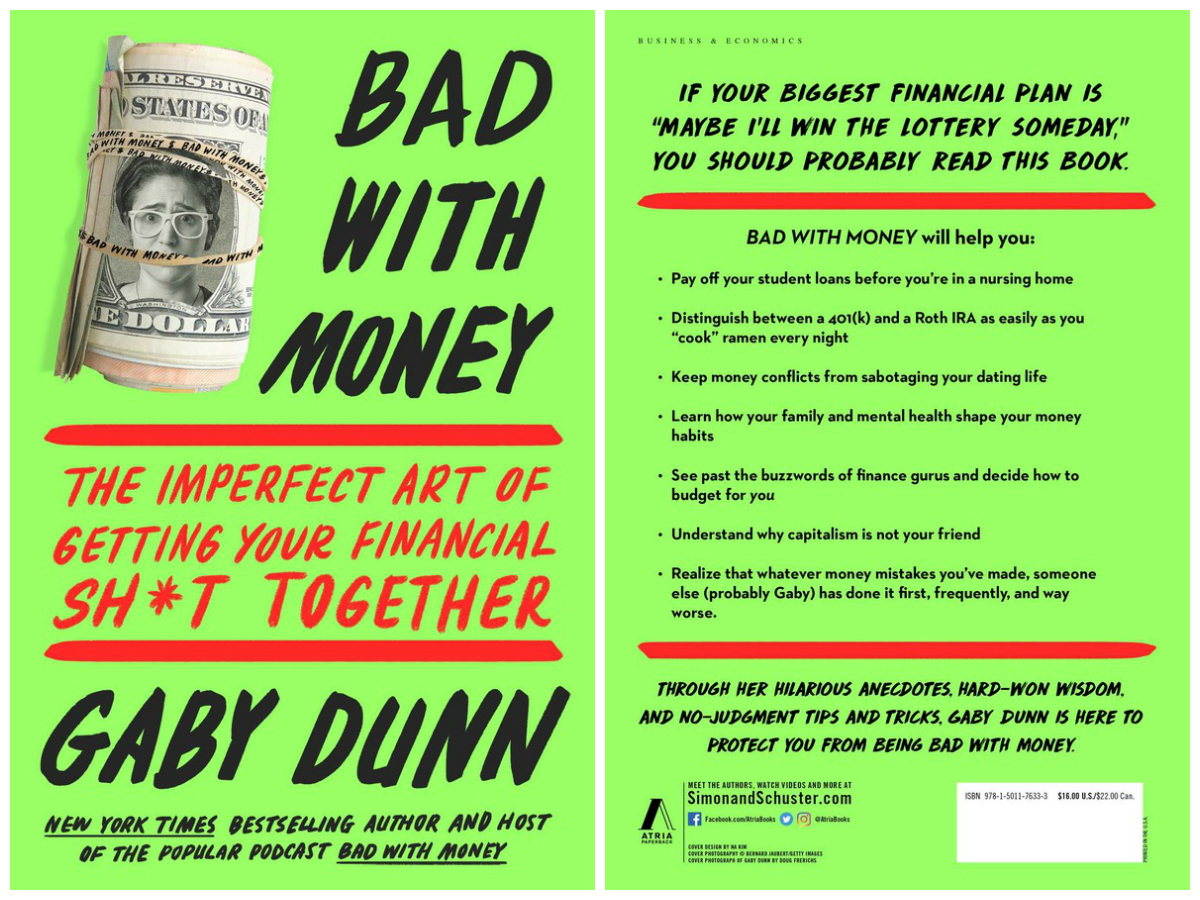 There's so much more. What stands out to me even more than how many distinct and important topics are packed into 265 pages, though, is the lens through which Dunn writes. You may be familiar with Gaby Dunn from A-Camp (which gets a shout-out in the book along with a list of current and former Autostraddle staff) or from Gaby's writing on Autostraddle or from Gaby's many projects — including the BAD WITH MONEY podcast, which became one of the top 10 podcasts on iTunes within a week of its launch. Dunn's writing has appeared everywhere from Playboy to The New York Times to Jezebel and many other places, has a gazillion followers on every platform and about a million other publishing and vlogging and podcasting and writing trophies in her glittery trophy cabinet.
What I appreciate about Dunn in everything she writes and creates and produces is how earnest and hilarious and smart and intersectional she is. She brings all of that to Bad With Money. It's a book for everyone, but particularly Millenials and Gen Z, who are trying to make something out of the damn recession we inherited. It's a book that's for queer people, though it's not branded specifically as a queer or feminist book.
The queer lens is threaded throughout the book, whether it's Gaby's casual references to her dating life as a queer feminist with a radical point of view or the way she makes sure to start from a place of unpacking the ways capitalism privileges white, straight, currently able people before moving into a chapter on savings and retirement. It's the way she gently takes down the way that neoliberal middle-class narratives around money often stigmatize poor people instead of focusing on the real enemy: rich people who benefit most from capitalism.
It's the way Dunn makes room for you to find your own truth, rather than offering up disingenuous "simple" advice. In many places, she allows for more than one possible truth, which is just the queerest way of approaching any situation. For example, she gives you the info you need on common budgeting theories and then admits she doesn't really use any of them in a pure sense in her daily life.
Bad With Money is unabashedly queer because Dunn is unabashedly queer. It's the first time I've encountered financial advice anywhere (except in articles I've written for Autostraddle) that really spoke to me on my level. It was for me and it wasn't here for BS or shaming or victim-blaming.
In the first chapter of the book, Gaby tells the story of her first episode of the Bad With Money podcast, during which she asked patrons (and one barista) to answer two questions: First, what's your favorite sex position? Everyone answered that question willingly. The second, how much money is in your bank account? People were uncomfortable. "That's a very personal question," they said. That's the problem with money; we don't talk about it. We all worry about it and we all pretend that we're just fine when we're actually very not fine. We try to deal with it alone and feel bad and ashamed if we need help and yikes, it's a cycle I know too well.
It's also a personal question in that, like, money is this really personal thing all tied up in systemic inequities and multiple interconnected identities. This is the book that will help you overcome your struggle with talking about or understanding personal finance. It is a mix of very practical educational information (like what is a Roth IRA v. traditional IRA) and very personal stories and hilarious anecdotes. It's a fun book… about finance? Dunn isn't here to judge you. She's here to help. Unlike popular finance websites and "gurus" who claim to have all the answers, Dunn is right there in the struggle with the rest of us. It's not simple, she admits, and she's still working on it herself.
Bad With Money: The Imperfect Art of Getting Your Financial Sh*t Together comes out on January 1, 2019 from Atria Books and you can preorder it right now! Seriously, you will love this book and then probably loan it to a queer friend who will also love it. I look forward to dismantling capitalism and also thriving in this crumbling economy with all of you!